My Concha Bark is the ultimate Valentine's Day gift. Make this Concha Bark in under 5 minutes and it only requires 3 ingredients. It's the perfect edible gift for your sweetheart.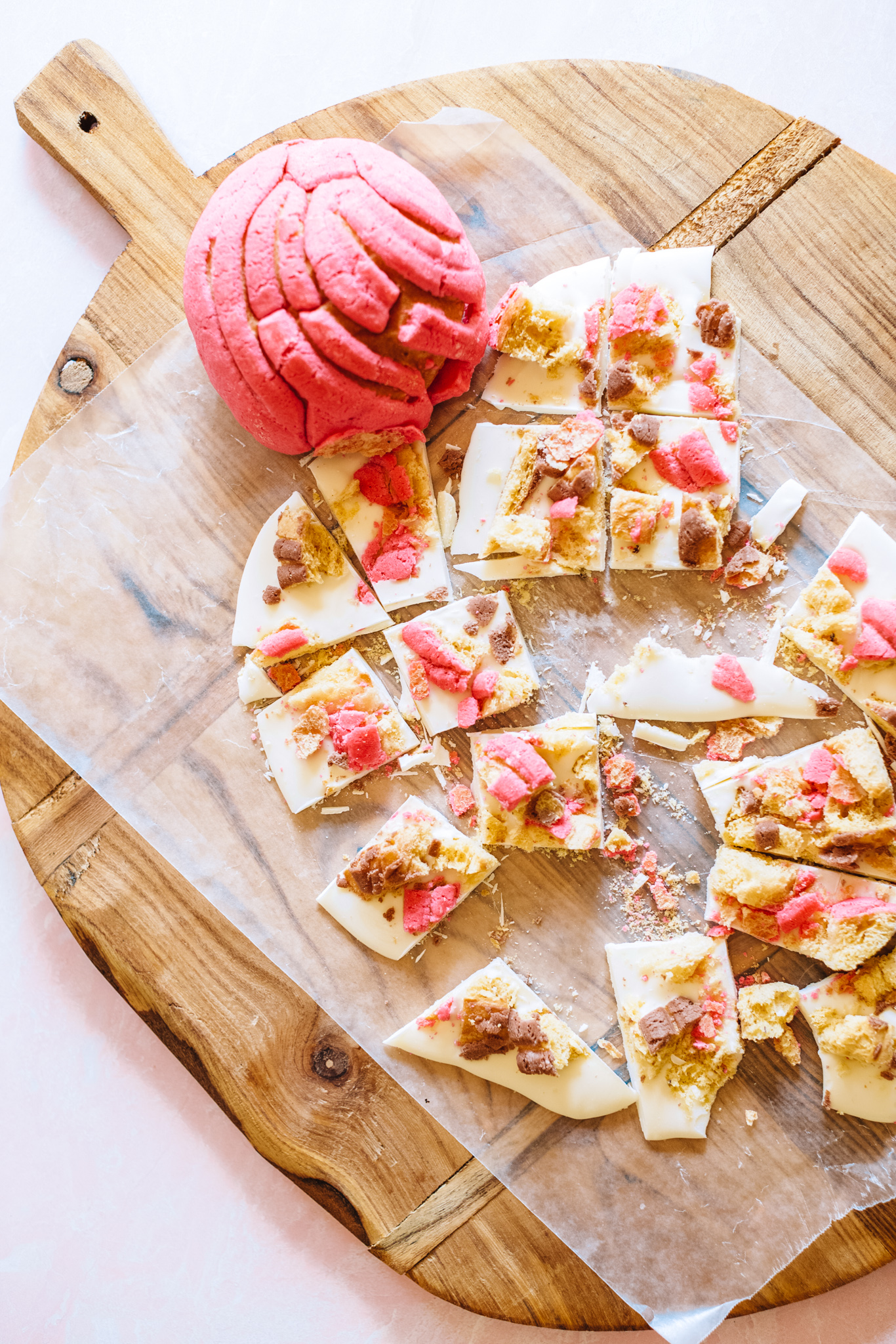 Today I'm adding this childhood favorite pan dulce, the concha to one of the easiest edible gifts – chocolate bark just in time for Valentine's day! It's not only easy to make – it makes the perfect gift for everyone on your sweetheart list. I gift bark to my family, my neighbors, tutors, Roy's Army buddies, and even my dentist. Everyone loves bark.
Chocolate Bark is a sheet of silky-smooth chocolate covered with nuts, dried fruit or candy. After the bark is set it is broken up into pieces that resemble rough pieces of bark. Bark can be made in under 10 minutes and the toppings are limitless. For the holidays we add peppermint or pecan to our bark, break into pieces then tuck it away in a holiday tin for our friends and Familia.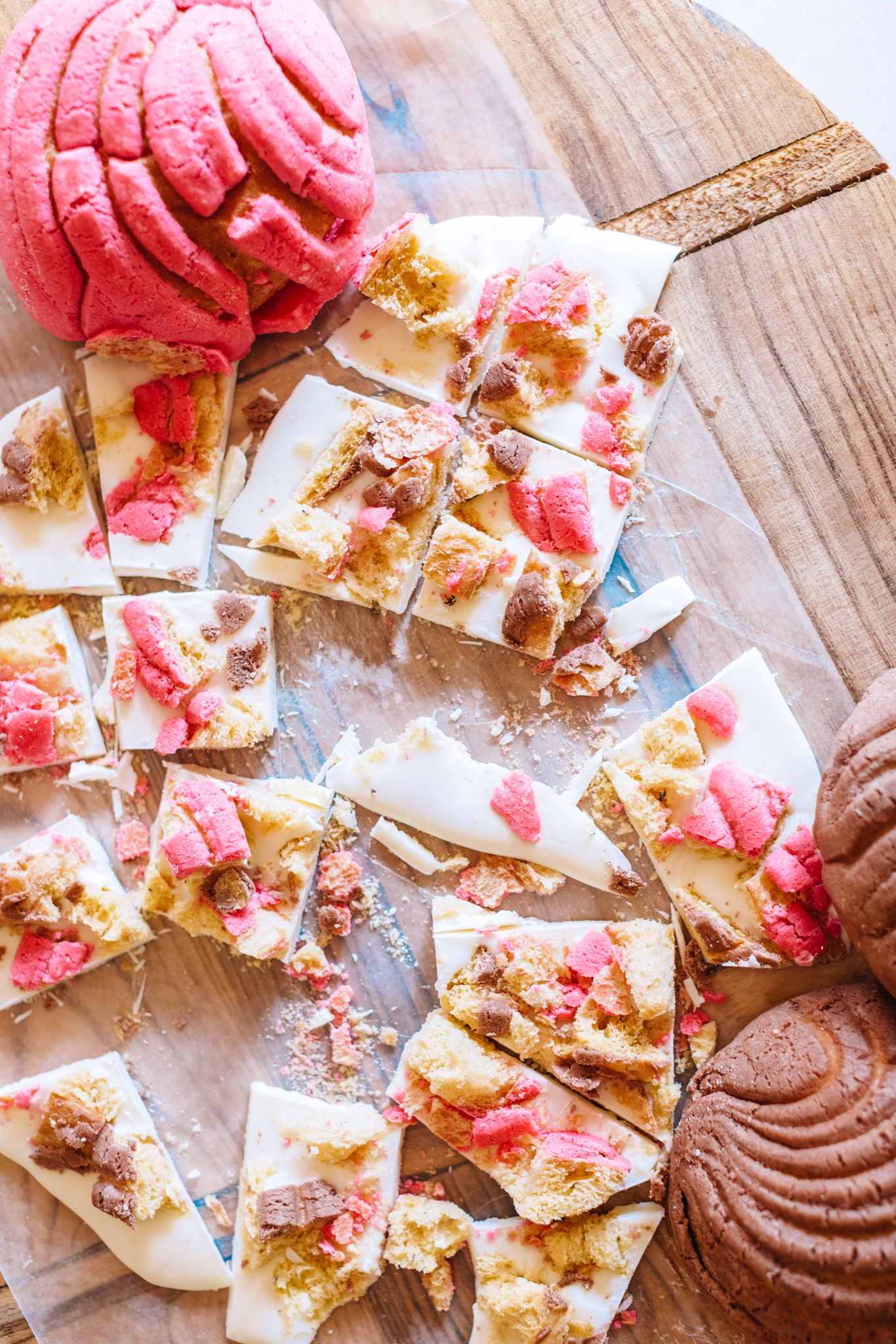 I'm highlighting my childhood love for Conchas with a new series called TODAS LAS CONCHAS. 14 days of new concha recipes leading up to the sweetest day Valentines Day, featuring our beloved concha.
Yesterday I share homemade concha coffee creamer, today I am excitedly thrilled to share with you how easy it is to make Concha bark at home.
The sweet smell of conchas reminds me of my childhood. Nothing made me happier than walking to the panaderia with my Abuelito to buy pan dulce – the pink ones were my sister's favorite; I preferred a chocolate concha. They were soft, fluffy, and sweet just like my Abuelito.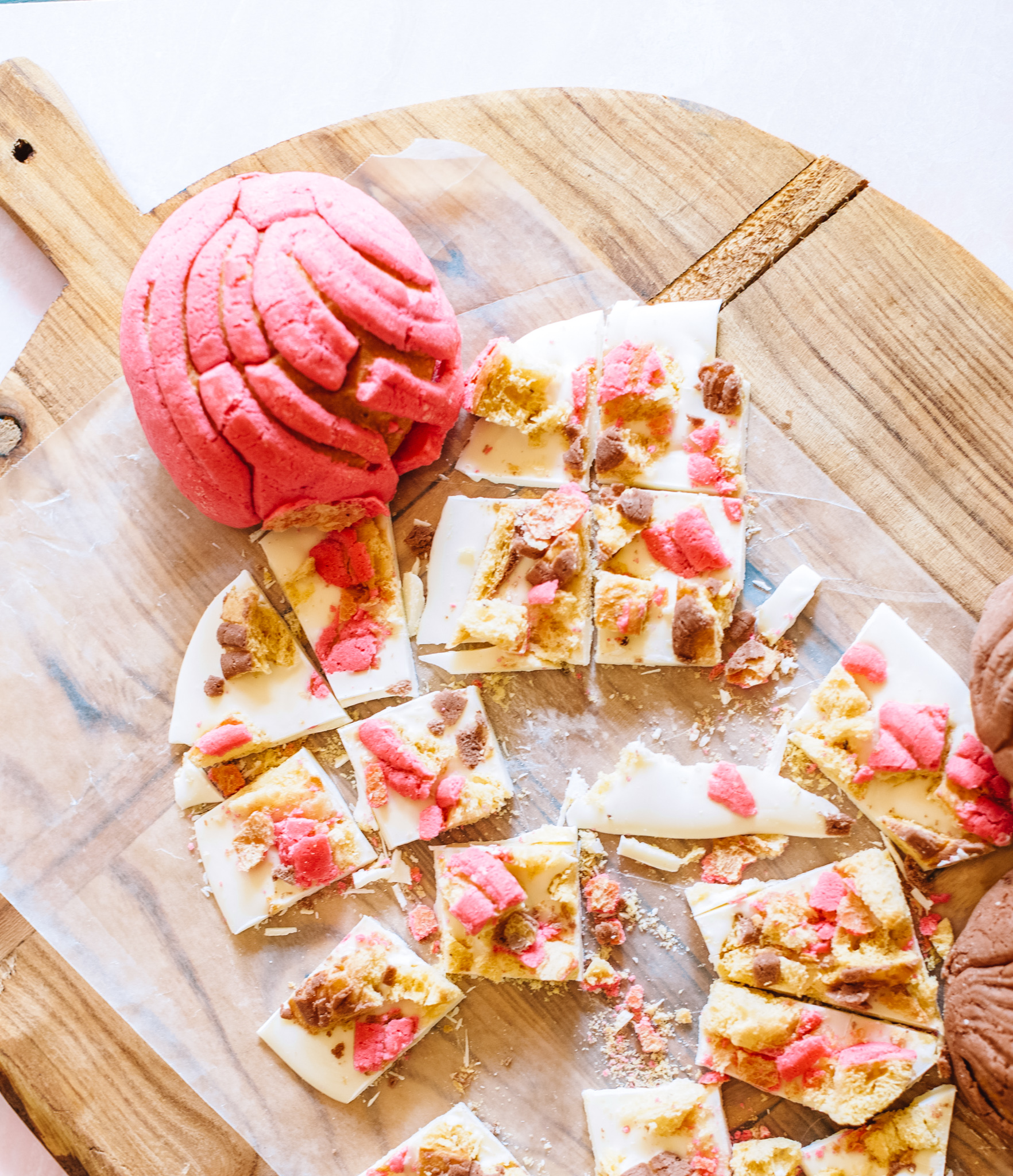 I grew up with conchas – and I am now raising my daughters on conchas – todo el amor
No other pan dulce represents our heritage culture, love of Mexico and reminds us of home and family like the concha.
The concha is SO much more than just a delicious pastry, it is part of our childhood, our memories of time with the family and the sweetest gift we share with our children.
What I also love is that talented bakers & bakeries are continuing to bake, share and experiment with our beloved concha gifting us with amazing new flavors, new concha designs and desserts featuring the concha – todo el talento
Today I want to share a quick and easy concha bark that you can whip up in under ten minutes just in time for Valentine's Day.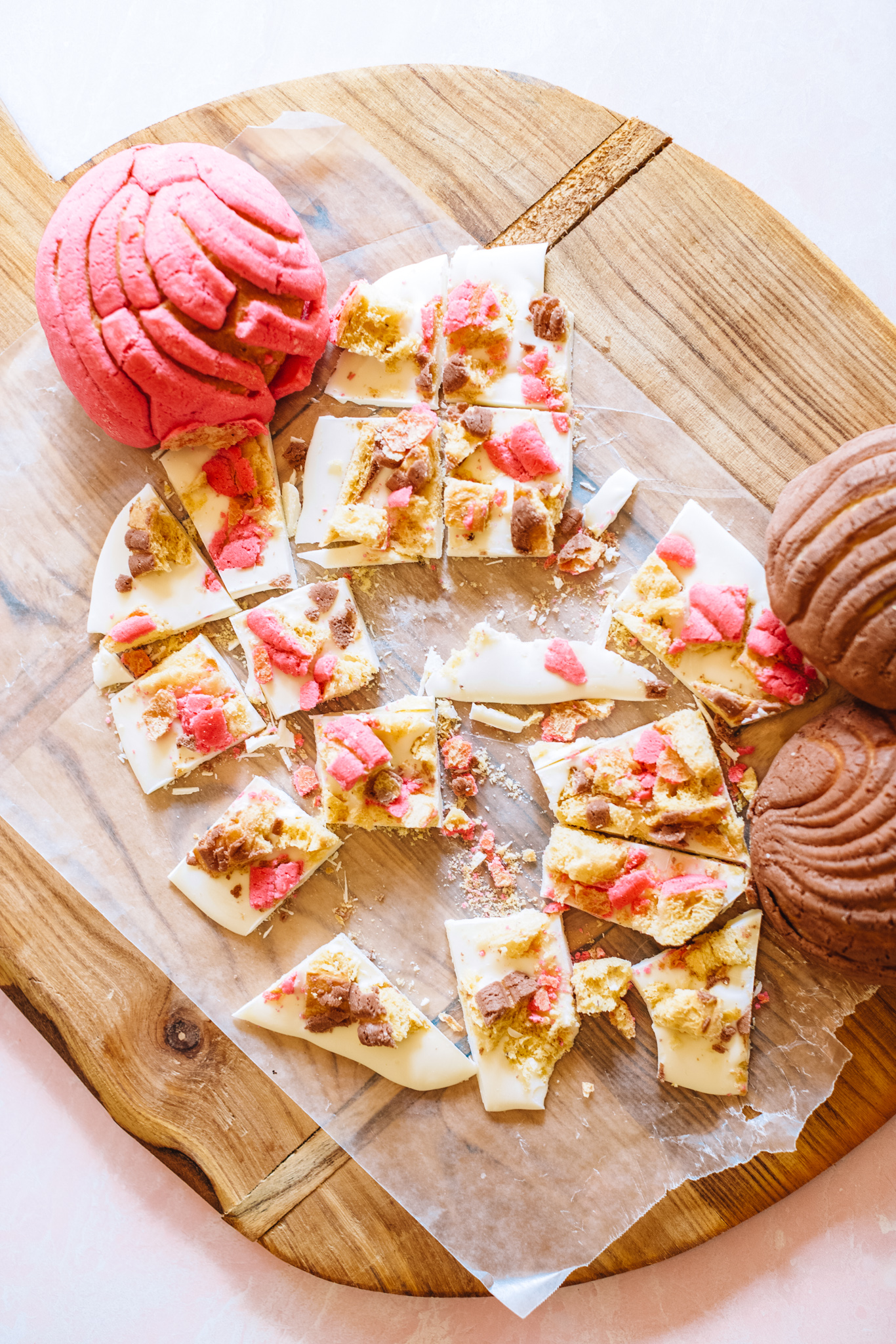 TIPS ON MAKING HOMEMADE CONCHA BARK
For this recipe I used white chocolate, feel free to use any chocolate you prefer.
I sliced the tops off the conchas for this recipe I wanted only that sweet topping in my bark – I dipped the bottoms in my coffee or toast them for concha croutons – yeah!
Add nuts, dried fruit to this bark also for added flavor. A handful of each.
Line your baking sheet with parchment paper before adding melted chocolate, this helps when removing from pan, and for quick clean-up.
Store covered for up to 3 days. Place in a parchment-lined tin for gifting.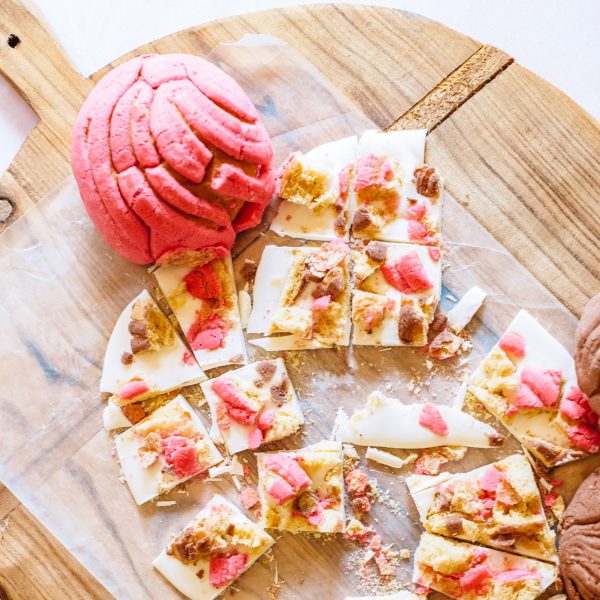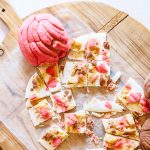 Concha Bark
My Concha Bark is the ultimate Valentine's Day gift. Make this Mexican Wafer Cookie Bark in under 5 minutes and it only requires 3 ingredients. It's the perfect edible gift for your sweetheart.
Ingredients
1

tablespoon

butter melted

1 10 -12-

ounce

bag of white chocolate chips

3

conchas

any color
Instructions
With a serrated knife carefully slice tops off conchas, break tops into medium-sized pieces, set aside. Line a baking sheet with parchment paper. Brush with melted butter. Microwave white chocolate chips on high until melted; stir until smooth. Pour melted chocolate onto prepared pan and sprinkle with concha pieces, push down gently to set concha piece into chocolate. Set aside for at least 2 hours until firm or refrigerate for 20 minutes. Break into pieces and serve at room temperature.
MORE CONCHA RECIPES: