A creamy rice dish made with fresh tomatillos, cilantro, lime juice and plenty of shredded cheese, then baked until bubbly—this is one of my favorite weekday meals. Today I am excited to partner with Mahatma Rice to share with you a recipe for creamy arroz verde that is sure to be a hit with your family.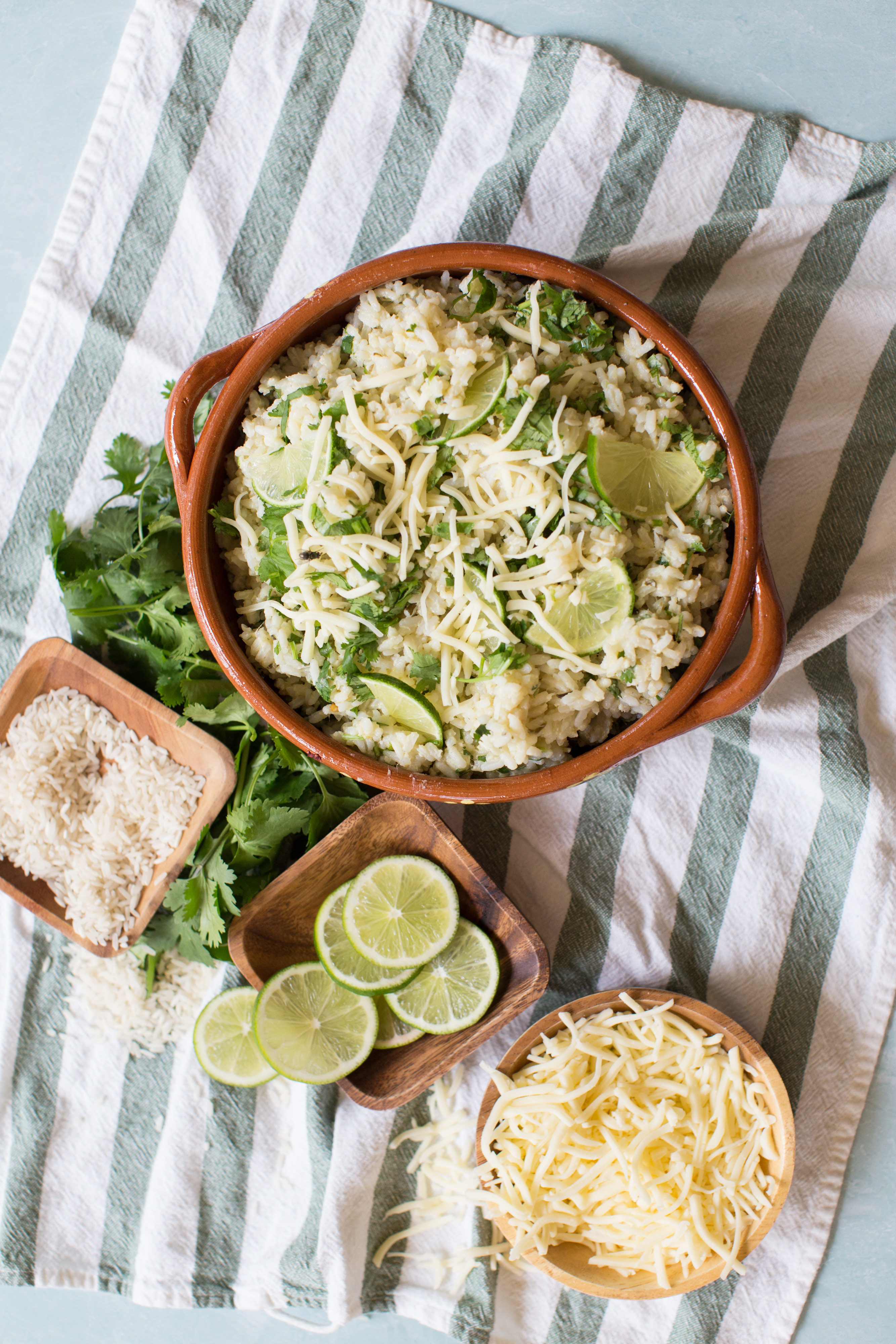 Rice is one of my go-to essential pantry ingredients. Not only is it budget-friendly, it can be used in countless ways to create fancy dishes for dinner parties or comfort dishes for daily family dinners—the options are endless. You can make it creamy or crispy, spicy or sweet—there's just no end to its versatility. Everyone loves rice.
My creamy arroz verde baked rice begins with a base of fresh tomatillo sauce. Made with fresh tomatillos, onion, garlic and cilantro, this sauce comes together in no time and can be made days in advance.
Tomatillos are bright green, unripe tomatoes with a dry, leafy husk that covers them. When the husk is removed you will be left with a sticky film, this can easily be removed with a quick rinse under water. Tomatillos are acidic, with a bright flavor and can be roasted, grilled, sautéed or made into a sauce like I do for this recipe.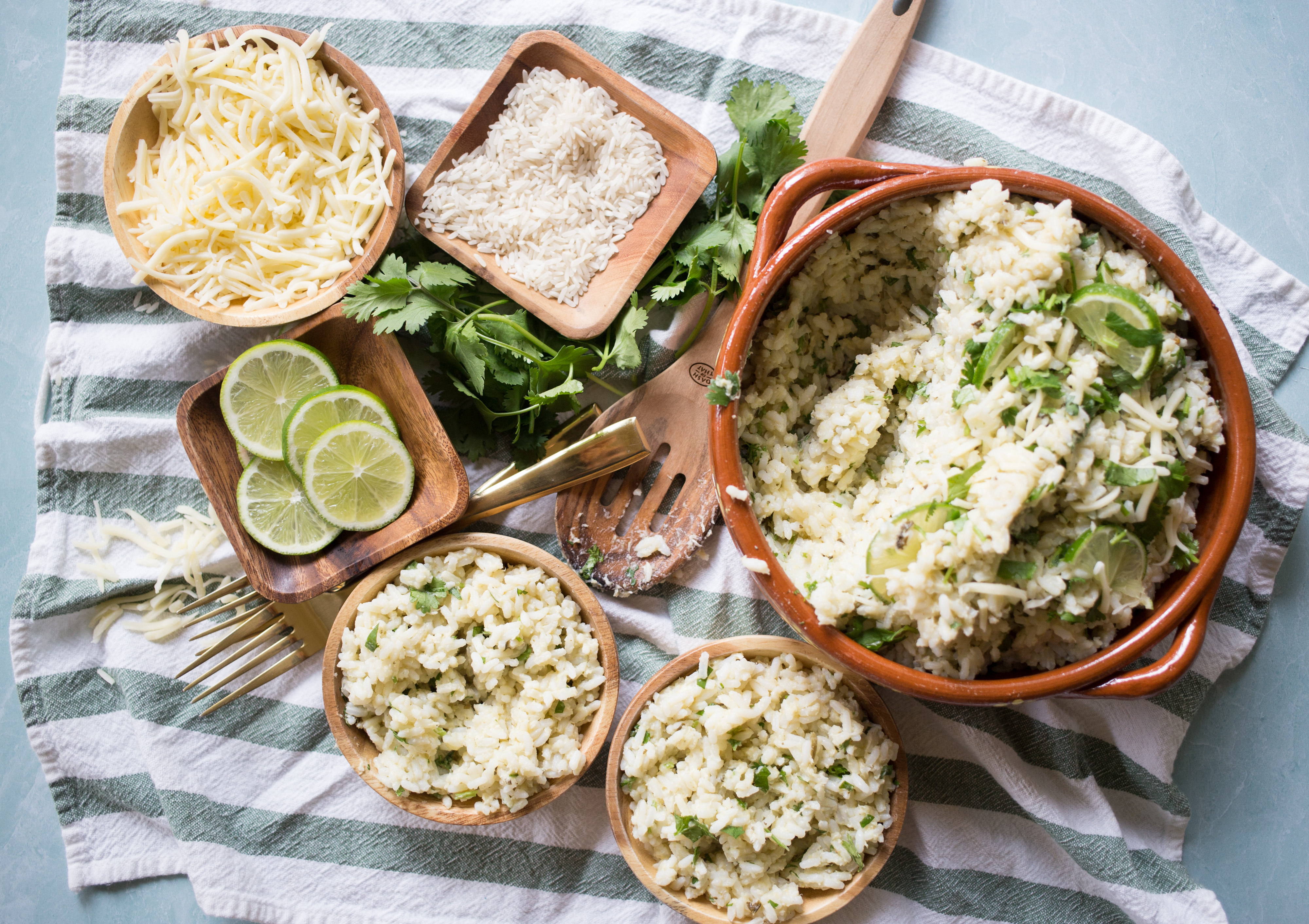 Fluffy, cooked rice is combined with the rich tomatillo sauce, along with crema, fresh lime juice, cilantro and Monterey jack cheese, then baked until bubbly. This rice dish is pure comfort—cheesy with a hint of brightness from the tomatillos. I make this dish at least once a month and make a double batch when my family comes to visit.
I'm excited to announce that Mahatma has asked me to be a brand ambassador to share all the yummy possibilities of rice. Stay tuned for more tasty rice recipes every month featuring Mahatma rice.
Mahatma is America's favorite long grain rice. For over 93 years, Riviana Foods Inc. has been packaging and marketing rice for the U.S. consumer. Known for its consistent high quality, Mahatma rice is the preferred brand among many families. Mahatma rice is available in a variety of sizes from 1lb. to 20lb. bags. It's easy to prepare, economical, versatile, and a healthy complement to any meal.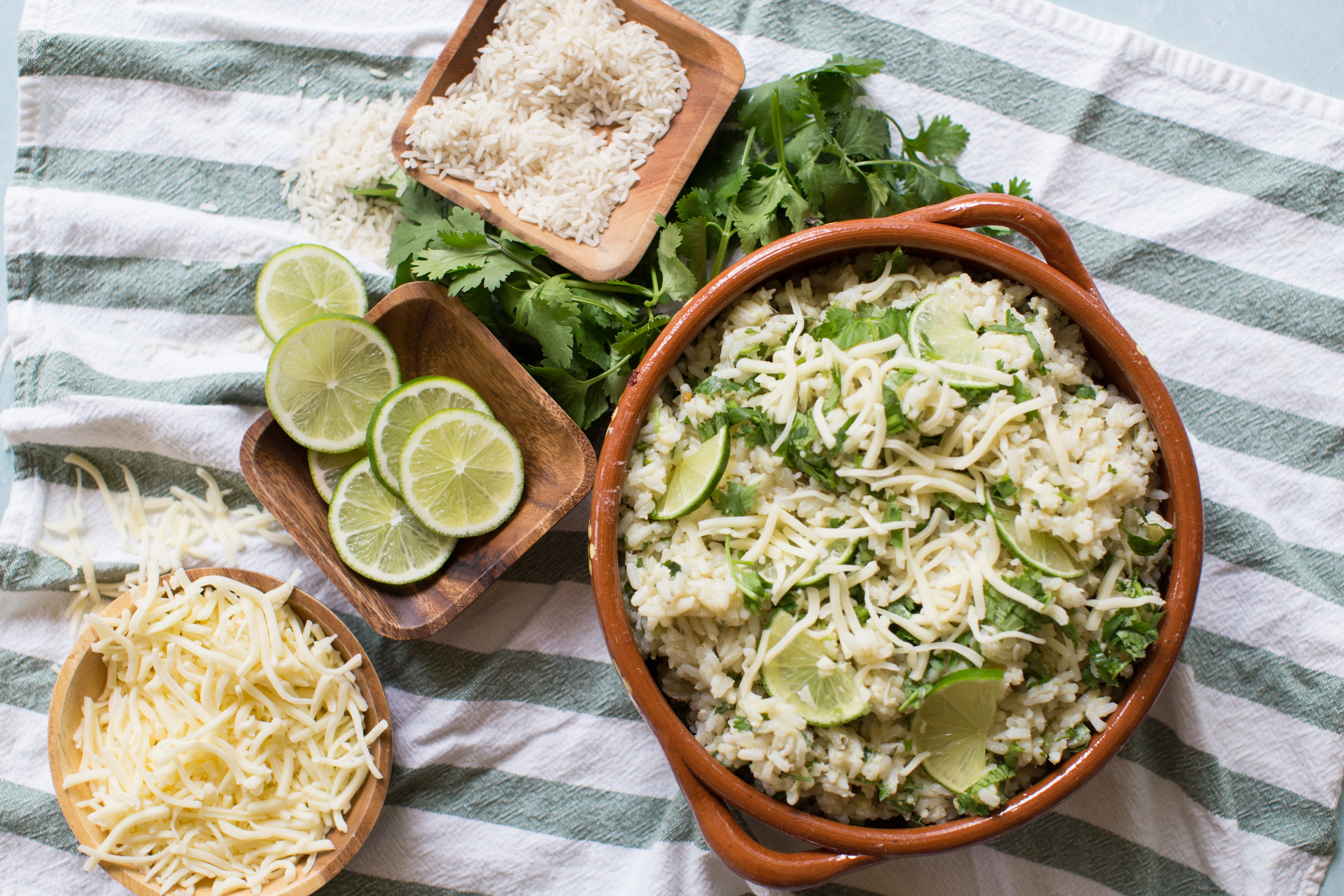 Mahatma rice is grown in the U.S.A. and is kosher approved. Families can trust Mahatma to cook into fluffy white rice. Mahatma rice is naturally sodium-free, cholesterol-free, and fat-free.
The Mahatma brand of rice was introduced in 1932. Having many of the table characteristics of the Indian Patna variety, it was named "Mahatma," which means "outstanding" or "superior" in character.
Find more tasty recipes at https://www.mahatmarice.com/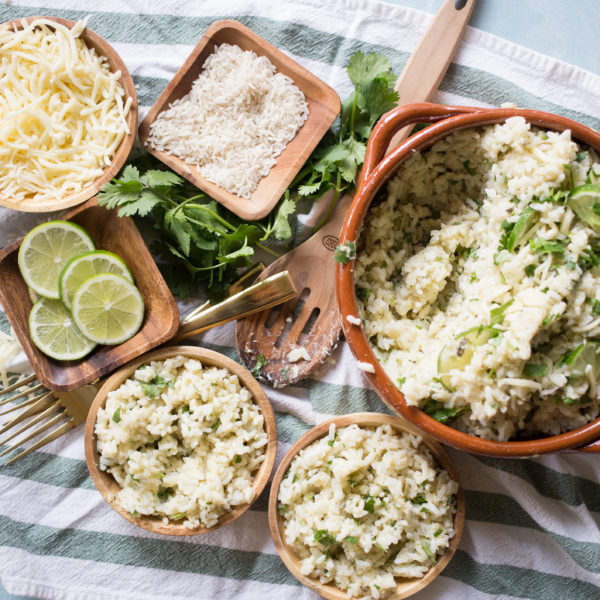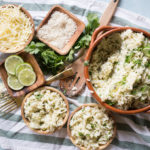 Creamy Arroz Verde
A creamy rice dish made with fresh tomatillos, cilantro, lime juice and plenty of shredded cheese baked until bubbly is the one of my favorite weekday meals.




Ingredients
1

lb.

tomatillos

husk removed and rinsed

1/2

white onion

2

cloves

garlic

1/2

cup

cilantro leaves

1

tablespoon

fresh lime juice

2

teaspoons

salt

2

cups

water

1

cup

Mahatma rice

1

cup

Mexican crema

2

tablespoons

fresh lime juice

1

cup

shredded Monterey Jack cheese

¼

cup

cilantro leaves
Instructions
For tomatillo sauce: Place tomatillos, onion and garlic in a saucepan, cover with water. Bring to a boil and simmer for 5 minutes. With a slotted spoon, remove tomatillos, onion and garlic and place in a blender, with ½ cup cooking liquid. Blend until smooth. Stir in fresh lime juice and salt.

For rice: Bring 2 cups of water to a boil in a 2-quart heavy saucepan. Stir in 1 cup rice. Cover, reduce heat and simmer for 20 minutes or until all water is absorbed.

Preheat oven to 350 degrees. Liberally spray a baking dish with non-stick cooking spray. Stir together the rice, tomatillo sauce, crema, fresh lime juice, Monterey jack cheese and cilantro. Bake 15-–20 minutes or until cheese melts completely. Serve warm.