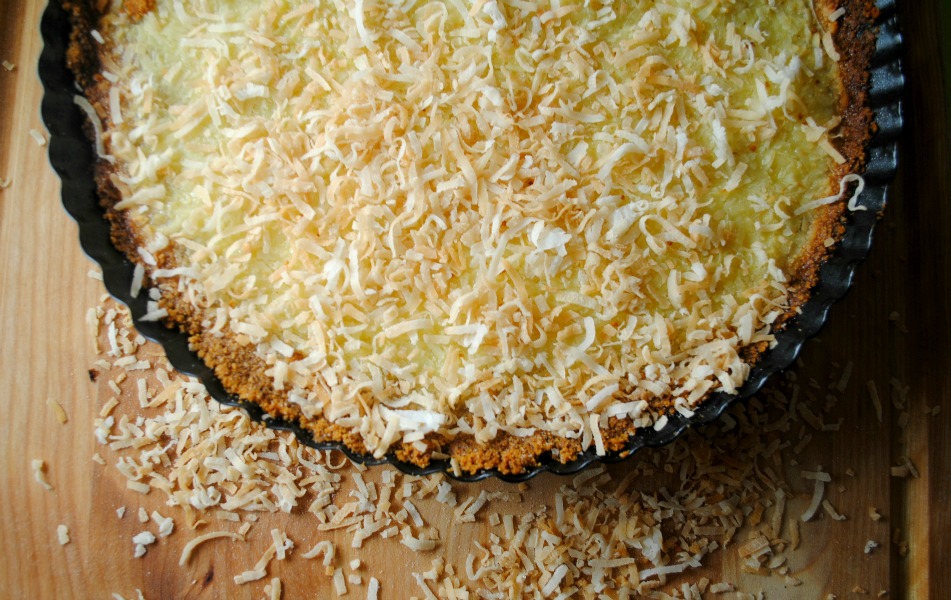 Creamy Coconut Tart
We recently celebrated my older sister's birthday with a small family gathering at her home. My mom and younger sister were in charge of the food, which was amazing.  And little ole me was in charge of presenting the birthday girl with a sweet birthday treat.  My sis loves key lime tarts, bars and cheesecake and I almost went that route, but I thought I'd mix it up this year.  I mean it was the big one, the lordy, lordy look who's forty celebration so I knew I had to bang out something spectacular.
At first I thought chocolate, but decided against the norm in hopes of creating a tart she would love.  Then I thought coconut, yes that could work, why not a creamy coconut tart bursting with coconut, lime juice and an extra kick from coconut water.
Winner, Winner! 
Did she love it? Oh heavens, she devoured it. Actually she had 3 pieces, but heck when it's your 40th birthday you can have your tart and eat it too.
Happy Birthday sweet sis, Te quiero!
Loving this Creamy Coconut Tart? Check out the recipe over at the Imperial Sugar website where you can also find the recipe in English/Spanish.
Sweet Life Disclosure:  This post is sponsored by the fine folks over at Imperial Sugar where I am excited to be developing new Latin recipes for the home bakers.