I can clearly remember hating Valentine's Day.
I was bitter.
I had no boyfriend, no dates, no weekend plans, and no social life.
I was bitter.
What I did have was work.  I was working two jobs and miserably trying not to fail my current semester in college.  Deep down I knew this was the reason I had no social life, but would never admit it.
I continued to be bitter.
A lot has changed in the last 12 years.  I am madly in love with my husband.  I have the privilege of raising two wonderful daughters.  I am surrounded with family and friends who love me.
No more bitterness.
So how does oranges fit into my current ramble?
It all boils down to ice cream.  Over the last 12 years I have made this ice cream hundreds of times, using bitter oranges.  The sour tang from the orange combined with cream and chocolate present a delight of a combination, but this year I decided to put aside everything bitter.  I replaced the bitter with the sweet.  Sweet segments of oranges are blended with cream and sugar until smooth.  Trasfer to your ice cream machine and presto..done.
The chocolate letters add a splash of fun, don't you think?  We love personalizing our treats, simply melt your chocolate and add to a piping bag.  Pipe your letters on parchment paper, allow to cool and carfeully peel.
Add alongside or scoop your ice cream on top for that layered look.  (My ice cream is molded, a small layer of grapefruit sherbet from an earlier post is below my orange ice cream.)
Happy Valentine's Day to all my family, friends and those of you visiting for the first time.
May you be showered with kisses, hugs and affection.  Let us leave all our bitterness for the citrus, shall we?
Let's treasure what we have, enjoy our life and celebrate with ice cream! Lots of love ..Sweet Life! Enjoy!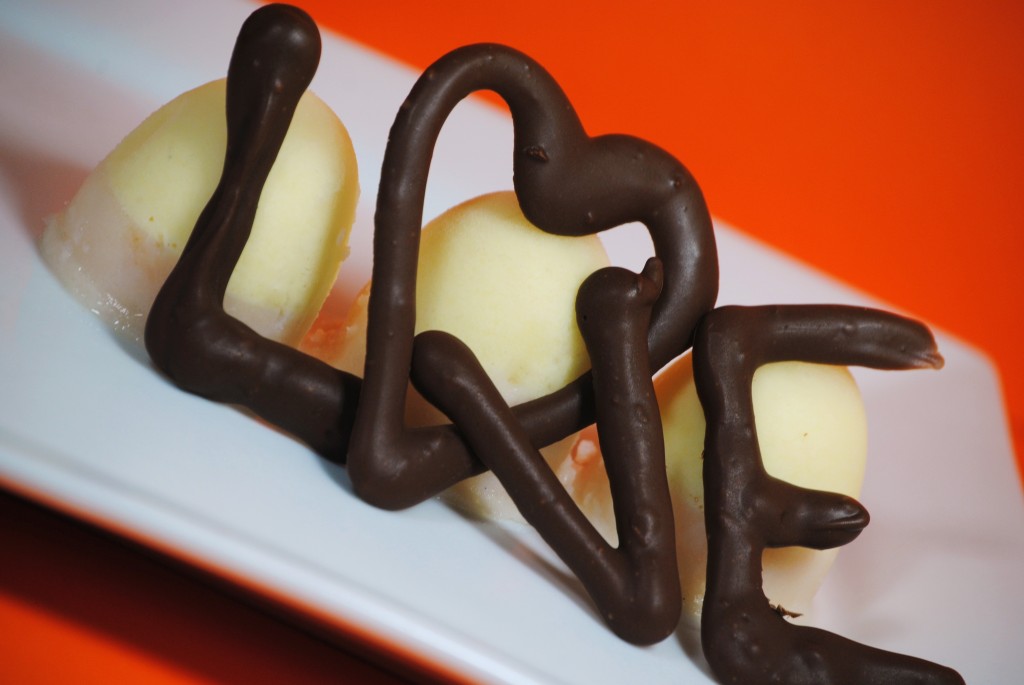 Orange Ice Cream
By Sweet Life
By Vianney Rodriguez
make 2 pints
2 cups orange segments
1/2 cup sugar
1 cup heavy cream
1 tbsp fresh lemon juice
1 tsp orange zest
Place all ingredients in a blender and blend until smooth.  Pour mixture into an ice cream maker and freeze according to the manufacturer's directions (your model)
Scoop ice cream into freezer safe container and freeze until ready to serve.
If you haven't had the chance please do not forget to enter my giveaway!! A chance to Taste Texas! Click here.