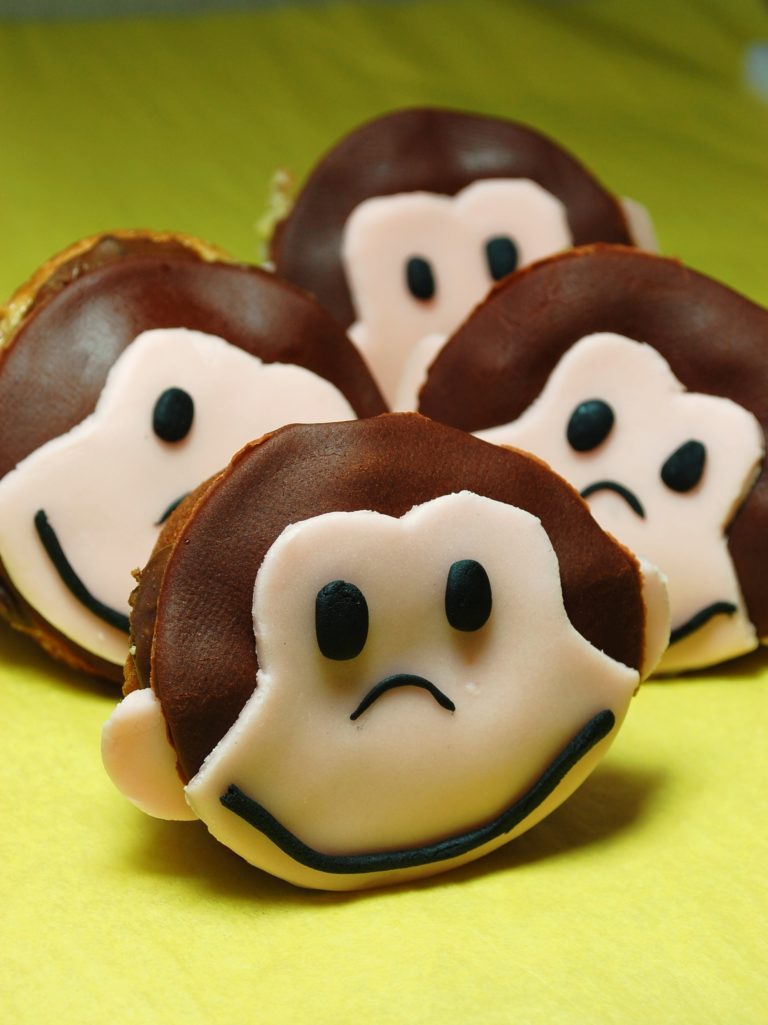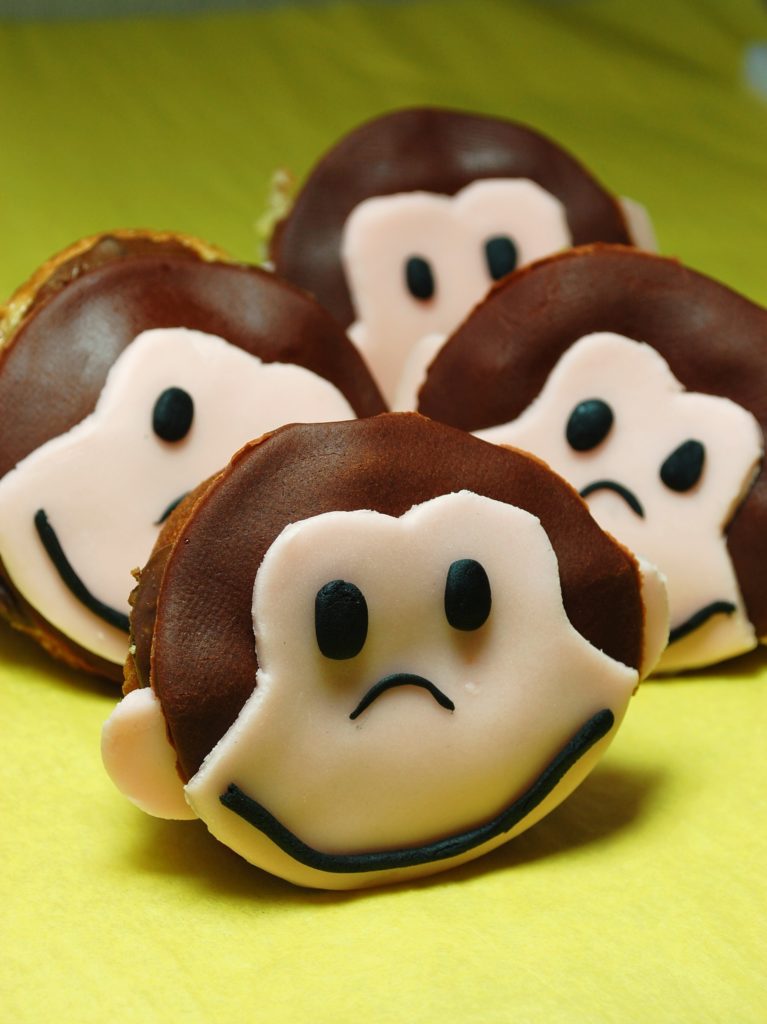 When given the chance to host a pre screening party of the new episode "Mother's Day Surprise," featuring Curious George, I jumped at the chance.  Curious George is one lovable monkey who like our party guests is always curious,  always eager,  always willing to learn. 
The episode highlights Curious George helping his friend Marco celebrate El Día de la Madre, Mother's Day.   I enjoyed that our kiddos were given a brief introduction into a holiday celebrated in their culture.  The episode promotes the love for a mother, Hispanic heritage and friendship.  For our Curious George party our guests ranging from the age of 3 to 11 feasted on banana smoothies, fresh fruit, banana quesadillas and our Curious George inspired cupcakes.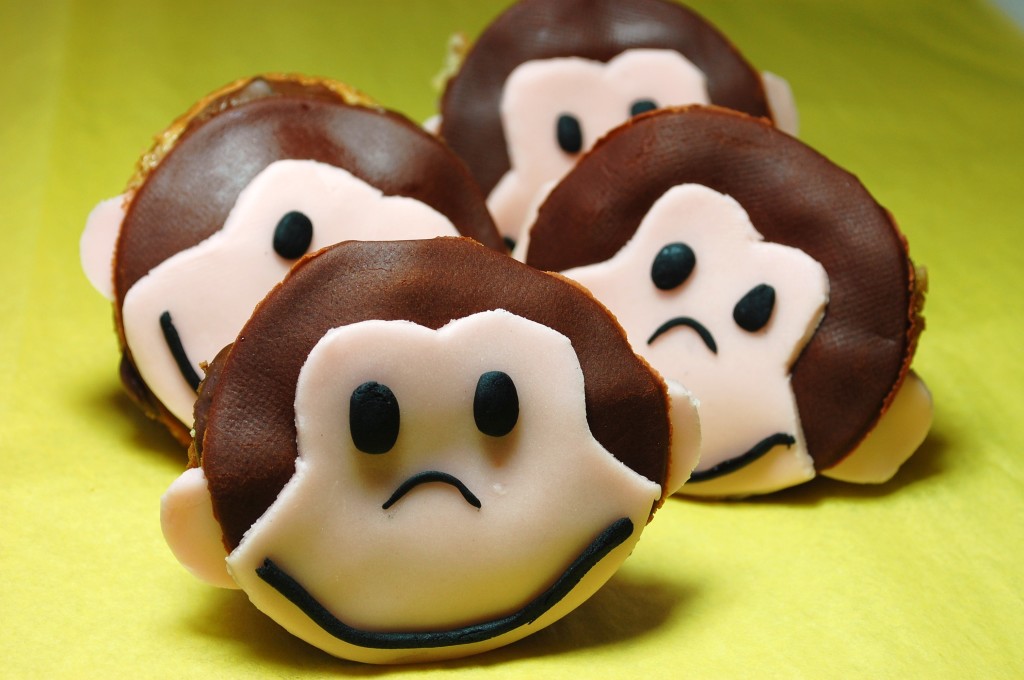 Curious George continues its 5th season with a brand new Mother's Day episode celebrating Hispanic heritage and Latina moms.  Premiering Friday, May 6, 2011 on PBS KIDS, "Mother's Day Surprise" features George helping Marco surprise his Mami with a party. Together, they make a piñata and other festive decorations while Marco's sister and the Man with the Yellow Hat prepare some of the guest of honor's favorite foods.  Learn about Hispanic culture and help George and Marco celebrate El Día de la Madre in this special episode of Curious George.
from PBS press release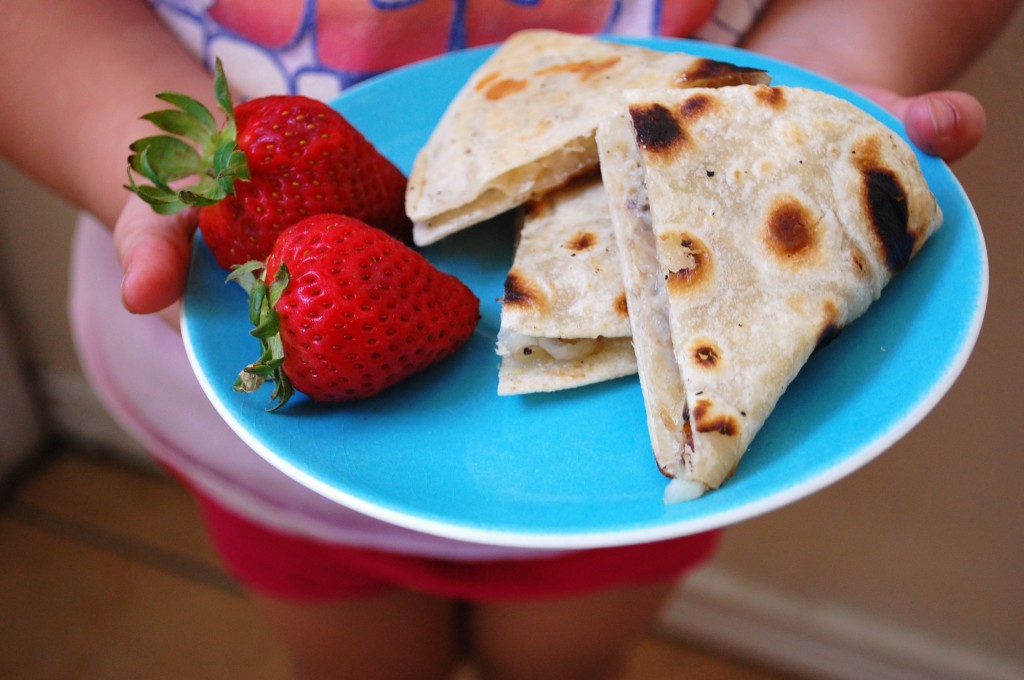 Our smallest party guest models here Curious George party plate! Thanks Izzy!
Join us in a Moms celebrating Moms brought to you by Curious George Twitter Party for a chance to win one of three $100 gift certificate from Aveda.com
Thursday May 5th
1pm EST / 10am PST
#CuriousGeorgeMoms
with special guest Dorothea Gillim  Executive Producer at WGBH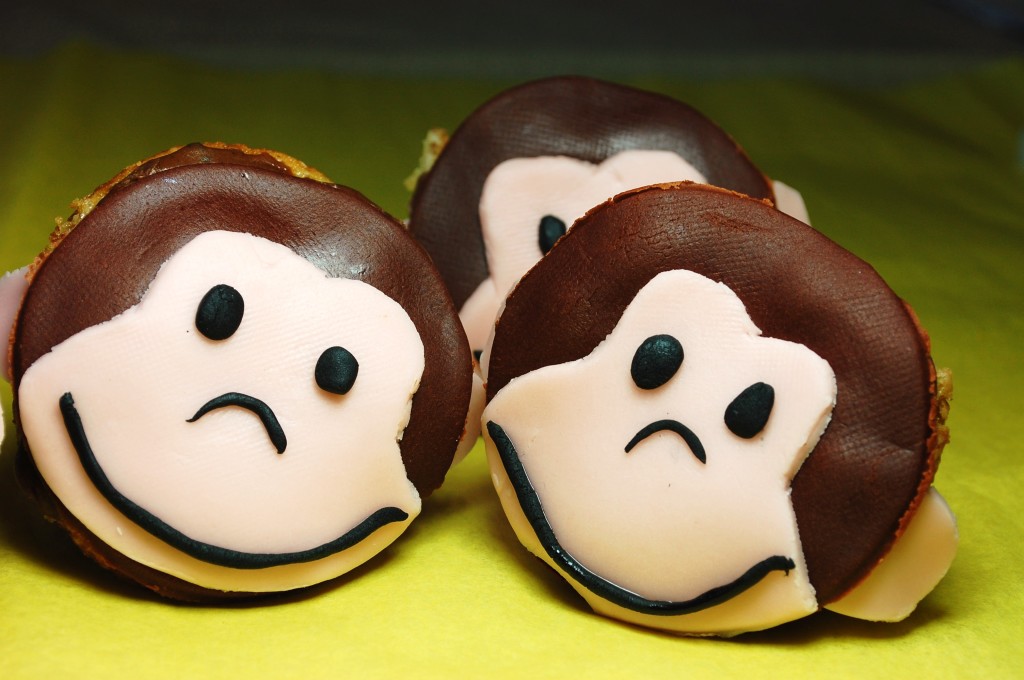 Fondant for Curious George found here.
you will need
fondant
black gel dye
pink gel dye
brown gel dye
rolling pin
powdered sugar (just in case the fondant sticks to the surface)
~~~~~~~~~~~~~~~~~~~~~~~~~~
Banana Cake with Chocolate Frosting
Southern Cakes (cupcakes)
by Nancie McDermott
Banana Cake
2 cups all purpose flour
1 tsp baking soda
1 tsp baking powder
1/4 tsp salt
3/4 cup (1 1/2 sticks) butter, softened
1 1/2 cups sugar
3 eggs lightly beaten
1 tsp vanilla extract
1/2 cup buttermilk (see note)
1 1/2 cups mashed ripe bananas
Chocolate Frosting
1/2 cup (1stick) butter
1/3 cup cocoa
1/3 cup evaporated milk or half-and-half
4 cups sifted confectioner's sugar
1 tsp vanilla extract
To make the cake, heat the oven to 350 degrees.
(cupcake pan) makes 16 large
Grease and flour two 9 inch round cake pans. Combine the flour, baking soda, baking powder, and salt in a medium bowl, and stir with a fork to combine well.
In a large bowl, combine the butter and sugar, and beat well, about 2 minutes. Add the eggs, one by one, and then the vanilla. Beat well for 2 to 3 minutes more, scraping down the bowl occasionally, until you have a smooth batter.
Using a large spoon or spatula, stir in half the flour just until it disappears into the batter. Stir in the buttermilk, and then the remaining flour, the same way. Quickly and gently fold in the mashed bananas, and then divide the batter between the 2 cake pans.
Bake at 350 for 25 to 30 minutes, until the cakes are golden brown, spring back when touched lightly in the center, and begin to pull away from the sides of the pans.
Cool for 10 minutes in the pans on wire racks or folded kitchen towels. Then turn out onto wire racks or plates to coll completely, top side up.
To make the frosting, in a medium saucepan, combine the butter, cocoa, and evaporated milk. Place over medium heat and bring to a gentle boil. Cook, stirring often, for about 5 minutes, until the cocoa dissolves into a dark, shiny essence. Remove from the heat and stir in the confectioners' sugar and vanilla. Beat with a mixer at low speed until you have a smooth, thick frosting.
To complete the cake, place one layer, top side down, on the cake plate or serving plate, and spread about 1 cup of frosting evenly over the top. Cover with the second layer, placed top side up. spread the frosting evenly, first over the sides and then covering the top of the cake.
Note: if you don't have buttermilk, stir 1 1/2 tsp of vinegar or lemon juice into 1/2 cup milk, and let stand 10 minutes.
**I made cupcakes***
Thank you PBS  and Ana Flores of Latina Bloggers Connect for allowing Sweet Life to celebrate Curious George.