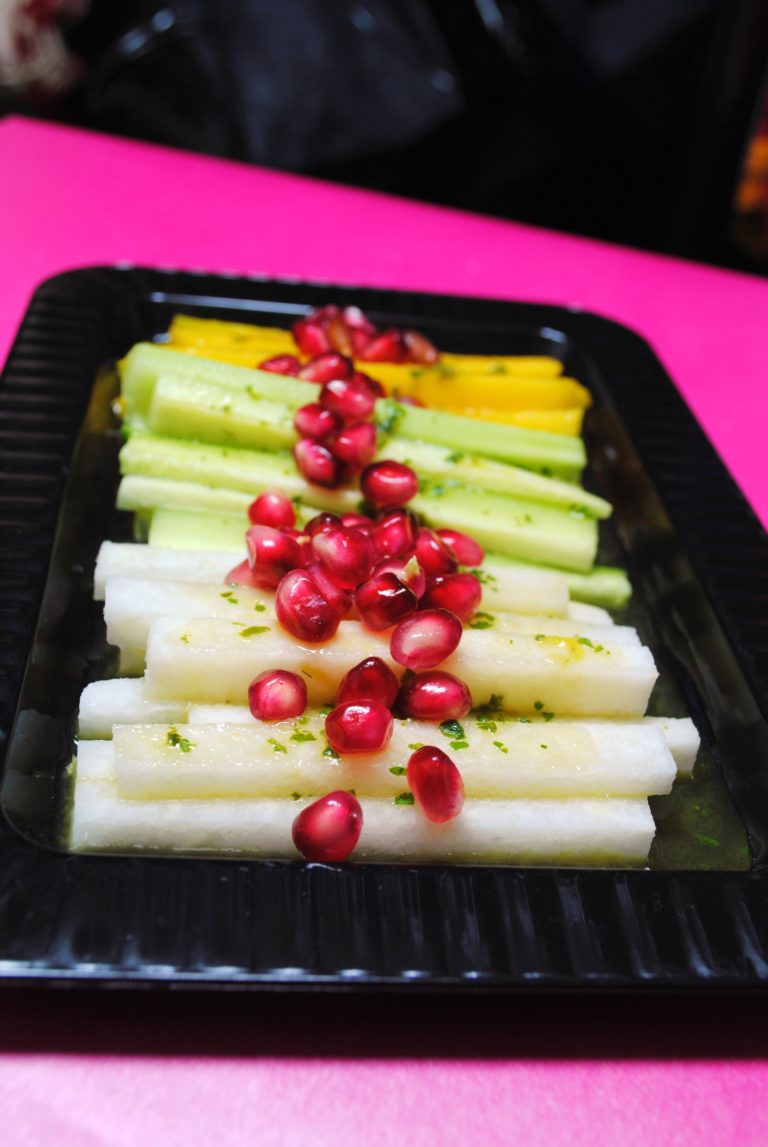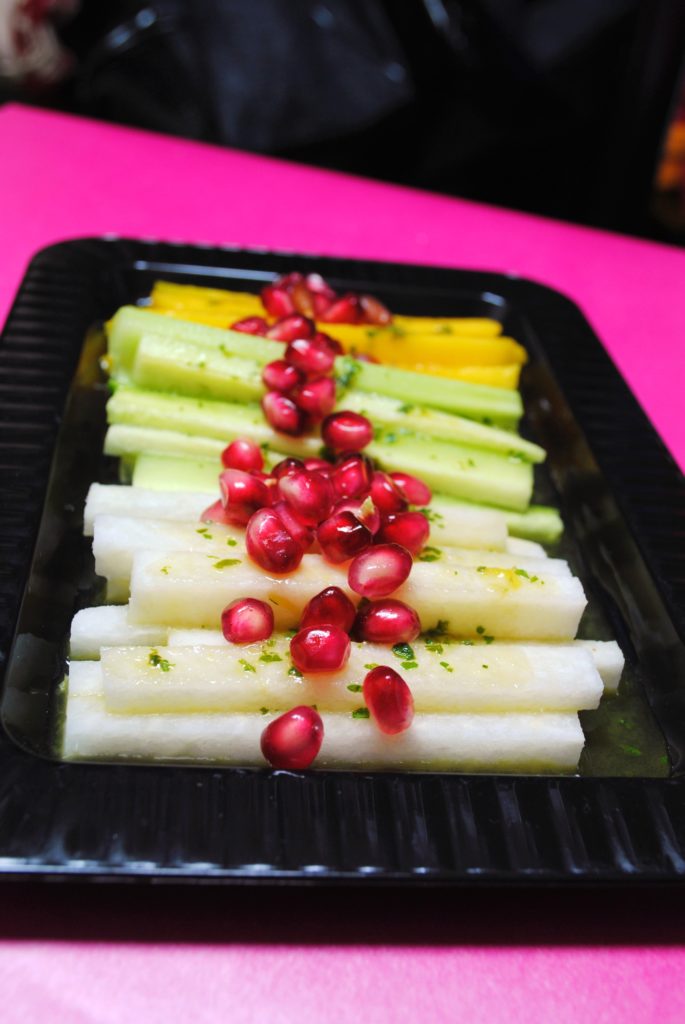 Yesterday I spent the entire day deleting pictures of food.  Funny how they add up.  I ran across this salad from Chuls's Bday party that I meant to post, but somehow that post got sidetracked.  So in the spirit of Spring Cleaning my computer, why not go ahead and post this colorful salad.
This is Chuls's(11yr old daughter) favorite salad, as she states "a perfect finger food!"   Thick matchstick slices of mango, jicama and cucumber tossed with a Pomegranate Cilantro dressing.  My girls' enjoy this as a snack, served alongside fish or tossed with spinach.
Jicama
from Cooking in Mexico
     Etmology — The name jícama is from the Nahuatl word, xicamatl. J ícama is the name of this native Mexican plant, as well as the name of the edible root. It also goes by the names ofyambean and Mexican turnip.
The tuber can weigh up to twenty kilograms, but you will never see them in the stores this big. Usually they are between one half to one kilo (1-2 pounds) in weight. A half kilo-sized jicama is young and juicy.
Jícama has a water content of 86-90%, and is high in dietary fiber. Their nutritional claim to fame is that they are an excellent source of prebiotic fiber. Prebiotics are necessary for the support of probiotics.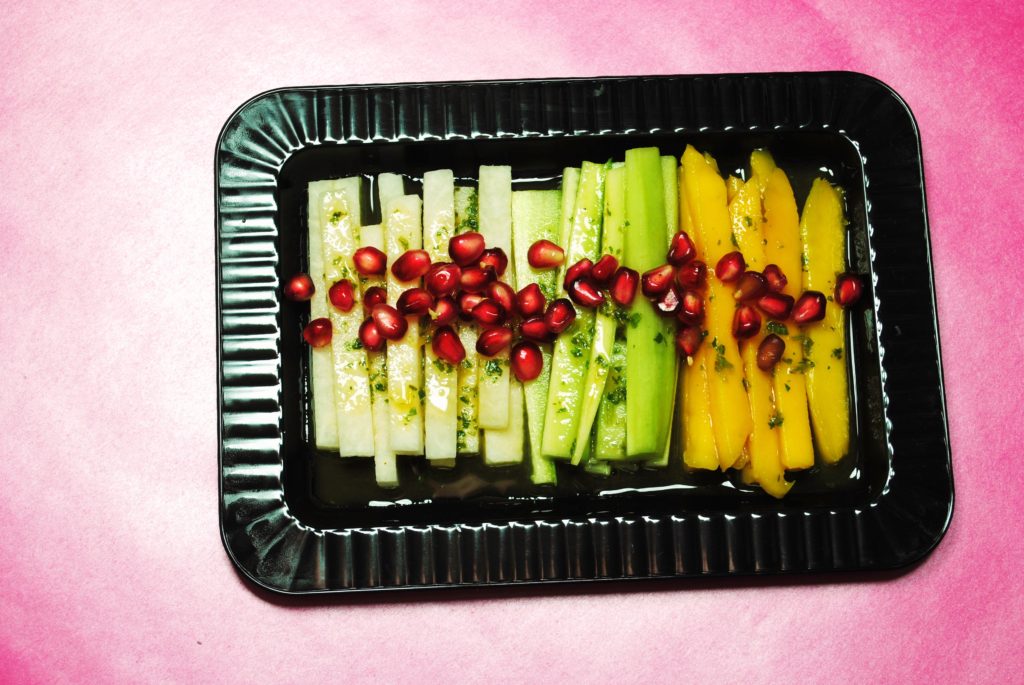 Chuls's loves hot pink, so her birthday party was an explosion of shades of pink, everywhere!! A perfect backdrop for this salad, don't ya think?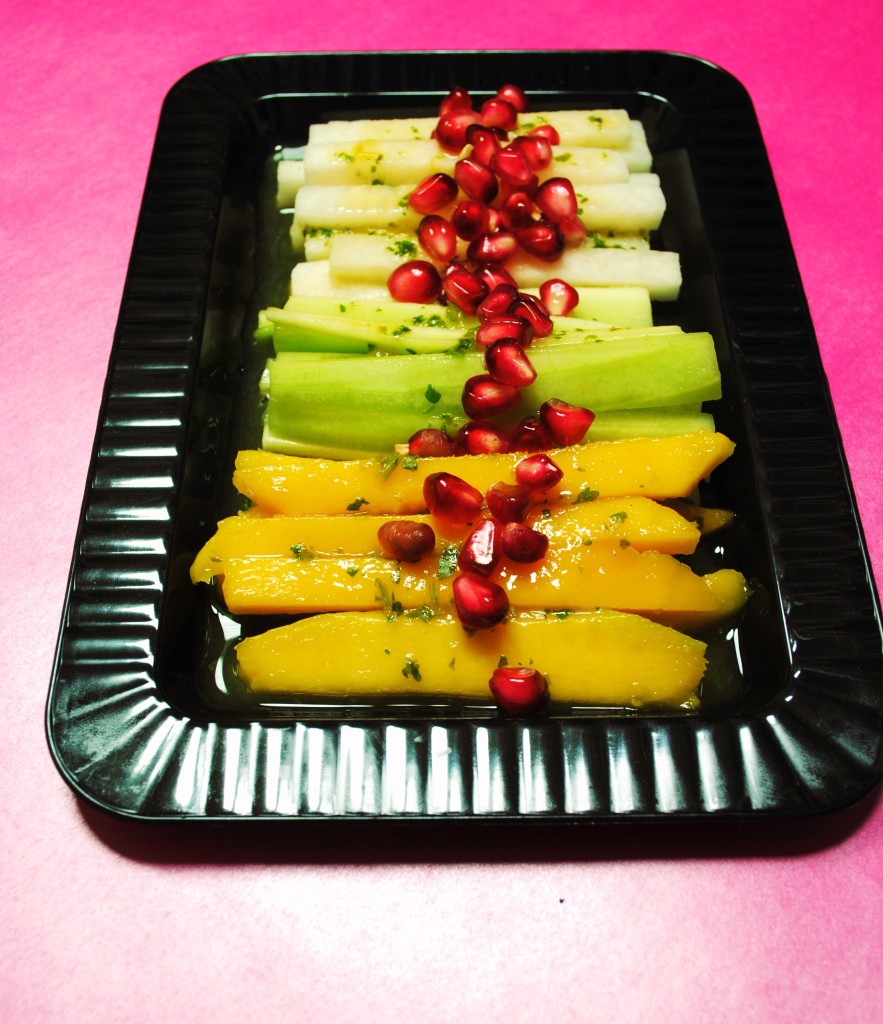 Ensalada de Jicama, Mango y Pepino
by Sweet Life
by Vianney Rodriguez
serves 6-8
1 jicama, peeled and sliced in 1/2 thick matchstick slices
3 mangoes, peeled and sliced as jicama
3 cucumbers, peeled as jicama
1 cup pomegranate juice
1/2 cup cilantro leaves, finely chopped
1/4 cup olive oil
salt
pepper
pomgranante seeds for garnish
Combine pomegranate juice, olive oil, cilantro and stir to combine. Season to taste with salt and pepper. Toss with jicama, mango and cucumber.  Garnish with pomegranate seeds.