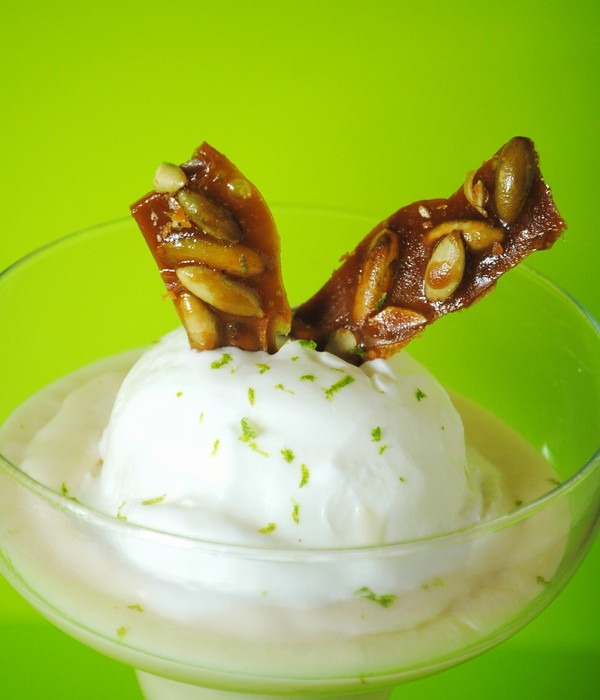 This recipe was featured on New Latina.  I would like to thank all who stopped by and left wonderful comments and words of encouragement.  /em>
Cooking for me is comfort.  A peaceful break from the busy world, motions that alleviate stressful times in my life or quiet moments to rejuvenate my soul.
Cooking gives me the opportunity to spend time with loved ones who offer me endless comfort.  Although not physically with me, but in spirit we cook together. When flavors combine, aromas fill the kitchen I can hear their whispers, their encouragement, their love.
This sweet treat combines my beloved kitchen company with treasured memories.  The smell of guayabas remind me of my dear grandfather, the aroma takes me back to my childhood summers spent with him. The tart lime whisks me to my mother's backyard.  Year after year her citrus tree showers us with limes. We juice, we cook, and we sip on lime flavored concoctions.
Pepitas taste of youth, Halloween, fall days' in the kitchen with my children.  New memories are made, which will in turn keep me company as I cook in the future.  Please enjoy this sweet treat with your loved ones from my kitchen to yours.  Sweet Life.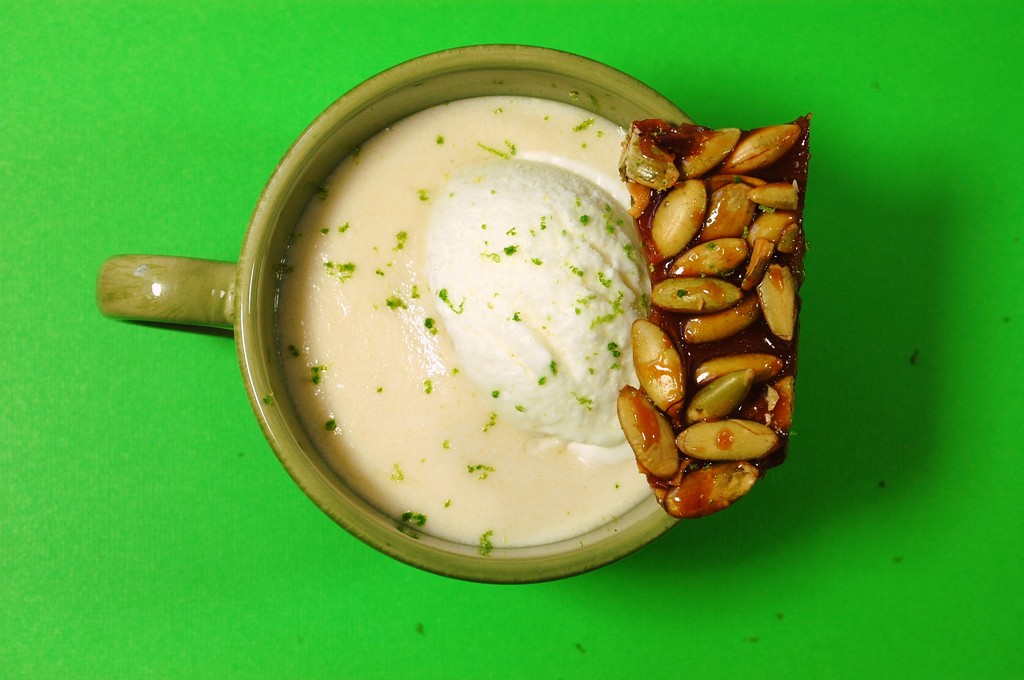 Pepita Brittle
by Sweet Life
by Vianney Rodriguez
1/2 stick unsalted butter, plus more to butter a baking sheet
½ cup light brown sugar
¼ cup agave
1 cup roasted, salted pumpkin seeds
Butter a 11 by 17-inch rimmed baking sheet, set aside
Melt the butter in a small saucepan over medium heat. Add the brown sugar and agave, stir to combine. Bring to a boil, stirring to dissolve sugar. Continue to cook without stirring, until syrup is medium amber and candy thermometer reads 280 degrees, about 8 minutes.
Stir in pumpkin seeds carefully.  Cook until mixture reaches 300 degrees, about 2 minutes. Pour into prepared baking sheet. Let cool. Break into pieces. Store in airtight container.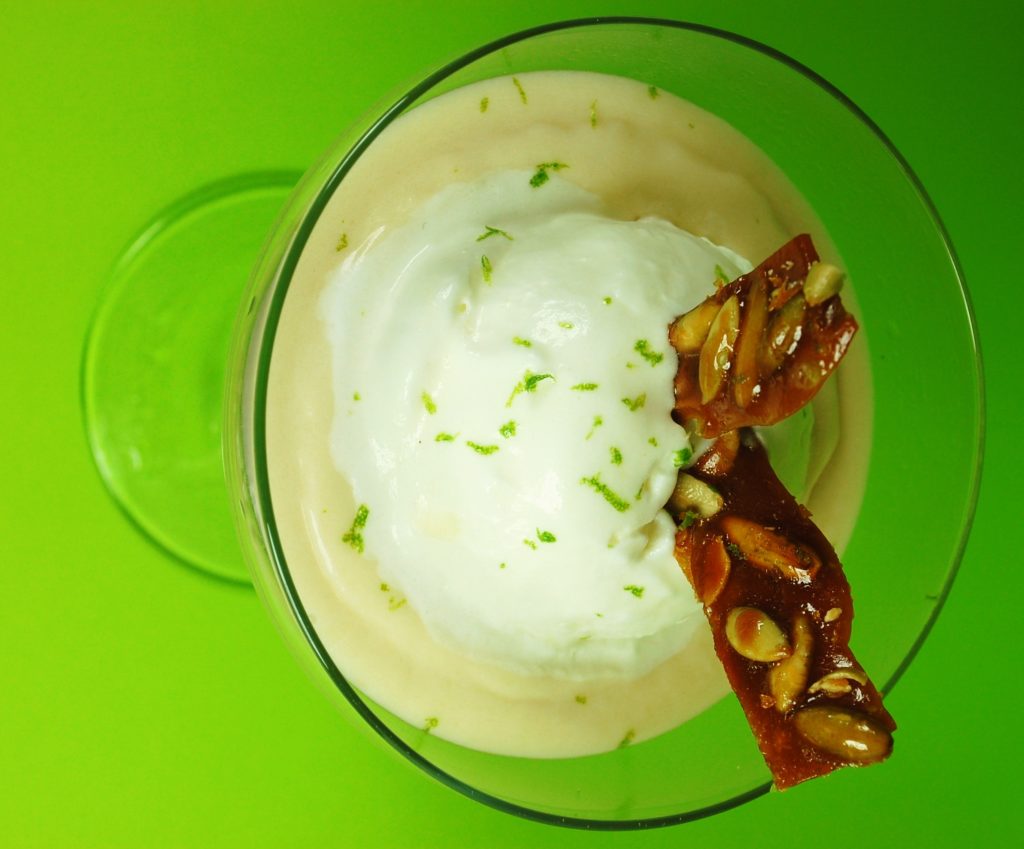 Guayaba Cream
by Sweet Life
by Vianney Rodriguez
Serves 6
½ cup guyabas, peeled and diced
½ cup piloncillo, 4 oz, grated
2 cups water
1 pinch of salt
1 ½ cups heavy whipping cream>
In a saucepan add guayabas, piloncillo, water and salt.  Bring to a boil.  Cook for 12 minutes.
Remove from heat and add to a blender, carefully blend until smooth.
Strain the guayaba puree. Cool.  This step can be completed the night before, cool in fridge overnight.
When the puree has cooled, whip the heavy whipping cream until soft peaks form, about 8 minutes.
Fold the guayaba puree lightly into the whipped cream.  Serve.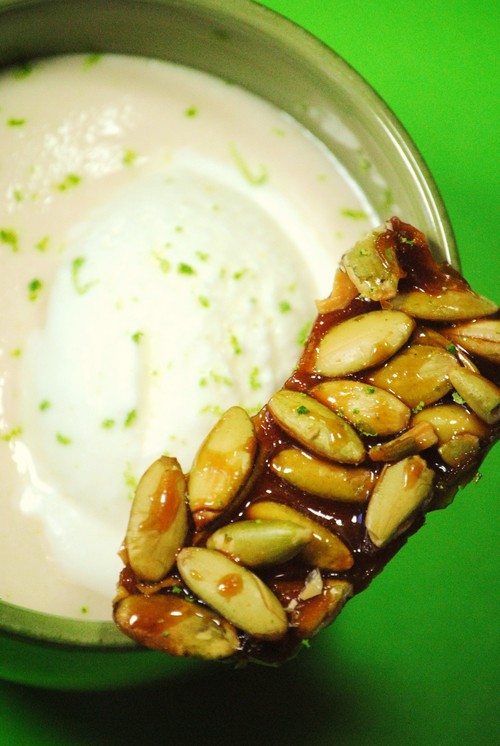 Lime Ice Cream
by Sweet Life
by Vianney Rodriguez
Serves 6
3 limes, zested and juiced
2 cups of sugar
2 cups of heavy whipping cream
2 cups of milk
Place all ingredients in a food processor or blender and blend until sugar dissolves.
Freeze.
This recipe can also be made with lemons, bitter oranges or a combo. Too easy!!
Love this recipe grab my feed and have a fresh new recipe delivered straight to your email!!
Want more ice cream?