This week Go Texan is celebrating the Lone Star taste of local Texan products, produce and Texas talent in a Restaurant Round Up that feature these wonderful products all to support local foods banks and officially kick of Texas Wine Month.   When I received the email of this event I knew I wanted to participate.  I love promoting local products from my wonderful state, but mix in the chance to meet the talent who cook this fabulous meals all while supporting their local food banks makes  for a win- win evening.  The night was even sweeter with my little sis being in town from Kansas, so off we went along with hubby to enjoy a a wonderful meal.  Each participating restuaraunt featured local Texas wines with their Go Texan menus.  At first we struggled with our decision on where to dine, with so many local restaurants,  but in the end decided on El Terco Seafood  Restaurant.  El Terco (stubborn one) affectionately named after owner  Gabriela Herrea's husband has only been open for 6 months. 
When we walked in the atmosphere was casual, the smells for the tiny kitchen were welcoming and the staff was friendly (which is always a plus).  We were quickly seated and menus were graciously offered.  We had the pleasure of being waited on by Gabriela herself, but from the looks she is hands on every night.  She walked from table to table happily knowing her customers were enjoying their plates of steamy seafood.  The menu was largely shrimp based, a few fish plates and simple sides.
On her recommendation I ordered the Ahillo plate – Catfish sauteed in butter with garlic (LOTS) and ahillo peppers. The chile offered  great flavor with very little heat. I loved the color the chile gave the plate and thick slices of garlic are always welcomed. The chile closely resembled a guajillo chile in the color and soothing backdrop of smoky flavor.   Served along side rice and beans I really enjoyed my plate.  I must also add the refried beans were awesome.  In Tex-Mex or Mexican eateries,  refried beans that are properly made can guarantee you many loyal customers.     Price  $8.99
My little sister ordered the Costa Azul plate which was quickly devoured.   Juicy breaded shrimp stuffed with mozzarella, wrapped in bacon and then deep fried. In one bite you were treated to smoky flavor from the bacon, oozing cheese and beautifully seasoned shrimp. We all decided at the table that these puppies must be recreated to enjoy on Sunday with our football fare.  Price  $10.99
Hubby decided on Filete Rellano de Camaron .  Lightly fried fish fillets stuffed with a tomato based sauce with shrimp, olives, banana peppers, celery, capers,carrots, onion, bell pepper and cheese.  I loved the comfort factor of this dish.  As you cut into your fish the thick tomato broth spilled out with layers of shrimp, capers and olives.  All three of us enjoyed this plate. Hubby loved the briny kick of both capers and olives.  Price $12.99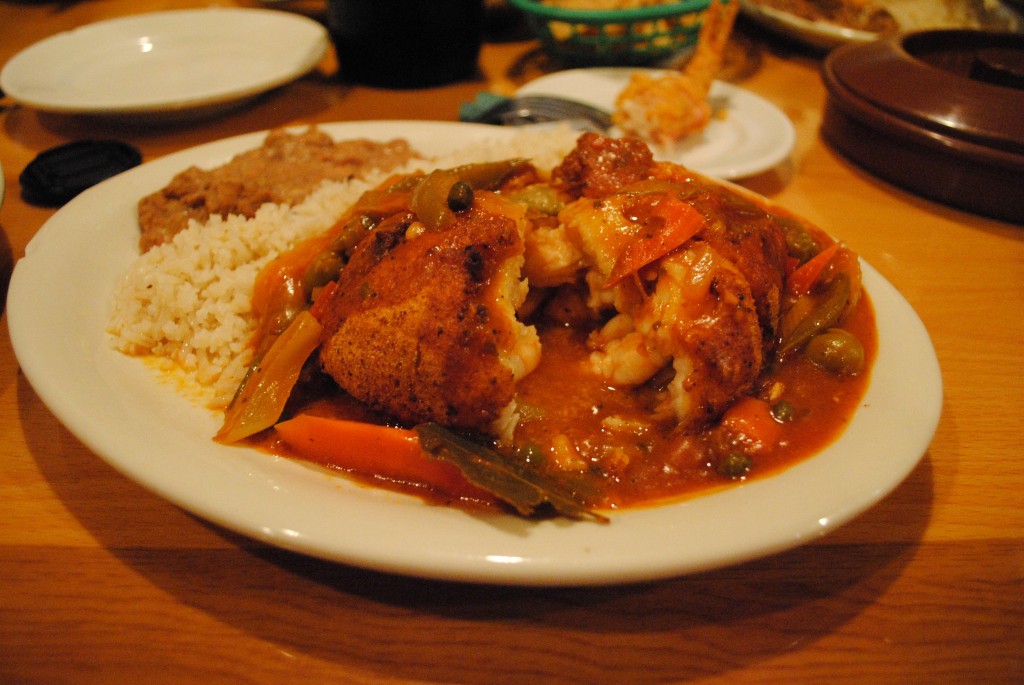 A local wine was featured along side our meal in Go Texan glasses.    I greedily wanted to ask Mrs. Herrea if I could purchase one of these beautiful glasses, but I knew she would showcase them throughout the week.  A Texas wine 10.99
For a complete list of Texas Restaurants participating in this great event…click here
STE Genevieve was the featured wine for the night.  A Texas Red was poured into our glasses the  entire night while we ate, talked with Mrs. Herrea and laughed in each other's company.  I enjoyed myself silly on our night out.  The food was delicious, the wine was rich and the company was unforgettable.  I hope you enjoyed my over view of our evening.  If you are a fellow Texan I urge you to go out and support this wonderful event.
Mrs. Herrea standing next to a picture of her Husband (El Terco).
I thank her for her time, her genuine love for her new place of business and most of all her support of all that is Texas.
***Sweet Life bring you this post on her behalf,  we gladily paid for our meals in support of Texas food banks**