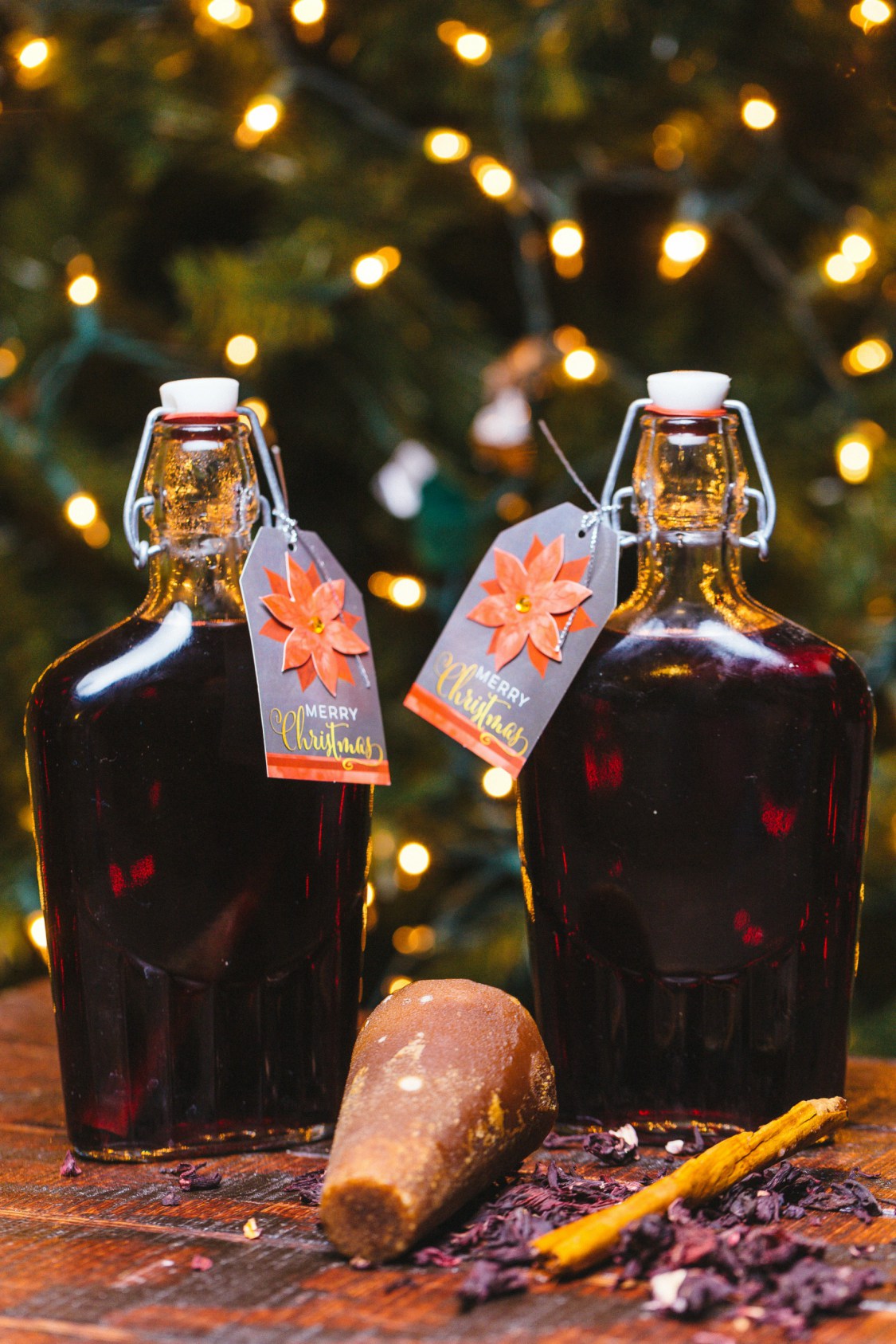 Photos By Jason David Page
Homemade Hibiscus Cinnamon Syrup
When it comes to cocktailing at home – I prefer to make my own simple syrups, they simply taste better than store-bought versions that contain fillers and additives. I always have homemade simple syrup on-hand, plus a few seasonal variations that make shaking up cocktails a breeze. My family and friends love my homemade simple syrups and often ask me to make them a few bottles to take home.
This year I thought it would be nice to create a holiday simple syrup to gift all my cocktail loving friends and family. All you need to make simple syrup is equal parts water and sugar. Heat until all the sugar dissolves, allow to cool and your set to create cocktails. For the holidays, I like to mix it up and create variations such as candied grapefruit peel plus a few cloves which create a wonderful seasonal simple syrup. I've also made lavender syrup, cinnamon syrup and cranberry syrup.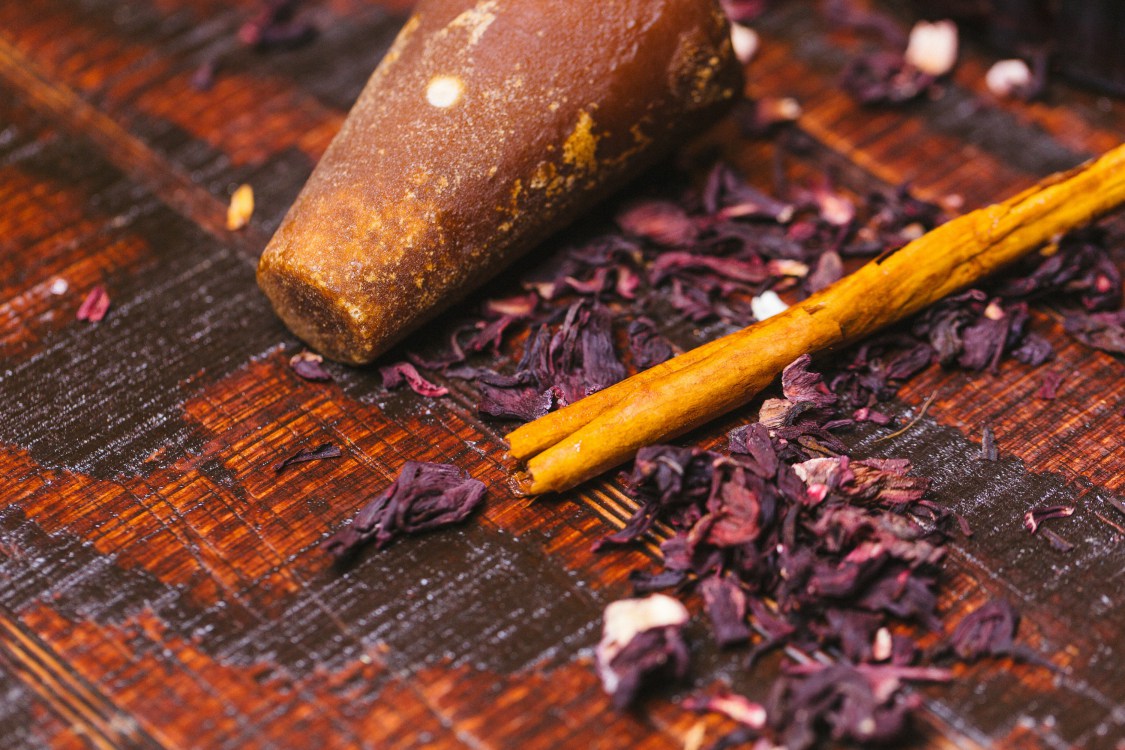 As many of you know I adore hibiscus and enjoy finding new ways to incorporate it in my recipes, so it was a no brainer, but I did want to add some warmth to my syrup, so I decide to replace sugar with piloncillo. Piloncillo adds a caramel, smoky hint to the syrup which pairs nicely with the tangy bite from the hibiscus.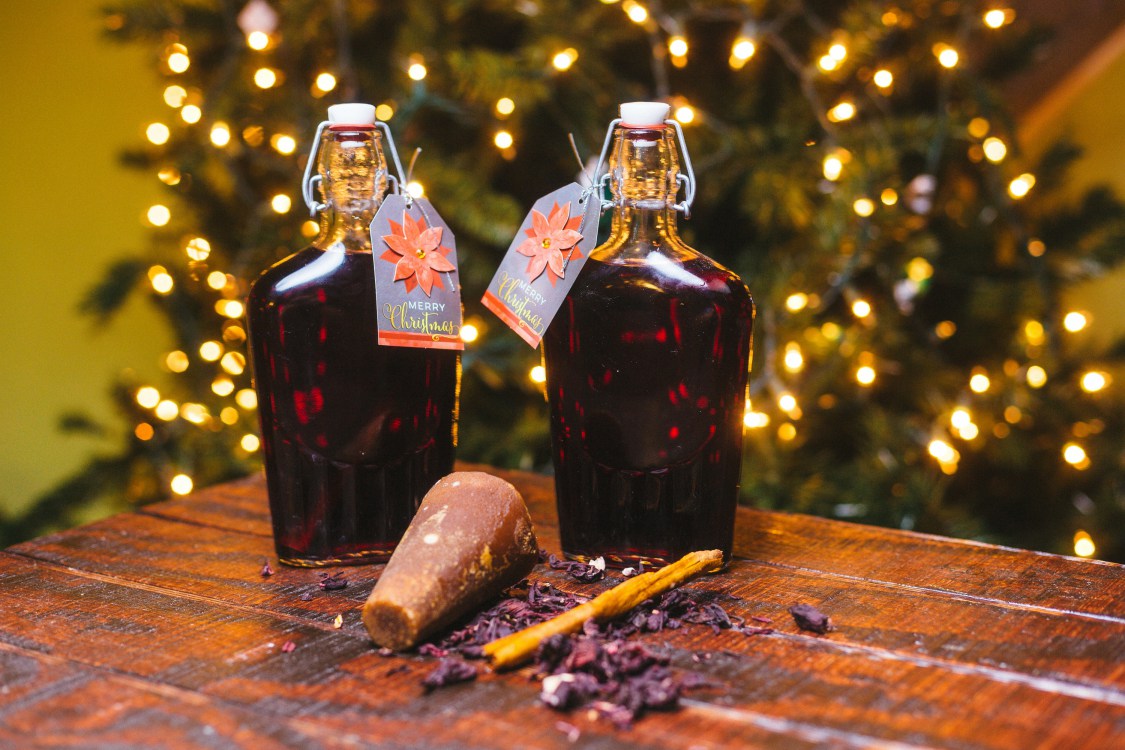 Homemade Hibiscus Cinnamon Syrup
After the syrup cooled I poured into a pretty glass bottles and decorated them with a festive tag. I'm also including a handwritten cocktail recipe. This hibiscus cinnamon syrup will last up to one month in the fridge.
Use this syrup to shake up the following three festive cocktails below: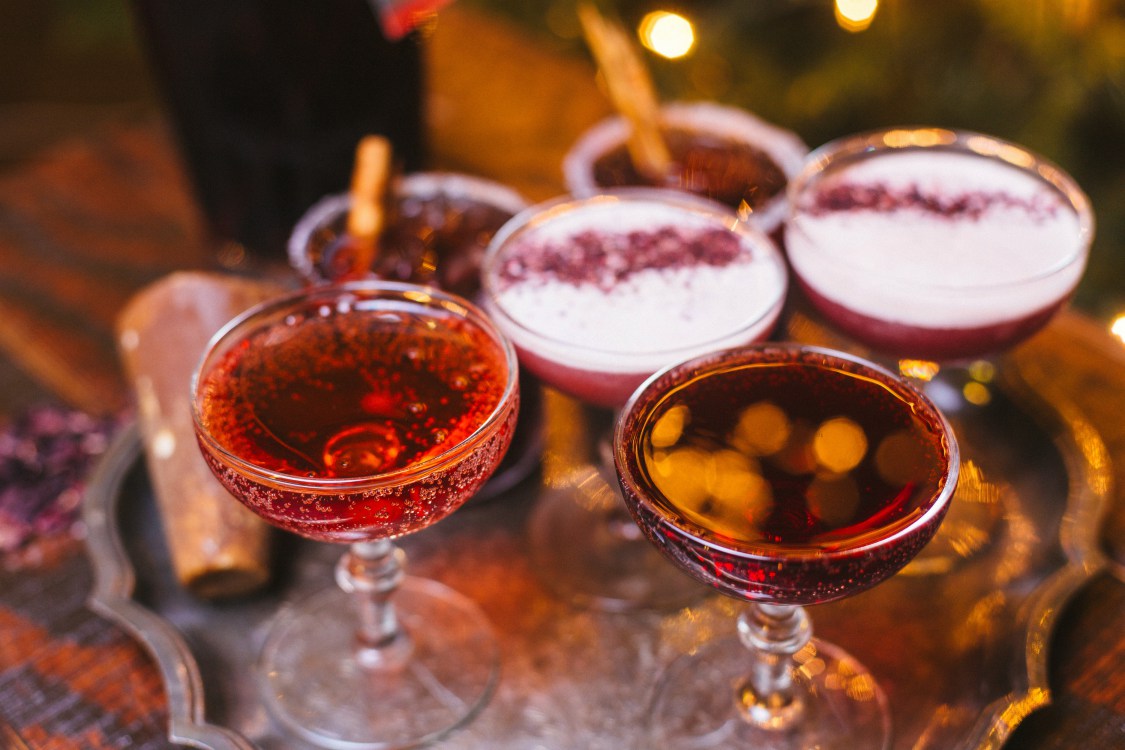 The holidays scream for endless bottles of icy cold champagne and with this syrup you can add a bit of festive Holiday color to your cocktail tray. First up is the easiest of the three cocktails all you need to make this vibrant holiday cocktail is champagne.  I simply love it!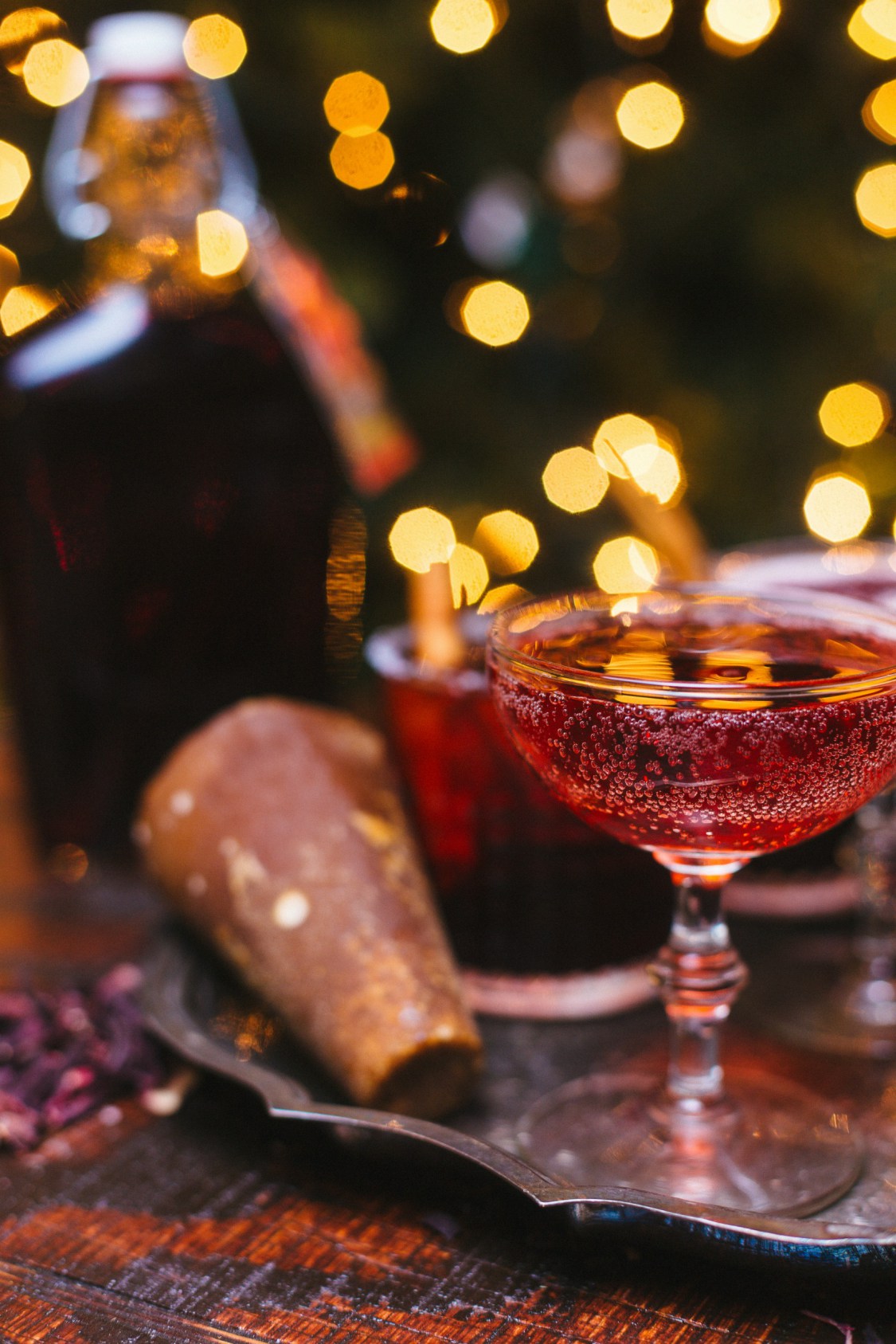 To make this Hibiscus Cinnamon Champagne Cocktail you will need:
1 tablespoon hibiscus cinnamon syrup
Chilled champagne.
Add syrup to glass, top with champagne.
Tequila, my beloved Tequila will always find a place in any of my fiestas, so naturally a Hibiscus Cinnamon Margarita must make an appearance.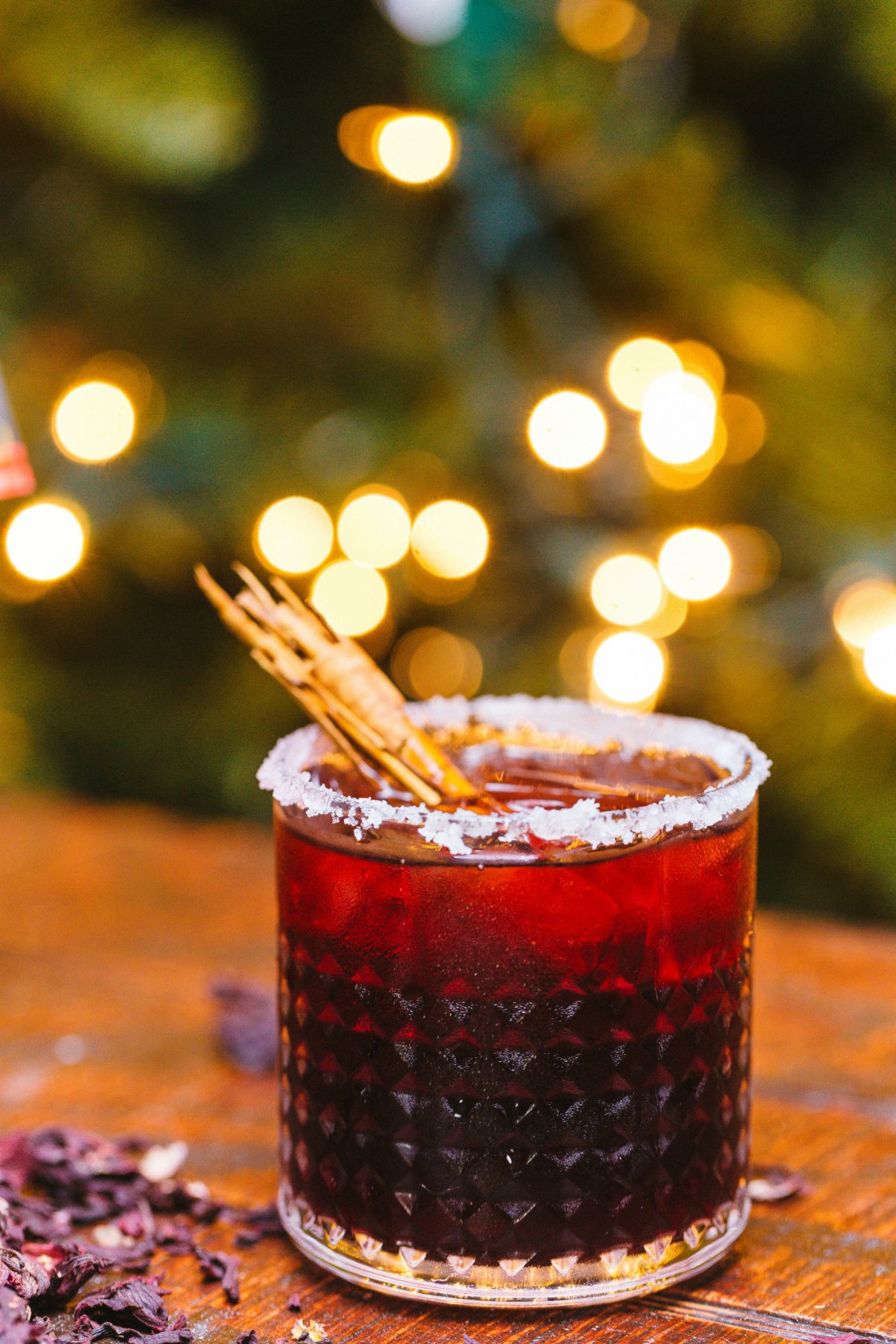 To make this Hibiscus Cinnamon margarita you will need:
Lime wedges & salt
1 ounce tequila
½ ounce freshly squeezed lime juice
1 ounce Cointreau
1 tablespoon hibiscus cinnamon syrup
Run a lime wedge around the rim of a glass, dip into salt and fill with ice. To a cocktail shaker filled with ice, add tequila, lime juice, Cointreau and syrup. Shake well and pour over glass filled with ice, garnish with cinnamon stick.
And now, last but not least a touch of pisco for the holidays. This vibrant, gorgeous hibiscus cinnamon pisco sour is a showstopper. I am in love with the crushed hibiscus-sugar garnish over the frothy egg. This cocktail is my favorite.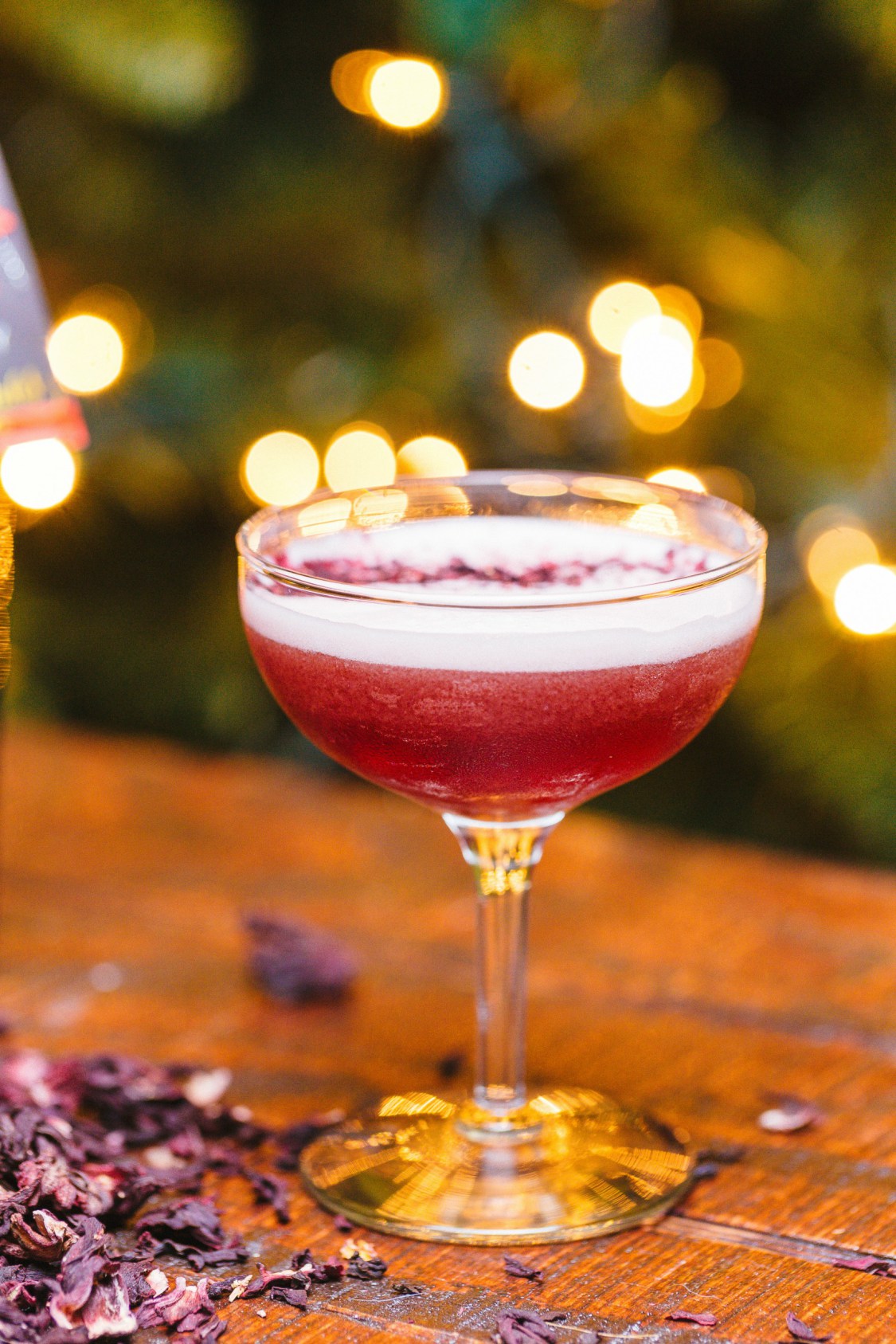 To make this Hibiscus cinnamon Pisco Sour you will need:
2 ounces pisco
1 ounce fresh lime juice
1 ounce hibiscus cinnamon syrup
1 egg white
Angostura bitters (optional)
1 tablespoon sugar
1 tablespoon dried hibiscus
Finely crush the sugar and hibiscus leave using a mortar and pestle or a coffee grinder. To a cocktail shaker filled with ice add pisco, fresh lime juice, hibiscus cinnamon syrup and egg white. Shake vigorously for 2 minutes. Strain into a glass and add 2-3 dashed of bitters (optional), garnish with crushed hibiscus and sugar.
All these fabulous have me excited for my holiday cocktail hour.  Three cocktails all stemming from the same colorful base, a simple, homemade hibiscus cinnamon syrup that you can easily make at home. One syrup three cocktails I believe this homemade gift is one of my best so far. I hope you make, gift and sip one of these festive cocktails this holiday season.
¡Salud!
Homemade Hibiscus Cinnamon Syrup
Ingredients
3 cups water
3 cups grated piloncillo
3 cinnamon sticks
1 cup dried hibiscus
Instructions
Bring the water, grated piloncillo and sugar to a boil in a small saucepan stirring until all piloncillo dissolves. Reduce heat, add hibiscus and cinnamon sticks. Simmer for five minutes stirring occasionally. Remove from heat, allow to steep for 10 minutes. Cool completely. Fine-strain, use to make cocktails. If not using immediately store in the refrigerator for up to one month.
Hire Sweet Life for your next party or event!