Our family is based is Aransas Pass, Texas where our home is located.  Over the years of moving we have not been fortunate to reside in areas where Dia de Los Muertos is widely celebrated.  Luckily we are currently living in Edinburg, Texas which is located a mere 30 minutes from the border of Mexico.  I was overjoyed to find our local museum, The Museum of South Texas History dedicating an entire day to raise awareness for the local youth of a celebration geared toward learning a bit into their  heritage.  Altar Exhibits, Children's Activities, Guest Speakers, Book signing, Plays, Performances, Artists, Music and food were featured.  The event was a huge success. People arrived eager to learn of a Mexican tradition where the lives of the departed are celebrated in joyous union with family and friends.  We enjoyed a Obra (play) of The Life and Times of Juanito Gonzalez, where Juan returns from  death to help the children better understand this tradition.  The tradition is not to be feared, looked upon as morbid or disrespectful.  Every life here on earth will soon pass and we should celebrate death as it is the natural path of life.  My girls' clearly enjoyed his presentation as he engaged the children with laughter, music and humor.  Later we enjoyed Dance perfromances from local dance groups wearing traditional Oaxacan costumes.
From the Museum  
A Glossary for Dia de los Muertos  
Altar – A display honoring departed love one, built in homes throughout Mexico each year during Day of the Dead celebrations. Offerings are placed on the altars.  
La Noche de Duelo – The Night of Mourning, the beginning of Dia de los Muertos in Mexico. On this night, friends and relatives bring food, flowers, and decorations to the cemetery in a candlelight procession.  
Los Angelitos – Children who have died, remembered on All Saints' Day Nov. 1st  
Ofrenda – Offerings placed on the altar, sometimes representing the four elements of earth, air, fire, and water. Earth is represented by food placed at the altar; air is symbolized by papel picado, elaborate paper cutouts that flutter on the breeze. fire is represented in scented candles that decorate the altar, and water is often left in a bowl. Other offerings include personal mementos of the deceased.  
This post is the perfect example of why I as a mother believe my children would greatly benefit from experienicng Dia de Los Muertos.  In this post we honor my beloved Tio Miguel Angel.  My Uncle was a great man who loved his family, believed that we should love our country and be the shoulder to lean on in troubled times.  The sibling bond between my Tio and his sister, has carried her through troubling and happy years in her life.  I love him with a carino that is not easily described, you see I never met him as he died when my mom was only 18.  My uncle enlisted in the Army and was shipped off to Vietnam.  My mother made sure to keep his memory alive within our family.  Ever since I can remember we have heard stories about his life, his adventures, his trouble making and his love of family.  I grew up knowing him completely without ever thinking twice that he had left us.  My most intimate look into his life came the day after we had return from visiting my grandmother.  At this time my husband was deployed for the second time to Iraq and I was staying with my mom with my two small girls.  She approached me to askif I could do her a favor.  Of course I agreed, looking for anything to keep my mind occupied at the time.  She handed me a shoe box filled to the brim with letters, letters from my Tio.  She wanted me to sort them for her, by date.  I worked on this project for almost two weeks, reading each letter twice.  I read letters from when he was at boot camp, as he prepared to ship off and while he was in Vietnam.  I placed each letter in a protective sleeve by date and placed them in a binder.  So many great letters home expressing love, questions about the family and requests. He would request items from home that he missed.  I laughed out loud when I read he wanted jalapenos, he missed jalapenos with his food.  I quickly asked my mom about his request.  She explained that each week my grandfather would make a trip to the post office to mail him off a care pkg, filled with all his favorite things, never forgetting the jalapenos.  He enjoyed stuffed jalapenos of tuna. I never hearing of such a treat, searchedthem on the Internet and could only find this brand (pictured below).  We lost my Tio in Vietnam, but the relationship I continue to carry in my heart will be gladly shared with my girls. Today I offer you jalapenos stuffed with tuna, in honor of my Tio Miguel Angel.  I honor him for my his relationship with my mom, his courage to serve his country and his spirit, for I know his spirit was with my hubby on his service of duty. Enjoy! Sweet Life
Pickled jalapenos stuffed with a mix of tuna, citrus dressing and roasted bell peppers not for the faint of heart. These babies do have heat,  but the citrus adds such a geat kick.  Serve alone of as a side to a great steak.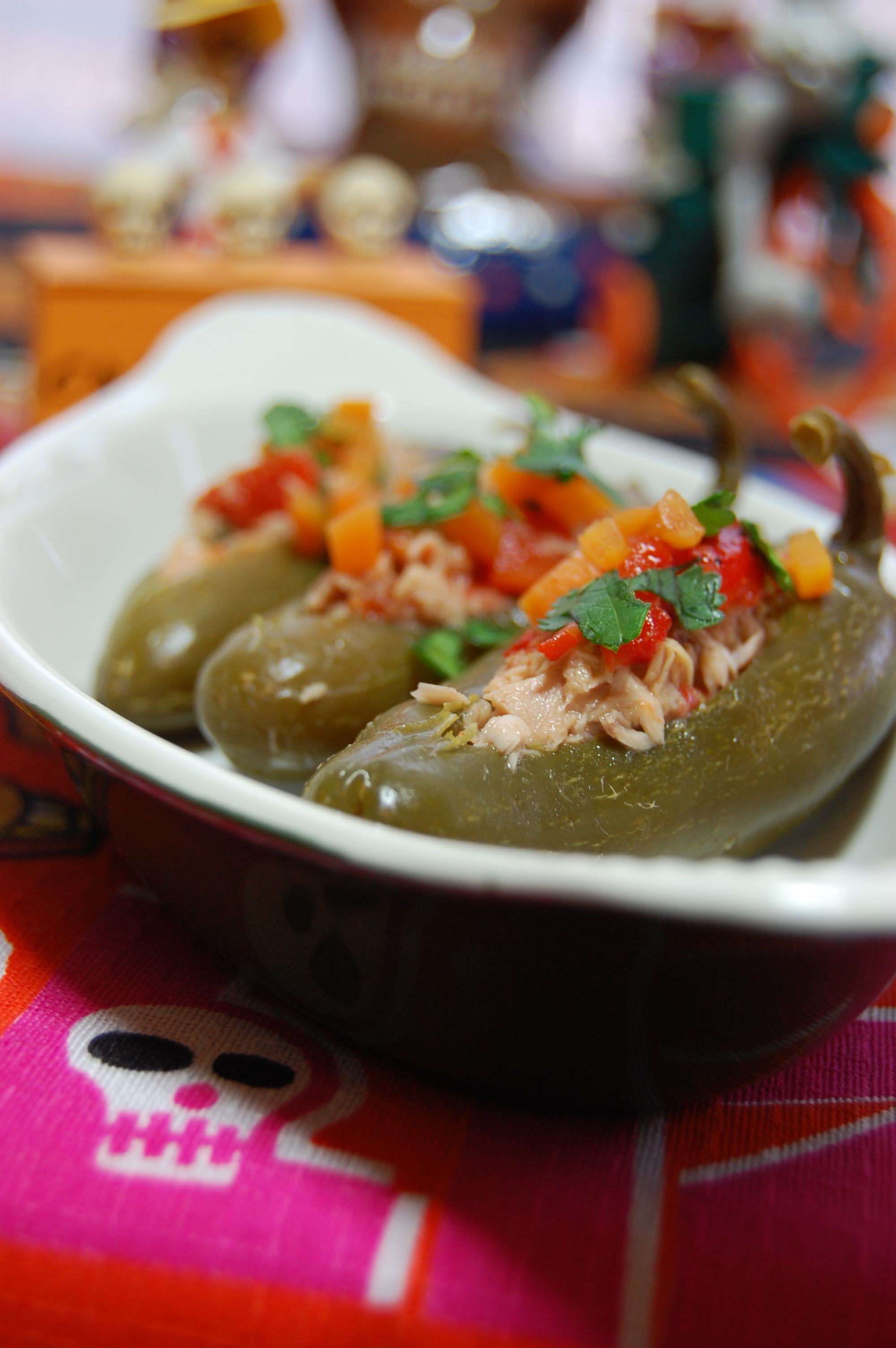 Jalapenos stuffed with Tuna and Oregano Citrus Dressing
by Sweetlife
Vianney Rodriguez
makes 8
1 (15oz) can of whole jalapeno peppers
1 (5oz) can of tuna , packed in water, drained
1 red bell pepper
1/4 tsp  orange zest
1/4 cup freshly squeezed orange juice
1 tbsp apple cider vinegar
1 tbsp olive oil
1 tsp dried oregano (crushed)
salt
pepper
garnish- cilantro and pickled carrots from jalapeno can
Roast the red bell pepper under the broiler until charred on all sides, remove from oven and cover with kitchen towel for about 5 minutes. This will help the skin to be easily removed.  While waiting for the bell pepper
Combine zest, orange juice, apple cider vinegar, oregano, salt and pepper.  Whisk and taste for seasoning.  In another small bowl place well drained tuna and add your dressing tablespoon by tablespoon.  You want
the tuna to be coated in the dressing , but not too moist as the jalapenos are pickled.  Peel the blackened skin off the red bell pepper, remove the seeds and dice. I used only half of the pepper as mine was HUGE, any
leftovers can be added to your eggs the next day or combined into a quick quesadilla.  Mix the peppers into your tuna mix, set aside.  Cut with a sharp knife an oval on the top of the jalapeno.  Remove the seeds and
fill with your tuna mix. Serve garnished with the pickled carrots and cilantro. Goes well with a dollop of sour cream over a bed of lettuce or alongside a great steak.