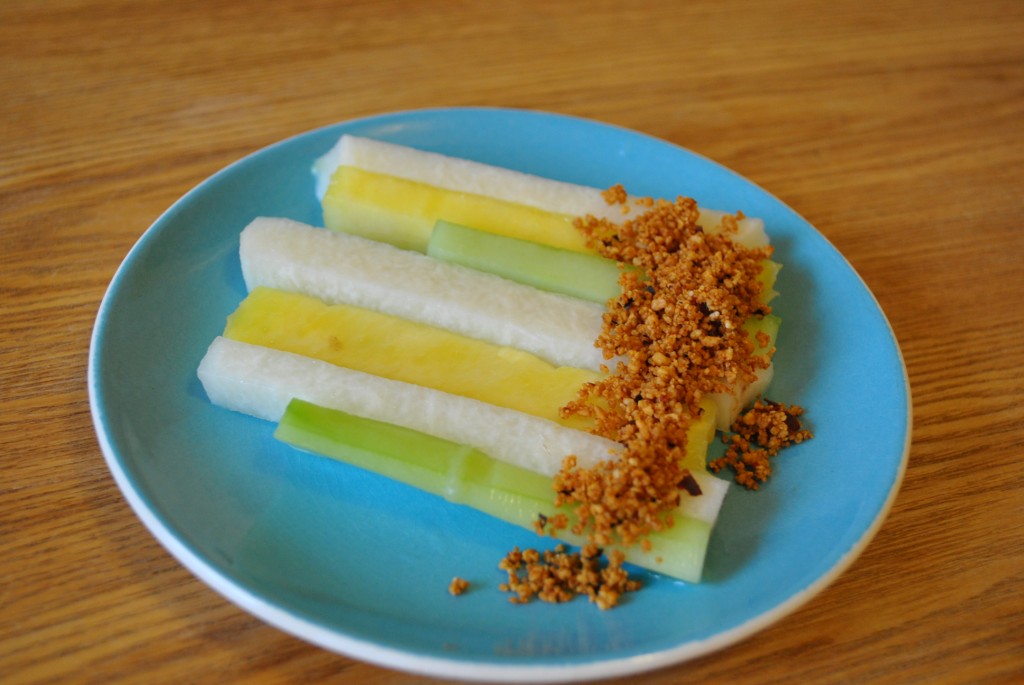 jicama, cucumbers and pineapple a dash of lime sprinkled with toasted peanuts
Well our team did not make the playoffs this year, so our typical Sunday football games have been replaced with watching movies with the girls'. The girls' are extremely happy they don't care for football and hubby has banned any football watching due to his intense pain. I wanted to make something different to snack on, taking any chance to introduce something new to the girls' taste buds. "What's this?" my older one asks, "It's jicama, try it." while giving her the look of, don't make any weird faces or gestures when tasting it-  the smaller one will see and then she won't try it. Ya my face said all that– the funny thing is the older one understood me. So she tried it, what other choice did she have? I'm not a tyrant when it comes to food, I just believe that is someone is kind and willing to make you something, you should at least try it. Given that I am kind 365 days of the year and very willing to make breakfast, lunch and dinner for them- they at least can humor me and take on bite. Long story short- she liked it and the little one asked for seconds, so there mission accomplished. My daily dose of happiness is filled. When first approaching jicama at the store it does look somewhat weird or like a baby alien's bottom, I know my daughter cracks me up the produce guy thought it was funny also okay I'm rambling – peel it and it becomes a delight. It's crunchy, goes well with salads great shredded in fish tacos and add any citrus juice to it and it zings. In this recipe you can omit the chiles for a child, but the little kick of heat for the adults will be grealty enjoyed! Try it- trust me. Enjoy! Sweetlife
Jicama, Pepinos, y Pina con Cacahuates
2 cucumbers, peeled, halved, and seeded
1 small pineapple, peeled, halved, and cored
1 jicama peeled
juice of 6 limes
1 tsp sea salt
1 cup raw peanuts, skins removed
4 arbol chiles, toasted
Cut the cucumbers, pineapple, and jicama into sticks measuring about 3 inches long and 1/3 inch thick. Arrange the sticks in a single layer in a shallow glass dish. Sprinkle the sticks with the lime juice and salt. Cover and refrigerate, turning the pieces occasionally.
In a dry frying pan over medium heat, toast the peanuts, stirring often, until they are toasty gold, about 15 minutes. Remove from heat and pour into a small bowl. Crumble the chiles over the nuts. Working in small batches, coarsely grind the peanut mixture in a spice grinder.
Sprinkle the ground nut mixture over the upper two-thirds of the sticks. To serve, slip the ends into a widemouthed container so that the sticks stand upright, or lay the sticks flat on a platter.
+++ For my girls' I left out the chiles++