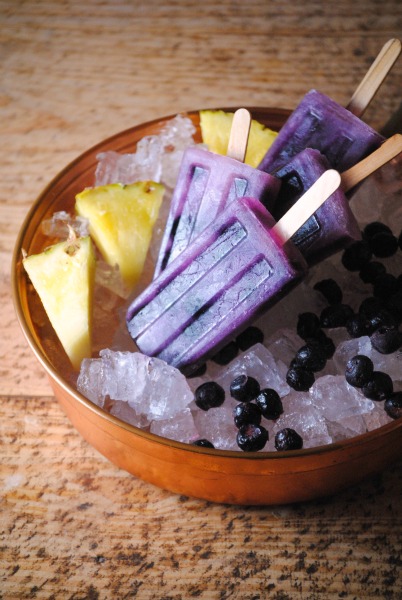 Paletas de Piña y Arándano ~ Pineapple Blueberry Pops
I spent the weekend making salsa, small batches of salsa.  I get this way sometimes.  I crave chile and lots and lots of heat.  And I want to drizzle it on everything.  I almost laced my pancakes with it, but noticed the stare from my 7 yr old from the corner of my eye and contained myself.  I still think blueberry pancakes with salsa verde would have rocked!
Geez…  estas niñas. 
By the end of the weekend I had nibbled on a few tacos, a stack of tortillas chips and a few eggs all slathered in salsa when my tongue screamed for relief.
Paletas de salsa? Now that would be awesome.   Well… until I figure out how to make that recipe happen today we cool off with pineapple blueberry paletas, Enjoy!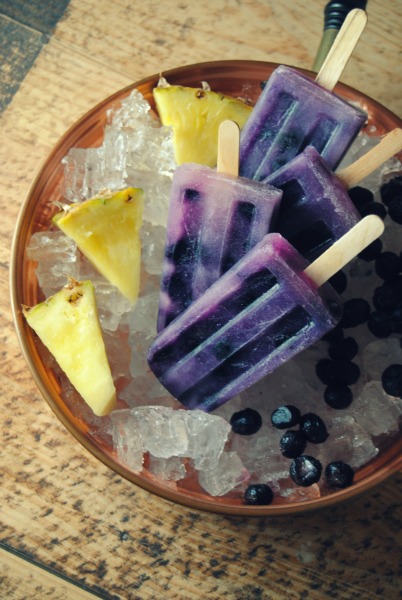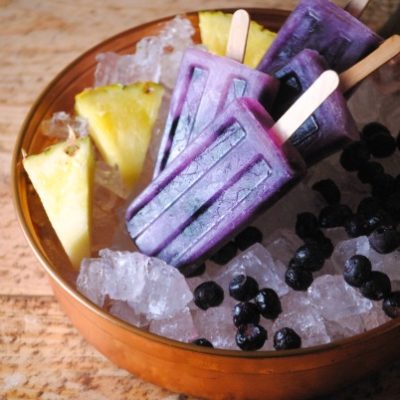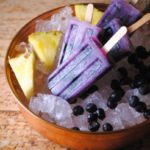 Paletas de Piña y Arándano
Ingredients
4

cups

fresh pineapple

1

cup

fresh blueberries

plus ½ cup

1/2

cup

water

¼

cup

fresh lime juice

1

tsp

salt
Instructions
Place pineapple,blueberries, lime juice and salt in blender or food processor with just a splash of the 1/2 cup water.

You do not want to dilute the pineapple/blueberry flavor.

Blend until smooth and strain.

Pour fresh juice into your paleta mold, add blueberries and freeze for about 1 hour.

Insert Popsicle sticks and freeze until solid, about 3 hours.

To release paletas run your mold under warm water.
Recipe Notes
*Try soaking your wooden stick in warm water 20 minutes before using. This helps the stick to stay in place.
I'm sharing this with Girlichef's Summer of the Popsicle