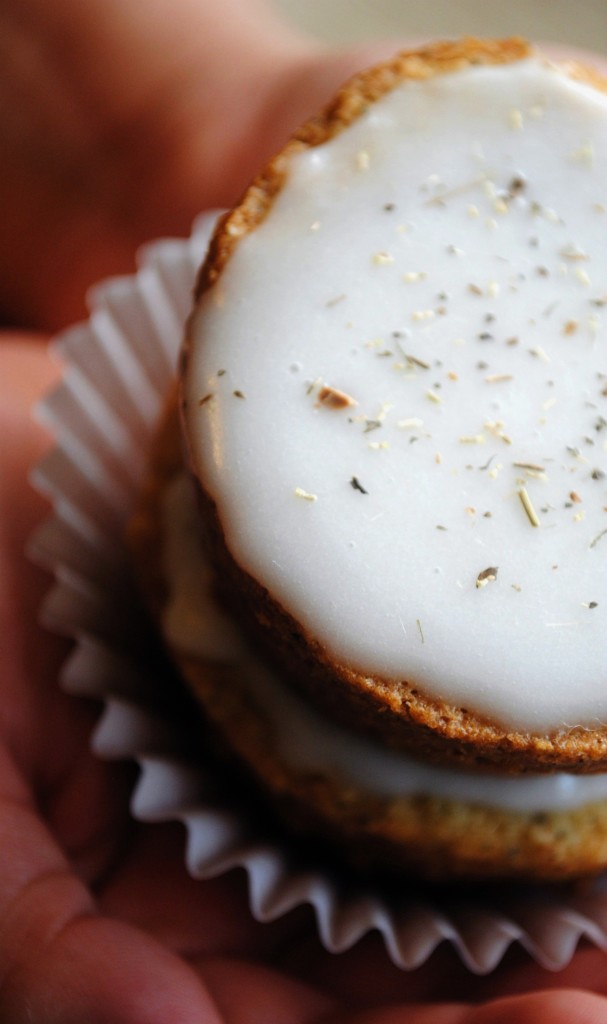 Mini Chamomile Cakes with Honey Frosting
This was the quickest photo shoot that has ever taken place in my kitchen.
I take full responsibility.  I decided to bake these mini chamomile cakes in the morning hours, the exact hours that everyone began to rustle out of bed.  My nieces floated into the kitchen and knew something was up.
They never left. Enter my two girls, little sister and my mom. I grabbed my camera, but it was no use. Piping cups of tea, coffee and cold milk made their to the table all while grabbing my photo subject. No use. I gave up grabbed a cup of tea and enjoyed them with my family.  A true sign of success, so please forgive the fuzzy, shaky, off balance shots.   A true testament these mini chamomile cakes are worth baking.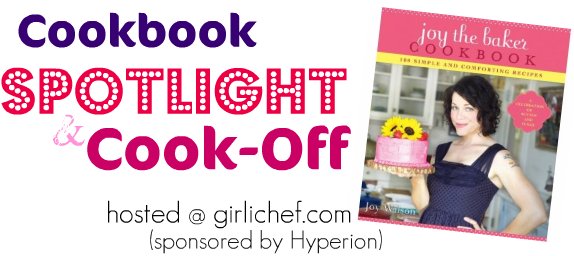 Mini cakes infused with chamomile tea are baked until tender.  Topped with the dreamiest honey frosting.  The frosting is laced with honey adding a delicate sweet touch.  Top with a garnish of tea and enjoy with a steamy cup. Even better the next day if there is any left. Enjoy!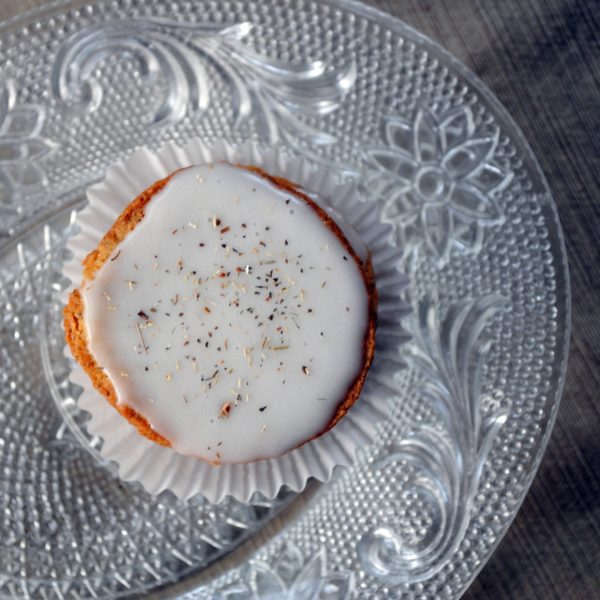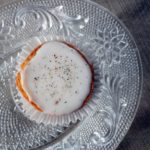 Mini Chamomile Cake with Honey Frosting
Ingredients
For the cakes:

1/4

cup

1/2 stick butter

1

cup

all-purpose flour

3/4

cup

granulated sugar

1

teaspoon

baking powder

1/2

teaspoon

baking soda

Pinch

of salt

3

tablespoons

dried chamomile

from tea bags

1/2

cup

milk

1

large egg

1

teaspoon

pure vanilla extract

For the frosting:

2

cups

powdered sugar

sifted

1

tablespoon

honey

6

tablespoons

heavy cream

Pinch

of salt
Instructions
Place a rack in the upper third of the oven, and preheat to 325 degrees F.

Line a cupcake pan with paper or foil liners and set aside.

You can also grease and flour the cupcake pans and not use any liners.

To make the cakes: in the bowl of a stand mixer fitted with a paddle attachment, cream together butter, flour, sugar, baking powder, baking soda, salt, and chamomile leaves.

The mixture will be slightly coarse and sandy when mixed for several minutes.

Whisk together milk, egg and vanilla.

Pour half of the milk mixture into the flour mixture with the mixer on medium-low speed.

Beat until just incorporated.

Pour in the remaining milk mixture, and turn mixer up to medium.

Beat for 1 minute, until well blended.

Divide the batter between the prepared cupcake cups.

There isn't a lot of batter, so you'll only fill the liners up about halfway.

You'll also need a spatula to scrape the bowl for remaining batter.

This recipe doesn't waste a drop of cake batter.

Bake cupcakes for 17 to 20 minutes or until a skewer inserted in the center comes out clean. Remove from the oven, and allow cakes to cool in the pan for 10 minutes.

Remove cakes to cool completely on a wire rack before frosting.

To make the frosting: whisk together sifted powdered sugar, honey, cream, and salt in a medium bowl.

Whisk until smooth.

Use a butter knife to generously spread the frosting a top the cooled cupcakes.

Sprinkle with a bit of chamomile leaves and arrange on a pretty plate.

Cakes will last, well wrapped, at room temperature for up to 3 days.
*This post is part of the Joy the Baker Cookbook Spotlight and Cook-Off sponsored by Hyperion and hosted at girlichef*
Sweet Life Disclosure: I was invited to participate in the Cooking Spotlight  and  received the cookbook from the publisher. My thought, love and passion  remain my  own.