The Texas holiday season just wouldn't be the same without a hearty King Ranch Casserole. King Ranch Chicken Casserole is a cozy, cheesy casserole made with layers of shredded chicken, tortillas, and cheese. Served warm this cheesy casserole is comfort at its best. I'm excited to partner with Jennie-O bring you this favorite Texas Holiday recipe with a tasty twist.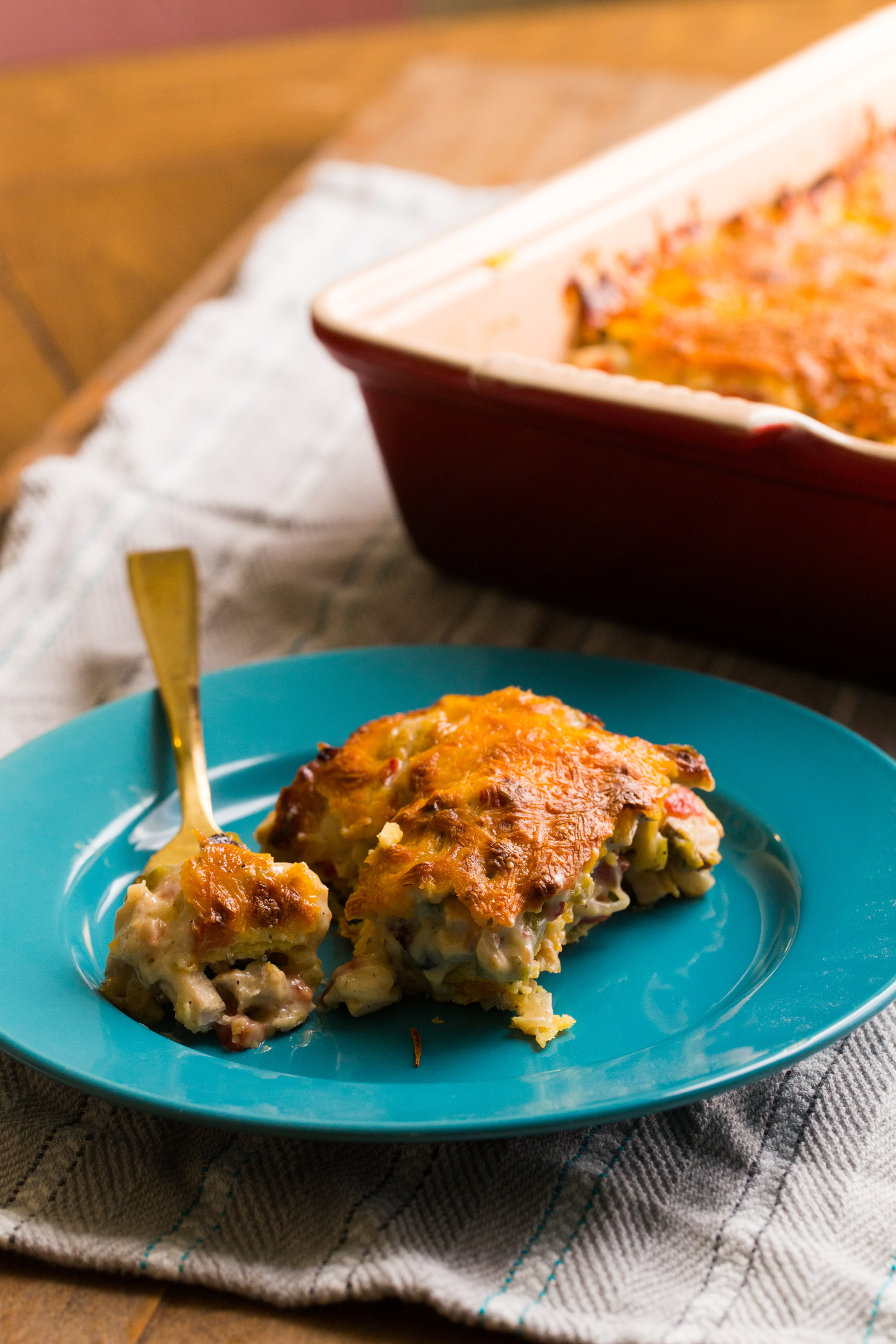 When it comes to Holiday entertaining Texas keep is simple and comforting.  We would rather spend time with our family and friends then hours in the kitchen, especially after a busy day. At during the holiday season, I find we turn to classic tasty dishes that can feed a crowd. Walk into any holiday party in Texas and you are sure to find a King Ranch Casserole at the buffet table.
King Ranch casserole is thought to be created in honor King Ranch, one of the largest ranches in Texas, but King Ranch has denied any claim to this recipe, so many believe a ranch hand created this recipe while working at King Ranch. All I know is we Texans love it so much the recipe appears in Texas Junior League cookbook in every region of Texas.
Traditionally made with shredded chicken, today I want to share a twist on this classic by using shredded turkey. I stocked my freezer with JENNIE-O® OVEN READY™ Bone-in Turkey Breast and I have been adding shredded turkey to so many of my favorite plates.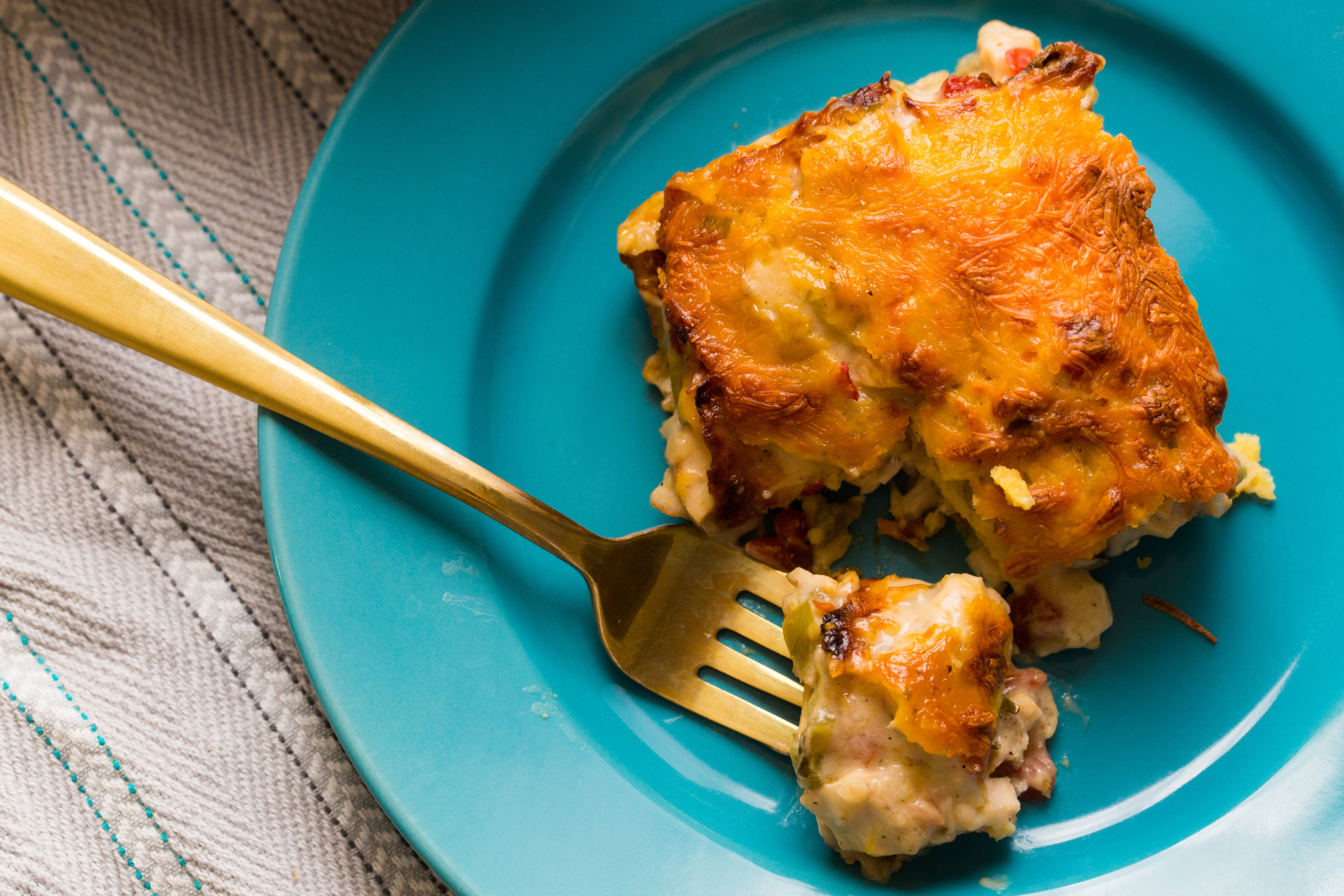 I begin my King Ranch Casserole with JENNIE-O® OVEN READY™ Bone-in Turkey Breast, then add layer after layer of flavor with onions, bell peppers, green chiles, chili powder, cream of chicken and cream of mushroom, cheddar cheese along with plenty of corn tortillas.
Add all your goodness to a 13×9 baking dish, then bake until bubbly. The flavors will meld together as the tortillas soften to create a creamy casserole everyone will love.
What I love about this recipe is that it freezes beautifully. I can easily make two, one for dinner and one to stash away in my freezer. Freeze the extra casserole up to a month. When you're ready to pull it out of the freezer, let it thaw in the refrigerator overnight, and bake according to the instructions.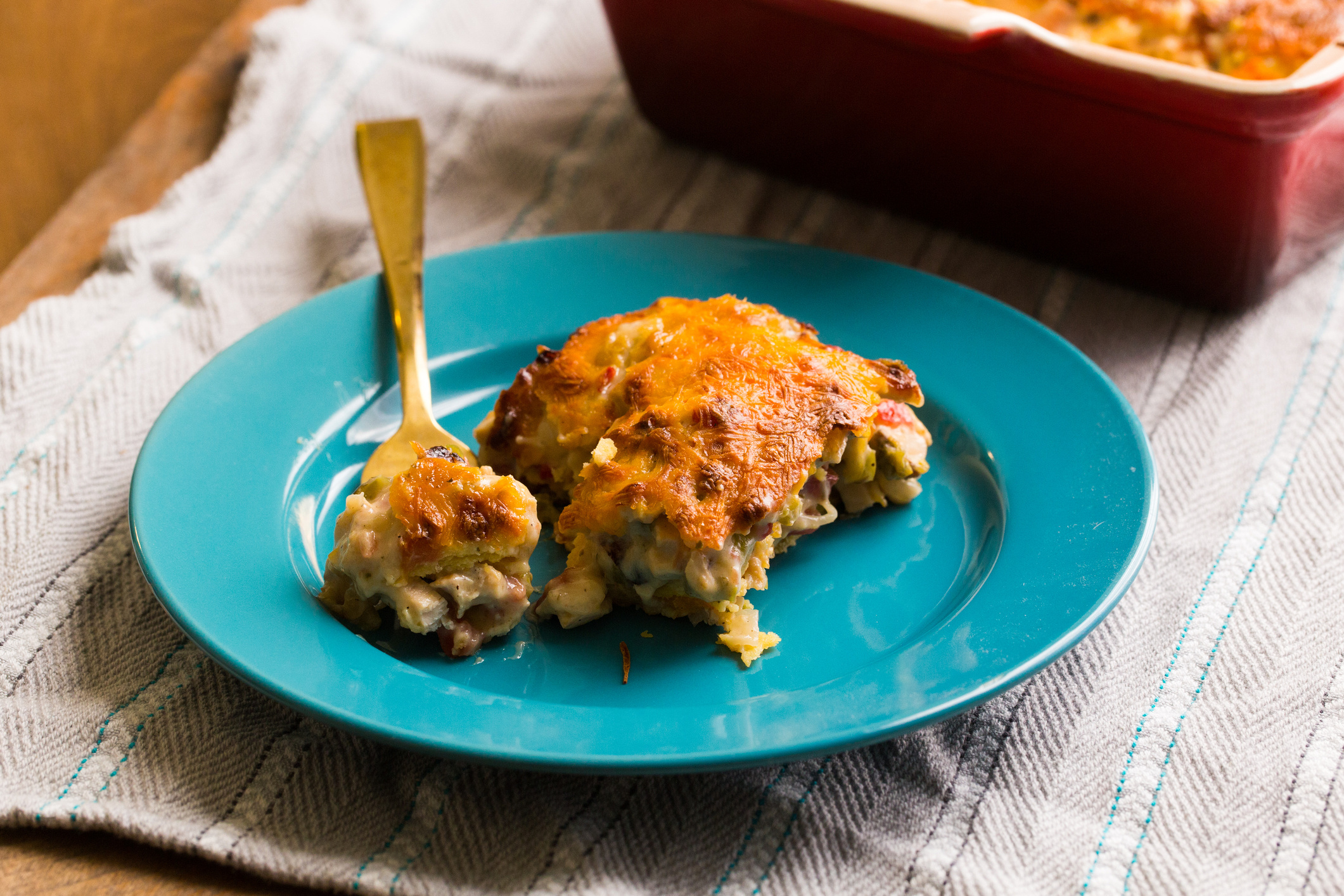 I'm totally winning in the freezer department. JENNIE-O® OVEN READY™ Bone-in Turkey Breast and King ranch casseroles, yay me!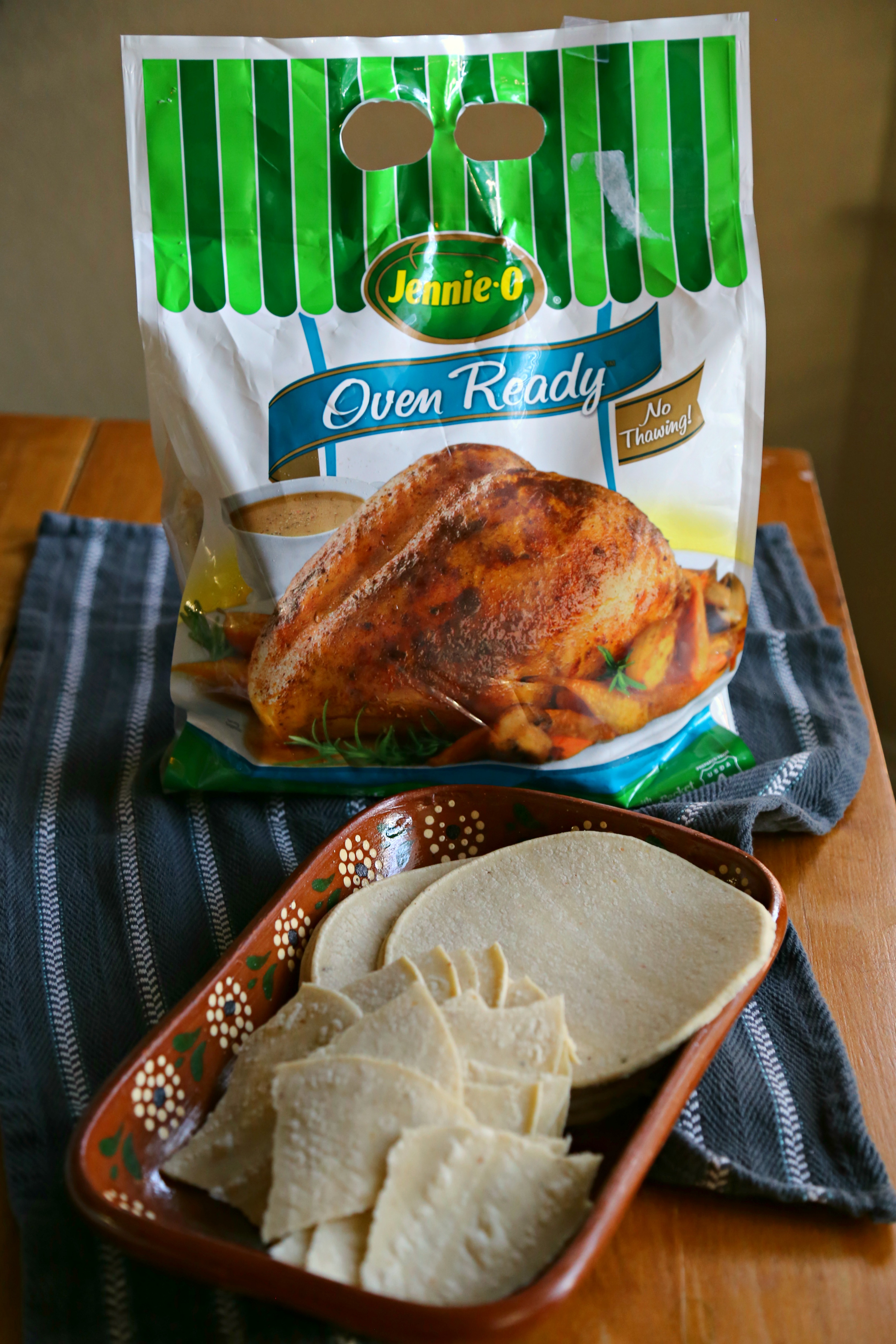 Turkey has never been easier! OVEN READY™ Bone-in Turkey Breast can go straight from your freezer to your oven with no thawing required! Just leave it in the bag. And in 2 hours and 45 minutes you'll have a protein-filled meal for the family or holiday meal for the masses. Find it in the frozen section!
GLUTEN FREE
PRESEASONED
WITH GRAVY PACKET
COMES SEALED IN COOKING BAG
To learn more about cooking a JENNIE-O® OVEN READY™ Bone-in Turkey Breast visit JENNIE-O®.
King Ranch Casserole
Yield 8 Serves
Ingredients
1 large onion, chopped
1 large green bell pepper, chopped
2 tablespoons vegetable oil
2 cups shredded JENNIE-O® OVEN READY™ Bone-in Turkey Breast
1 (10 3/4 -ounce) can cream of chicken soup, undiluted
1 (10 3/4 -ounce) can cream of mushroom soup, undiluted
1 (10-ounce) can diced tomato and green chiles
1 teaspoon chili powder
1/4 teaspoon salt
1/4 teaspoon garlic powder
1/4 teaspoon pepper
12 (6-inch) corn tortillas
2 cups (8 ounces) shredded Cheddar cheese, divided
Instructions
Sauté onion and bell pepper in hot oil in a large skillet over medium-high heat 5 minutes or until tender. Stir in turkey and next 7 ingredients; remove from heat.
Tear tortillas into 1-inch pieces; layer one-third of tortilla pieces in bottom of a lightly greased 13- x 9-inch baking dish. Top with one-third of turkey mixture and 2/3 cup cheese. Repeat layers twice.
Bake at 350° for 30 to 35 minutes.
Courses lunch dinner
Cuisine Tex-Mex Texas