Empanadas were the first baked treat I made with my Abuelita Cuca. I was nine years old and always seemed to find myself drawn to the kitchen when I heard her chopping and, stirring away in the numerous pots on the stove. At nine I couldn't understand how she could efficiently manage four steaming pots all at the same time, without hesitation or even breaking a sweat. I am excited to be partnering with Land O' Lakes this year to bring you exciting new recipes. Thank you for supporting the brands I collaborate with.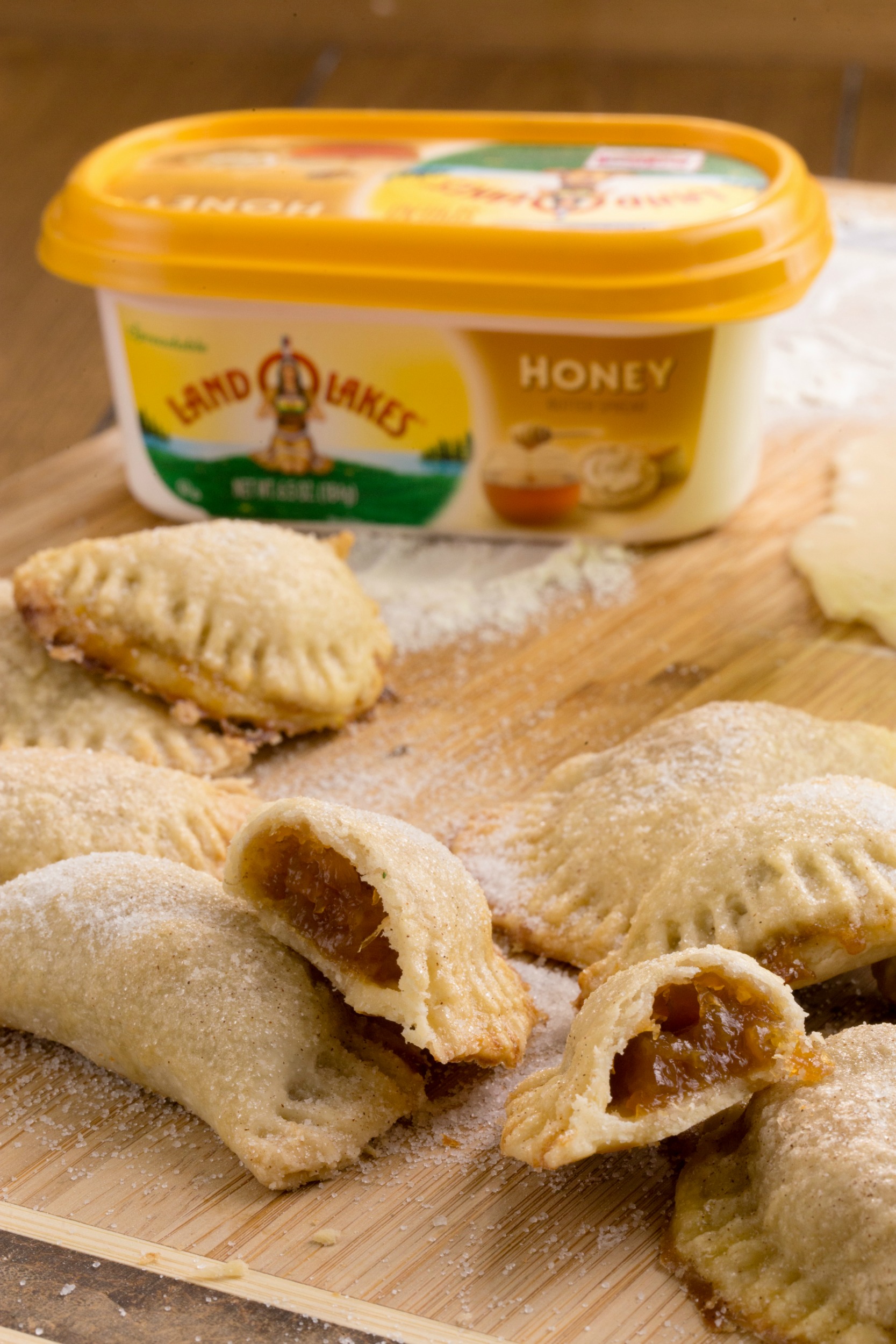 I would sit at the table watching her every move. A quick stir, a quick flip, a few pinches of seasoning, her tiny hands were graceful and confident. She would turn to me and ask if I wanted to help. I jumped at every chance she gave me to help her in the kitchen.
She handed me a ball of dough and quickly instructed me on the proper way to roll it out. We were making pumpkin empanadas for the holidays. My rolled dough was a mess while hers was a perfect circular shape. She then handed me the glass to cut out the circles. Cutting the empanada circles was my favorite part – and it still is.
Once cut, we filled, folded and pinched the edges. A few strokes of egg wash and they were off to the oven to bake until golden brown. As they baked, the entire house was filled with a heavenly aroma of pumpkin and canela (cinnamon). Over the years, I've shared numerous empanada recipes with you. And with each new empanada recipe, I receive the sweetest emails and Facebook messages on how you enjoy them so much.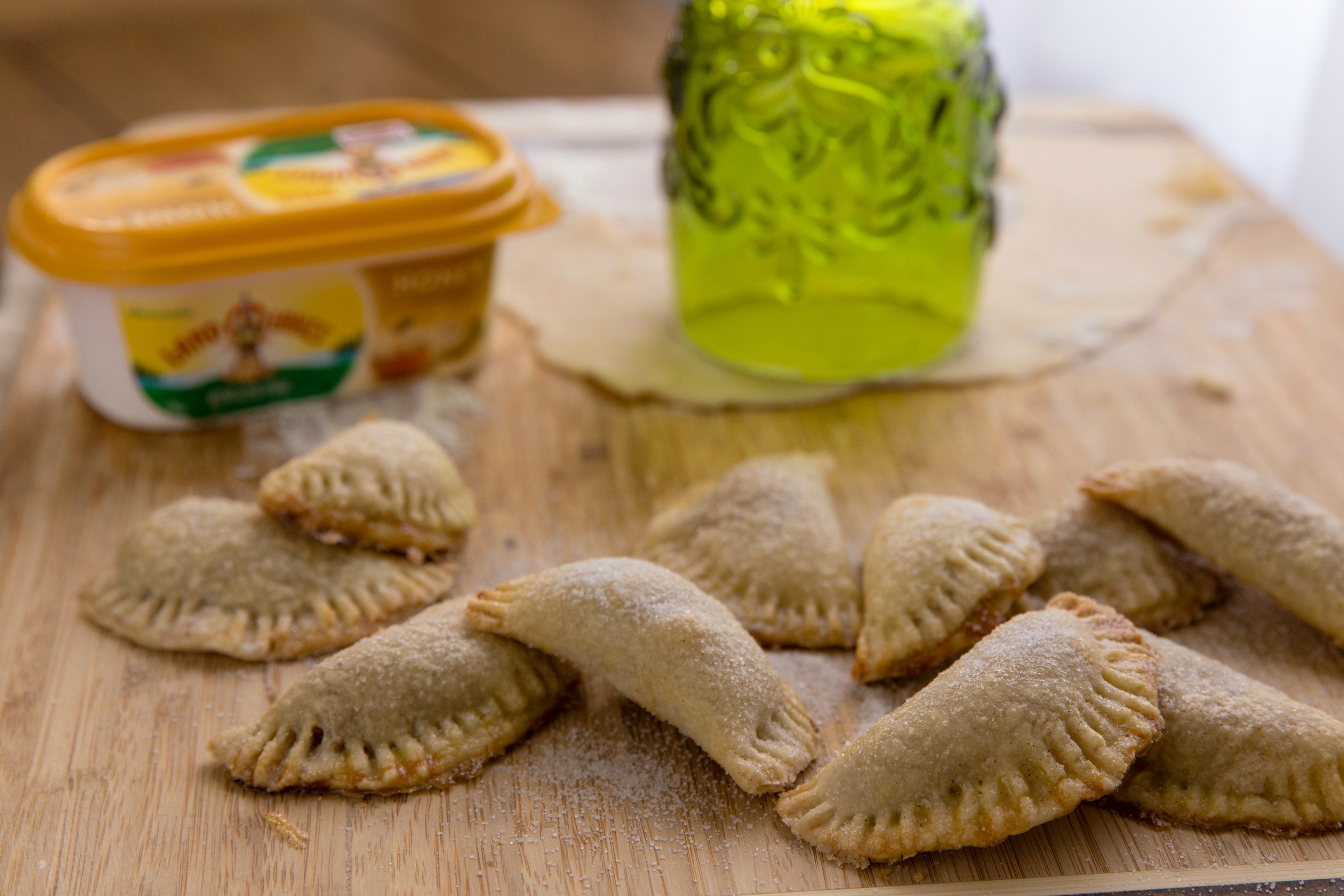 When Land O'Lakes asked me to share a fun holiday dessert, I first thought to share a fun Bundt® cake, but then, what else screams the holiday in Texas? Empanadas have quickly become a Texas tradition that we lovingly received from our friends from the south of the border. In Texas, Mexican food has prominently found a home, which makes this Tejana extremely excited to walk into any local panderia to see fresh empanadas baked daily.
Today I want to share with you a pineapple empanada that has become pretty popular here in South Texas as a holiday gift basket addition. Nothing makes me happier than to see so many home cooks baking homemade empanadas at home.  Today's empanadas feature Land O Lakes® Honey Butter Spread, which gives our empanada dough the sweetest touch of honey that enhances the flavor of the pineapple.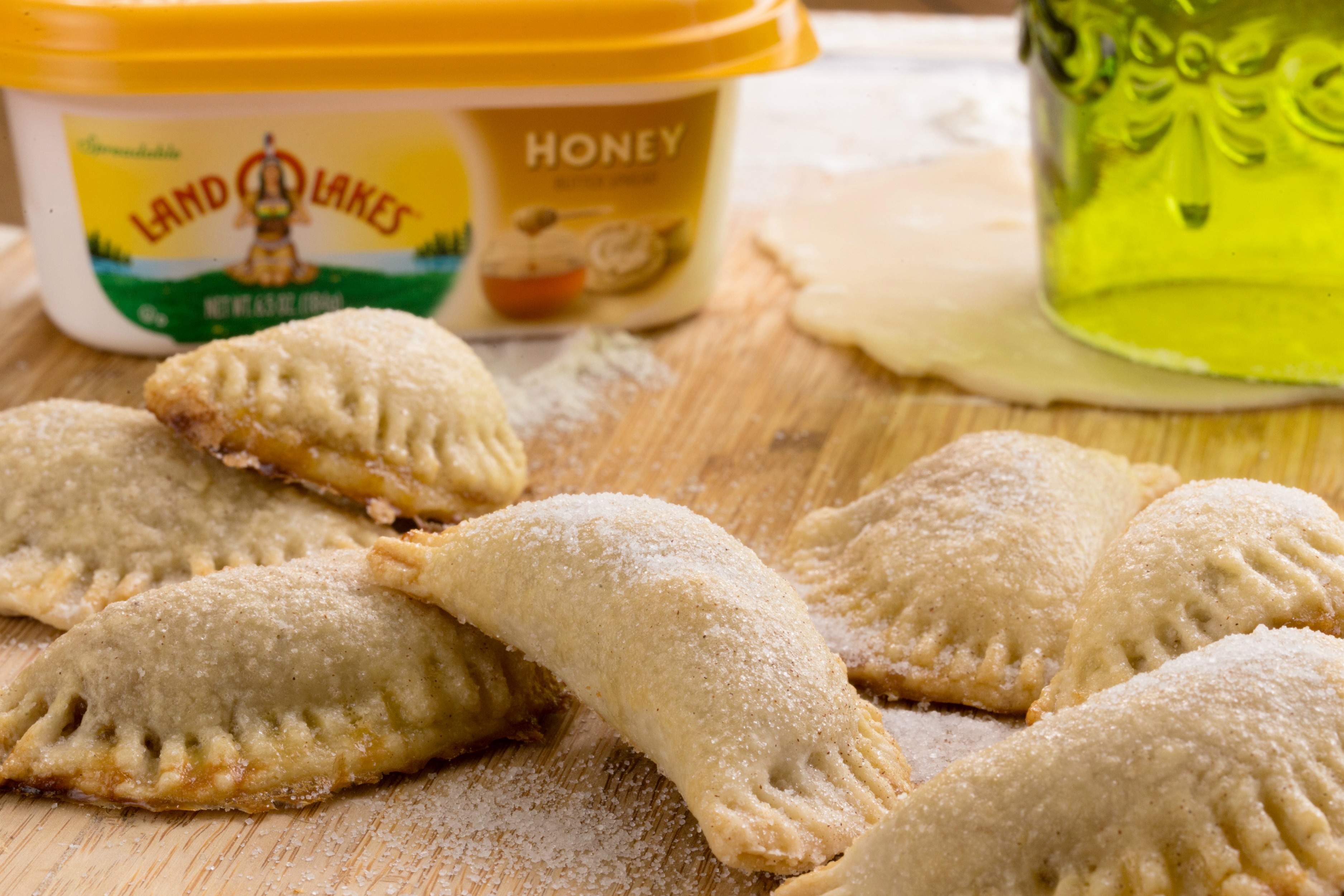 Our filling consists of canned pineapple, as I find many home cooks already have canned pineapple in their pantry. The filling comes together in a snap. You can also make the filling up to a week in advance, then store it in the fridge until you are ready to make your dough.
For the dough, I rely on my food processor, as it cuts the kneading time in half and doesn't give my chilled Land O Lakes® Honey Butter Spread a chance to come to room temperature. Adding chilled butter spread to the dough is essential to create the flakiest dough.
I'm also including a short video on how to prepare these empanadas. As you can see, I've gotten better in my empanada making skills. Just look at how I roll that dough out! Abuelita Cuca would be proud.
Pineapple Empanadas
Ingredients
For the Pineapple Filling:
2 cups crushed canned pineapple
3/4 cup piloncillo, grated
2 tablespoon lemon juice
1 teaspoon cinnamon
1 tablespoon cornstarch
Dough:
2¼ cups flour
1/4 cup sugar
1 tablespoon baking powder
1/4 teaspoon salt
1 cup, Land O Lakes® Honey Butter Spread chilled
1 cup very warm (110°F) milk, or more if needed
1/4 cup cold water
Instructions
For Filling: 
In a large nonstick skillet over medium-high heat add pineapple. Stir in grated piloncillo, lemon juice, and cinnamon. Stir to combine. Then bring to a boil. Reduce heat and cook for 20 to 25 minutes, or until most of the liquid is absorbed.
In a small bowl, combine cornstarch with water. Stir or whisk until there are no lumps.  Add cornstarch mixture to pan, stirring to combine. Cook an additional 5 minutes, then remove from heat and allow to cool completely. The filling will become firmer while it cools. Use to fill empanadas.  This can be made up to one week in advance and store covered in the fridge.
For Dough: 
With a food processor, add flour, sugar, baking powder and salt. Pulse to combine.
Add Land O Lakes® Honey Butter Spread, quickly pulse to combine, then slowly add 1 cup warm milk, processing until dough comes together.
Carefully turn out dough onto a lightly floured work surface; knead until smooth. Cover; allow to chill 30 minutes in the fridge before rolling out.
To Assemble Empanadas:
Heat oven to 375 degrees.
Whisk together 1 egg with 1 tablespoon of milk. Combine 2 tablespoons of sugar and 1 teaspoon of cinnamon.
Roll out the dough. Using a glass, cut out round disc shapes for empanadas.
Place 2 teaspoons of filling in the center of empanada dough. Fold over dough and seal with a fork.
Place sealed empanada on a baking sheet and brush with egg wash.
Sprinkle with cinnamon sugar
Bake for 18-20 minutes or until golden brown.