Melons, Melons, Melons seems  the only remedy to the Texas heat.  We have juiced them, sliced them, made them into salad, had them for breakfast and continue to crave them.  This is the time to get in that last taste of summer juiciness, rejoice in the quenching sensation hoping to  tame this unbearable humidity. Texas plays by it's own rules and August has brought us some intense heat that makes us look forward to cooler temps and lighter meals.  Some mornings a light breakfast is all that seems appetizing. The thought of  spending the day feeling trapped in a oven like atmosphere vehicle mixed with the traffic of back to school business easily makes me almost cry.  We reside on one of the two main streets that directly connects to the University and throw in to location several public schools I almost want to skip breakfast all together and drown any future plans of actually completing my errands with gallons of iced coffee spiked with espresso shots.  But being the level headed mother I am, really I am.  I push aside my fears to make a simple refreshing breakfast which can be made even easier if all is made the night before,  see I told you I was level headed.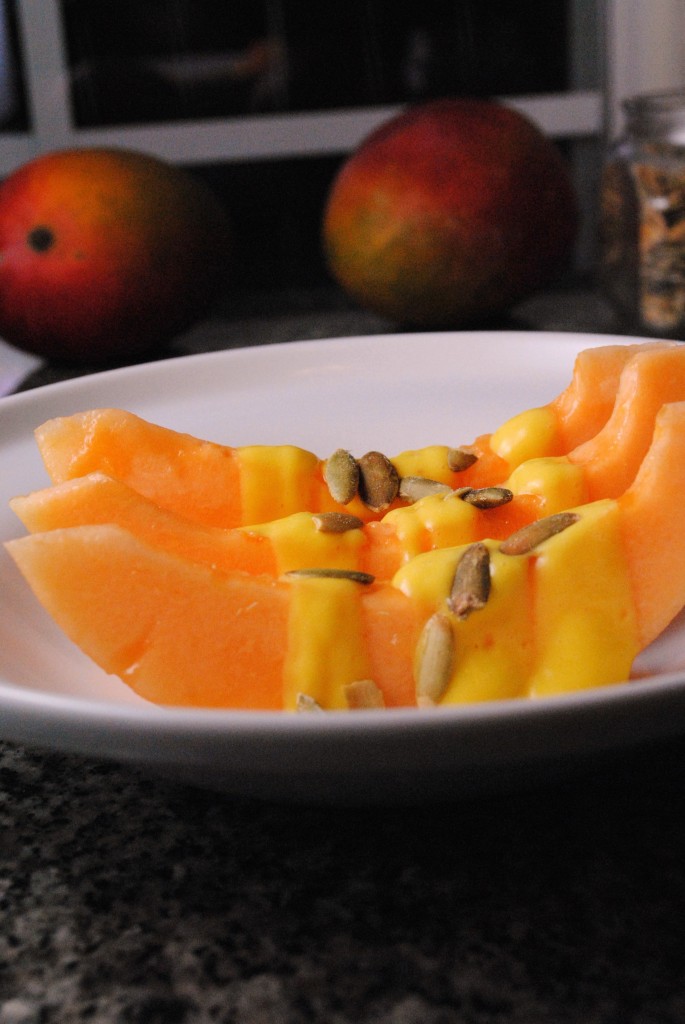 Cantaloupes are highly prized here in Texas, yup we love them as much as we love our watermelons, our peaches, our citrus, our brisket..okay we Texans love all our State offers. Moving on.  Our Texas soil helps to produce perfectly sun kissed cantaloupes that are enjoyed by everyone in the United States.  They are shipped mainly form the Rio Grande Valley and West Texas.    This summer having been our first in the Rio Grande Valley we have been enjoyed these beauties daily.  Another advantage of living so close to the border is the Mexican mangos, the large fleshy fruit that is sold by the case or  sprinkled with chili or simply cut "hedgehog style" at mercados.  It almost seems like trees sensed a heat filled summer and were kind enough to bless us with a superior fleshy crop to help us survive the heat.  Sync these two heavenly fruits together and treat yourself yourselves to a light breakfast or hey enjoy it for dessert, snack time, or better yet blend it together for a cool smoothie.  I give you Texas melons with Mexican mangos mixed with crema for a sweet Tex-Mex fusion.  I plant the inspiration you take the recipe and make your own, now c'mon let's enjoy some cantaloupe.  Have a sweet week and I send you melon infused kisses. Sweet Life
Melon Con Crema de Mango
by Sweet Life
by Vianney Rodriguez
serves 4
2 Texas Cantaloupes – sliced or cubed
1 large Mexican mango – peeled and sliced
1/2 cup to 1 cup crema mexicana
pinch of salt
agave – to your taste
garnish – pepitas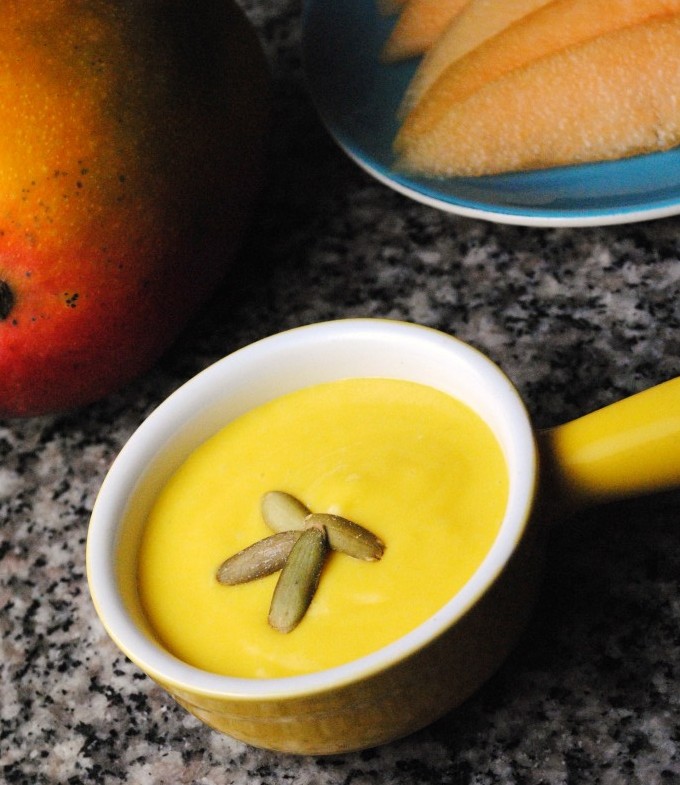 Taste your mango and you can get a sense of how much agave you would like to add.
I only had to add a quick splash, the agave is only to add a touch of sweetness not to overpower the fruit.
In a blender or food processor combine mango, 1/2 crema, salt and agave.
Blend or process until smooth, if the mix it too thick add more crema by small amounts to slightly thin our the mix.
Place in a bowl and refrigerate until cool or overnight for next day.
Place your sliced or diced melon on plate and drizzle your crema de mango.
Garnish with pepitas.
love the crema..try fresas con crema click…here
Loving the Sweet Life? why not subscribe and never miss a Texas dish.
(oh and lastly all pictures and words are mine, yes mine, don't be sleazy and steal work..it's copyrighted, yup all mine…love ya! Sweet Life)