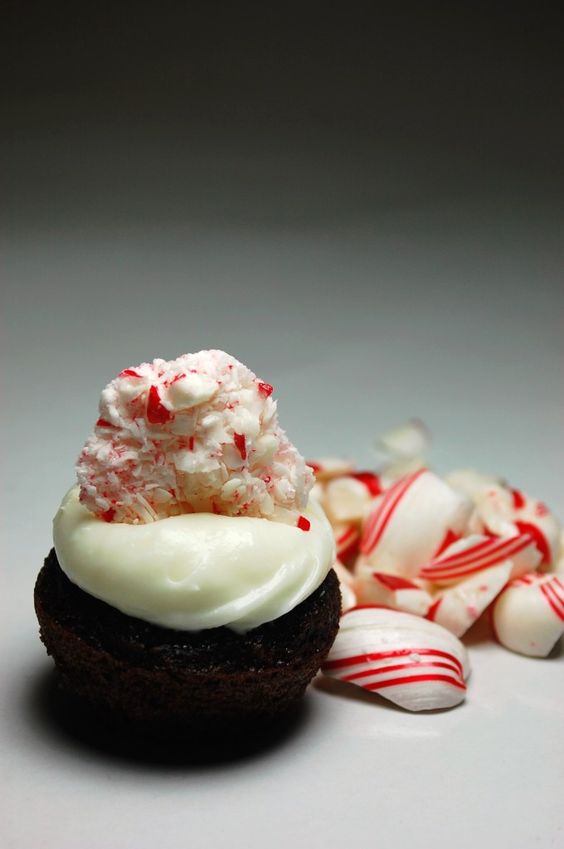 I awake excited every morning this time of year.  I find myself daydreaming of sugar, butter and chocolate…. is it healthy no, but c'mon give a lady a break…
I realize this train of thought is not derriere friendly, but people ..my buttocks and I desire to make that sacrifice for the good of others… it's all about holiday spirit! 
At precisely this time every year, I bake my booty off (or pad it, slightly) to gift our fellow friends.  This is the season for giving, so I plan to give, give, give …and along the way share some great recipes.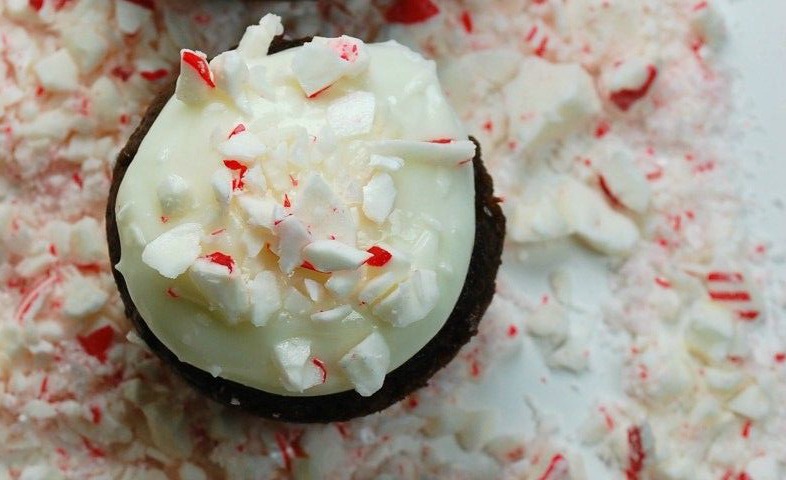 Peppermint I believe is the perfect flavor to begin with, really doesn't peppermint come out in full force every December? I say embrace this flavor and add a great spin to your trusty cream cheese frosting.
Normally we add vanilla extract,  do a swap out with peppermint extract, for a delicious minty dimension.   A quick word of advice, please use quality peppermint extract…the holiday season is not the time to go cheap.
Invest a little for a great return in flavor, we do make the extra effort to purchase or even go the length to make our own vanilla, why not splurge a bit on great peppermint extract?
I have shared a chocolate cupcake recipe, but please feel free to use your own favorite chocolate cupcake recipe.  We choose to make mini's for the purpose of ease.  They were gifted to my hubby's co workers, so I felt a one bit option would be best.
If you do go this route, be sure to check on your minis as they do bake quickly.  I think the frosting would top a regular size cupcake or even a vanilla version perfectly.   A quick mallet job on peppermints give these cuties the final holiday touch.
Sprinkle with chips of peppermint of dust with pulverized peppermint for a minty crunch.  My hubby's co workers quickly gobbled these babies up, I don't blame them I had at least five myself or was it six? Enjoy! Sweet Life
******************************
One bowl chocolate Cupcakes
by Martha Stewart
from Martha Stewart Kids
3/4 cup unsweetned cocoa powder
1   1/2 cup all purpose flour
1   1/2 cup sugar
1   1/2 tsp baking soda
3/4 tsp baking soda
3/4 tsp salt
2 large eggs
3/4 cup warm water
3/4 cup buttermilk
3 tbsp safflower oil
1 tsp vanilla extract
Preheat oven to 350 degrees. Line standard muffin tins with paper
liners; set aside. Sift together cocoa powder, flour, sugar, baking
soda, baking powder, and salt into a large bowl. Add eggs, warm
water, buttermilk, oil, and vanilla, and mix until smooth, about 3
minutes. Scrape down the sides and bottom of bowl to assure
batter is well mixed.
Divide batter evenly among muffin cups, filling each 2/3 full. Bake until
tops spring back when touched, about 20 minutes, rotating pan once if
needed. Transfer to a wire rack; let cool completely
I followed the recipe exactly, but made my into mini cupcakes.  Reduce the baking time to 15 minutes, keeping on eye on them, as oven temp are different on every oven. I did not use baking cups, I simply sprayed the pan, no sticking.
************************
Peppermint Cream Cheese Frosting
by Sweet Life
by Vianney Rodriguez
8 ounces cream cheese
2 – 4 cups of powdered sugar, sifted please
2 tsp peppermint extract
peppermint candies
Allow cream cheese to come to room temperature and blend with powdered sugar.  Blend one cup at a time, mixing to your desired consistency.  Add extract and mix until smooth.
In a plastic bag, place candies and whack with mallet or rolling pin, until your heart's deisred…or until you feel happy.
Top you cupcakes with the frosting and sprinkle with candy pieces.
Devour immediately