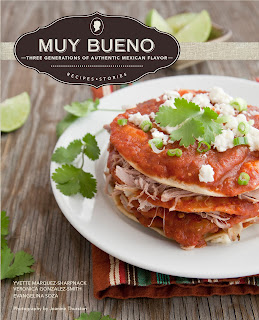 "Siéntate a comer, esta muy bueno!"
I have known the Muy Bueno gang for almost two years now. I first meet the gals through the blogging world, we became connected through a few friends and over the years we have been fortunate to be featured together for our recipes.
In May I was finally given the opportunity to met Yvette face to face as we were both chosen to attend the first ever  LATISM Latina Blogger Retreat in DC. We were both so excited to be among the 70 chosen from across the United States to attend this one of a kind conference.  The first evening at the conference was a whirlwind of meeting and greeting all the Latinas I had met online over the years. I spotted Yvette across the room and we both broke out in a huge smile, food bloggers love food bloggers.
We embraced, talked a bit and then we were greeted by 2 other food bloggers we both loved.  We all talked, laughed and decided to grab a late dinner together.  Yvette excitedly shared her plans of the cookbook release, how much they loved their photographer and how happy her mother was to see her recipes grace the pages of the new cookbook. Veronica her sister would travel from Germany for the book tour and they would soon shoot their cookbook trailer. Muy Bueno was their baby and you could feel the love they poured into each page.
When I was asked to review the cookbook I was thrilled. I knew from following along in their blog journey that each recipe would be filled with flavor and family memories.  I have enjoyed cooking, reading and personally getting to know these ladies.  I know you will enjoy this book too.          
This post is part of the Muy Bueno Cookbook Spotlight & Cook-Off sponsored by Hippocrene and hosted at girlichef*
Sit down and eat, it's very good! This was how Jesusita Mendias-Soza always welcomed guests to her table. The same words served as inspiration for her daughter Evangelina and granddaughters Yvette and Veronica, who wanted to honor her memory and preserve their family's recipes and stories for future generations. They started the Muy Bueno blog in 2010 with this idea in mind, and quickly attracted thousands of fans and followers who fell in love with Muy Bueno's flavorful Mexican recipes, heartwarming family stories, and beautiful photography.
Now the family has opened their hearts and kitchens to an even wider audience with their first cookbook. Spanning three generations, Muy Bueno offers traditional old-world northern Mexican recipes from Jesusita's kitchen; comforting south of the border home-style dishes from Evangelina; and innovative Latin fusion recipes from Yvette and Veronica. Each recipe will be accompanied with a full color photo by photographer Jeanine Thurston.
Muy Bueno includes:
100 recipes divided into chapters on Tamales, Breads, Salsas, Drinks, Aguas and Paletas, Appetizers, Soups, Entrees, Sides, and Desserts
A photo glossary of chile peppers with descriptions of each variety
Step-by-step guides to essential techniques in Mexican cooking such as roasting chiles, making tamales and fresh tortillas, and preparing a red chile sauce
A rich family history as shared through the authors' personal anecdotes, photos, cooking tips, and more
Hippocrene has generously offered one of my readers the chance to win their very own copy of the newly released Muy Bueno: Three Generations of Authentic Flavor cookbook
How to Enter: 
~ Share with me which recipe you've seen so far from the Muy Bueno Cookbook that you can't wait to try.
~ Like Sweet Life on Facebook
~ Follow Sweet Life on Twitter
~ Like Muy Bueno on Facebook
~ Visit the Muy Bueno Blog and leave a comment (They are hosting a Giveaway also!)
Open  only to US residents
Giveaway ends October 10, 2012 11:59 winner will be chosen via  random.org  and contacted via  email
Prize will be shipped by  sponsor.
Good Luck!!
Sweet Life Disclosure~ I received a free copy of this book to review from the publisher.