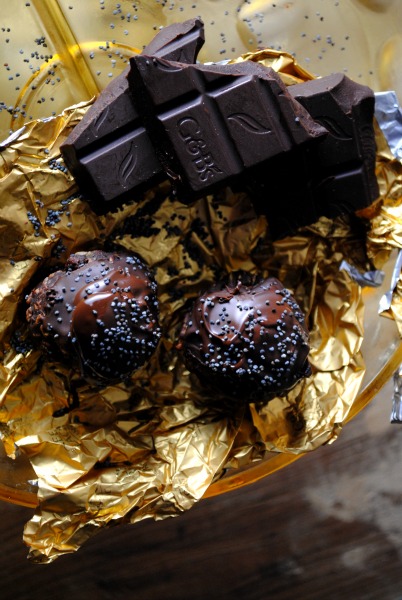 Chocolate Seed Bombs
In our house we are crazy for chocolate. We love it baked, drizzled, made into ice cream and we especially love a steaming cup of hot chocolate.
When Green & Black's asked if I wanted to try out their Latin infused chocolate the Maya Gold, preview their new cookbook and offer a giveaway to my readers I quickly responded YES! Who says no to chocolate? Not this gal.
Do you want to try Green & Black's Chocolate? Giveaway below~ 
As I scanned the book the first recipe that I knew I had to try was the Chocolate Seed bombs. They are inspired by the seed bombs made up of seeds and compost gardeners use to beautify neglected patches of land.  These sweet seed bombs are loaded with oats, sunflower seeds, pumpkin seeds, chocolate and sprinkled with poppy seeds. A sweet chocolate bite of happiness. My girls had a blast rolling these little balls and had even more fun dipping them and went crazy sprinkling the poppy seeds.  Enjoy~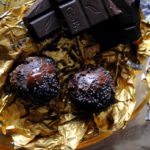 Chocolate Seed Bombs
Ingredients
½

cup

oats

1/3

cup

sunflower seeds

1

tablespoon

pumpkin seeds

7

oz

milk chocolate

2

tablespoons

corn syrup

1

cup

rice cereal

For the coating

2

oz

dark chocolate

1/3

cup

poppy seeds
Instructions
Line a large baking sheet with parchment paper

Heat a dry frying pan over high heat and toast the oats until they begin to change color and smell a little, then transfer into a mixing bowl. Use the hot pan to toast the sunflower seeds, followed by the pumpkin seeds, each time until they smell gently roasted and start to look shiny-be careful not to burn them. Transfer the seeds into the bowl with the oats.

Meanwhile, melt the chocolate in a heatproof bowl over a pan of barley simmering water, making sure the bowl doesn't touch the water. Set aside to cool. Once it has melted, add the corn syrup and stir gently.

Combine the rice cereal with the toasted oats and seeds in the mixing bowl. Pour in the melted chocolate and syrup mixture and fold in well.

Take chunks out of the mixture and roll into chestnut size balls. Lay them on the baking sheet.

Melt the chocolate for the coating in your bowl following the method above.

Take each and dip half into the melted chocolate then place back on your baking sheet, chocolate side up. Once you have coated all your balls, sprinkle the chocolate tops with poppy seeds and leave top set.

Tip~ instead of using dark chocolate in the coating, use butterscotch and ginger chocolate too.
Recipe Notes
recipe from the Green & Black's Ultimate Chocolate Recipes The New Collection Cookbook, by Micah Carr-Hill
The Maya Gold ~ The first product to be awarded the UK FAIRTRADE mark back in 1994. Traditionally, the Maya Indians in southern Belize flavored their cocoa with spices. We recapture this by blending rich, dark chocolate with a refreshing twist of orange that is perfectly balanced by the warmth of cinnamon, nutmeg and a hint of vanilla.
from the Green & Black's Website.
Mi carino and I really enjoyed the Maya Gold. The flavors were warm and reminded me of a sweet mole sauce.
GIVEAWAY~
3 Winners will receive:
A Green & Black's cookbook
3 Green & Black's chocolate bars
 A Green & Black's tote bag 
How to Enter:
Like Green and Blacks' on Facebook
Like Sweet Life on Facebook
Follow Sweet Life on Twitter
Follow Sweet Life on Pinterest
Subscribe to Sweet Life through email or feed
Tweet this giveaway (above) and add @greenblacksUS
Open only to US residents
Giveaway ends October 9, 2012 winner will be chosen via  random.org  and contacted via email
Prize will be shipped by sponsor.
Good Luck!!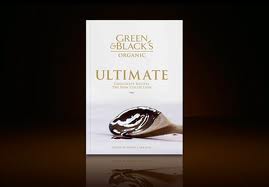 Sweet Life Disclosure ~ This is a sponsored post; Kraft Foods is providing the prizes for this program at no cost to me. This program is not administered or sponsored by Kraft Foods or its affiliates, but solely by Sweet Life Bake. In the event prizes are to be fulfilled by Kraft Foods.  I will provide Kraft Foods with the necessary information (names and addresses) to enable Kraft to send prizes to the winners.