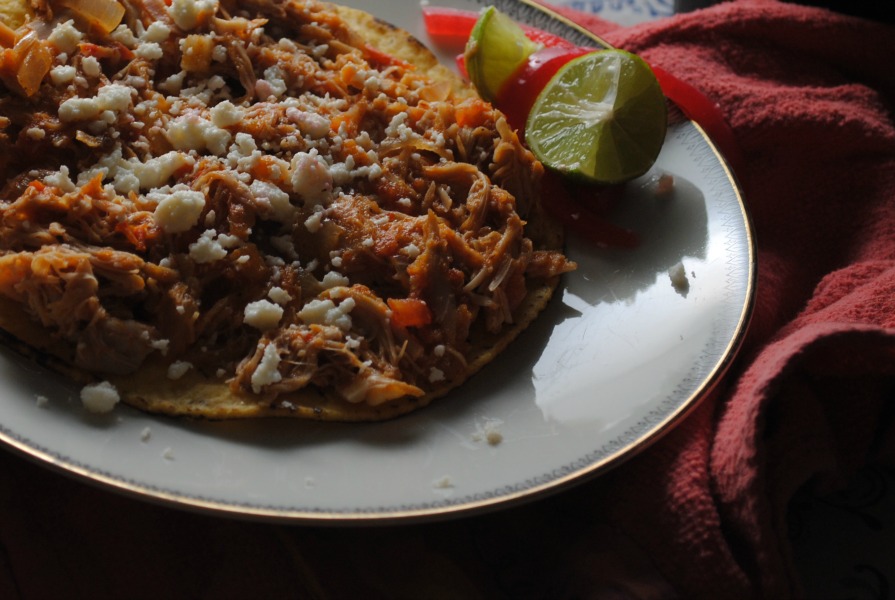 Chicken Tinga
I was hosting a dinner party this Friday and wanted to greet my guests with a homey dish.  When having guests over I like to serve family style. Huge platters brimming with comfort food, small bowls spilling over with salsas and garnishes along with tall glasses with icy cold agua.  I want my guest to experience the flavors I enjoy, feel comforted and leave feeling like they were part of my family.  I decided to scan the Muy Bueno Cookbook and my fingers quickly leafed over the pages until I ran across a recipe for Chicken Tinga.
Tostadas topped with shredded chicken in a chipotle sauce, now that has comfort written all over it!
As I finished making the sauce I got a disappointing phone call. My guests were unable to make it, unavoidable change of plans.  As I glanced at my sauce sadly my first thought was to park it in the fridge for another day.  Then mi carino suggested the best idea – Why not invite the entire family over, continue as plan… the fiesta must go on! Love that guy. 
A few quick phone calls and my family were on the way.  I am truly blessed, los adoro (I adore them).
I finished off the Tinga, popped the dulce de leche brownies in the oven and set the table.  The tinga was a hit!!  We laughed, we ate, we recounted childhood stories and we ate… true signs of a successful party.
Enjoy~
Want your own copy of the new Muy Bueno Cookbook, stay tuned for a giveaway~~ Make sure you grab my feed or subscribe through email to stay up to date with this and future giveaways~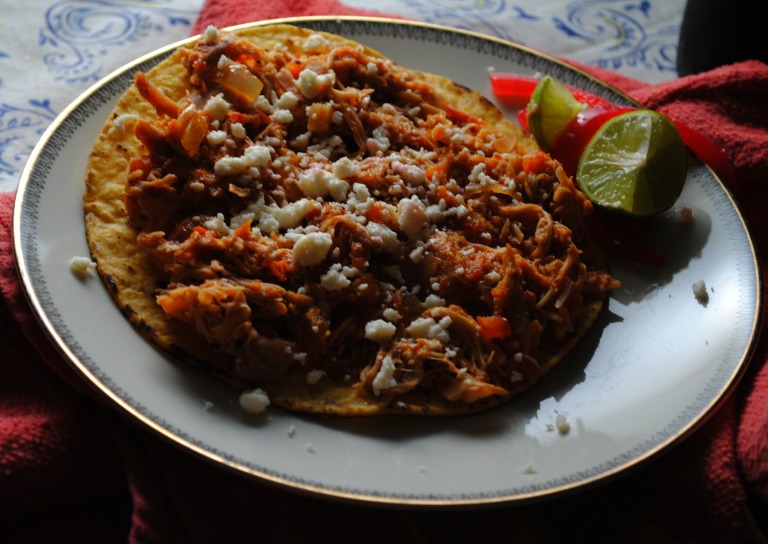 What is Chicken Tinga?  
"Originating in Puebla, Mexico, chicken tinga is a versatile dish of shredded chicken in a tomato and chili chipotle sauce. It's quick and easy to make and definitely the comfort food we all crave. Tinga is great for a tostada buffet, where guests can create their own mountain of goodness. Sprinkle this juicy shredded chicken that is delicately marinated in a spicy sauce on a tostada with your choice of toppings. Your guests will enjoy the smoky flavor that lingers on their palate stemming from the chipotle chiles in adobo sauce."
from Muy Bueno ~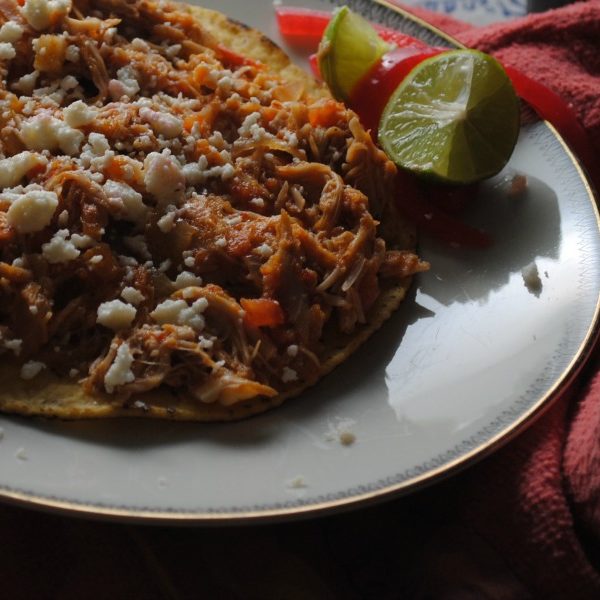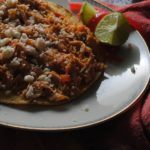 Chicken Tinga
Ingredients
6

cups

water

2

pounds

skinless/boneless chicken breast

4

teaspoons

salt

divided

1

clove

garlic

1

medium yellow onion

quartered

1

large vine ripened tomato

quartered

1

7-ounce can chipotle peppers in adobo sauce

1/4

cup

canola oil

1

large yellow onion

chopped

3

large vine ripened tomatoes

chopped

1

clove

garlic

chopped

12

Flat tostada shells

packaged or corn tortillas

Toppings (optional

1

iceberg lettuce

finely shredded

3

avocados

pitted, peeled, and sliced

2

cups

crema Mexicana or sour cream

2

cups

queso fresco or Cotija

crumbled

2

cups

salsa of your choice

6

radishes

sliced
Instructions
In a large stockpot, over medium to high heat, add water, chicken, 2 teaspoons salt, 1 clove garlic, and quartered onion. Cover and simmer for about 30 minutes. Reserve.

Remove the chicken and allow it to cool. After the chicken cools off shred it. Reserve.

In a blender add the boiled onion and garlic clove, quartered tomato, chipotle peppers including adobo sauce, 2 teaspoons salt, and enough chicken broth to fill the blender half way. Puree until smooth.

Heat the oil in a large and deep pan over medium heat.

Once it is hot but not smoking, stir in the chopped onion and cook until soft and translucent, about 2 minutes.

Add chopped tomatoes and chopped garlic and cook for an additional 2 minutes.

Add the cooked shredded chicken, the chipotle sauce from the blender and more chicken broth if it is too dry. Bring to a boil, reduce heat and simmer for 10 minutes.

Add salt to taste.

*Tostadas

In a heavy skillet heat one-quarter inch of oil. Drop tortillas carefully into hot oil, one at a time, for 20 to 40 seconds on each side or until crisp and golden. Drain on paper towels. Store bought tostadas can also be used.

*Assemble

To assemble, place a tostada (fried tortilla) on a serving plate; spoon on Chicken Tinga, lettuce (optional), 1 or 2 slices of ripe avocado, crumbled queso fresco, and top with crema Mexicana or sour cream.

Garnish tostada with toppings of your choice.
Recipe Notes
From the Muy Bueno Cookbook
This post is part of the Muy Bueno Cookbook Spotlight &  Cook-Off sponsored by Hippocrene and hosted at girlichef*