Today we're adding a fun twist on the classic cheesecake by incorporating the flavors of peanut butter cups and serving them in martini glasses for the sweetest surprise.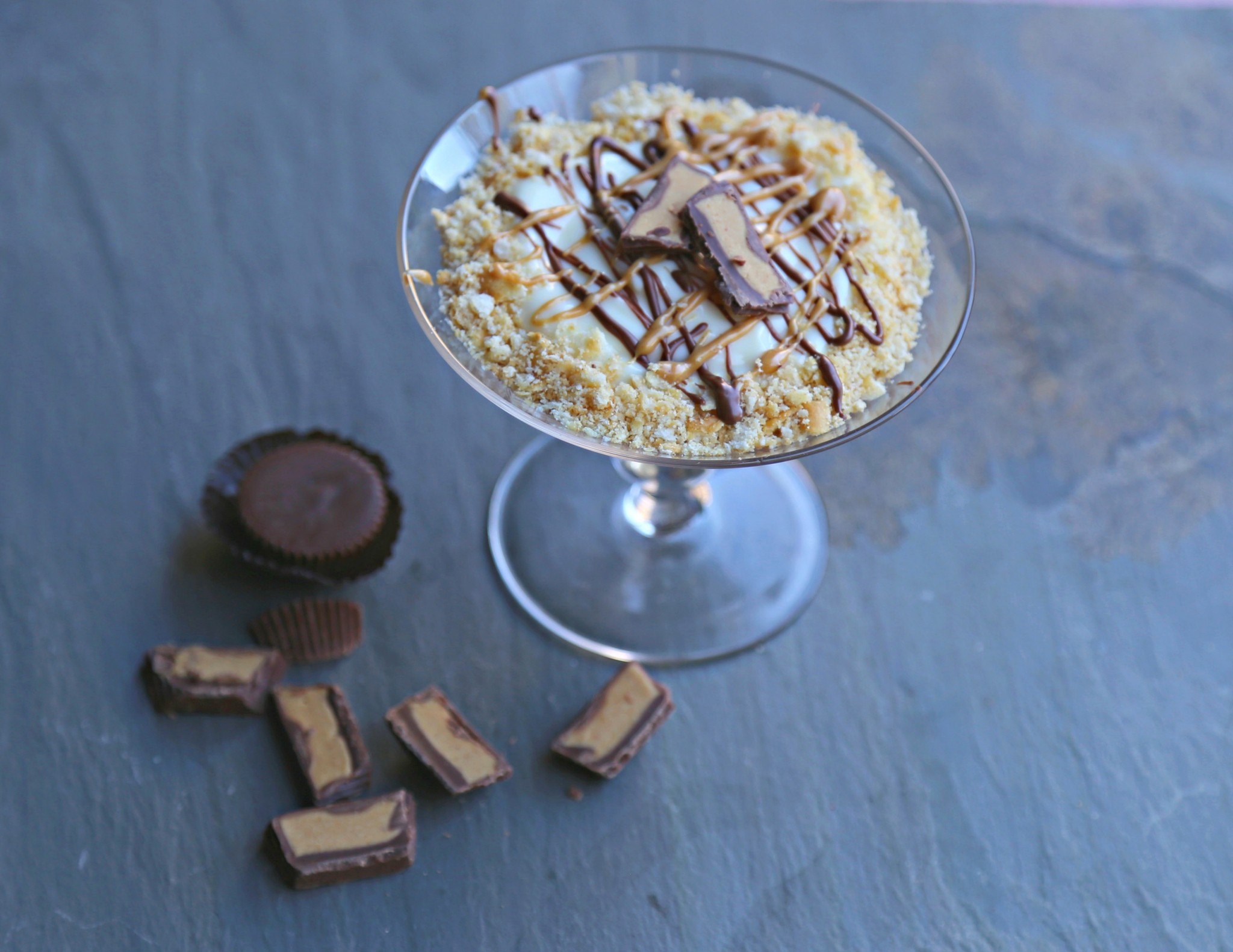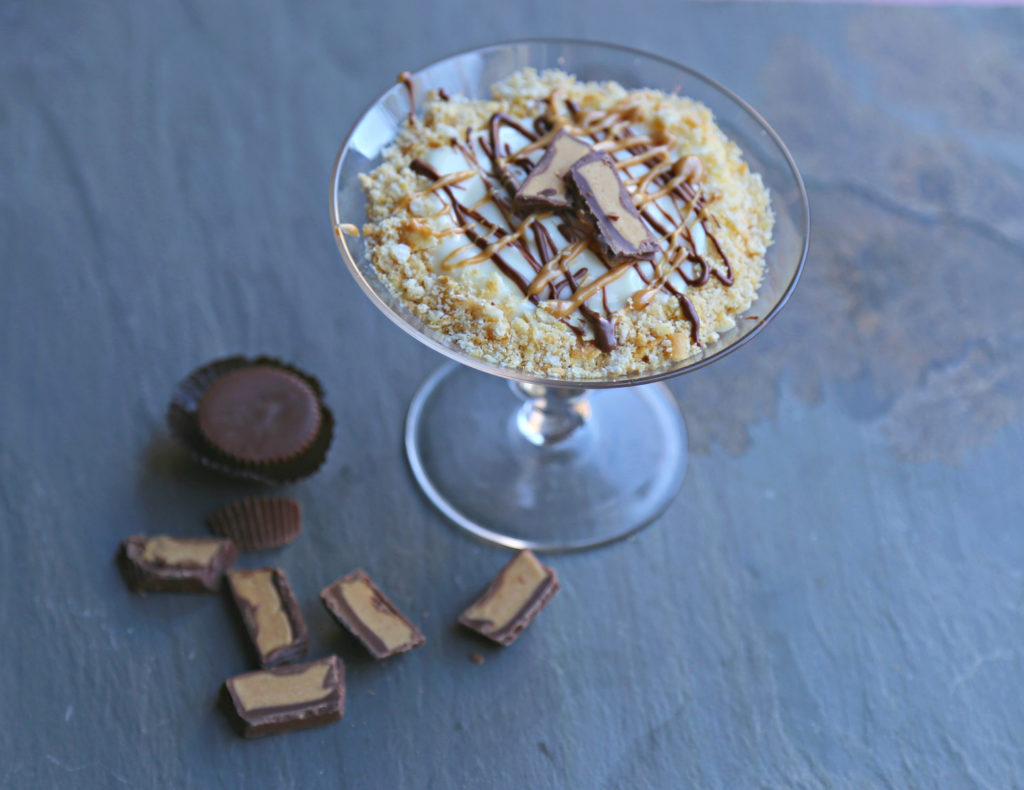 I never need an excuse to spoil mi cariño. I hit the jackpot when I married this man and I plan to spend the rest of my life making sure he knows I adore him.
One of his favorite treats are peanut butter cups. Growing up his mom would slide in a pack of peanut butter cups into his lunch once a month. He was always surprised to find them, but I think he loved the tiny gesture more than the candy.
We're celebrating a major anniversary soon so I plan to spoil him rotten the entire month. For dinner last week I whipped him a special treat served in martini glasses. He was so surprised.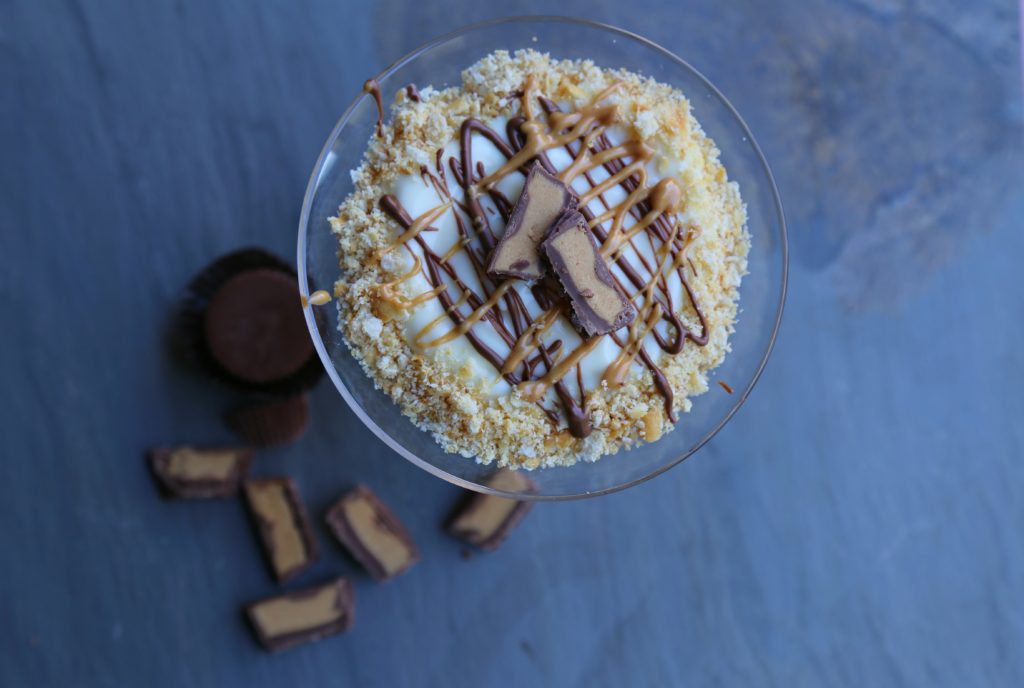 Today we're adding a fun twist on the classic cheesecake by incorporating the flavors of peanut butter cups. These individual serving cheesecakes are the perfect no bake dessert to serve on Valentine's Day, Wednesday or any day you want to spoil a special loved one. Garnish with a few more mini peanut butter cups these no-bake cheesecakes are not only easy to make, but are stunning to serve.
We start this dessert with a delicious layer of butter flavored crackers to create a crust, then spoon over the creamy no-bake cheesecake filling. I then placed the martini glasses in the fridge for the cheesecake filling to set/firm. A drizzle of chocolate and peanut butter takes this desert to anther level. I also sliced a peanut butter cup as a garnish.
Aren't they lovely? Mi cariño was so happy.
Te adoro cariño, here's to muchos mas años juntos.
No Bake Peanut Butter Cheesecake Cups
Prep Time 5 minutes
Cook Time 10 minutes
Total Time 15 minutes
SERVINGS:
Serves 8
INGREDIENT LIST:
25 butter flavored crackers
3 tablespoon melted butter
10 mini peanut butter cups, finely chopped
8 ounces cream cheese, at room temperature
½ cup confectioner's sugar
1 teaspoon vanilla extract
1 1/2 cup frozen whipped topping, thawed
1/2 cup chocolate chips
1/2 cup peanut butter
Garnish: 8 mini peanut butter cups, diced
METHOD
Place butter flavored crackers in a plastic resalable bag and crush with a wooden spoon or rolling pin until finely crushed. Pour crumbs into a bowl and stir in melted butter. Evenly press the crumb mixture into 8 individual serving glasses or mini ramekins. Evenly sprinkle the finely chopped mini peanut butter cup over crumb mixture on each glass. To make filling beat cream cheese with an electric mixer until light and fluffy, about 3 minutes. Gradually add the confectioner's sugar and continue beating until smooth. Beat in vanilla. Fold in thawed whipped topping. Evenly spoon the filling over each glass, smooth each top and place in fridge to firm, about 2 hours. When ready to serve melt chocolate chips and peanut butter in microwave, separately until smooth. Drizzle with melted chocolate and melted peanut and garnish with additional mini peanut butter cups.