Every morning of my childhood life I was awaken by papi (my father) in the morning. We all knew that around 6am he would turn on the lights, slam his hand on the side of the wall and say "Levántese" …"Get Up!"  Oh man I wanted to just scream, "leave me alone!"- I never did,  no one screams at papi, not even now.
So we would all get up, really what choice did we have? I especially hated this on Wednesday, this was the middle of the week, the week was "almost" over. So to be yelled at made Wednesday or really any day begin on the down side.
Now that I am older I can imagine my grandfather more than likely woke my dad up in the same way, he did live in a house with four siblings so I can imagine my dad thought this is the best way he should approach his kids.
Now that we are all older and have our own kids we often joke about the way he yelled, he laughs too, knowing that wasn't the best way to handle his young kids.
I try to take a different approach with my girls'  trying to how should we say it, "break the cycle."
I walk into the room, turn on the lights, and softly turn on the ipod. In perfect sync both lift the covers over their heads and turn their back towards me.
"Okay girls' it time to get up,"  Nothing happens. I turn the music up a little louder. Nothing happens. "Okay girls' let's get up, we have a busy day," still nothing, I know they can hear me…they are testing me.
I crank up the music. "Girls' !"  In that moment is when I forget the "cycle", who cares about the freaking "cycle"
I slam the side of the wall and say..yup.. "Levántese!"  How interesting they quickly jumped out of bed and headed to the bathroom to wash up.   Hmmm maybe papi knew what he was doing after all.
I had flashbacks today when I woke up my girls'  "papi style" and being Wednesday I thought I'd celebrate with a cool smoothie…..what am I celebrating? Well folks I have turned into my father.  Happy Wednesday!!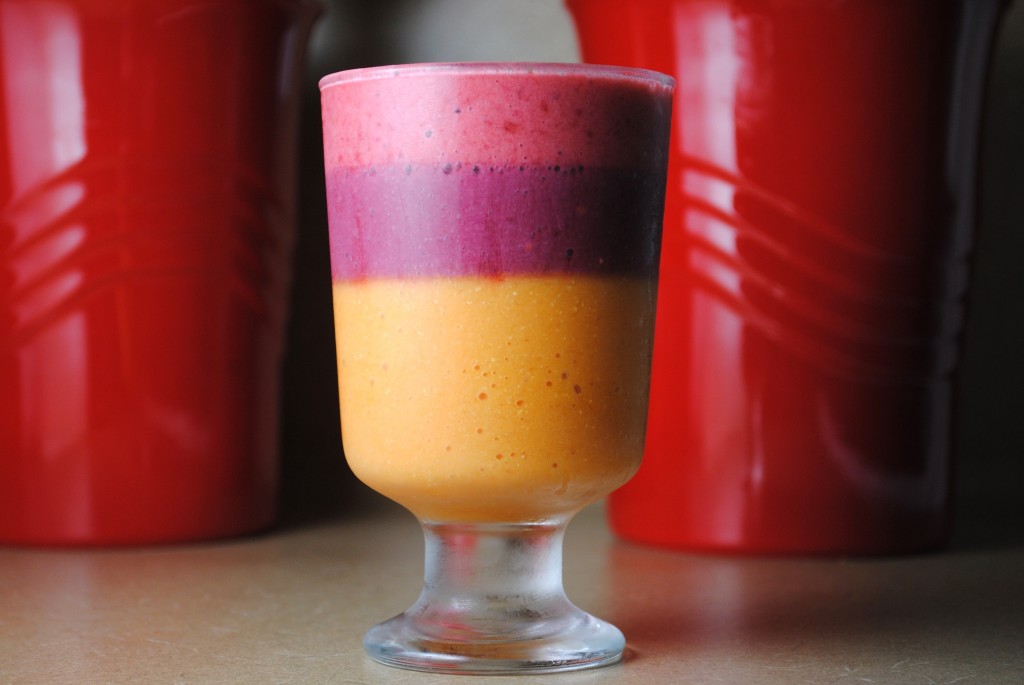 This smoothie is super easy, don't be quick to dismiss this into "what does this lady think I have all day" list. You simply make small batches of smoothies and hey it gives you a chance to use up all those small amounts of fruit you have in the fridge. That's exactly what I did, I had leftover papaya from the Saturday juice, some blackberries and strawberries. It also gives you a open window to add the little extras, like flax seed, wheat germ, or protein.
Make a small batch of one flavor, pour into your glass, and place into the freezer for about 5 minutes, then layer with the next flavor…you get the drift…
Placing in the freezer helps the colors not to run in the other layers.
Papaya Blackberry and strawberry Smoothie
makes 2
by sweet life
by vianney rodriguez
2 cups chopped papaya
1 cup blackberries
1 cup chopped strawberries
2 cups milk divided
1 cup yogurt divided
optional ingredients- flax seed, wheat germ
agave if needed to sweeten
Place two glasses in freezer.
In a blender add papaya , 1 cup milk and 1/2 cup yogurt. Blend until smooth, place mixture in a bowl and set aside.  (before blending add options of your choice)
Rinse your blender and add blackberries, 1/2 cup milk and 1/4 yogurt. Blend until smooth, place mixture into a bowl and repeat the same process with strawberries.
Remove glasses from freezer and add papaya mixture to glasses.  Return glass to freezer for 5 minutes to allow mixture to set.
Repeat the process with the blackberry and strawberry mixture, but allow each layer to set in freezer for 5 minutes, so colors do not run.
I am submitting this to the 5 Star Makeover.