A summer twist on the classic old fashioned.  Sweet Texas peaches replace the traditional citrus to create a fun twist on the old fashioned.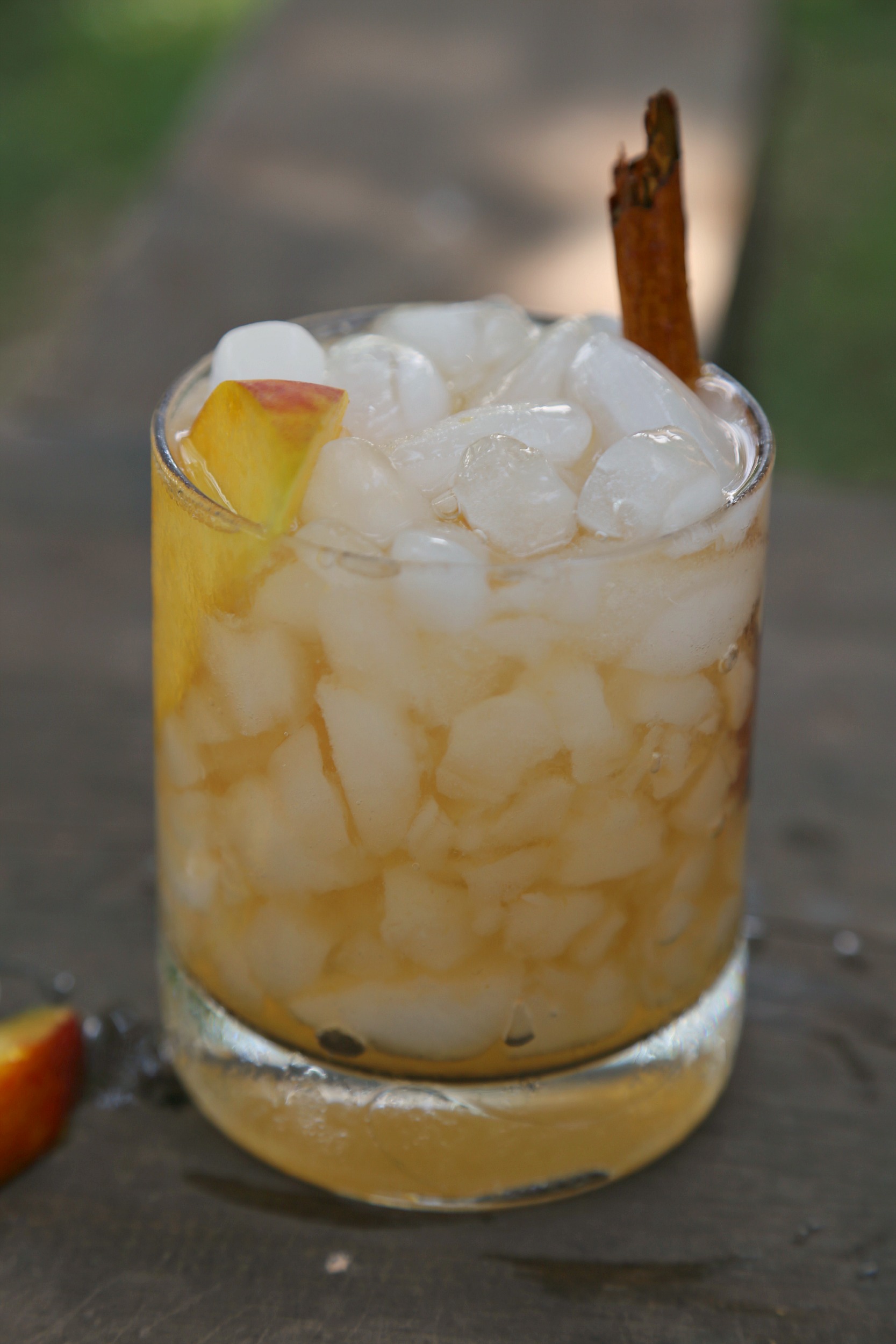 Maker's Mark recently invited me and other influencers to join a broadcast of Maker's 46 Father's Day Tips and Sips Workshop. Hosted by Pamela Winznitzer, the broadcast walked us through making a traditional old fashioned. Guests were sent a goodie package which included all we would need to make old fashioned at home. I was thrilled since the old fashioned is one of my favorite cocktails to enjoy at home.
Pamela walked us through on how to make a traditional old fashioned but also gave us new ideas and inspiration on how to create fun variations of this classic cocktail. If you have yet to try making an old fashioned at home, you do not know what you are missing. Whipping up an old fashioned at home is simplicity at its best. You only need a small handful of ingredients: a spirit, simple syrup, bitters, ice and a little citrus peel.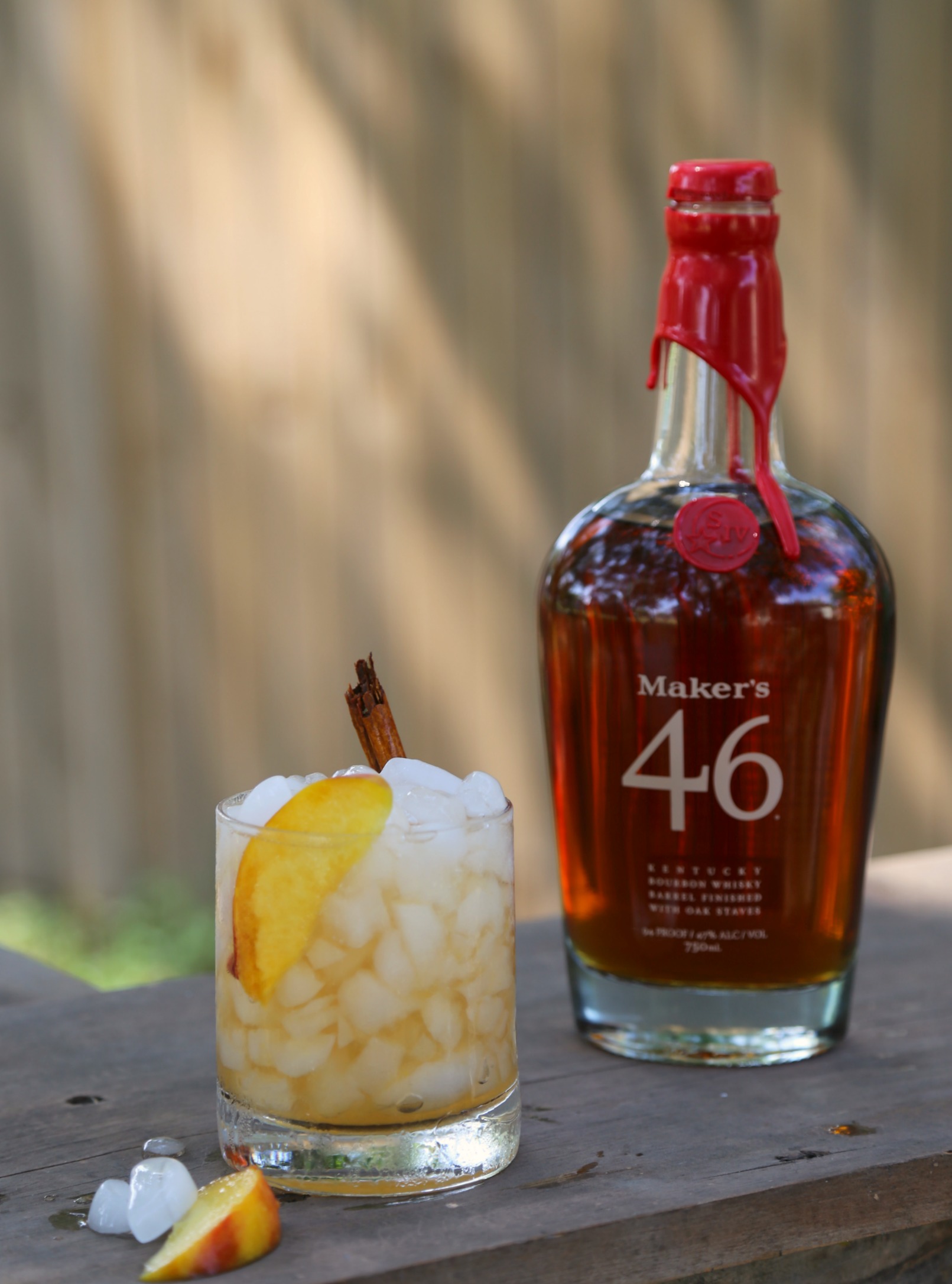 This is what I enjoy about the old fashioned, both the simplicity of the cocktail and how a simple swap-out of an ingredient creates a fun variation in flavor.  I decided to give my old fashioned a summer twist, by infusing my simple syrup with cinnamon and swapping out the citrus for peaches. Peaches are currently in season here in Texas, and we simply cannot get enough of them. The cinnamon syrup gives this cocktail a bit of warmth without overpowering the peaches. A few muddles, a few splashes of bitters, plenty of ice and this peach old fashioned is ready to sip.
Maker's Mark is one of the finest Kentucky Bourbons with a soft, smooth flavor which stems from the use of winter wheat in the mash as opposed to rye. The brand is fastidious about quality and a hands-on distilling and aging process. While this adds time and accounts for a smaller production, the result is always a consistent, quality product. In fact, the name Maker's Mark refers to fine pewter craftsmen who only put their mark on their best product. Made in batches of less than 19 barrels at a time, each batch of Maker's Mark is nurtured by human hands every step of the way.
Peach Old Fashioned
A summer twist on the classic old fashioned.  Sweet Texas peaches replace the traditional citrus to create a fun twist on the old fashioned.
Ingredients
2 ounces Maker's 46
1 tablespoon cinnamon simple syrup
3 dashes of bitters
3 peach slices, plus more to garnish
For Cinnamon Simple Syrup:
1 cup water
1 cup suagr
2 1-inch cinnaon sticks
Instructions
In a mixing glass muddle cinnamon syrup and two slices of peach.  Add ice, Maker's 46 and bitters, stir until well combined. Strain over glass filled with ice, garnish with a peach slice.
To Make Cinnamon simple syrup: Heat water & sugar over medium-high heat until all sugar dissolves. Remove from heat, add cinnamon; allow to infuse.
Notes
Cinnamon Syrup can be made a day in advance. 
 Sweet Life Disclosure: This is a sponsored post with Maker's Mark.