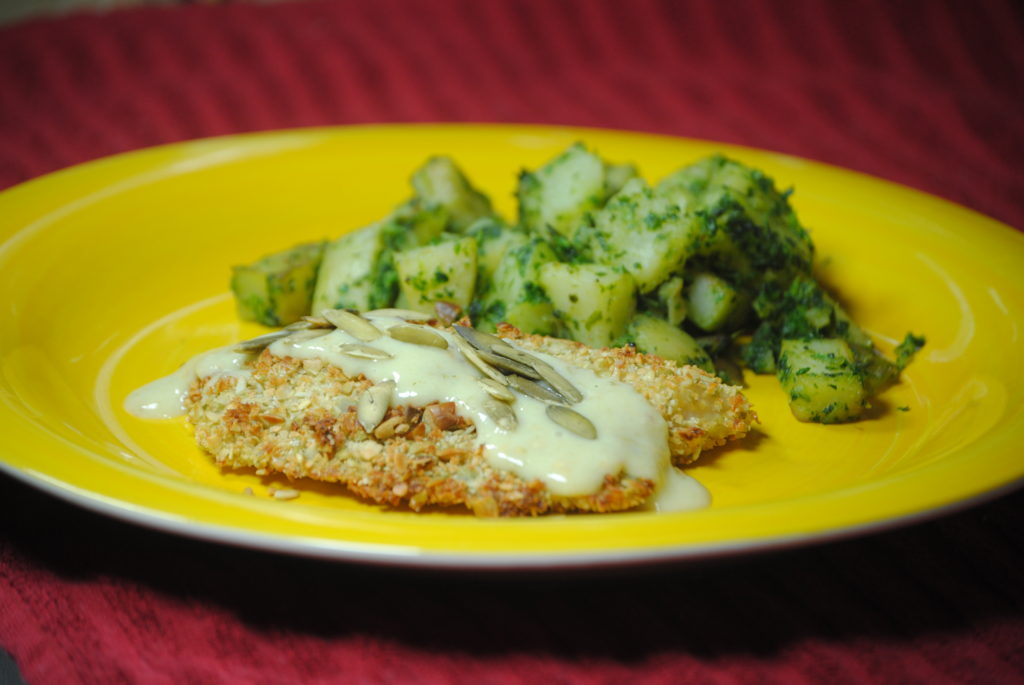 Welcome to our St. Patrick's celebration!!  Last year I was graciously invited to participate in a St. Paddy's Food Parade hosted by The Daily Spud.  A new year! A new tasty parade!
Join in on the celebration by visiting The Daily Spud on March 17th for the parade of wonderful St. Paddy's dishes sure to get you in the spirit!

Last year I featured salmon  along side creamy potatoes.  This year I challenged myself to do the same with a different approach.  Pepitas, Tomatillos, Cilantro and Serrano  an explosion of bright green flavors sure to rev up your day! Enjoy! Sweet Life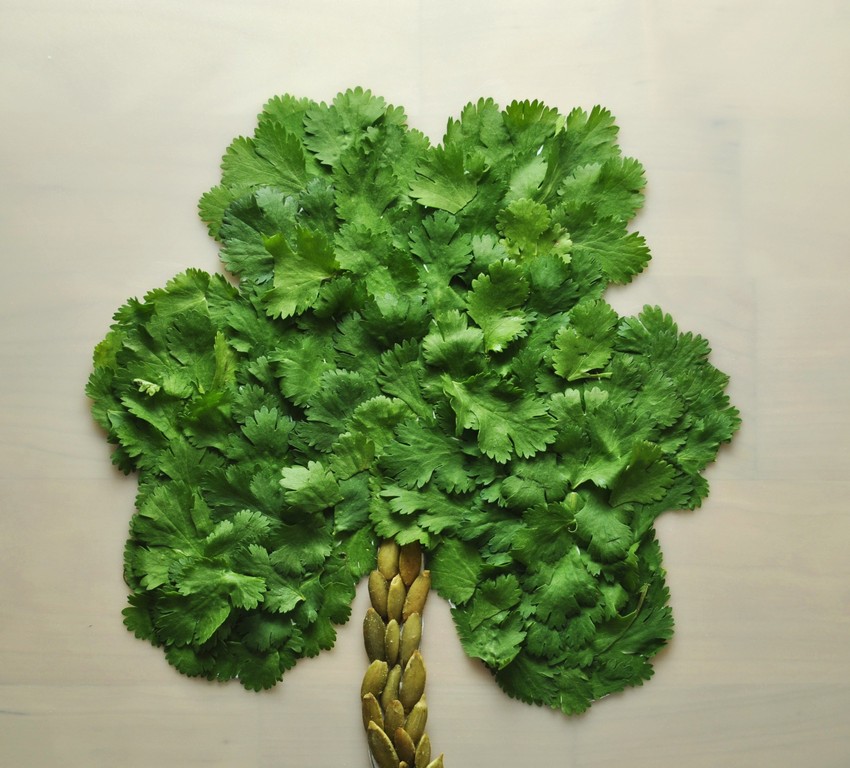 Pepitas ~ pumpkin seeds, roasted are a typical snack in Mexico. Can be found unsalted or salted and are generally used to make mole sauce Pipian.  I love to use them in granola, over oatmeal or as in this case breading.
Pepita Crusted Tilapia
by Vianney Rodriguez
By Sweet Life
serves 4
4  tilapia fillets (6oz)
1/2 cup pepitas (roasted pumpkin seeds)
1/2 cup panko
1/4 tsp oregano
1/4 tsp cumin
2 eggs lightly beaten
salt
pepper
baking spray
Preheat you oven to 375 degrees.
Place pepitas and panko in a food processor and pulse until pepitas are coarsely ground.
Place pepita breading mix into shallow dish and mix in cumin, oregano.  Season to taste with  salt and pepper. (I leave the salt and pepper to your judgement, as you can purchase roasted salted pepitas and avoid salt all together).
Spray you baking sheet and set aside.
Place you eggs in a shallow dish alongside pepita breading mix.
Dip your fillets in egg and dredge in the pepita breading, place on baking sheet.
Spray tops of fillets and cook in oven for 8-12 minutes.
~~~~~~~~~~~~~~~~
Pepitas are coarsely grounded with panko to provide a crunchy full flavored breading for tilapia.  Tomatillos are blended with crema, serrano and cilantro for a bright green sauce to drizzle over your fillet.  Potatoes are crusted then bathed in a brothy green mix of cilantro and serrano to serve with you tasty fish!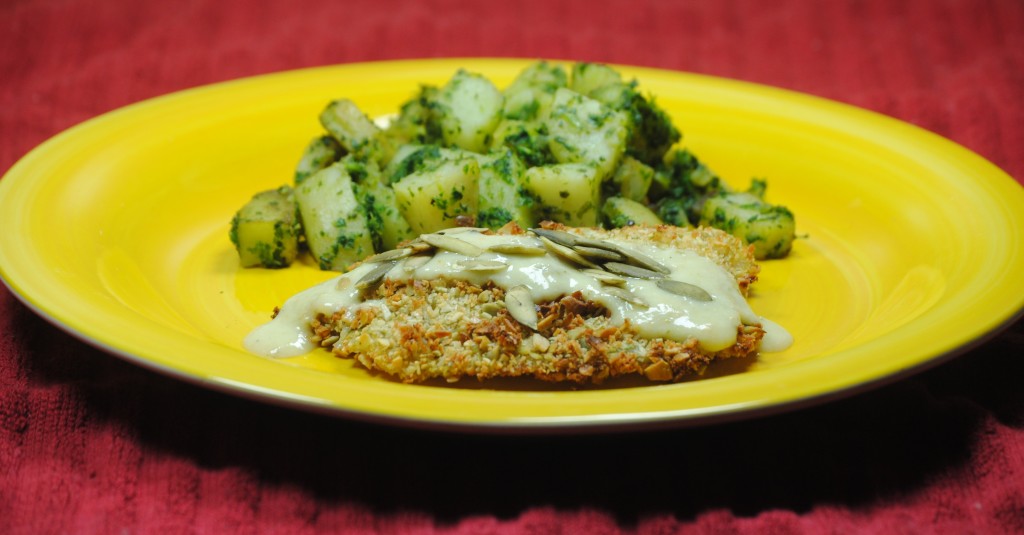 Tomatillo Cream Sauce
makes 2 cups
By Vianney Rodriguez
By Sweet Life
6 tomatillos, husked and rinsed
1/2 serrano split, seeds removed and diced
1/2 onion diced
 1/2 cup crema mexicana or heavy whipping cream
1/4 cup cilantro
salt
pepper
Place tomatillos in a saucepan and cover with water.
Bring the pan to boil, reduce heat and cook for about 8 minutes.
Drain the tomatillos, place in blender add serrano, onion, crema or whipping cream and cilantro.  Blend until smooth.  Add a bit of water if the blender has trouble moving. (water does nothing to the flavor.)
Season to taste with salt and pepper.
Serve over tilapia and garnish with pepitas.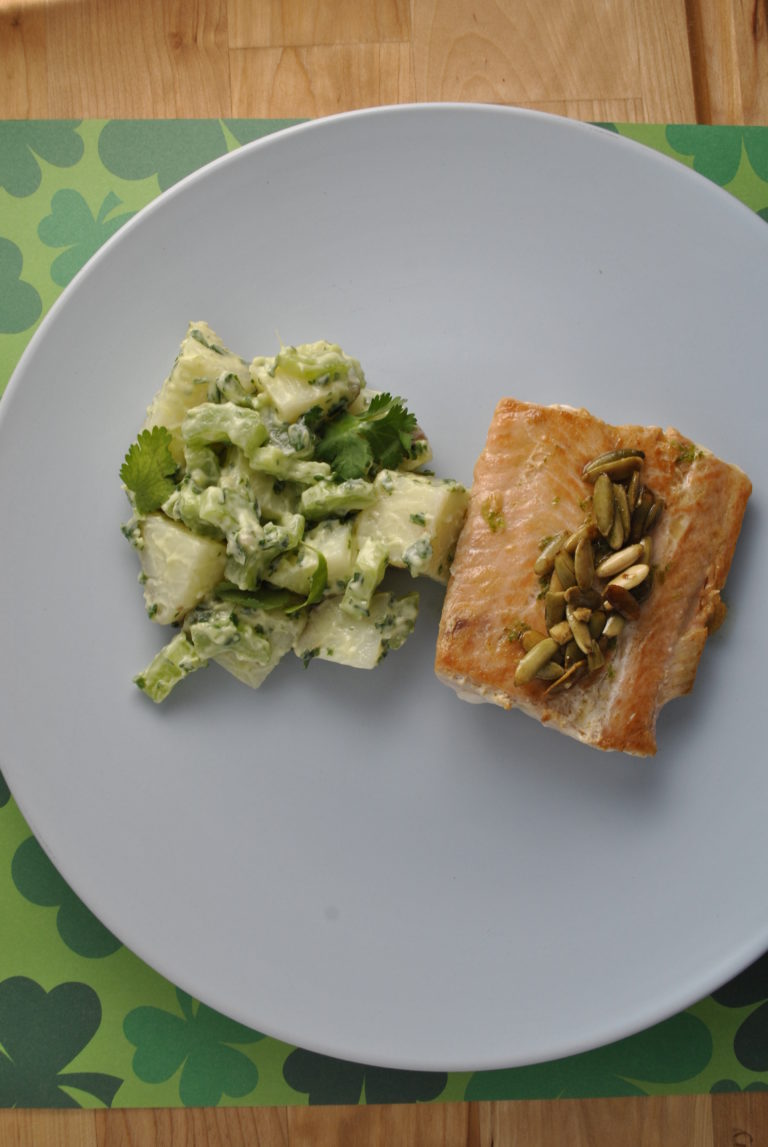 Last year's dish click here for the recipe.
~~~~~~~~~~~~~
Cilantro Potatoes
serves 4
By Vianney Rodriguez
By Sweet Life
4 medium potatoes, peeled and diced
1/2 serrano (left over from tomatillo sauce) seeds removed and thinly sliced
1/2 cup cilantro
1/4 cup stock, your choice vegetable or chicken
2 tbsp vegetable oil
1/4 tsp salt
1/4 tsp pepper
Place diced potatoes in a saucepan and cover with water.
Bring to a boil, reduce heat and cook until fork tender, about 10 minutes.
In a blender add serrano, cilantro, stock. Blend until smooth.
In a large skillet over medium high heat add oil.
Drain potatoes well and add to skillet.
Allow the potatoes to crisp on each side, this can take 5- 8 minutes.
Add blended cilantro mix, salt and pepper.
Cook until almost all the liquid is evaporated into potatoes.
Serve with Tilapia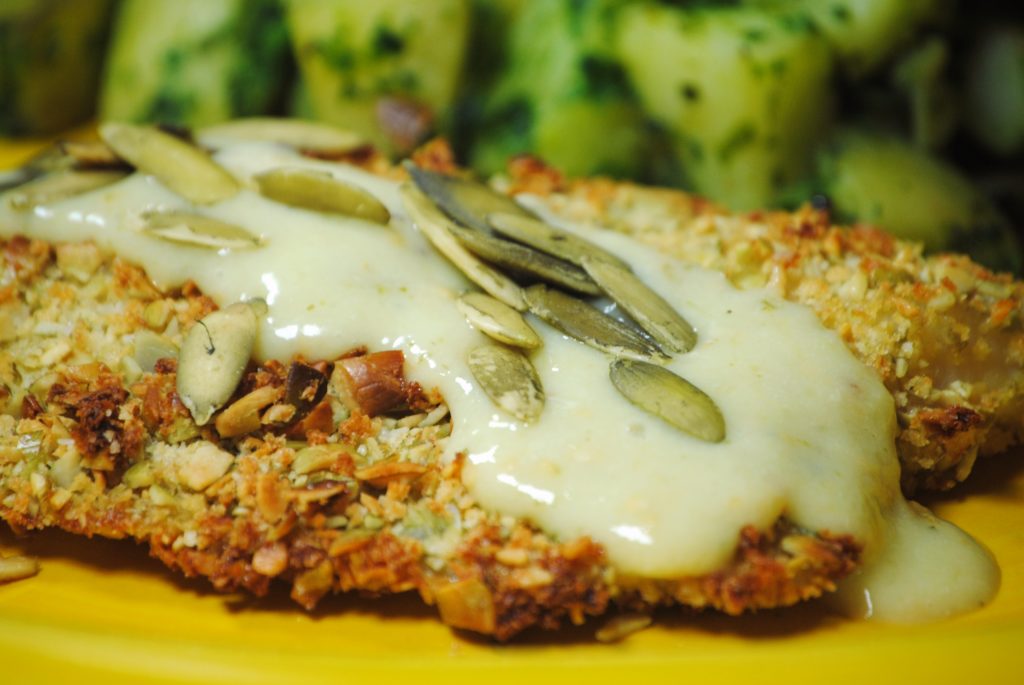 Love this dish? Grab my feed for a new recipe each week in you inbox, it's easy!!