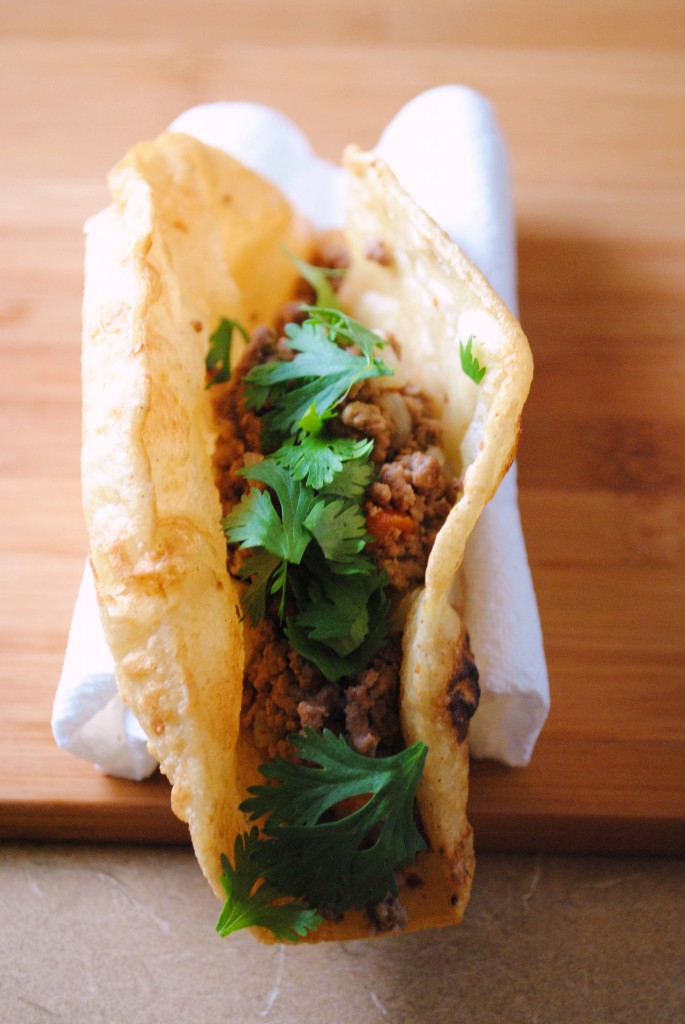 You didn't think I would spend time with Diana all week and not give you her famous puffy taco recipe did you?  I love y'all, of course I wanted to feature this signature recipe, first for all for those who just can't jump in the car- drive to Texas to enjoy Los Barrios  and secondly I have been craving these bad boys since I started this week long feature.  Need a filling for these crispy shells,  look not further I leave you with a great picadillo and a spicy rajas de poblano.  In her throw down with Bobby Flay Diana suggests that using fresh dough makes for the best puffy taco and I totally agree.  The recipe calls for masa mix, but realizing that I live in Edinburg, Texas.  I decided to take it a step further.
Yesterday morning I drove to one of my favorite bakeries and asked for freshly ground masa.  The girl working said she only had fresh masa prepared for tamales, but if I was willing to wait they would grind up a  fresh batch for me.  Of course I willingly waited and  I must givea shout out to Maria Elena for being so considerate very early in the morning. ( she had worked overnight baking.)  If you do not have a tortilla press don't feel like you cannot make these taco, simply follow the recipe using a plastic bag then use a heavy skillet or cast iron  pan to press out your fresh masa.
I tested both methods and the cast iron worked perfect.  The rajas can also be a great combo with tostadas, used as a dip or over another meat filling of your choice. I end this week with sending Thanks to Diana for taking time out of her busy schedule to spend a little time with me in the kitchen.  I hope you enjoyed this week of great recipes and I wish you luck in the giveaway.  In my last installment of my interview I ask Diana about her love of Texas and being a Hispanic.   Have a great weekend. Enjoy!! Sweet Life
In case you missed parts of this great interview  I leave you the links,  part 1  part2  part 3  part 4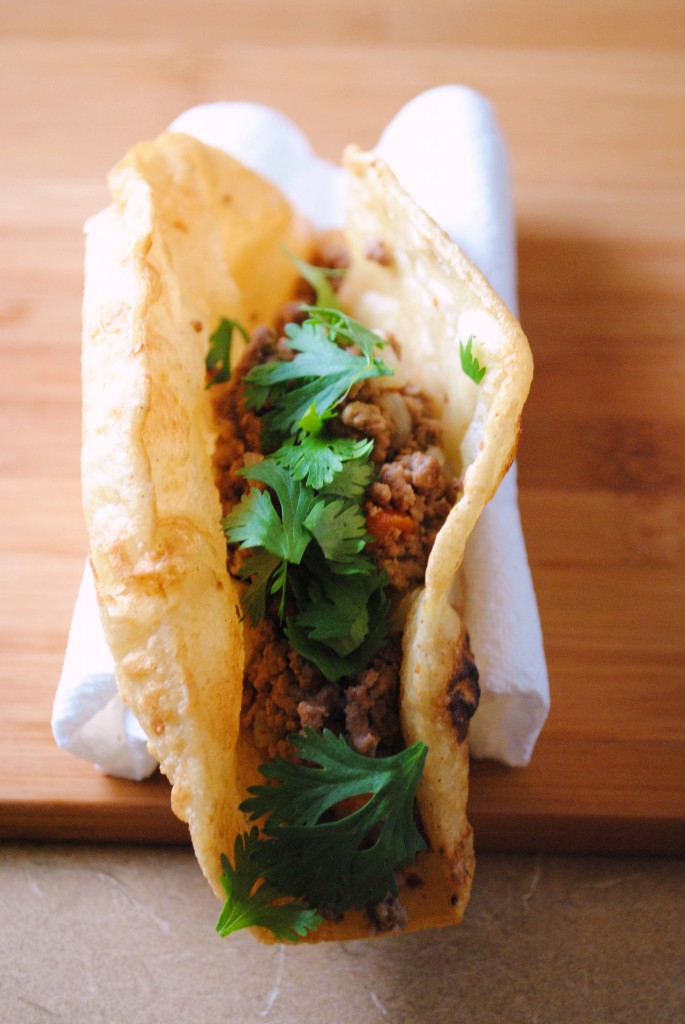 Sweet Life-  What does Texas mean to you?  How has being a Hispanic raised in America helped you become the strong women you are today?
Diana-  Texas is a combination of many cultures that have been a apart of creating the cuisine we know as Tex-Mex.  There were influences from the Spanish, the French, the Native Americans and the original Vaqueros.  They took whatever ingredients they had available and created the dishes we know and love today. 
I feel blessed to be Hispanic born in the greatest country in the World.  I believe I was given the best of both Worlds…I learned the traditional Mexican customs and values as we were brought up.  We were taught to be bilingual and bi cultural.  This has opened many doors for my siblings and me.  All three of us have represented  our respected fields in one one or another because of this. 
**************
Picadillo
Los Barrios Family Cookbook
serves 6 to 8
2 pounds ground beef
3 cups warm water
1/2 tsp ground cumin
1/4 tsp garlic powder
1 tbsp salt
1/4 tsp pepper
1 onion, diced
2 tomatoes, diced
1 green bell pepper, diced
1 cook the meat in a large skillet over medium heat, stirring to break up any lumps.  Cook for 7 to 8 minutes until browned.  Drain off any fat.  Stir in 1 cup of water, the cumin, garlic powder, salt, and peepr and cook for 8 to 10 minutes.
2  add the onion, tomatoes, and bell pepper and cook until vegetables are tender, about 10 minutes.  Stir in the remaining 2 cups water and simmer for 8 minutes.
*********
Rajas Poblano en Crema
Los Barrios Family Cookbook
serves 4
2 tbsp vegetable oil
1 garlic clove
1 onion, sliced
6 poblanos chiles, roasted, seeded, and cut into strips
3 1/2 cups diced mozzarella cheese
2 cups half-and-half
1 heat the oil in a large saucepan over high heat.  add the garlic and cook until fragrant, 1 to 2 minutes.  remove and discard the garlic, and reduce the heat to medium-high.  add the onion and cook until softened, 2 to 3 minutes.  add the chiles and cook for 3 to 4 minutes.
2. add the cheese, reduce the heat to medium, and stir in the half-and-half.  cook stirring until cheese has melted.  serve immediately.
************
Puffy Tacos
Los Barrios
serves 12-15 tacos
3 cups corn masa mix
1 1/2 tsp salt
2 1/4 cups warm water
vegetable oil for frying
1 combine the masa mix, salt, warm water in a large bowl and mix until a smooth dough forms.  pull off  pieces of dough and roll them into balls about the size of a ping-pong ball.
2 cut a quart-size resealable plastic bag open down both sides, to form a rectangle.  use the bag to line a tortilla press as you shape the tortillas, so they do not stick; lay one side of the plastic over the bottom of the press, place a ball of dough in the center, and fold the other side of the plastic over the dough.  shut the top of the tortilla press firmly down on the dough to shape tortilla.
3. meanwhile pour 2 inches of vegetable oil into a large deep pot and heat to 350 degrees.
4 drop a tortilla into the hot oil and using a metal spatula, repeatedly douse the tortilla with the hot oil until it begins to puff up.  flip it over and, using the spatula, make an indentation in the center of the tortilla to form a taco shape.  transfer to paper towels to drain.  repeat with the remaining tortillas. (caution; be very careful when making these, make sure there is proper ventilation, and do not allow the oil to get too hot.)
***pic of diana and bobby flay throwdown from Los Barrios website!****