Hello my fellow food lovers, how was your weekend?  My weekend was tiredly busy- in a good way.  It always amazes me how I can be so busy with the girls', cleaning, washing, picking up (the same toys), cooking only to realize that I have not left the apartment the whole week.  It's sad I know, but my carefree days of my youth are gone.  So when Friday rolled around I was ready to escape anywhere and more importantly ready to be fed by a nice waitress who would in no time appear with piping warm trays of food.  I have to brag I had the best entomatadas in a small family place in Pharr, Texas and drank enough agaua fresca this weekend to quench away my boring week of chores.  In one week ALL my family is heading home to Aransas Pass, Texas( I am sooo excited!) to spend time together, suddenly the enormous home I grew up in, doesn't seem to enormous.  So this weekend was spent prepping for the arrival of our family.  The girls needed new dresses for my nephew's baptism, new pj's for a breakfast bday party for their cousins and I needed a new purse and cake pans.  Oh yes.. I know yall feel me…a useless cake pan can not be taken lightly..new pans must be acquired at all measures, even if I must spend hours at numerous  kitchen stores (which was heaven) to find the perfect pan.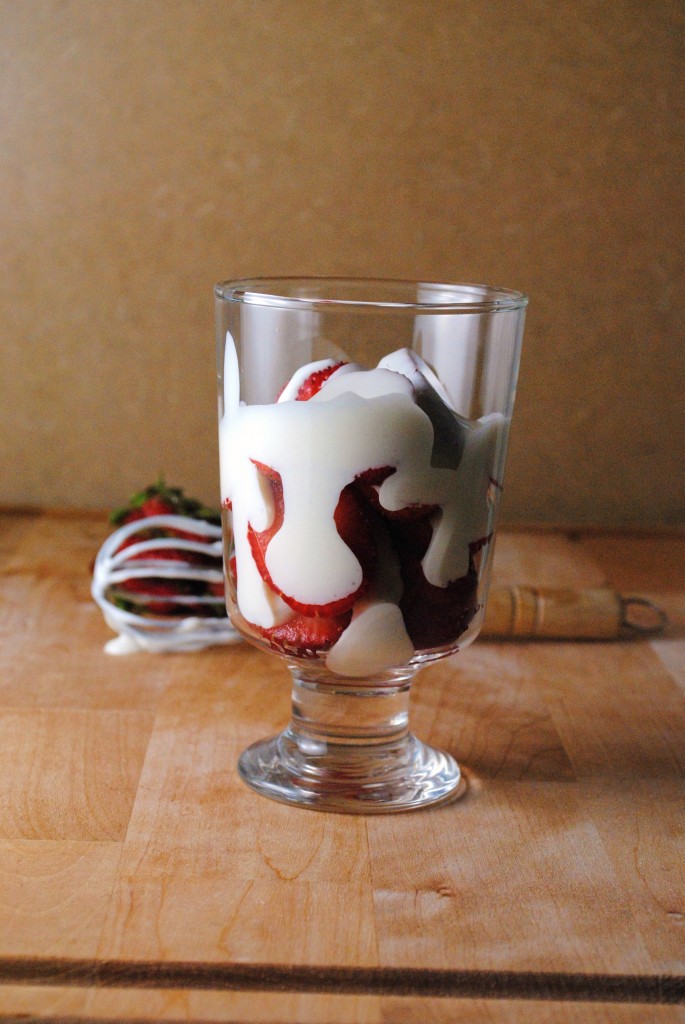 The downside of my weekend getaway was my daily rotation of fruit in my tiny apt fridge.  My little fridge freezes EVERYTHING.  I have tried setting it to the lowest temp, I rotate, I rearrange and nothing works.  What kills me is the fruit that is freezes.  I hate to waste food so frozen  fruit just drives me over the edge.  Fruit in my house is not taken lightly, the girls need their daily ton of fruit intake, hubby loves his fruit shakes and I in these Texas summers  must digest watermelon daily,   so this fridge is a problem.  On Sunday when I finally opened my fridge my strawberries were half-dead.  The guilt was overwhelming.  I had to save those babies.  My saving grace came in the form of  Fresas con Crema.  Here in Edinburg they are the rage.  In every corner, every eatery and I have even seen this concoction served at a drive thru convenient store (yes, I drove thru, I needed a fix).  I love this flavor combo and especially like the thicker style they serve here in Edinburg, not overly sweet, a more sour/ thick crema over sliced strawberries.  Mexican crema is served here with any meal, over tacos, tostadas, flautas….etc.  It is available in any major grocery store and smaller Mexican marts here, I have even seen a canned version.  If you search Fresas Con Crema you will find many versions. Recipes can call for condensed milk or powdered sugar or even heavy cream.  Here is my version.   Enjoy, Sweet Life!
Fresas Con Crema
by Sweet Life
Vianney Rodriguez
tops 2 glasses
1 cup crema mexicana
1/2 cup sour cream
agave to taste
2 cups sliced strawberries
combine in small bowl and sweeten with agave.
drizzle over sliced strawberries.
***THe winners of the Los Barrios Cookbook will be announced Friday, I am still sifting through comments from Thursday, I know I'm such  slacker..***