Menudo in our house is a cold weather ritual.  My mom (momo) would spend hours prepping her ingredients then kept a watchful eye over her pot all night.  Any of you who have made menudo know this dish can be quite time consuming.  These days the work in cut in half with the tripe being sold in stores pre cut , menudo mixes are sold in the spice isles and various flavors of hominy are now available.  None of these quick options were avaiable for my mom, but knowing my mom I doubt she would resort to any of these time savers.  In the the morning bolillos, onions, cilantro and limes were placed on the table next to hot steamy bowls of menudo.
My dad (papi) would excitedly sit at the table all while reminding us how blessed we were that my mom was a fantastic cook and  we should be grateful she made us this wonderful meal.  Even as I type  I can feel the guilt creeping over me, guilt of knowing my mom had lost sleep all night to produce the perfect tenderness of meat, the intense fire red broth made from the exact mix of chiles and all I wanted was the hominy that was dumped in at the last hour of simmering (from a can).  Oh you horrible child, I could imagine her saying, but she never did.  She would smile and sink the ladle to the very bottom of the menudo pot to retrieve the broth infused hominy (it sinks to the bottom from the weight of the meat).  She would though add just a couple of pieces of meat, knowing my dad was watching, he was always watching.   Or maybe she was hoping I would accidentally try the tripe and learn to enjoy it which I did, but I have never stopped asking for extra hominy in my menudo.  A couple of years ago I confessed my sin to her hoping for forgiveness and she just laughed.
I first made this hominy side dish when my parents came to visit us in Killeen, Texas while my hubby was in the Army.
As I was plating I almost dropped the whole pan out of sheer nervousness of serving her, would she think I was insane to serve hominy like this?
Would she like it?
Would this make up for the guilt I felt all those years and most importantly offer me a quick fix to feed my constant craving for hominy?
She loved it, yes, she even asked for the recipe.  I would have fainted if my mouth wasn't full.  Enjoy! Sweetlife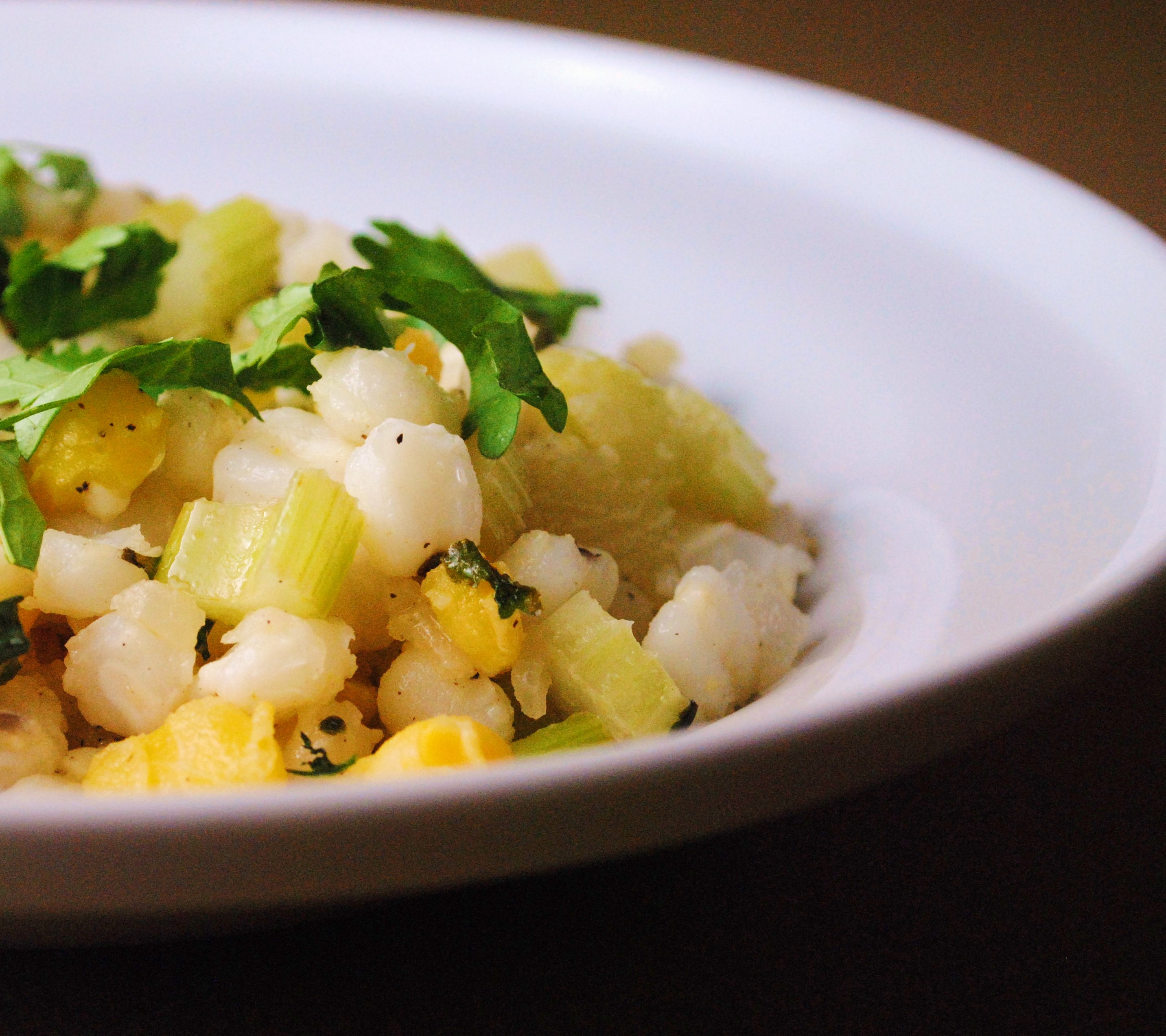 This is a quick side dish, you are simply giving the precooked hominy a quick saute after the celery and onion have softened a bit.  I prefer to use a non stick pan because the homniy releases starch which can lead to sticking.  If you do not have a non-stick pan, use a little more olive oil and just watch your heat, you should be fine, relax it's not a test, it's a side dish.
Hominy with Cilantro and Lime
by Sweetlife
Vianney Rodriguez
serves 4
4 cups hominy (drained and rinsed)
4 celery stalks chopped
1/2 onion diced
2 garlic cloves minced
2 tbsp olive oil
salt and pepper
3 tbsp freshly squeezed lime juice
handful of cilantro
Heat a skillet over medium heat, add the olive oil.
When the oil is heated through add the onions, celery and garlic and cook until they become slightly soft translucent, not mushy.
Add your hominy, salt, pepper and heat through.  Remove from the heat add lime juice and sprinkle with cilantro. Serve.