Sweet Life Disclosure: I am a member of the Libby's Pumpkin blogger team and help spread the word about its #PumpkinCan Campaign.  As a team member, I receive product and incentives in exchange for participating in brand related activities and spreading the word about Libby's #PumpkinCan Campaign.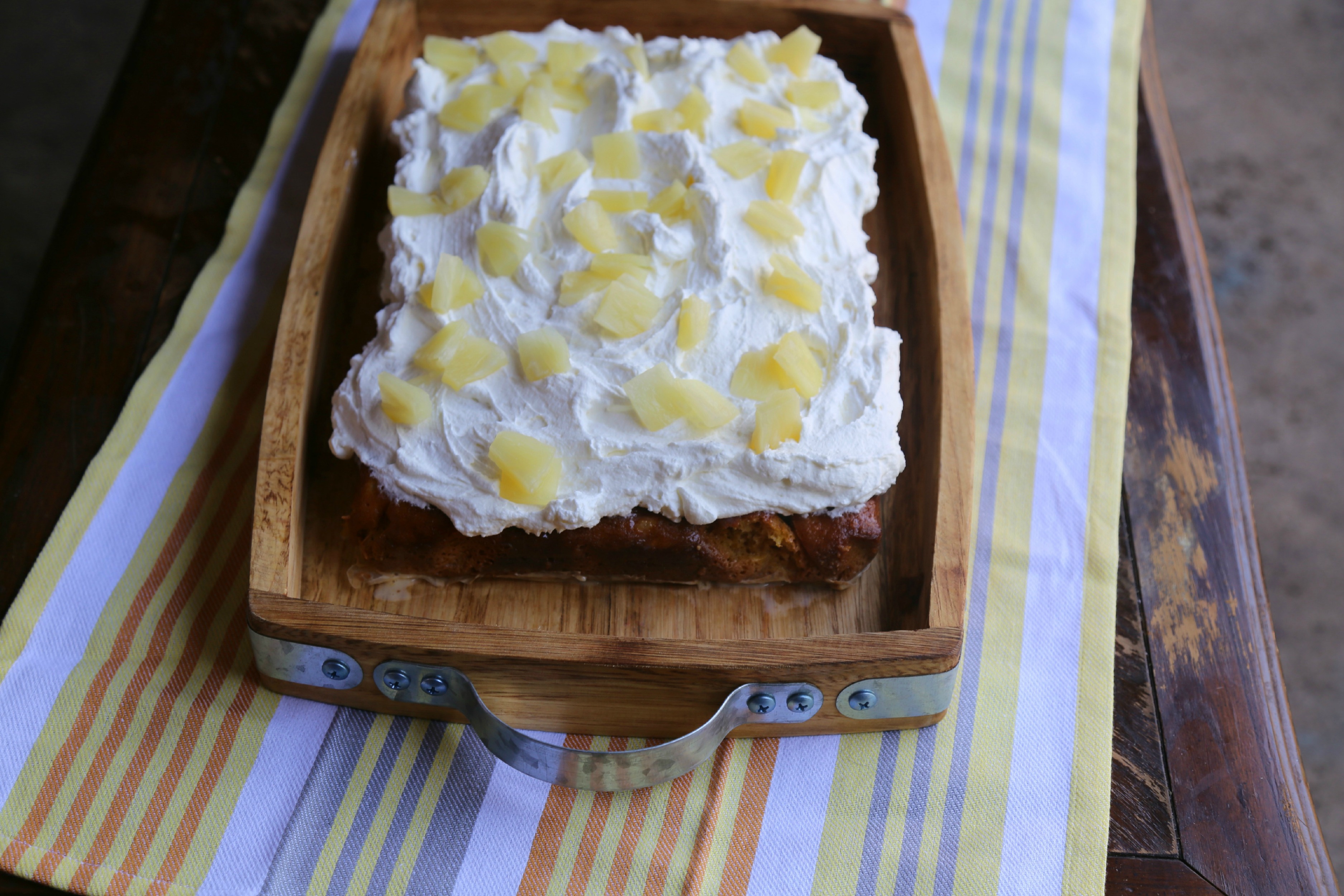 The textbooks have been put away, no more hurry-up busy mornings,hello summer! Are you ready for summer? I sure am.  Relaxing by the pool, reading a great book, weekend getaways and leisurely dinners are a few of my favorite summer activities.  And l plan to serve this beauty at a few of my dinner parties – pumpkin-pineapple tres leches cake, it's dreamy, creamy and made with loads of delicious pumpkin.
I enjoy pumpkin all year. It is a great source of fiber and excellent source of vitamin A. Plus pumpkin is versatile enough to work in tons of different recipes all year long. When used as a substitution for butter, margarine or even eggs, pumpkin can contribute fiber and cut fat, calories, and cholesterol from some of your favorite recipes. I've partnered with LIBBY'S Pumpkin to share all of the great things pumpkin can do.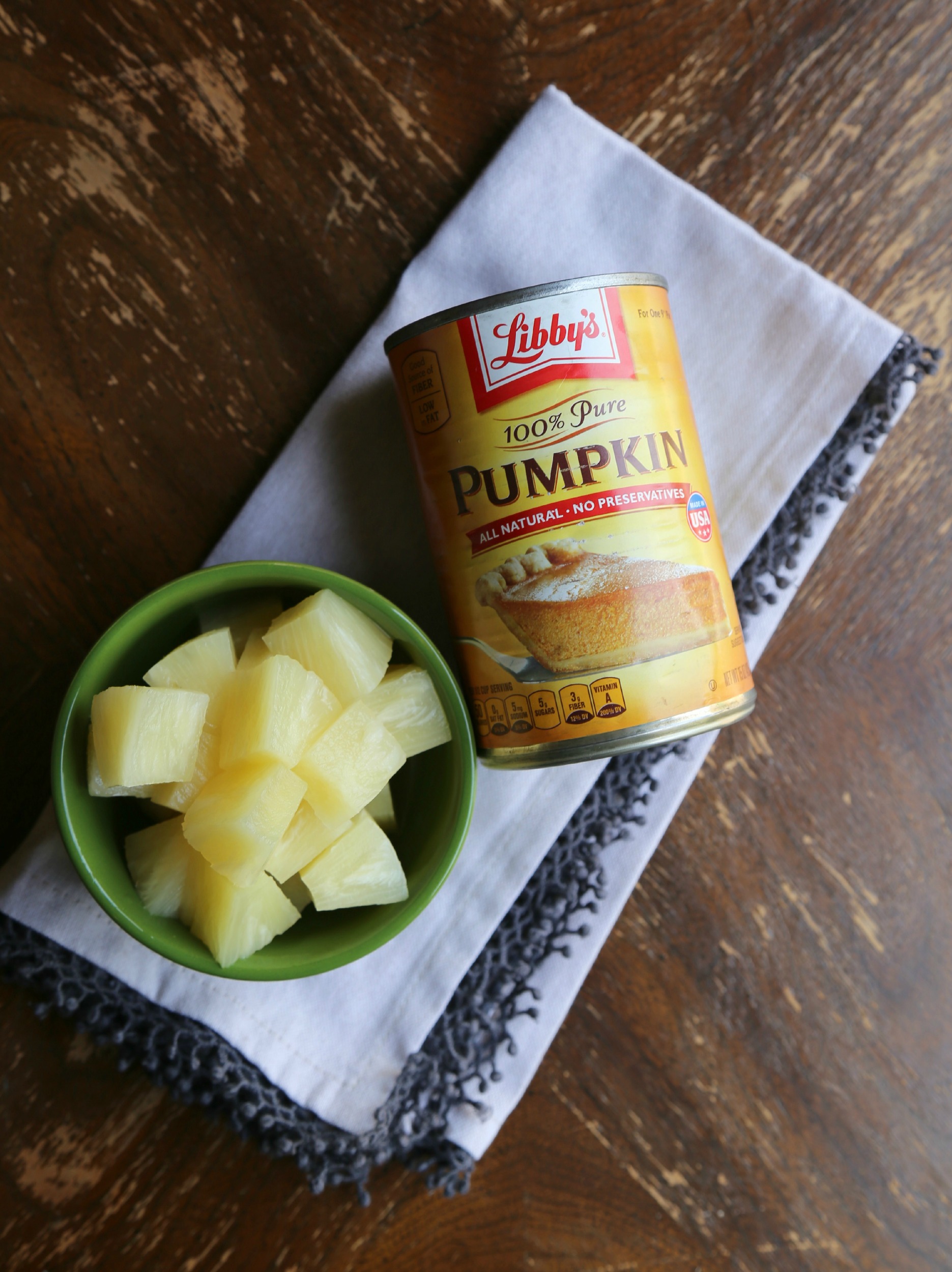 I've replaced the oil in this cake with pumpkin added plenty of diced pineapple and a fluffy topping of freshly whipped cream.  Baking with pumpkin year round is super easy and good for you.  Please stop by pumpkincan.com to check out different pumpkin ideas and download a coupon.
Here's a few substitution tips from Libby's:
You can improve the nutrition of your cake or brownies by replacing the fat or oil with LIBBY'S® 100% Pure Pumpkin.
When you replace a whole egg in many of your favorite recipes with 1/4 cup of LIBBY'S® Pumpkin, you can cut the calories, cholesterol and fat.  See www.verybestbaking.com for recipe ideas.
You can replace half the butter or margarine in your baking recipes with LIBBY'S® 100% Pure Pumpkin to cut the fat.
Replace half of the creamy or crunchy peanut butter with LIBBY'S® 100% Pure Pumpkin and cut the fat in a PB&J sandwich
Add 1/4 cup of LIBBY'S® 100% Pure Pumpkin into 3/4 cup of your favorite homemade or canned chili to cut the sodium per 1 cup serving.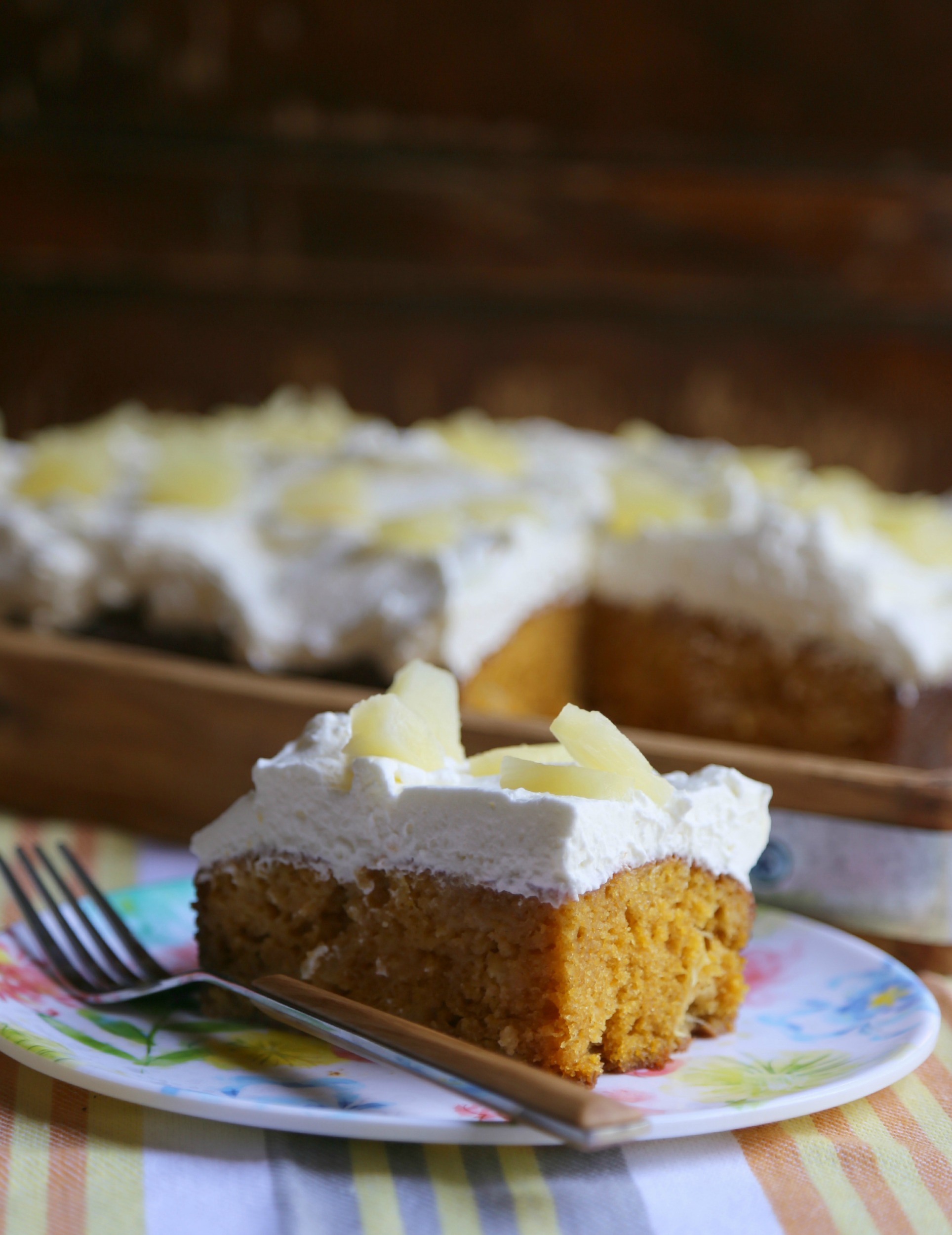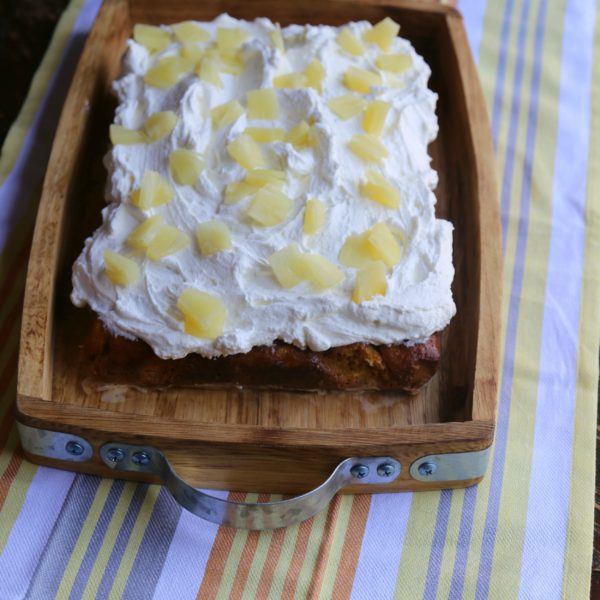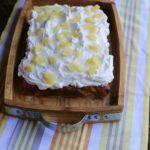 Pumpkin Pineapple Tres Leches Cake
Ingredients
2

cups

flour

1

teaspoon

baking powder

1

teaspoon

baking soda

2

teaspoons

ground cinnamon

1/2

teaspoon

salt

1 1/2

cups

Libby's Pumpkin

replaces vegetable oil

1 1/2

cups

sugar

4

eggs

1

teaspoon

vanilla

1

cup

Libby's pumpkin

1

8-ounce can crushed pineapple, drained

1

14 oz can sweetened condensed milk

1

12oz can evaporated milk

1

cup

milk

2

cups

heavy cream

2

tablespoon

sugar

1

teaspoon

vanilla extract

Diced pineapple
Instructions
Preheat oven to 350 degrees. Lightly coat a 9x13 pan with non stick cooking spray and line with parchment paper. In bowl whisk together flour, baking powder, baking soda and ground cinnamon. In a large bowl using an electric mixer beat pumpkin (or oil) and sugar until well blended. Add eggs one at a time, beating well after each addition. Add vanilla, pumpkin and beat until combined. Reduce speed and slowly add dry ingredients, mix until combined. Stir in pineapple and pour batter into baking pan. Bake 30-35 minutes or until toothpick inserted comes out clean. Whisk together the sweetened condensed milk, evaporated milk and milk in a small bowl. When cake is done, remove from oven and allow to cool for 10 minutes. Carefully remove cake from pan, using parchment paper and place in serving platter. Poke the top of cake with holes and slowly pour milk over entire cake. Refrigerate cake overnight. Whisk heavy cream, sugar and vanilla until soft peaks form. Top cake with freshly whipped cream and garnish with diced pineapple.