One afternoon hubby and I  drove into town to make our weekly purchase of diapers, this is when we lived in Driscoll and we would make the 20 minute drive to Corpus Christi to have access to larger stores.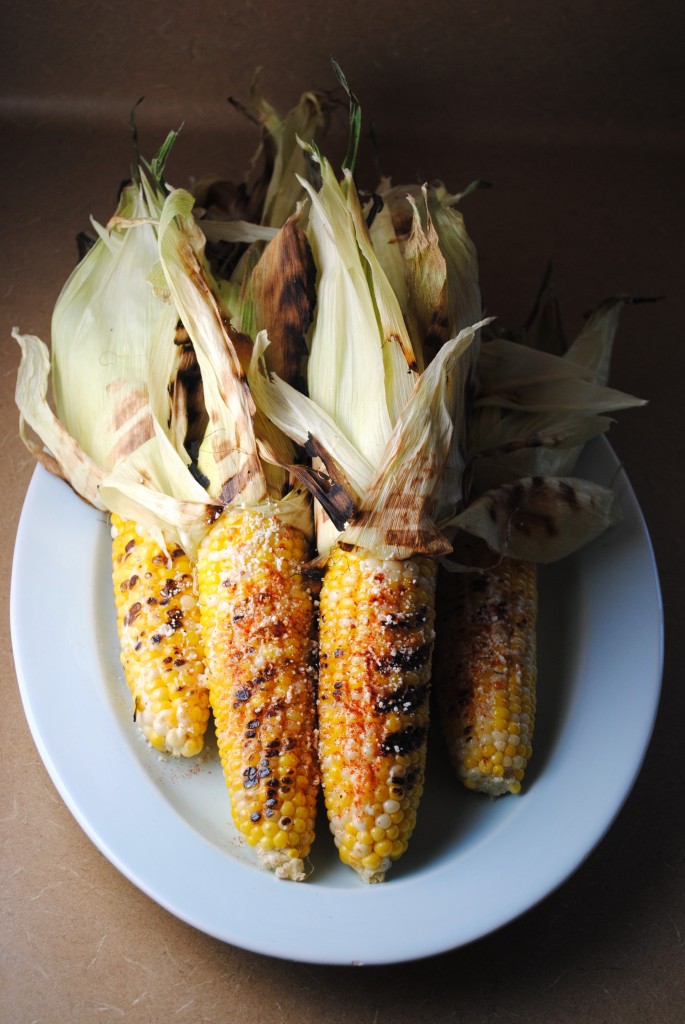 As we  were walking into the store I caught the smell of something familiar, really was I smelling roasted corn in Texas?  Yup, parked in front of the store was a truck selling roasted corn to the public.  I had never really thought of how the food of Mexico easily crosses into Texas.  In Mexico roasted corn is street food, sold on Sunday in the plaza as hungry church members exit the Church, sold to waiting vehicles as they sit bumper to bumper waiting to cross into Brownsville, Texas.  This past weekend in Blanco, Texas as we enjoyed the Lavender festival what did I see?  A roasted corn truck, my memories of the weekly diaper trips came flooding back. I ordered my roasted corn and smiled as I happily savored the sweet kernels, walking hand in hand with my "big" girls' ecstatic that I had no diapers to change. Enjoy!! Sweetlife 
Grilled Corn
adapted from local street vendor
8 ears of sweet corn
1/4 cup butter, melted
2 tbsp chili powder
1/8 tsp cayenne pepper
1/8 tsp smoked paprika
1/2 cup mayo
heat grill
1 cup freshly grated queso anejo
2 limes, cut into wedges
1. pull back husk from corn and remove stringy threads from corn, brush with melted butter.
2.  combine chili powder, cayenne pepper and smoke paprika, set aside.
3. place corn on rack of an uncovered grill directly over  heat with husks hanging over the edge or away from the heat source. grill for 12 to 14 minutes or until corn is caramelized and brown, turning every 2 minutes to cook evenly.
4.  spread corn with mayo pretty thick (this is your glue),  sprinkle  cheese and spice mixture and squeeze lime over all