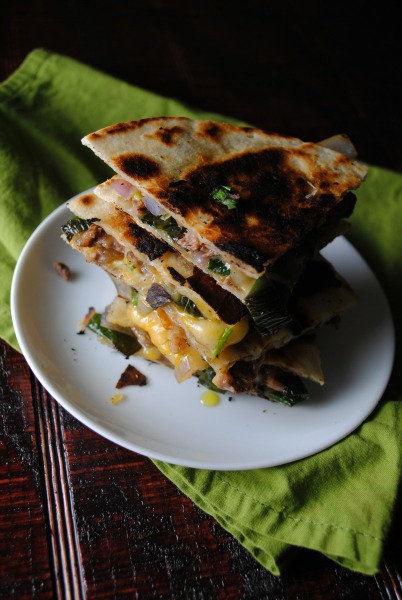 Roasted Poblano Fajita Quesadilla
I moved to San Antonio, Texas when I was 17yrs old.  I followed my sister who had enrolled in the local college, it was a major life decision filled with happiness, regret and a BIG dose of reality.
Rent, gas, groceries, no curfew and keeping one self on schedule without the parents proved to be a challenge.  At first I failed miserably, but little by little I came into my own.  And I worked A LOT.
I had a full-time job at the local grocery store and I picked up extra shifts at Taco Cabana on the weekends.  I worked drive thru and helped out on the line when we got slammed.
I made quesadillas and more quesadillas and more quesadillas. Texans really do love quesadillas.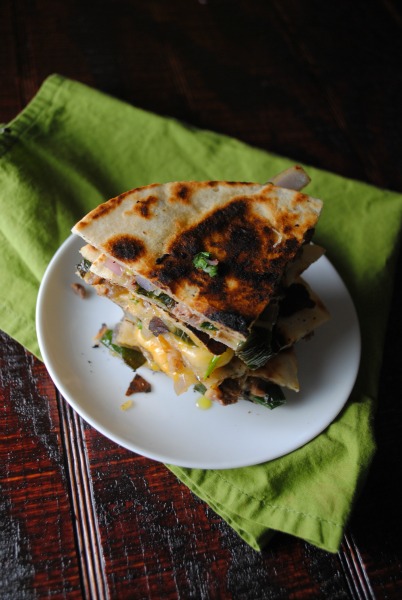 As if I was in another planet customers would scream their orders "Quesadillas de fajita, de chicken, con shrimp and a few with solamente queso," into the tiny black box.  Most were drunk, many were just plain rude with their requests.  After my shift tired and annoyed I would head into the back, remove my headset and make myself breakfast (I worked the overnight shift), Quesadillas.  Funny  ¿que no?
I have a soft spot in my heart for quesadillas.   Not only are they an amazing canvas for leftovers, a quick pull together meal and every kid's (my kids') favorite Friday night meal they are comfort finger food.  Crispy tortillas loaded with poblanos, onions, fajita and cheese cut into wedges, dipped into salsa or sour cream, a tasty messy meal.  To me youth in a bite, late night fun with my co-workers and that little high you get when picking up your paycheck each week, quesadillas.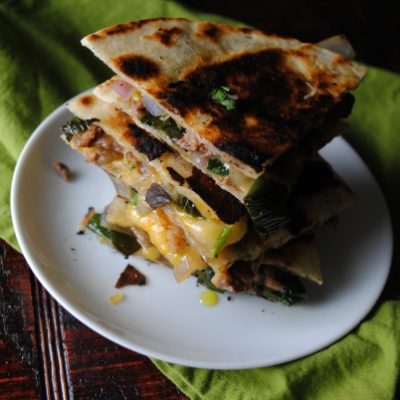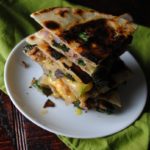 Roasted Poblano Fajita Quesadilla
Ingredients
2

large poblanos

4

flour tortillas

quesadilla or fajita size

3-4

cups

shredded cheddar

Monterey jack, Pepper Jack, or Chihuahua cheese

1

medium red onion

chopped

2

cups

diced cooked fajita or chicken

1

cup

cilantro

chopped

Olive oil
Instructions
Preheat broiler to high.

Place poblanos on baking sheet and char under the broiler until skin blackens on all sides, 7 to 8 minutes.

Place in a bowl cover with towel or plastic wrap; let stand 10 minutes. Peel and seed the peppers, then slice.

Heat 1 tbsp olive oil in large skillet over medium heat, add onion and cook for 4-5 minutes, till onion tender. Remove from skillet.

In the same skillet over medium-high heat add a drizzle of extra-virgin olive oil and add a tortilla, cover the tortilla with cheese, fajita, poblano, onion and cilantro.

Fold the tortilla in half and cook 2 minutes to crisp and char the tortilla evenly and melt cheese. Remove and cut into wedges; repeat.