Really is this any way to begin a new year?  At this moment thousands of people are beginning to put their new resolutions into action.  Configuring their new work out routines, planning  healthier meals , taking life by the horns and I bring you this.
A patty Stuffed between a gordita.  
Yes, I know it's kinda backwards, I should have posted a wonderfully light salad.  Or a great protein packed breakfast idea.  What's wrong with me?  Well I have decided no resolutions this year.
None at all.  Nada.  Nothing.  Zilch.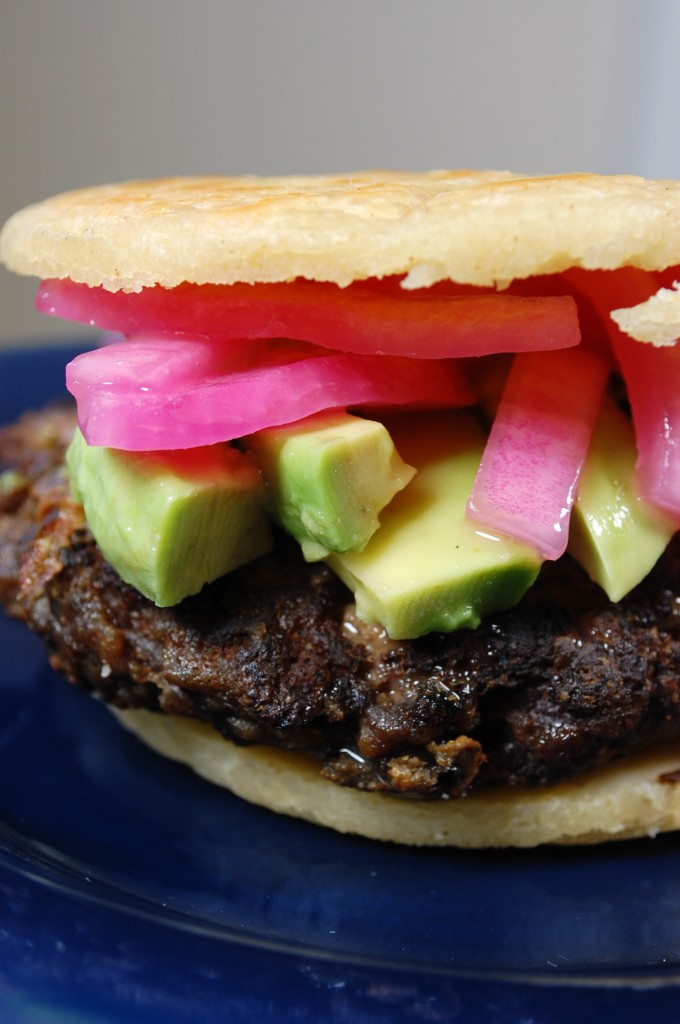 I'm happy, I love my life, my family, my days, my rituals, my time spent here.  So why add the extra stress?  I think most of us by nature are always working at having our best life.   I know I am.
So for the first recipe of the new year I happily bring you a roasted poblano gordita burger.  Roasted poblanos are added to ground beef, seasoned and grilled.
Gorditas are sliced in half, topped with a warm patty, simply add sliced avocado and pickled onions.
I send you best wishes for the new year, lots of love and may your life be a full as my gordita!
Enjoy! Sweet Life
Gorditas  can be made from fresh corn masa or  masa harina, the dough is shaped into rounds and  cooked on a hot griddle until it puffs up, which enables you to slice it open and fill it up.  Latino stores offer frozen shaped gorditas ready to cook, they are sold by the bag, stacked between parchment paper.     
Roasted Poblano Gordita Burger
by Sweet Life
by Vianney Rodriguez
serves 4
1 1/2 ground beef
1 poblano chile
salt
pepper
vegetable oil
4 gorditas – sliced in half
1 avocado, sliced
fresh lime juice
Place poblano on a baking sheet. Roast under broiler until charred on all side, about 5 minutes.
Place charred poblano in bowl covered with plastic wrap for about 15 minutes.
After 15 minutes remove charred skin, stem and seeds from the poblano.  Slice into strips and return to bowl.
Add ground beef to poblano strips and mix.
Heat your griddle over medium-high heat.
Shape your patties using your gorditas as guide.
Season with salt and pepper.
Add 1 tablespoon of vegetable oil to a napkin and wipe over griddle.
Place burgers on griddle and cook 3 minutes, flip and cook for another 4 minutes.
Add the lime juice to the avocado slices.
Place each burger between the gordita, add avocado and pickled onions.
—————————
Pickled Red Onions
by Rick Bayless
makes 1 cup
1 small red onion- peeled and thinly sliced
1/2 cup fresh lime juice  (I have also used lemon- works fine)
salt
In a non-reactive bowl add thinly sliced onions and pour boiling water over them.
Count to ten and immediately put the onions into a strainer.
Shake all the excess water off the onions and place back into bowl.
Pour lime juice over them and stir in 1 1/2 tsp salt.
Cover and refrigerate for at least an hour.
These will last a week or more in the fridge.
——————-
Gorditas
by Mexico Cooks
4 cups masa harina
1/2 teaspoon salt
2 1/2 cups hot but not boiling water
Place the masa harina and salt in a large bowl. Add the water and mix with your hands to make dough that comes together in a soft ball.
Continue mixing and kneading until the dough is elastic enough to hold together without cracking, about 3 minutes.
If you're making the dough ahead for later use, wrap the whole ball in plastic wrap and refrigerate for up to 24 hours. Divide as needed.
Make a ball of masa a little larger than a tennis ball.  Flatten it to about a five-inch round.
Heat enough lard or oil in the wok or large, deep frying pan to fry two or three gorditas at a time.
Slide the gorditas into the fat and allow them to fry until deep golden brown.
Remove the gorditas from the fat with the strainer and then keep them hot on the comal or griddle. Drain on paper towels if needed.
To serve, split each gordita in half approximately one-third of the way from one edge of the disk. Open a flap of the gordita and place on a plate. Top with either salsa verde or salsa roja, shredded cabbage or lettuce, the cilantro, the diced onion, and crumbled cheese.