As I mentioned in my earlier post, holidays in our home meant Pozole and bunuelos.  Sadly I feel I might not get around to making bunuelos this year, but I do want to share a pozole recipe.  I cannot even begin to count how many times over the years my mom has made pozole.  She typically makes pozole rojo (red) flavored with ancho chiles,  I really owe my love for ancho (dried poblanos) to her.  Pozole does take time (hence the margaritas), but the rewards are truly worth it in the end.  A big , yes big steamy pot of pozole is sure to warm your home this holiday season.  Pozole verde is very different from pozloe rojo, as it contains pumpkinseeds, tomatillos and jalapenos.  The pumpkin seeds are toasted then blended together with the tomatillos and broth from the meat to give your pozole a layer of earthy flavor.  Pork and chicken are simmered for three hours and hoja santa and epazote are added.   Hominy soaks in the green pozole broth perfectly only adding to the pleasure of this wonderful bowl of green goodness.
My mom always added extra hominy to her pozole,  as we were addicted to the soft kernels. I have continued this as my girls also enjoy hominy and find any chance to please myself as well.  Please be sure to use a long ladle as they hominy tends to swim at the bottom.  Here in Edinburg, Texas our temperature remains in the high 70s, not allowing this to ruin my holiday mood.  I cranked up my ac,  ladled myself a big heaping bowl of pozole verde to accompany my guava margarita.  Enjoy! Sweet Life!
condiments really add to the fun of pozole, radishes, avocado, lime, tostadas, cabbage,cilantro are all welcome addition, these condiments presented at table side allow each person to personalize their own.  Be warned this pozole feeds 10 to 12,  hefty bowls, but who wouldn't want  leftovers?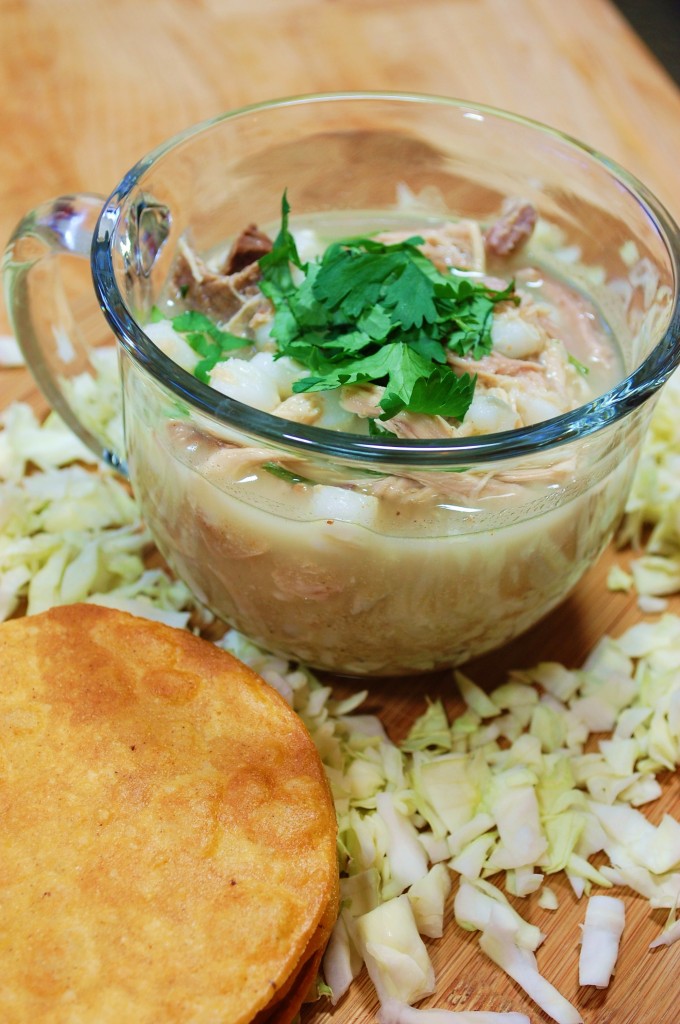 Here is a little information about two of the fresh herbs you will need to make Pozole Verde.
epazote –  Chenopodium ambrosioides , also known as pigweed or Mexican tea comes from the Nahuatl word, epazotl.  Many people consider epazote a acquired taste.   Adds a pepper, licorice flavor to foods.  Can be found fresh in many Mexican markets or is available dried, but the taste does change dramatically.  One teaspoon is equal to almost one branch or 7 oz of fresh epazote.  Fresh epazote can be kept wrapped in plastic film for about a week.    
image from Media Post 
Hoja Santa –  piper sanctum, is a  member of the black-pepper family.  Hoja santa has similar taste to anise.  Hoja Santa is used to wrap tamales, fish,  meat or cheese. To flavor Mole verde, soups and eggs.  The flavor is at it's best when fresh, but can be purchased dried. If you cannot find hoja santa  you can substitute with fennel bulb tops.
image from  Yucatan Flora
Pozole Verde
by Rick Bayless
from Authentic Mexican
serve 10-12 hefty bowls
————–
4 quarts canned hominy, drained and rinsed
8 ounces lean, boneless pork shoulder, in a single piece
About 8 ounces pork neck (or other pork) bones
1 small (21/2- pound) chicken, halved
2 2/3 cups (12 ounces) hulled, untoasted pumpkin seeds (pepitas)
1 pound (about 11 medium) fresh tomatillos, husked and washed or 2 (13oz) cans tomatillos drained
6  serranos or 3  jalapenos, stemmed and seeded
1 medium onion, roughly chopped
2 large sprigs epazote
2 small leaves hoja santa
2 tbsp lard or vegetable oil
salt, about 1 tbsp
—————–
condiments
1 cup diced red onion
1/3 cup dried oregano
2 ripe avocados, peeled, pitted and diced in 1/2 inch chunks
2 cups chicharron (crisp fried pork rinds), broken into 1 inch pieces
12- 15 crisp fried tortillas (tostadas)
4 limes, cut into quarters
——————–
Measure 7 quarts water into a stockpot and add meat, bones and chicken.
Bring to a boil, skim off the foam for the first 5 minutes of simmering, partially cover and cook over medium-low heat for 3 hours.
Add water periodically to bring it back to its original level.
While meat is cooking heat a large (12 inch) skillet for a few minutes over medium-low heat.
Add the pumpkin seeds in a shallow layer and, when the first one pops, stir them constantly for several minutes, until all have popped and turned a golden color.
Remove the seeds to a large bowl.
————————
The soup base puree
Cook fresh tomatillos until tender in salted water to cover, about 10 minutes.
Drain either the fresh or canned tomatillos and add to the pumpkin seeds, along with the green chile, onion and herbs.
Remove 2 cups of broth from the pot and pour over the mixture.
Scoop half the mixture into a blender jar and blend until smooth; if mixture is too thick to move through the blades, add a little more broth to get it going again.
Strain through a medium mesh sieve, then repeat the pureeing and straining with the rest of the mixture.
Set a large skillet over medium high heat and measure in the lard or oil.
When hot enough to make a drop of puree really sizzle, add it all at once and stir constantly for about 7 minutes, until thickened noticeably.
Remove from fire.
————–
Finishing the pozole verde
Remove the meat and bones from the pot and set aside to cool.
Stir the pumpkin seed mixture into the pot. If you are using canned hominy add it now.
Let simmer for an hour, stirring frequently to ensure that nothing is sticking to the bottom of pot.
While the soup is simmering, skin and bone the chicken and pork, removing all the fat; shred the meat into large strands.
Fifteen minutes before serving, season the soup with salt (hominy requires considerable salt) and add the shredded meat to the pot.
Place the condiments on the table in small serving dishes.
Finally dish up a large bowl of the pozole verde for each guest and pass the condiments for each guest to help themselves.