Hearty tostadas topped with succulent ancho shredded pork, refried beans and scrambled eggs are the ultimate brunch idea to create at home with the family.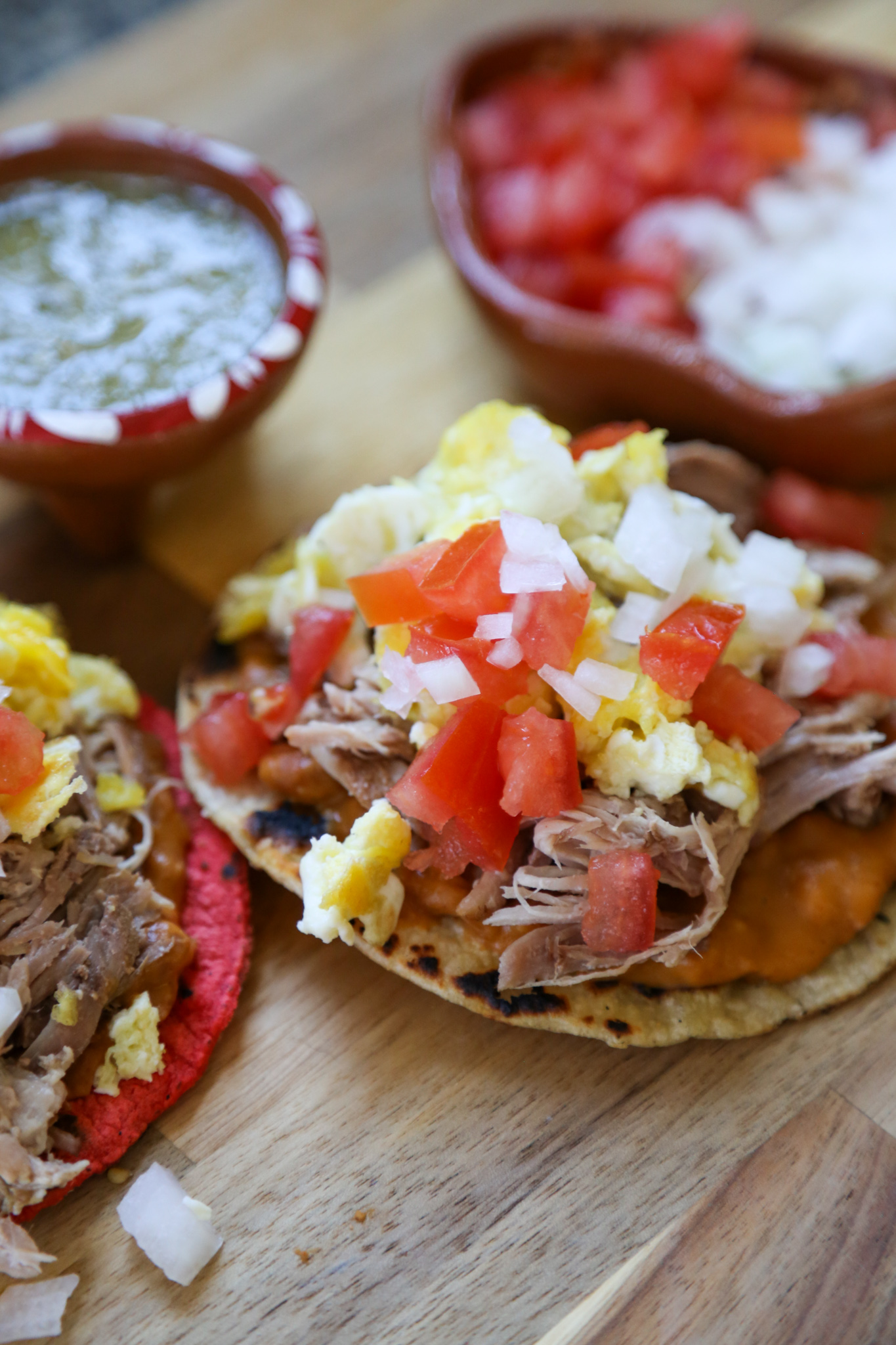 We have been spending more time in the kitchen as a family, trying new recipes, slowing down to bake, and overall, simply spending time reconnecting as we transition into our new normal. I found cooking at home with the kids is so different than cooking for my job as a freelance recipe developer.
When I typically develop a recipe, I am alone in a quiet kitchen as I jot down notes, measure twice, three times as I develop while music streams in the background. Cooking with the kids is louder, messier, and takes much more time – I am loving every minute of it.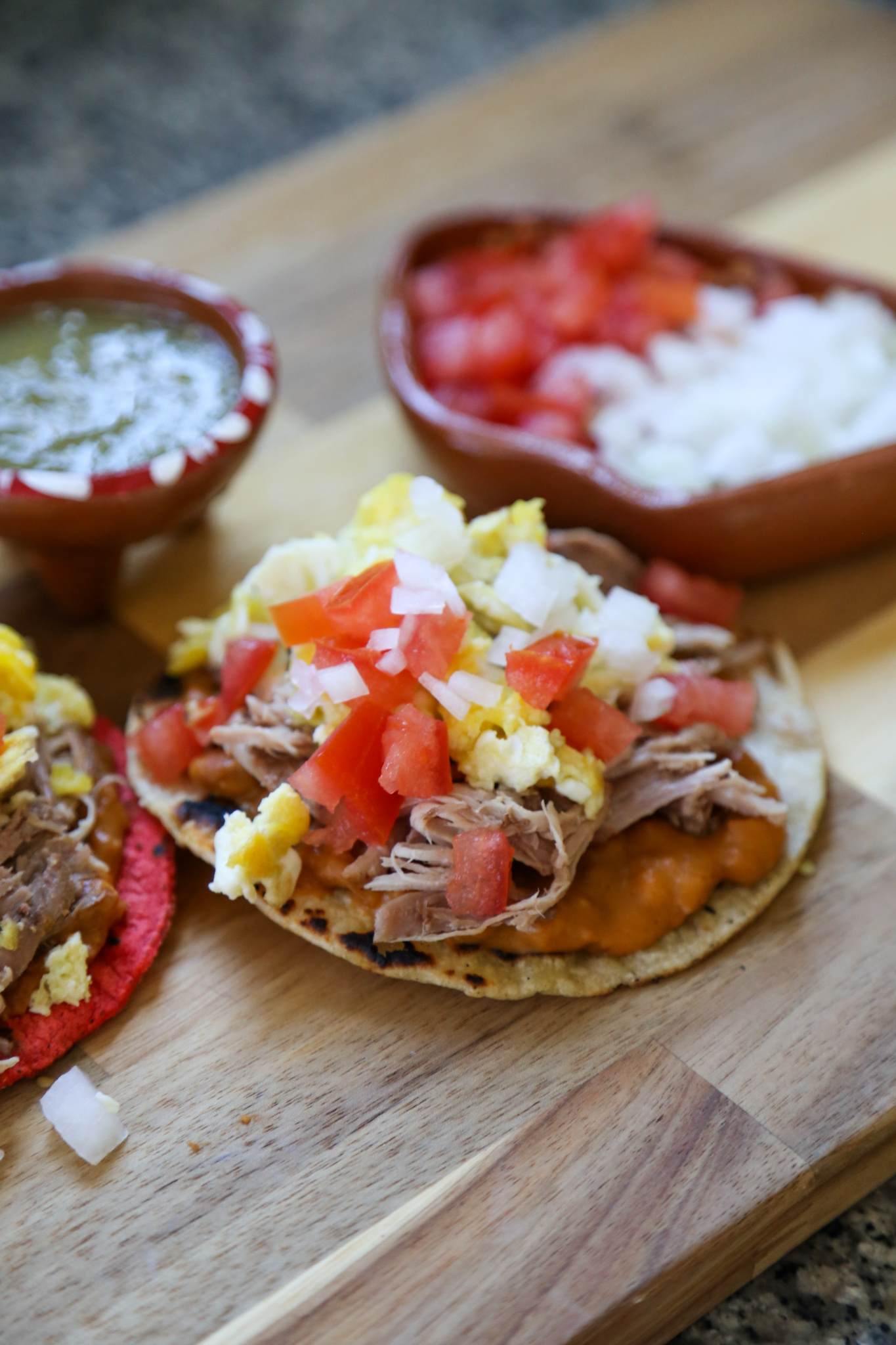 Connecting with my girls is important to me, and we have always incorporated this into our dinner time to check in and hear about everyone's day. During these different times, I wanted to spend even more time with each of them in the kitchen to really have that one-on-one time and see how they are doing emotionally. We are not alone! In fact, research commissioned by The National Pork Board revealed the newfound togetherness during the pandemic has had a positive impact by strengthening family bonds and increasing time shared over meals — including both meal preparation and dinnertime itself. The findings include:
More than half of families surveyed say they've been cooking more over the past 6 months, with 1 in 3 of them trying new recipes.

Even teenagers report enjoyment from catching up with family members at dinner.

85% of families surveyed say they'll continue eating together post-coronavirus.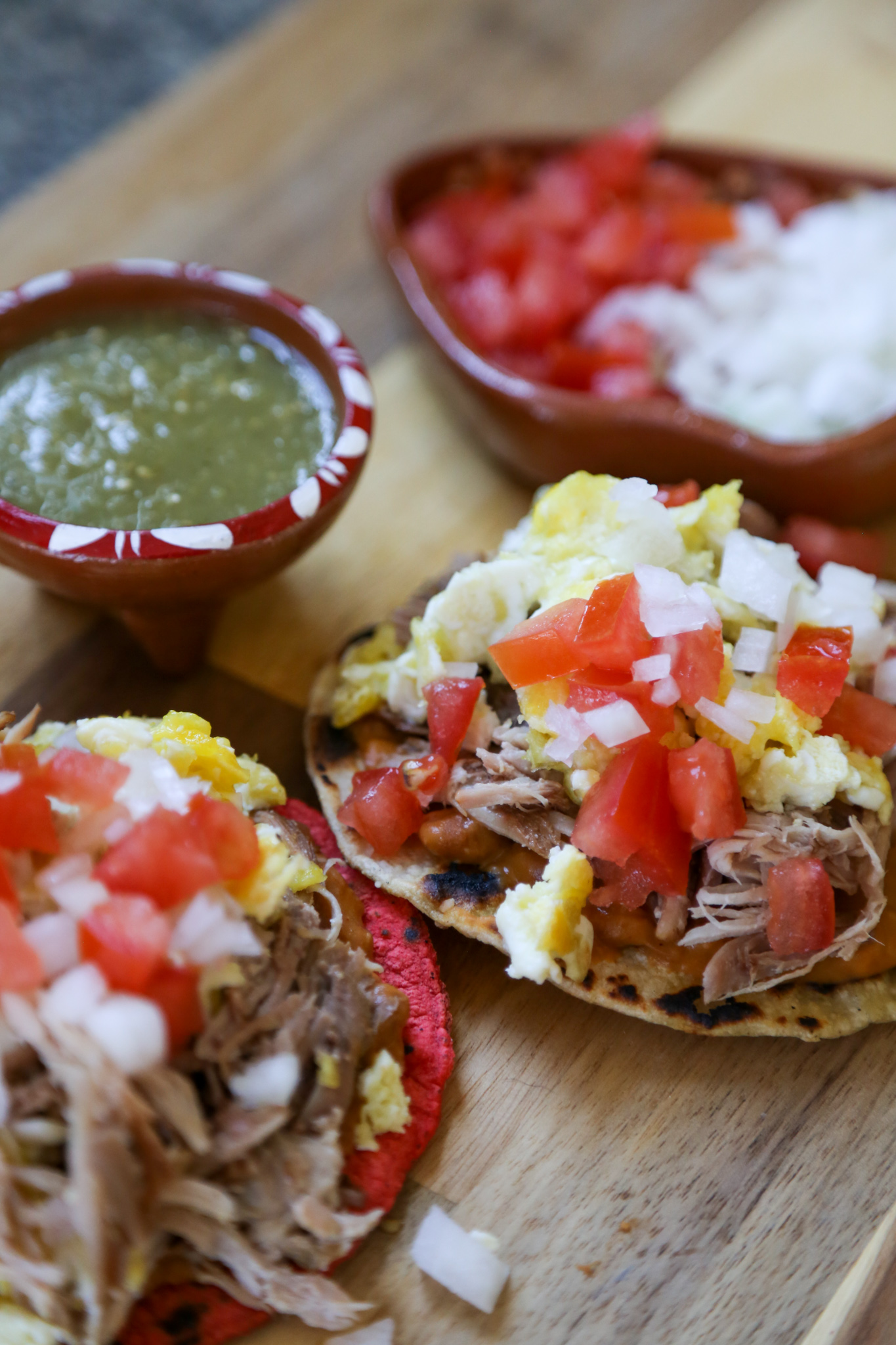 When I partnered with the National Pork Board for this recipe, I knew I had to share one that we recently cooked for our Sunday brunch. My hearty ancho shredded pork breakfast tostadas are perfect for a brunch. They are easy to make with many of the components being made in advance. This pork recipe allows us to bond and connect with our family, and I know it will yours, too!
Succulent slow cooked pork shoulder with earthy ancho chiles is shredded and served over a crispy tostada topped with refried beans and topped with scrambled eggs and plenty of tasty garnishes.
Pork is a simple, versatile protein that provides an affordable and easy solution for everything you crave. Cooking with pork is beneficial in many ways, also providing us with nutrients our body needs. With a variety of pork cuts and cooking methods, the opportunities for how to cook pork are truly endless.
Get to know all the pork cuts using our pork cuts chart.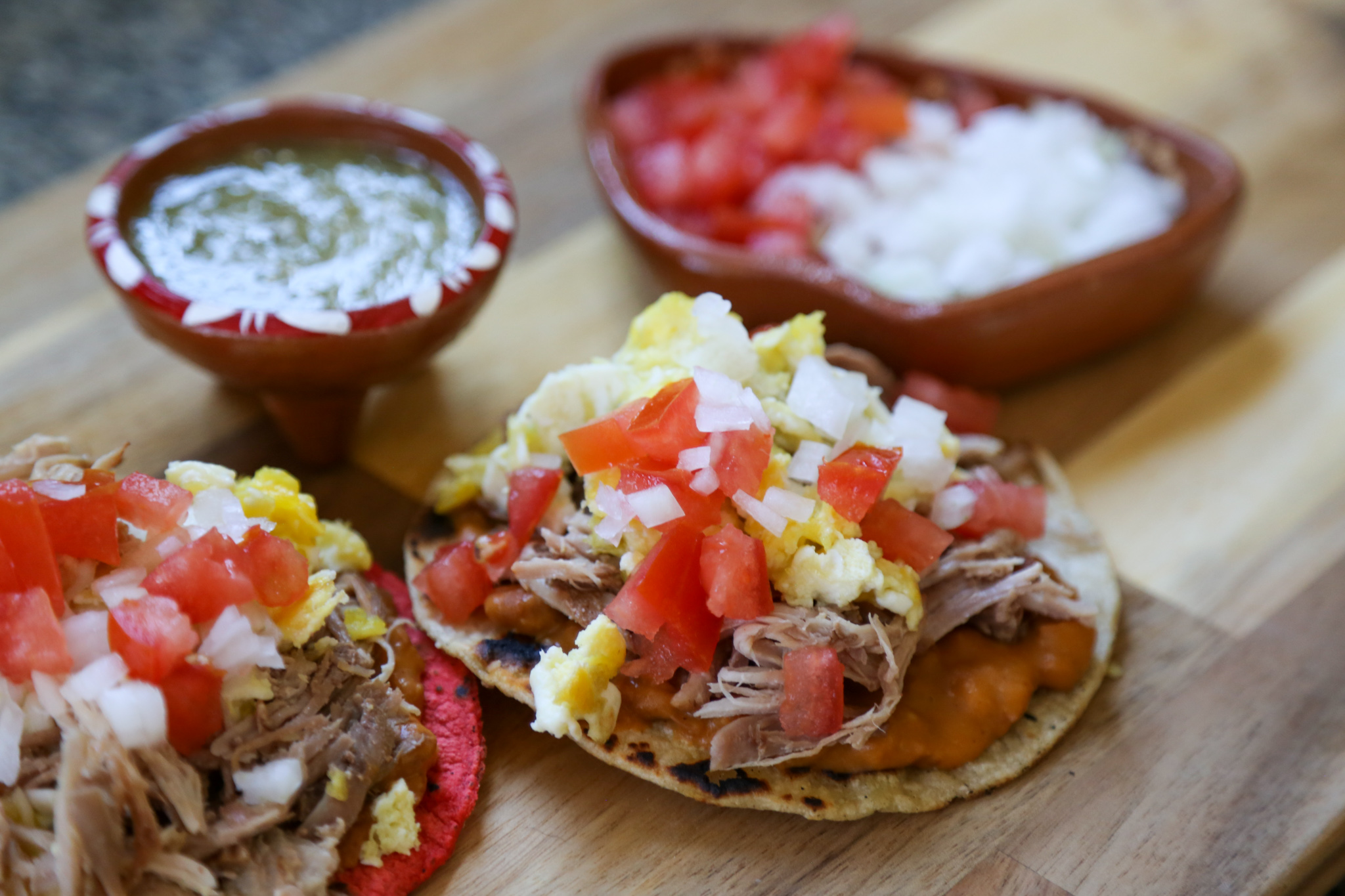 How To Make Slow Cooker Ancho Shredded Pork Breakfast Tostadas
Ancho Shredded Pork: My ancho pork comes together quickly and is made in the slow cooker, which means it can be made days in advance and you will have leftovers, glorious leftovers which can be made into another meal like my flautas. Ancho chiles are dried poblano peppers. They can be found in the produce department or spice aisle in your local grocery store. I remove the stem and seeds before adding to the slow cooker. I also add diced tomatoes with their juices. The juices give this pork that all-day cooked flavor which screams comfort and helps to tenderize the pork shoulder. Once cooked, I shred my pork, return it to the slow cooker, and set to warm until I am ready to assemble.
Tostadas: For this recipe I used store-bought tostada shells, but you can easily bake corn tortillas in the oven until crispy or lightly fry them in a skillet with oil.
Refried Beans: I make a pot of beans every week to use for my weekly meals at the end of the week. I transform the remaining beans into refried beans for Sunday breakfast or brunch. Feel free to use store-bought or make your own. I warm through in a skillet and set on low until ready to assemble. For this recipe, I used this recipe for Austin style beans.
To assemble: The last element to this dish I cook is the scrambled eggs. With my pork set to warm and my refried beans warmed, I place my tostadas on a baking sheet and allow everyone to assemble their own breakfast tostada. Bowls of salsa, diced tomatoes and diced onions are placed for garnishing.
I hope this easy breakfast recipe inspires you to cook with your family. A big thank you to the National Pork Board for allowing me to share a family favorite recipe. For more recipes head to National Pork Board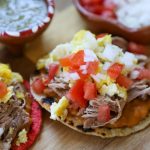 Slow Cooker Ancho Shredded Pork Breakfast Tostadas
Hearty tostadas topped with succulent ancho shredded pork, refried beans and scrambled eggs are the ultimate brunch idea to create at home with the family.
Ingredients
For Ancho Shredded Pork:

1

3 lb. pork shoulder, trimmed

1

large onion

sliced

2

garlic cloves

minced

2

dried ancho chiles

stems and seeds removed

1

teaspoon

ground cumin

2

teaspoons

salt

1

teaspoon

pepper

1 15

oz.

can diced tomatoes

with their juice

2

cups

of chicken broth

For tostadas:

Tostada shells

Warm refried beans

Freshly made scrambled eggs

To serve: salsa

diced tomatoes, diced onions
Instructions
Directions

To make ancho shredded pork:

Place pork shoulder in the bottom of the slow cooker. Add onions, garlic, ancho chiles, cumin, salt, and pepper. Pour in the tomatoes and broth and cover. Cook on high 4-hours or low 7-8 hours.

Remove pork shoulder from slow cooker, shred and use to make tostadas.

To make breakfast tostadas:

Spread warm refried beans on a tostada shell, top with ancho shredded pork and scrambled eggs. Serve with salsa, diced tomatoes and diced onions.