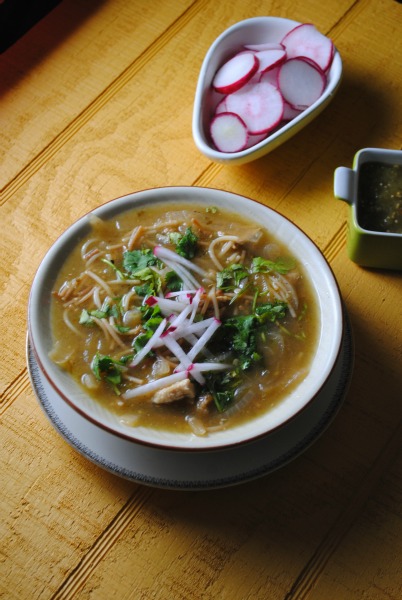 Sopa de Fideo Verde con Pollo
I had a few Cinco de Mayo recipes, cocktails to share this week, but at the moment I feel it's inappropriate.
Those can wait. 
Our hearts go out to the families affected both in Boston and Texas.
I was listening to the broadcast concerning the families in Boston while a big pot of fideo simmered away on the stove.   I ladled bowls of soup, my girls set the table and we sat down to eat dinner.  Then we heard the news of West, Texas. 
One tragic event, followed by another. 
We spent almost 6 years in the near area while my husband served in the Military.  We would spend our weekend visiting local towns, and it is there exactly where I ate my first traditional kolache while pregnant with my second child.
Sweet people in a charming community, my heart goes out to them.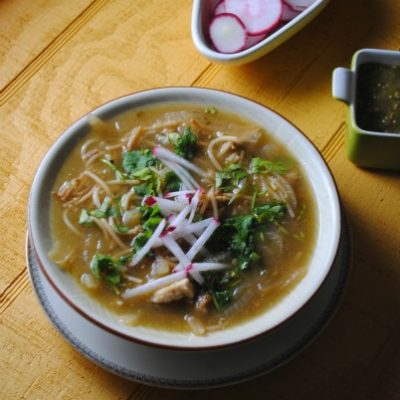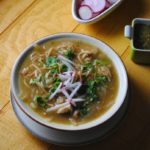 Sopa de Fideo Verde con Pollo
Ingredients
2

pounds

tomatillos

paper husks removed and rinsed

3

cloves

garlic

peeled

1

medium onion

peeled and quartered

handful of cilantro

4

tbsp

canola oil

7

ounce

bag of fideo

2 1/2

cups

chicken stock

Salt

Pepper
Instructions
Heat oven to 450

Place tomatillos, onion, and garlic on baking sheet and roast on high temp until skin is blistered, about 10 minutes.

Remove from oven and add to blender with cilantro, blend until smooth, set aside.

In a Dutch oven or medium saucepan add oil on medium high heat.

Add the fideo and stir until fideo is golden brown, about 2 or 3 minutes.

Add half of blended mix and stir to combine.

Add chicken stock and bring to a simmer.

Cover and cook for 15 minutes.

Add shredded chicken

Season to taste with salt and pepper.

Add additional tomatillo mix if desired.