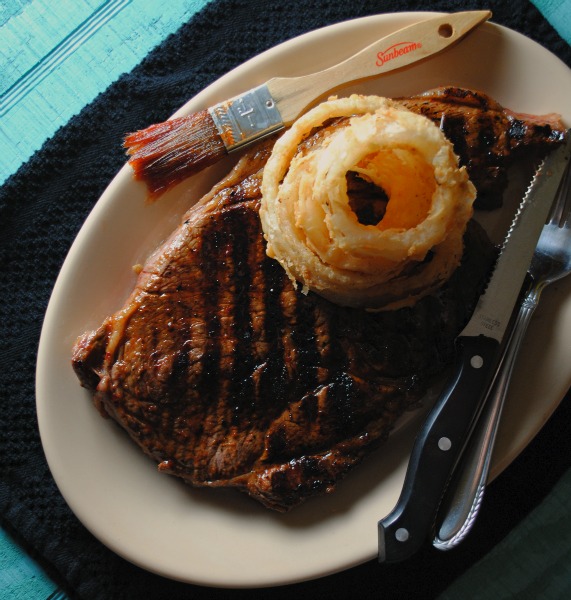 Guajillo Piloncillo Marinated Steak
Mi carino loves to grill.  So when Wal-Mart and Latina Mom Bloggers asked us to create an original steak recipe to help spread the word of their Steak Over Challenge, where local firefighters compete for top Grill honors, we happily accepted.  Fun!
Texans love Beef! And we love to Grill! Let's do it!
When we hit the kitchen we knew there was going to be chile in our marinade, we have to have chile.  Piloncillo adds sweetness while it helps to keep the beef tender.
He heated the grill, I marinated the steaks, whipped a few onion rings and we were set. Grill time!
We grabbed a few cold ones, set the table and dinner was served.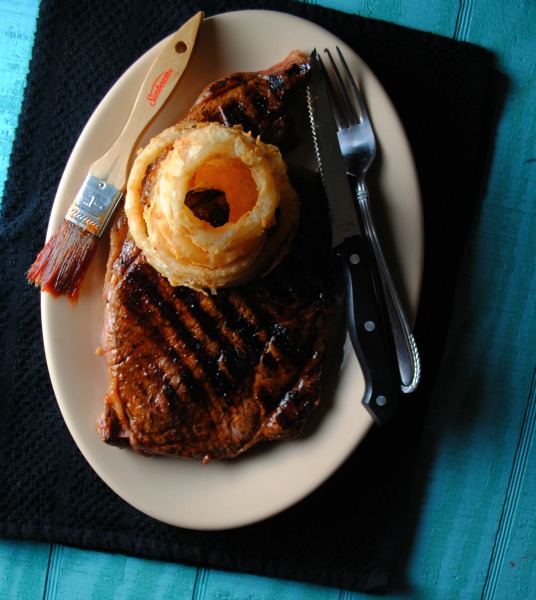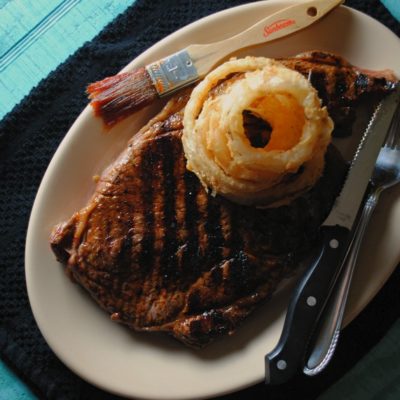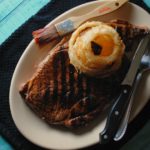 Guajillo Piloncillo Marinated Steak
Ingredients
3

guajillo chiles

3

cups

boiling water

1

teaspoon

minced garlic

½

medium onion

chopped

1

cup

piloncillo

grated

2

Steaks

about 24-32 ounces total
Instructions
Combine the guajillo chiles and water in a small bowl and let stand 1 hour.

Remove chiles, reserving liquid and remove seeds and stems.

Place in a blender along with garlic, onion, piloncillo and ½ cup reserved liquid. Blend until smooth.

Pour marinade over steaks in baking dish. Cover tightly with plastic wrap and refrigerate overnight.

About 20 minutes before grilling, remove the steaks from the refrigerator and let sit, covered, at room temperature.

Prepare barbecue (medium-high heat). Remove steaks from marinade and grill to desired doneness, about 4 minutes per side for medium-rare.

Transfer the steaks to a cutting board or platter, tent loosely with foil and let rest 5 minutes before slicing.

Watch- Support the Local Firefighters as the grill at these locations:
Kansas City, Mo.: April 27
Walmart
8551 N. Boardwalk Ave
Firefighters start grilling at noon, winner announced at 2 p.m.
Houston, Texas: May 4
Walmart
111 Yale St.
Houston, TX 77007
Firefighters start grilling at noon, winner announced at 2 p.m.
Indianapolis, Ind.: May 11
Walmart
3221 W 86th St
Indianapolis, IN 46268
Firefighters start grilling at noon, winner announced at 2 p.m.
Los Angeles: Week of May 20
TBD
Certified by the USDA for Quality
Tender-aged for flavor and tenderness
This is part of a sponsored campaign with Latina Mom Bloggers and Walmart Stores . However, all opinions expressed are my own.