A popular street snack is given a time saving revamp with the help of Tillamook Farmstyle Cut Shredded Cheese. I'm excited to partner with Tillamook to bring you a good, cheesy recipe that is sure to be a hit at your next fiesta.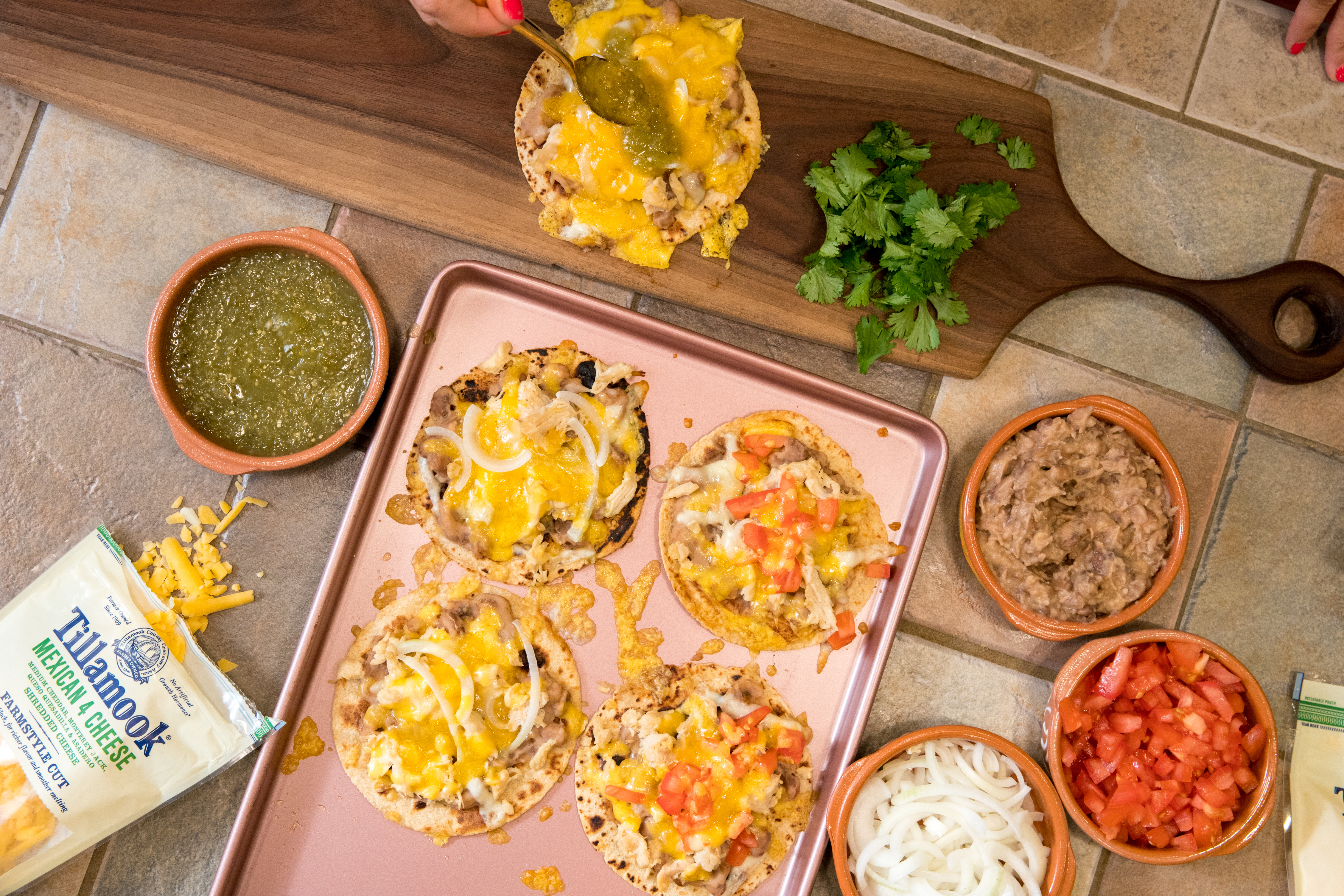 A Tlayuda is a popular street snack in Oaxaca. Six corn tortillas are cooked over a steaming comal until lightly golden. Topped with a thin layer of asiento (pork fat), piping hot refried beans, freshly made chorizo and plenty of queso. Tlayudas are the ultimate on-the-go snack.
Toppings usually include shredded cabbage, chorizo, thin slices of pre-cooked pork, onions, rajas, cheese, cilantro, avocado and salsa.
Whenever I visit Mexico I'm always on the hunt for a Tlayuda and an icy cold glass of agua de Jamaica. Messy, tasty Tlayudas can be eaten opened face or folded in half, which is my preferred way. A few napkins, a folded Tlayuda and I'm all set to enjoy walking around the Mercado.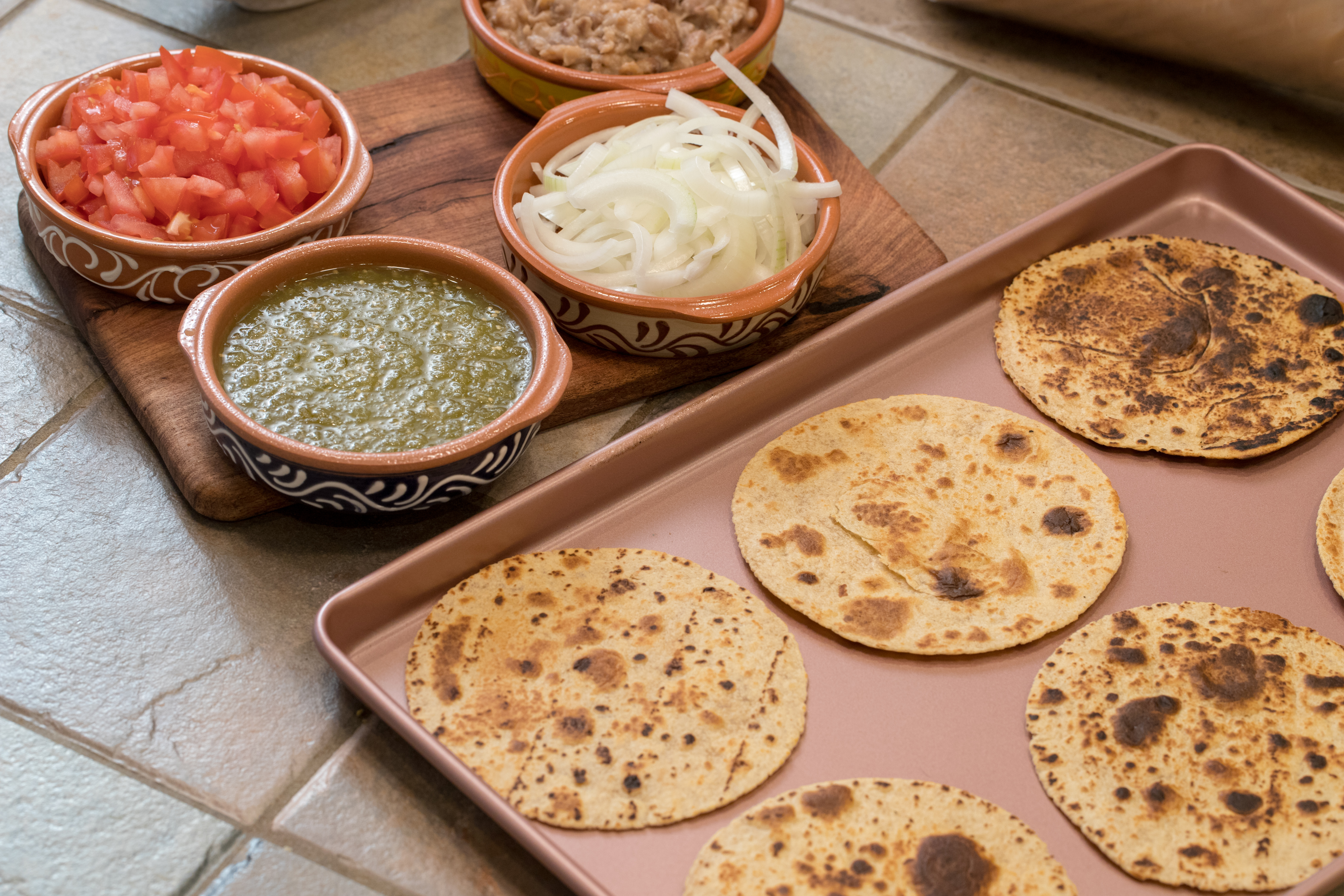 When I'm not in Mexico I enjoy making Tlayudas at home. They are perfect for game days, fiestas and are best served with margaritas.
I often make my Tlayudas using masa harina to make fresh corn tortillas, but today I want to share a short-cut version that yields the most delicious results.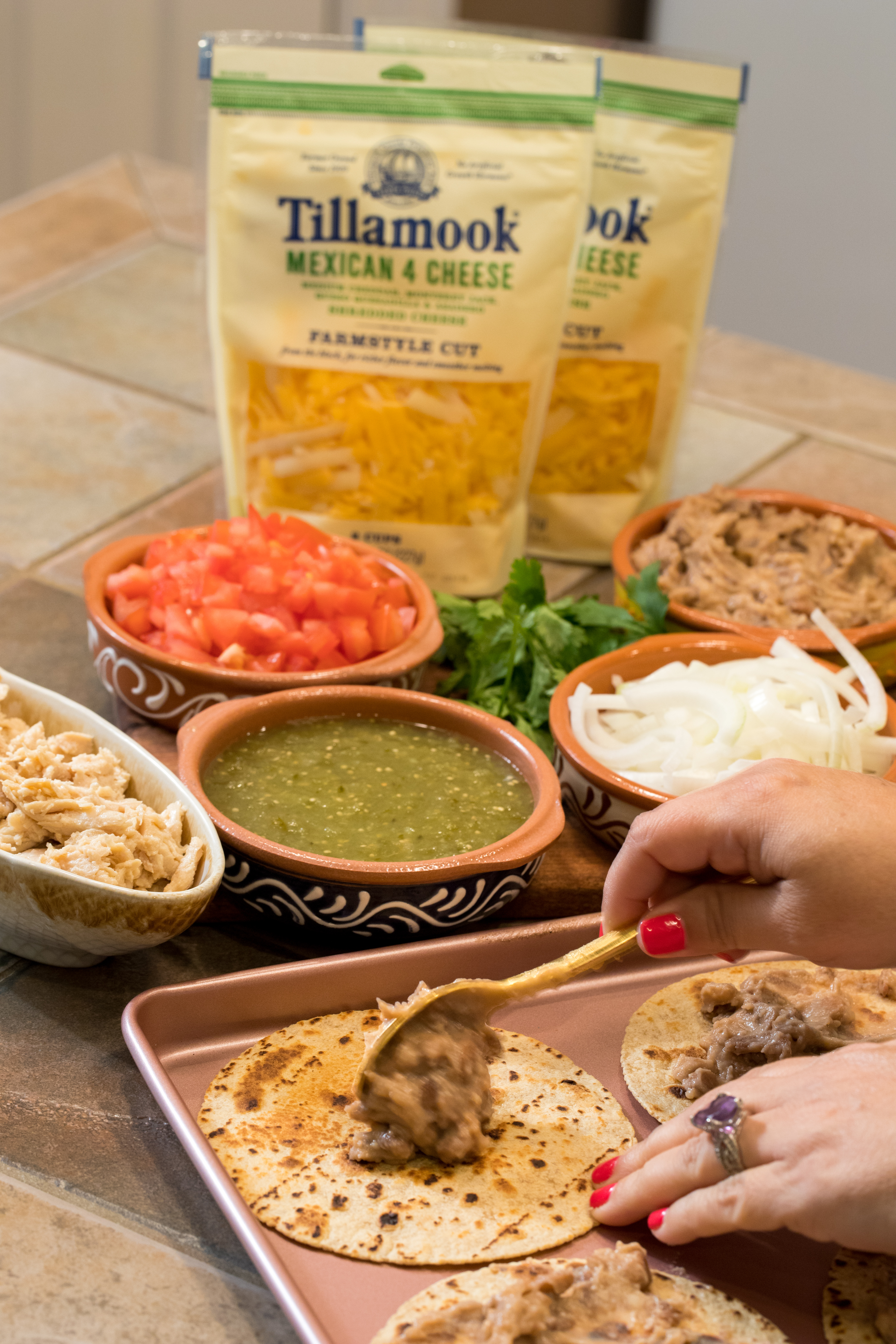 Instead of making of homemade tortillas I use store brought corn tortillas to make my Tlayudas. I lightly bake them in the oven until they're slightly crisp, then I go crazy with the toppings and return them to the oven for a few minutes to melt the cheese.
For my Tlayudas I use Tillamook Farmstyle Cut Mexican 4 Shredded Cheese because the shreds are bigger than any other shredded cheese and deliver a smoother, more even melt and robust flavor in my recipes.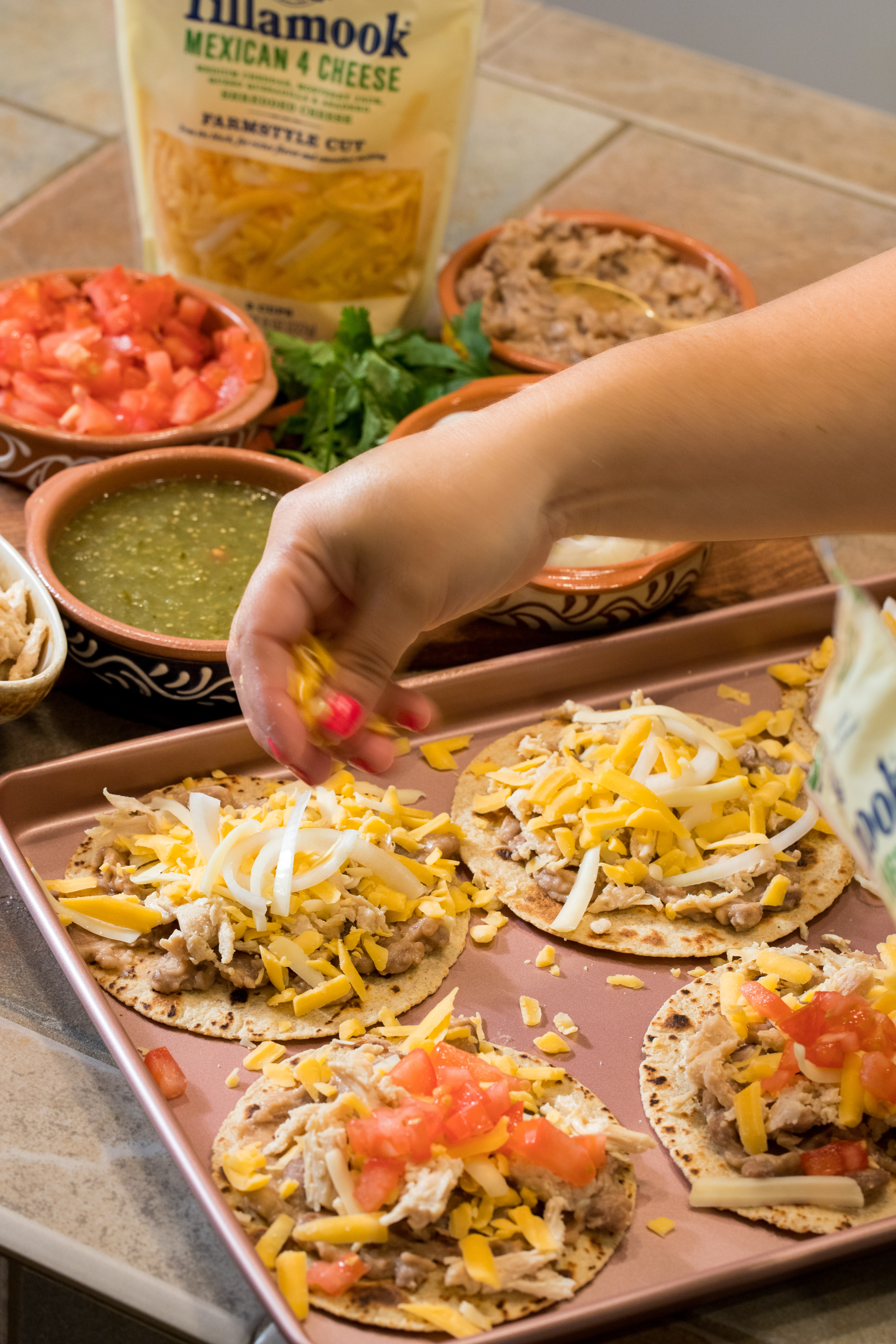 Tillamook Farmstyle Cut Mexican 4 Shredded Cheese, which I quickly became addicted to, includes Tillamook Cheddar, Monterrey Jack, Queso Quesadilla and Asadero. All made with the highest quality milk that comes from cows not treated with artificial hormones, which this mami appreciates. Plug in your zip code here to find out where you can get Tillamook dairy products near you.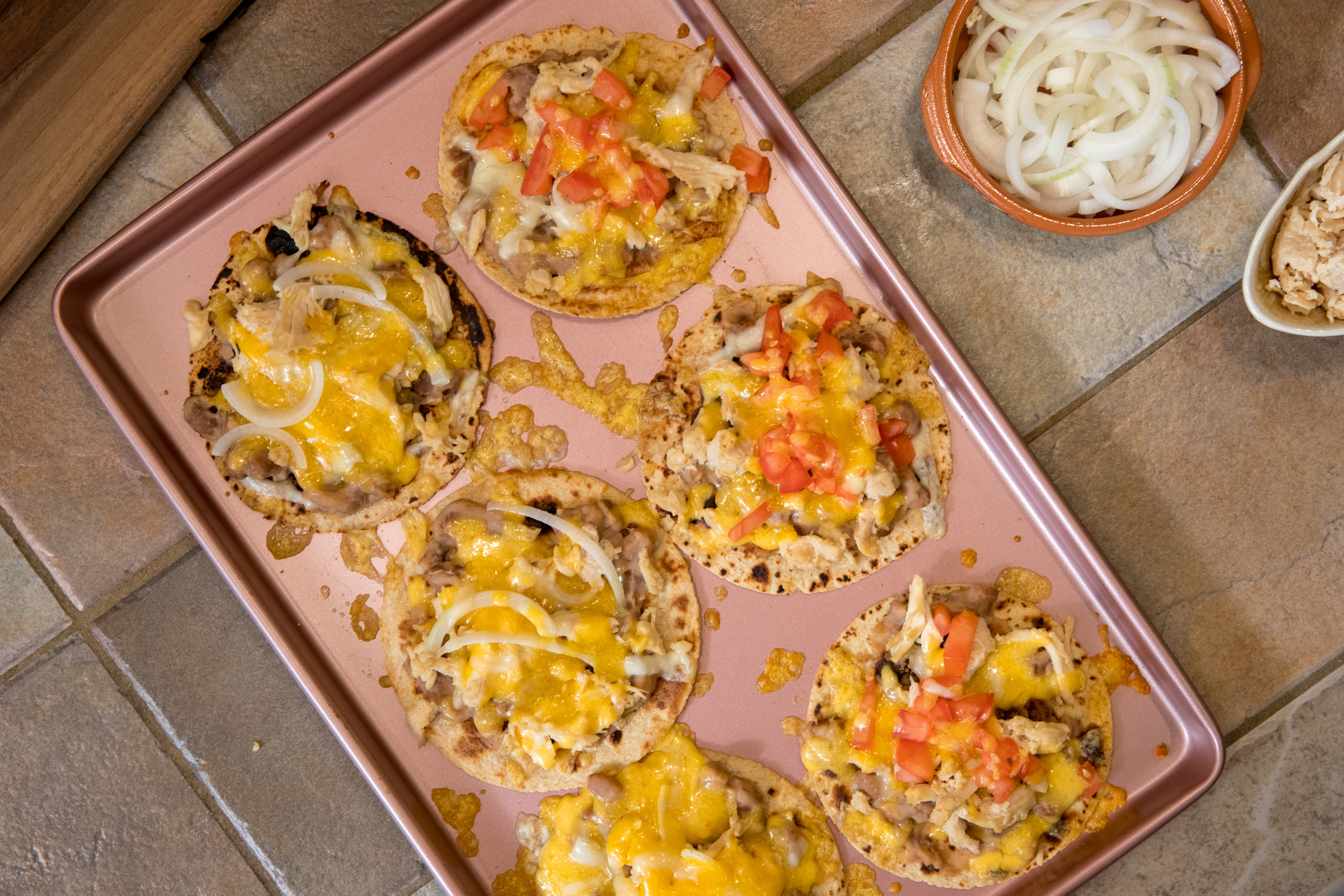 Once the corn tortillas are lightly baked, assembling the Tlayudas is a breeze. I like to set out bowls of toppings, so everyone is free to create their own with flavors they enjoy.
I usually put out shredded roasted chicken, refried beans, salsa, sliced onions, diced tomatoes, cilantro and plenty of Tillamook Farmstyle Cut Mexican 4 Shredded Cheese. Once assembled, the Tlayudas go back into the oven until all that glorious cheese melts.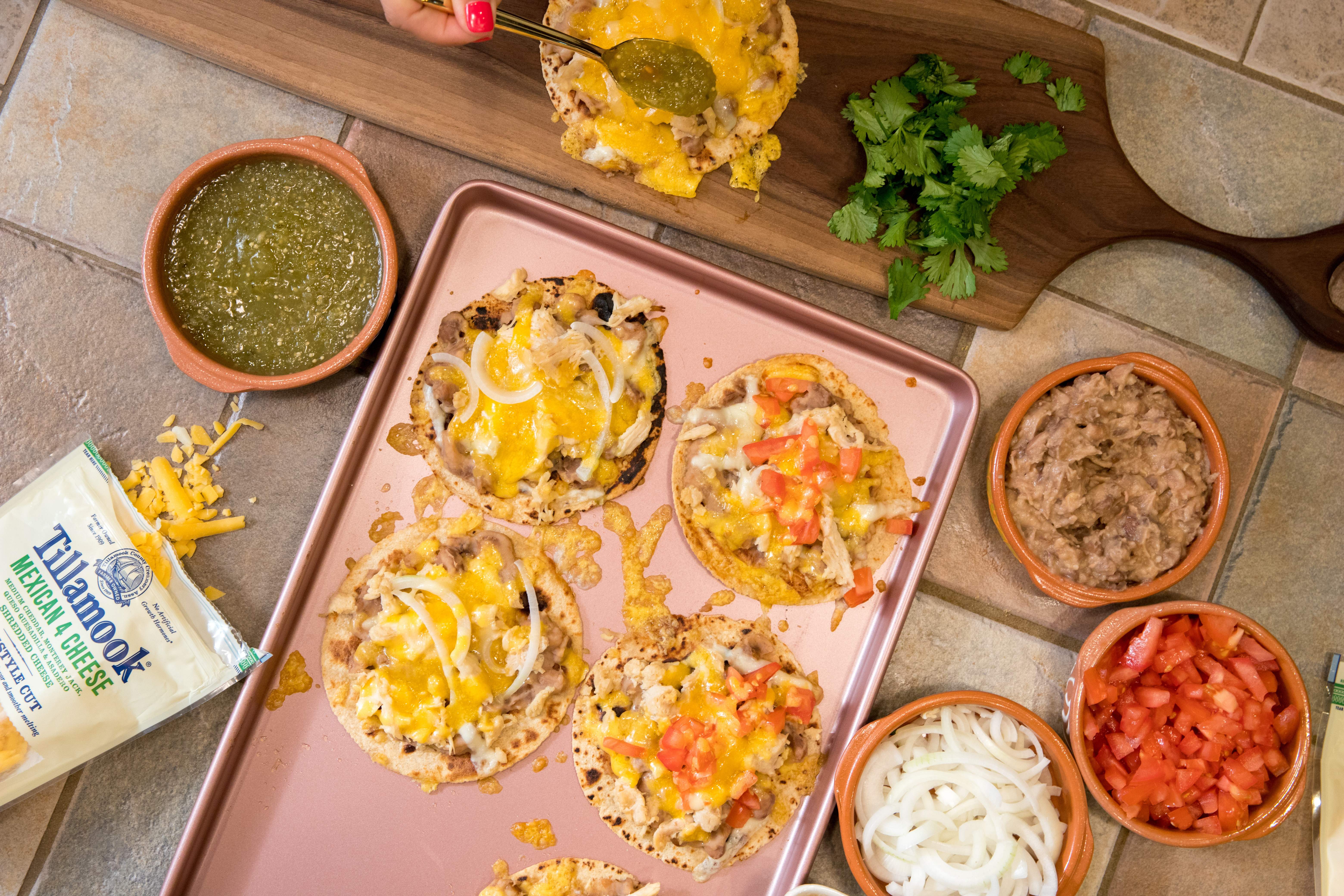 My Tlayudas are easy, delicious and great for a crowd. Serve them warm with an icy cold beer or margarita!
Tlayuda de Pollo
Yield 6 Makes
A short-cut version of the popular Mexican street food the Tlayuda that yields delicious results.
Ingredients
6 corn tortillas
2 cups refried beans
4 cups shredded chicken
2 cups Tillamook Farmstyle Cut Mexican 4 Shredded Cheese
Toppings:
sliced onions
diced tomatoes
Salsa verde
Instructions
Preheat oven to 350 degrees.
Place corn tortillas on baking sheet. Bake for 5-8 minutes, or until lightly toasted.
Evenly spread refried beans on each baked corn tortilla.
Top with shredded chicken and Tillamook Farmstyle Cut Mexican 4 Shredded Cheese.
Add additional toppings as desired.
Bake until cheese has melted, serve warm.
Courses Dinner, Lunch
Cuisine Mexican