Summer Fest: Sweet Peach Ancho Chile Sauce
July 6, 2011

Posted by Vianney

under

Dressings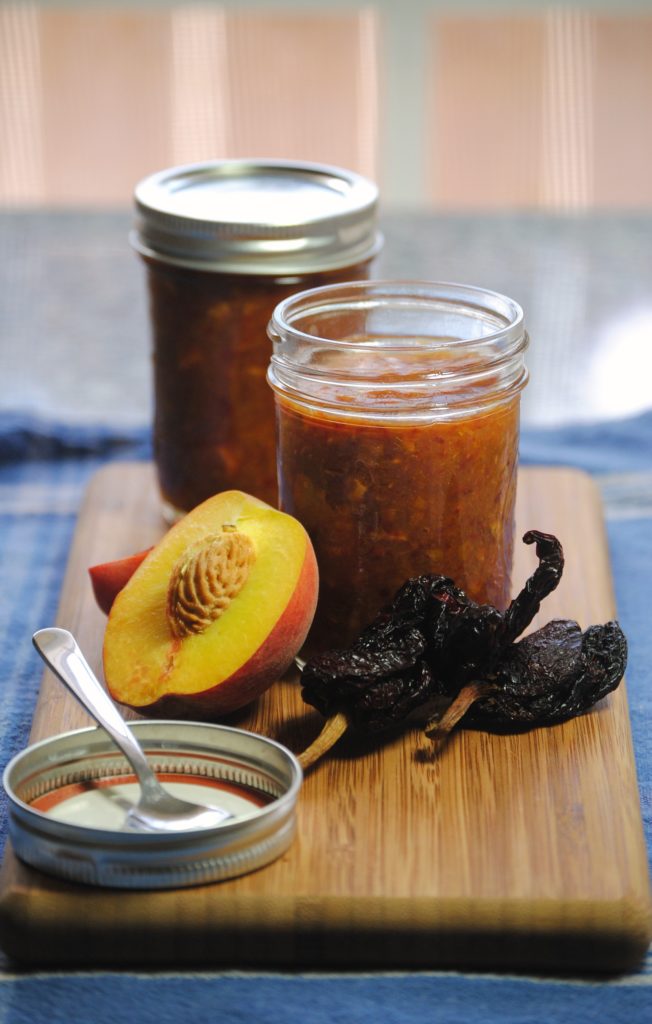 Peaches Peaches Peaches
Peaches are the spotlight for this edition of Summer Fest  and I couldn't be happier to share with you my Sweet Peach Ancho Sauce.
  Peaches simply make life sweeter.
 Sliced, diced, juiced or stewed peaches is one of many wonderful gifts summer graciously shares with us.
Over the holiday weekend I tinkered in my kitchen putting the finishing touches on this sweet, thick sauce.  Drizzled warm over vanilla ice cream, served over fish or chilled ready to slather on toast.
This sauce offers peaches in two textures fresh and dried.  Enhanced with the flavors of Mexico that I crave make for one sensational sauce.
Enjoy!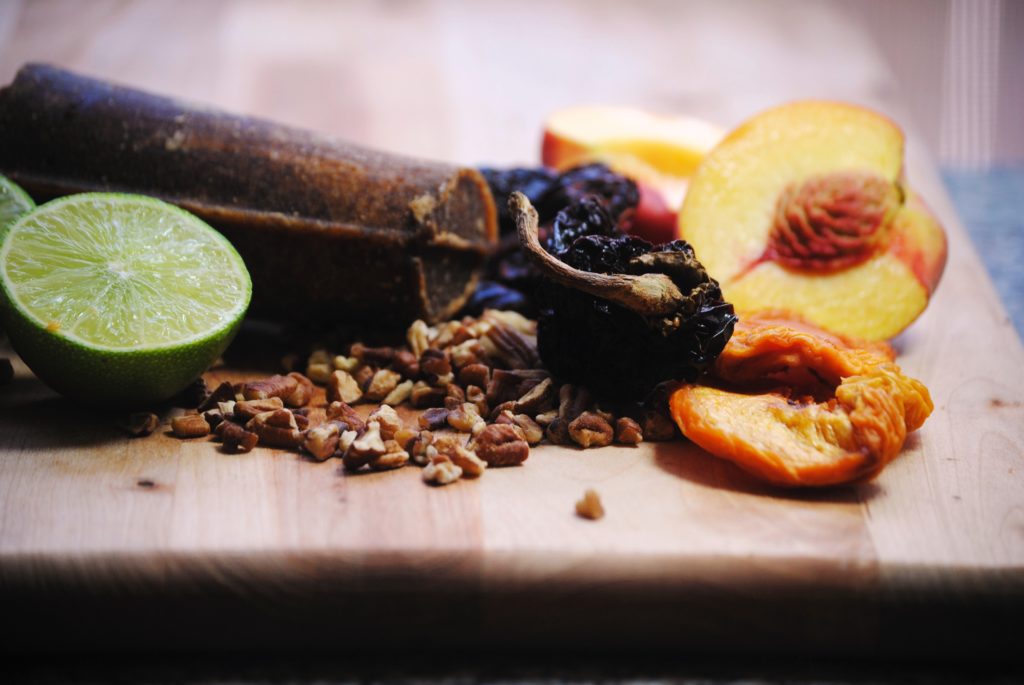 Fresh peaches, piloncillo, ancho chile, lime zest and lime juice are quickly heated together for the base.
The dried ancho chile soaks in the every ounce of warm piloncillo giving the sauce the rich taste of hours on the stove top.
The ancho chile (which are dried poblanos) are the sweetest of all dried chiles in my opinion, with tiny tones of licorice and dried plums.  Piloncillo adds a layer of smokey, caramely flavor.
Grating the piloncillo does take a little effort, but well worth the results.   A splash of freshness is added with lime zest and juice.
A tasty layer of texture from dried peaches and pecans add the finishing touch.   After resisting for what seemed like forever, we drizzled over cold vanilla ice cream.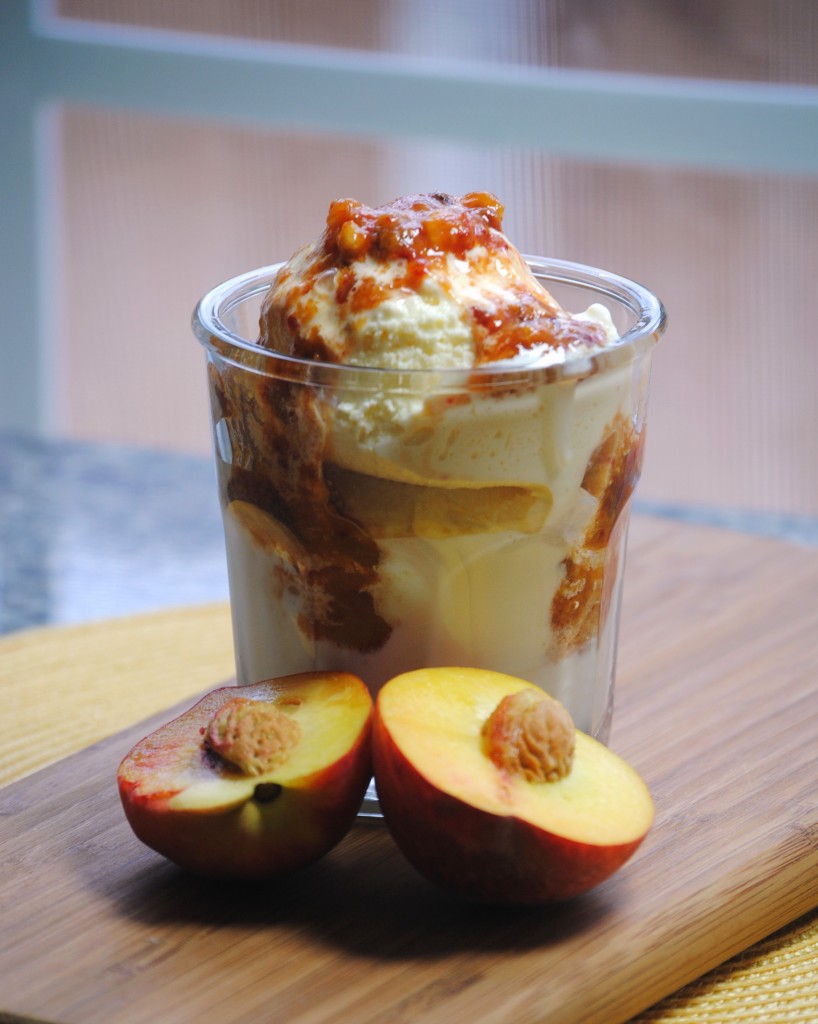 We're teaming up with food and garden bloggers to host Summer Fest 2011, a season-long garden party. In coming weeks, we'll feature favorite garden-to-table recipes and tips to help you enjoy the bounty, whether you're harvesting your own goodies or buying them fresh from the market. Today, we're exploring peaches!
from the FNDISH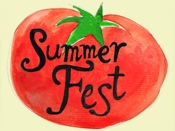 Join in: What's your favorite way to eat peaches?
Join the conversation on Twitter at   #cookingwith.
Sweet Peach Ancho Chile Sauce
by Sweet Life
By Vianney Rodriguez
makes 2 1/2 cups
2 cups fresh peaches, diced
1/2 cup grated piloncillo
1/2 cup of water
zest and juice of 1/2 large lime
1/2  chopped pecans
1/3 cup chopped dried peaches
1 ancho chile, stem and seeds removed and soaked in warm water for 30 minutes
In a saucepan over medium high heat add fresh peaches, piloncillo, water, lime zest and lime juice.
Bring to a boil, stirring constantly to break down peaches.
Lower heat and bring mixture to simmer for 5 minutes.
Remove from heat and place mixture in blender.  Carefully blend until smooth.
Place blended mixture into a bowl, allow to cool.
Add pecans and dried peaches.  Stir to combine.
Transfer to an airtight container. Keep in fridge until ready to serve.
*The sauce will thicken after refrigerated, thin with a little water if needed.
_____________________________________________________
Craving more peach?  Check out more recipe ideas from the Summer Fest participants
Cooking with Books ~ Peaches and Cream Cheesecake 
What's Gaby Cooking  ~ Peach and Blueberry Cobbler
Daily Dishin ~ Fresh Peaches and Cream No Bake Pie
Cooking with Elise ~ Bruschetta with Grilled Peach Chutney
Sassy Radish ~ Peach, Apricot and Blueberry Cobbler with a Cornmeal Crust 
Recipe Girl ~  Fresh Peach Pie 
A Way to Garden ~ Freezing Peaches Properly 
Indian Simmer ~ Peach Gujiya
Dixie Chik Cooks ~ Peach Cobbler
And Love it Too ~Pan Seared Salmon with Fresh Peach Salsa
Cooking with My Kid ~Peach and Friends cobbler Pie
From My Corner of Saratoga ~ Double Caramel Peaches
I am Mommy ~ Peach Bread
CIA Dropout~ Peachy Keen Panna Cotta
In Jennie's Kitchen~ Easy Peach Preserves
White on Rice Couple: Peach Heirloom Tomato Salad
FN Dish: Summer Fest: Peach Recipes
Taste With The Eyes: Warm White Peach and Blackberry Cobbler
Napa Farmhouse 1885: Fresh Peach Cookies
Pinch My Salt: Creamy Peach Smoothie
Food2: 5 Killer Peach Flavored Cocktails
Healthy Eats: 8 Ways You Didn't Know You Could Eat Peaches
Cooking Channel: Peaches on the Grill
Add a Pinch: My Grandmother's Peach Cobbler
The Sensitive Epicure: A Summer Peach Tart Gluten-Free
She Wears Many Hats: Peach Wontons
© 2011, Sweet Life. All rights reserved. Please contact us to request written approval for reproduction of images and recipes.