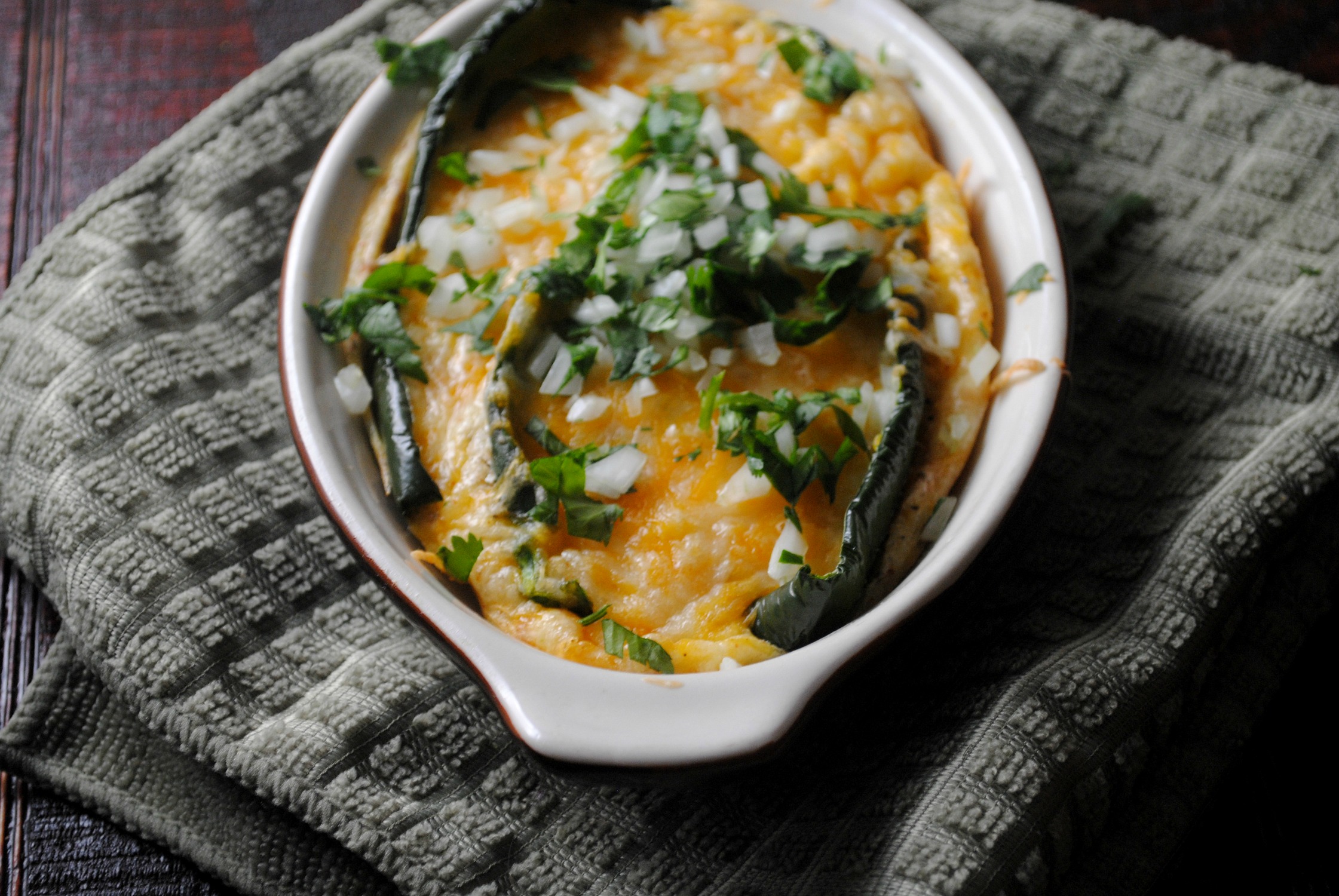 Baked Chile Rellenos
My entire familia love chile rellenos, we grew up on them.  Mami made them at least once a month and during the holiday season they made a weekly appearance for family and friends who stopped by for a visit. Filled with ground beef, pork or turkey she would carefully stuff them and give them a light fry.
I enjoy finding new ways to stuff this mighty poblano and after much thought it occurred to me why stuff it at all? Why not bake them? I decided to cover them with a silky egg mixture and top them with cheese. Bake until golden, tender and served piping hot garnished with onion and cilantro alongside a simple spinach salad.  Much like a warm poblano casserole I paired with a crisp salad and served them to my familia.  They went over really well with my family. They loved them and I was happy to find new plus simple way to enjoy my chile rellenos.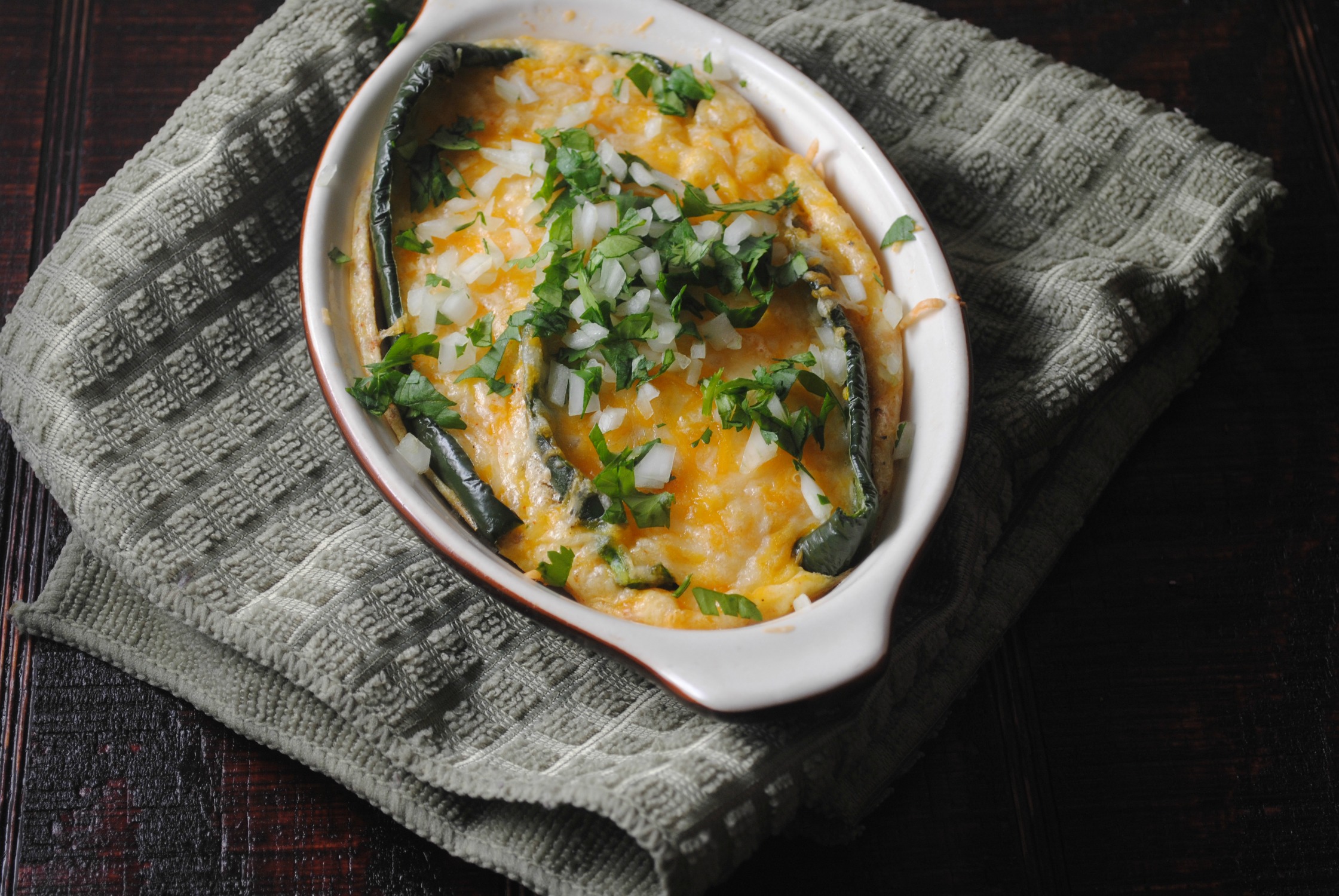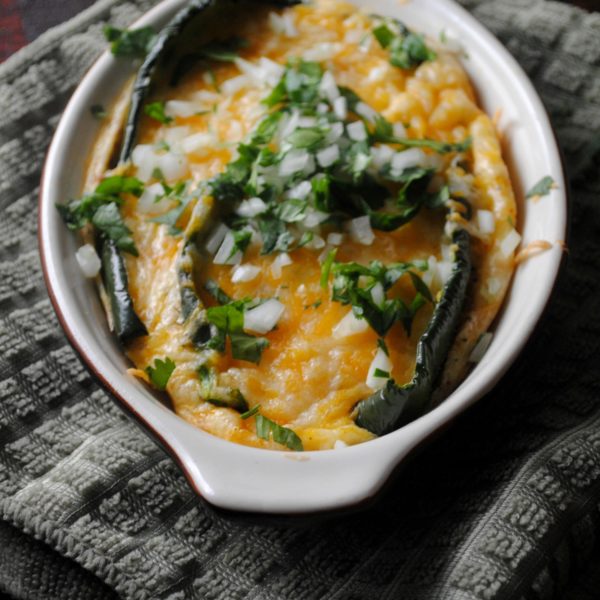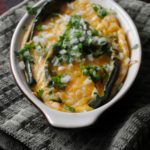 Baked Chile Rellenos
Ingredients
3

large poblano peppers

halved seeds and stem removed

8

eggs

2

garlic cloves

finely minced

1/2

cup

heavy cream

1/3

cup

flour

½

teaspoon

baking powder

1

teaspoon

salt

1

teaspoon

freshly ground pepper

1

teaspoon

oregano

3

cups

shredded cheese

1

cup

onion

finely dice

1

cup

cilantro

washed
Instructions
In a large mixing bowl place poblano peppers and submerge in hot water for 5 minutes until tender.

Remove from water, drain well and dispose of water.

Pre-heat oven to 400 degrees. Spray 6 individual oven safe casserole dishes with non stick cooking spray.

In same mixing bowl whisk together eggs, garlic cloves and heavy cream. Add flour, baking powder, salt, pepper and oregano and whisk until smooth.

Place one half of poblano chile in each oven safe dish. Pour egg mixture evenly between the 6 oven safe dishes and top each with ½ cup of shredded cheese.

Bake about 15 minutes or until toothpick comes out clean when inserted into egg.

Serve warm topped with onion and cilantro.
Verizon was kind enough to send me a tablet to play with in the kitchen. I have been scouring the internet for poblano recipes. There is a ton! With so many sources I find that searching my favorite blogs first give me detailed opinion on a new recipe the blogger may have tried from a magazine or online source. I am really enjoying my Verizon tablet. Small enough to fit on my cookbook stand, but powerful enough to download several new apps I want to test. I am able to stream cooking videos, plus a vibrant screen to check instagram and see what everyone is cooking in their kitchen.
Sweet Life Disclosure: As a member of the #VZWBuzz team I receive various devices and accessories to share my day in the kitchen. All opinions are my own.