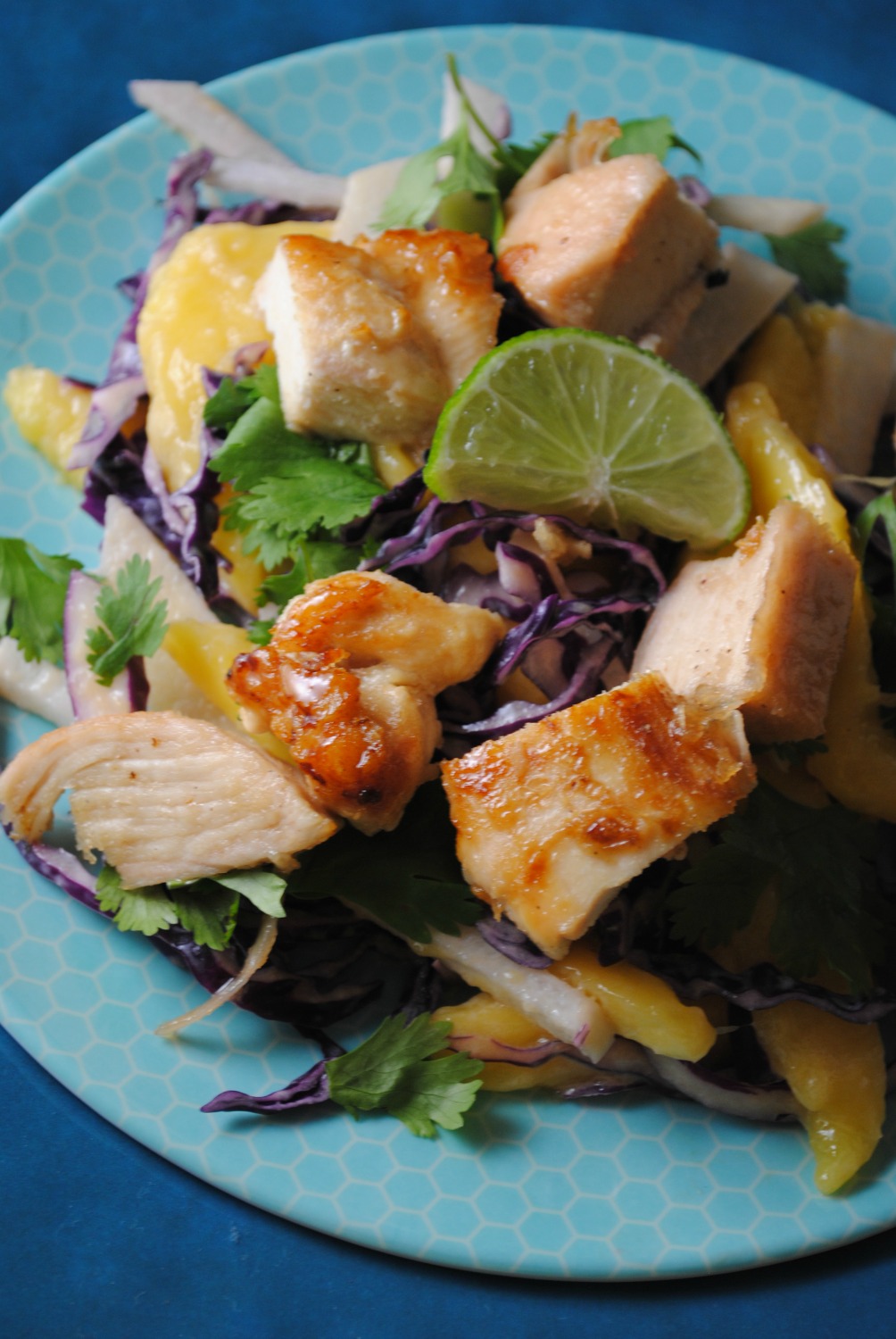 Honey-Lime Chicken Bites with Mango-Jicama Slaw
One of my most requested meals has got to be one of my easiest, thank goodness.  Because some evenings this mami does not want to be standing over a hot, sticky stove after a long day.  A quick meal, a one platter side dish and the familia leaves the table with a full belly and I am left only with a few dishes to wash.  Now that's what I call a successful dinner.
These chicken bites began as skewered chicken tenders that I used to grill for my girlfriends on the weekends.  A quick marinade, pre-soaked bamboo skewers a few cold beers and the gals and I were all set for the evening.  Then came marriage, a full-time job and the bamboo skewers were put away for the weekends and I would grill a few whole tenders for the husband and I.  We would grab our plates, head off to the couch and watch a TV. Life was simple then.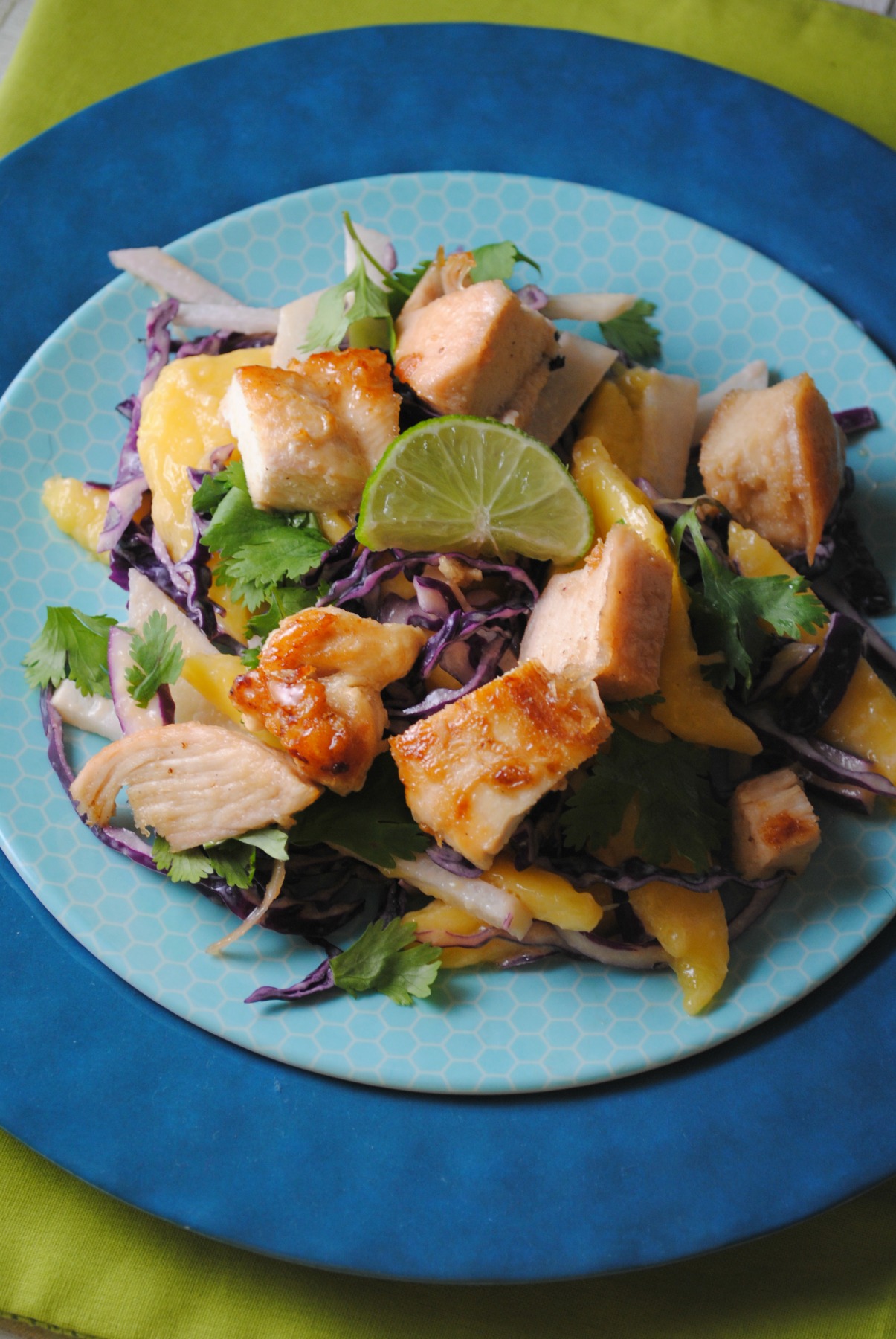 Flash forward a few years my days became a whirlwind running after two kiddos and gone were the dinners on the couch.  The tenders became bites perfect for tiny hands with small appetites.  Small warm bites over a colorful slaw this dish quickly became one of my little gals' favorite meals.   I have made it for sleep over's, birthday parties and on game nights.  My older sister requested the recipe once after dinner and I jotted it down on back of a napkin, she now makes it often.  Simple, tasty, colorful and quick these bites are my go-to recipe for a busy week.
Switch out the lime for lemon or orange juice or even use pork instead of chicken.  The recipe is easily adapted and the slaw can be adapted to meet your family's taste.  Use carrots instead of jicama or swap mint for cilantro.  Some days I even double the recipe and pack the leftovers for my lunch.  Give it a try on a busy week or save it for the weekend and enjoy this dish on the couch.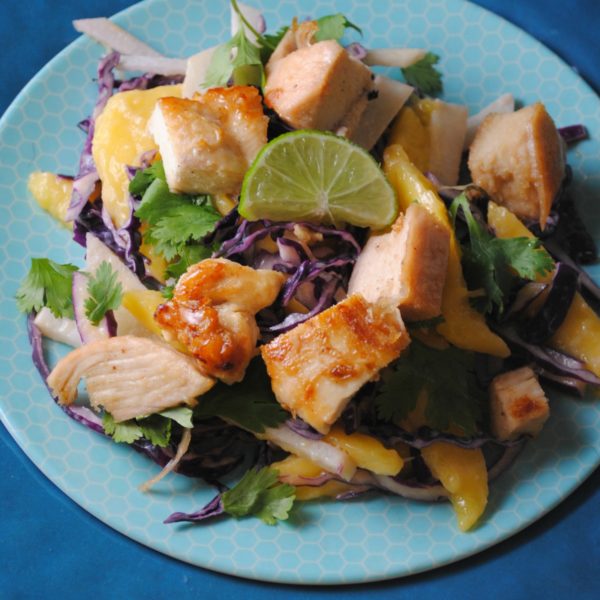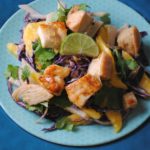 Honey-Lime Chicken Bites with Mango-Jicama Slaw
Ingredients
For Chicken:

1

lb

skinless

boneless, chicken breasts cut into bite size pieces

4

tbsp

honey

3

tbsp

low sodium soy sauce

2

Tbsp

olive oil

Zest of ½ lime

juice of one lime

2

garlic cloves

finely minced

1

tsp

salt

1

tsp

black pepper

For Slaw:

2

firm slightly under ripe mangos

peeled and julienned

1 1/2

cups

shredded red cabbage

½

medium jicama

cut into thin slices

1/4

cup

cilantro leaves

1

tsp

lime zest

1/4

cup

lime juice

2

tbsp

brown sugar

1/2

tsp

salt

1

tbsp

olive oil

2

garlic cloves

minced
Instructions
For Chicken:

In a plastic bag or bowl, mix together the honey, soy sauce, olive oil, zest, lime juice, garlic, salt and pepper.

Add chicken. Mix thoroughly.

Marinate for at least 1 hour.

Preheat indoor grill or nonstick griddle to medium-high heat.

Grill chicken for 6 to 8 minutes per side, until juices run clear.

Serve warm over mango slaw.

For Slaw:

In a large bowl or serving platter combine mango, cabbage, jicama and cilantro.

In a small bowl, whisk together the lime zest, lime juice, brown sugar, salt olive oil and garlic.

Pour the dressing over the slaw and toss until well combined.

Let sit for 20 minutes so that the flavors can meld.
Verizon was kind enough to send me a tablet to play with in the kitchen. On super busy days I am more than ready to take a breather on the couch, kick up my feet and enjoy instagram. I follow food bloggers, home décor bloggers, DIY bloggers and doggie lovers who post their daily lives that inspire me.  It was the first app I uploaded to my tablet.
Sweet Life Disclosure: As a member of the #VZWBuzz team I receive various devices and accessories to share my day in the kitchen. All opinions are my own.