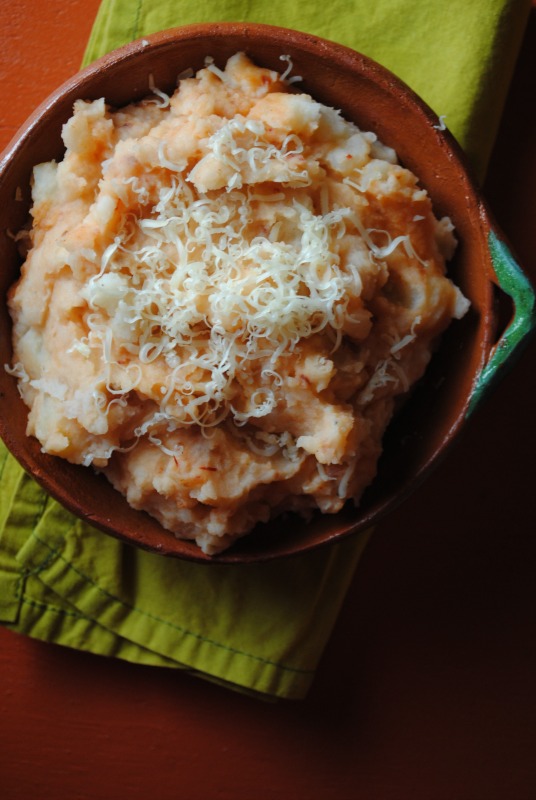 Chipotle Cheddar Mashed Potatoes
recipe in English and Spanish
The Thanksgiving countdown has begun at my home.  I have been making my list, tweaking a few recipes and trying new ones to add to my Holiday table.  The familia and I are super excited this year as my little brother will be joining us for Thanksgiving.
Everyone in my family together for Thanksgiving at my house.
Woo-Hoo!  Can you tell I'm excited?  Well last night I decided it was time to give last year's mashed potato recipe ( I used rajas de poblano) a new twist with chipotles and a good dose of cheddar cheese.  I whipped up Cooking Light's recipe I had bookmarked last year, from 2001 and we loved them!
Creamy, spicy and cheesy, really every girl's dream side-dish.
Well at least mine, Enjoy~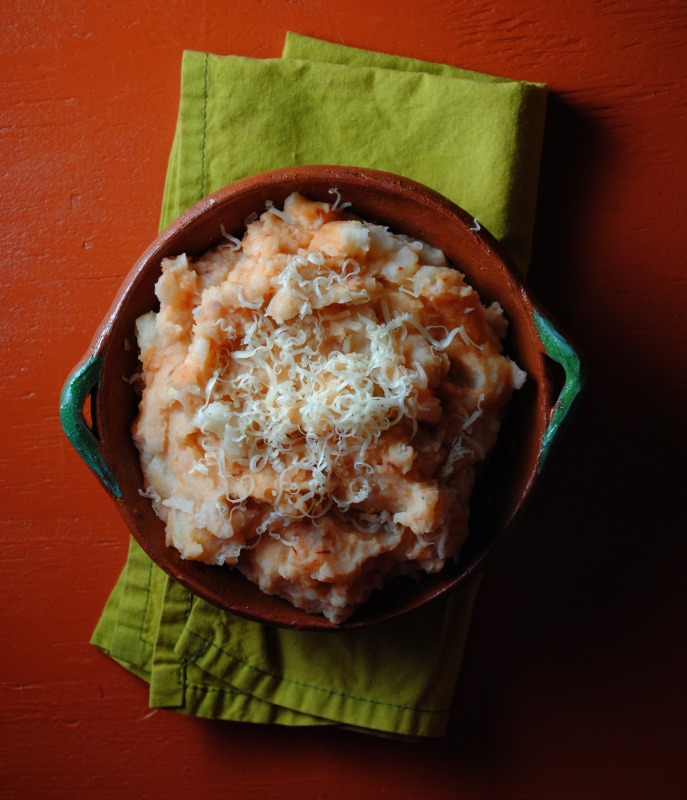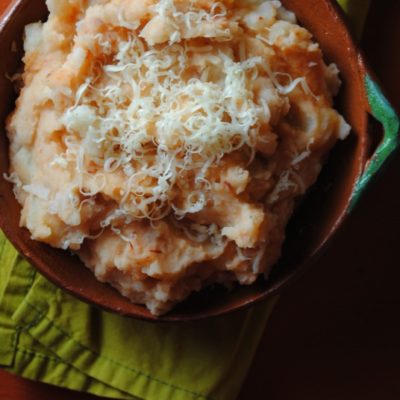 Puré de Papas con Chipotle y Queso Cheddar
Ingredients
1

7 onzas de chiles chipotle en salsa de adobo

4

libras de patatas peladas cortadas en cubos de oro del Yukón

6

dientes de ajo

pelados

1 1/2

taza

6 onzas de queso cheddar extra fuerte baja en grasa rallado

3/4

taza de leche 1% baja en grasa

3

cucharadas de mantequilla

ablandada

1

cucharadita de sal
Instructions
Retire 1 Chile y 1 cucharada de salsa de adobo de la lata. Picar Chile para medir 1 cucharada. Reserva restante chiles y salsa de adobo para otro uso.

Coloque la papa y el ajo en una olla grande. Cocínalas en agua hirviendo unos 15 minutos o hasta que la papa esté tierna. Escurrir. Regrese las papas a la olla. Agrega el chile picado, salsa de adobo, queso, leche, mantequilla y sal. Mash a la consistencia deseada con un machacador de papas. Cocine durante 3 minutos a fuego medio o hasta que esté completamente caliente, revolviendo constantemente
Recipe Notes
recipe from Cooking Light December 2001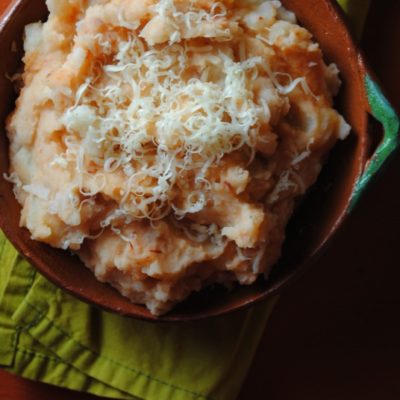 Puré de Papas con Chipotle y Queso Cheddar
Ingredients
1

7 onzas de chiles chipotle en salsa de adobo

4

libras de patatas peladas cortadas en cubos de oro del Yukón

6

dientes de ajo

pelados

1 1/2

taza

6 onzas de queso cheddar extra fuerte baja en grasa rallado

3/4

taza de leche 1% baja en grasa

3

cucharadas de mantequilla

ablandada

1

cucharadita de sal
Instructions
Retire 1 Chile y 1 cucharada de salsa de adobo de la lata. Picar Chile para medir 1 cucharada. Reserva restante chiles y salsa de adobo para otro uso.

Coloque la papa y el ajo en una olla grande. Cocínalas en agua hirviendo unos 15 minutos o hasta que la papa esté tierna. Escurrir. Regrese las papas a la olla. Agrega el chile picado, salsa de adobo, queso, leche, mantequilla y sal. Mash a la consistencia deseada con un machacador de papas. Cocine durante 3 minutos a fuego medio o hasta que esté completamente caliente, revolviendo constantemente
Recipe Notes
recipe from Cooking Light December 2001