Sweet Life passes through the hall " Oh hello cookbook,"
Rick Bayless Cookbook – "oh wow your holding me – I thought you had forgottten about me!"
Sweet Life – "Never Rick Never – your may "main man"- Rick Bayless- I could never forget about your cookbooks,"
RBCookbook- "Really – wow you lie – you never cook from me anymore! I'm slightly dusty!!"
Sweet Life -" But Rick I may not cook from your cookbooks everyday but, your with me always, when I use limes, when I add cilantro to my dishes, when I use queso fresco and crema mexicana–your with me."
RBCookbook- "Ya whatever– tell those lies to Tyler or Sara Moulton or Nigella lying over there in the corner – they have dust too!"
Sweet Life – "Okay Rick I'm cooking from you today– You want me to shower you with love??? Well strap in buddy…here we go….!"
I bring you the following recipe full of guilt..  I felt even horribly worse after my first bite- I knew at that moment I had negectled him… and….. "Nobody  puts Rick in a corner!"
***Yes it's scary that I had  intimate conversation with my cookbook- but my insanity keeps me going people… and my kids think it's just hilarious!! Enjoy!!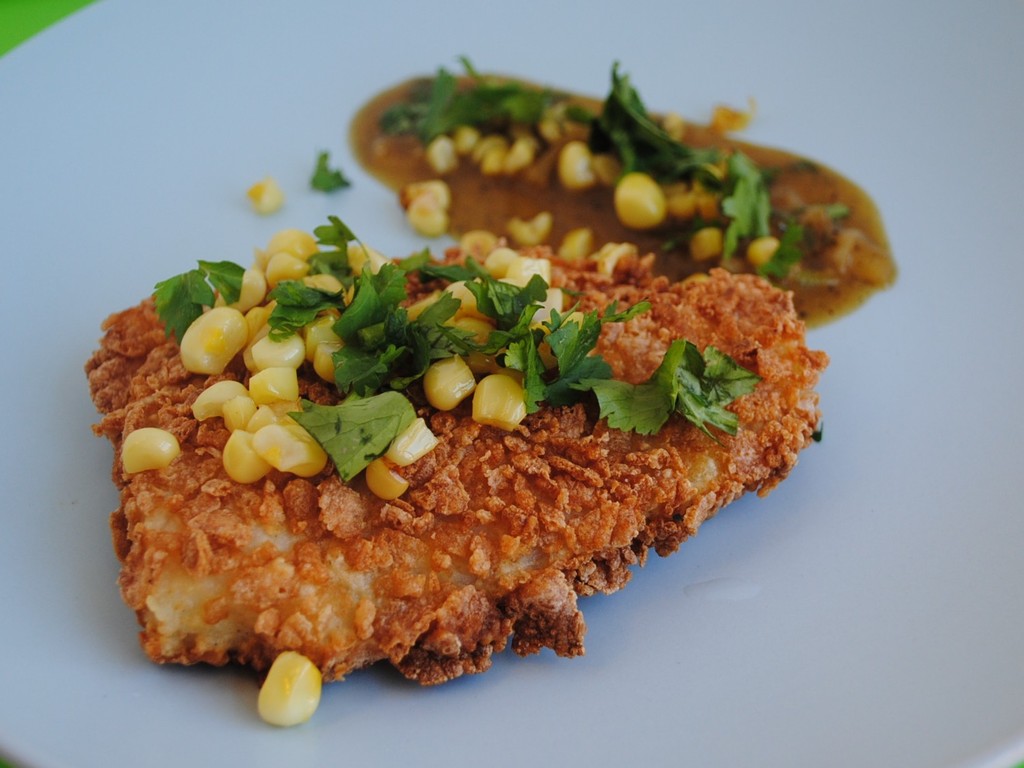 Corn Flake-Crusted Fish Fillets with Roasted Tomatillo Sauce and Fried Corn
Rick Bayless
mexico one plate at a time
1/2 cup all-purpose flour
salt
2 large eggs
one 7oz box corn flakes
six 5-6 ounces skinless fish fillets (choose snapper, grouper, halibut, striped bass, mahimahi, or other medium-flake light flavored fish) about 3/4 inch thick
1 pound (10-12 medium) tomatillos, husked and rinsed
Fresh hot green chiles to taste (roughly 3 serranos or 1 jalapeno), stemmed
2 tbsp olive oil
1 medium white onion sliced
3 large garlic cloves, peeled and finely chooped
2 cups light fish or chicken broth
2/3 cups loosley packed cliantro, plu a few sprigs for garnish
2 cups fresh corn kernels (you'll need about 3 ears of sweet corn, or for the most traditonal Mexican flavor, 2 ears of field corn at the "milk" stage-what we called roasting ears when I was a kid)
vegetable oil to a depth of 1/4 inch for panfrying
1 "Breading" the Fish. Spread the flour on a deep plate (or pie plates), then stir in 1/2 tsp salt. Break the eggs onto another deep plate and add 3 tbsp water and 1/2 tsp salt. Beat with a fork until completely liquid. Spread the corn flakes on a third plate, then use the back of a measuring cup to gently break them into 1/4 inch pieces. Dredge all side of 1 fish fillet in the flour, then lay it in the egg mixture. Use a large fork to flip it over, then carefully transfer the drippy piece of fish to the plate of corn flakes. sprinkle flakes from the dish over the top of the fish and press them in firmly; the fish should be thoroughly coated with flakes Transfer to another plate or baking sheet, then "bread" the remaining fillets. Refrigerate uncovered for at least 1 hour, or up to 6 hours.
2. The Sauce- Roast the tomatillos and chiles on a baking sheet 4 inches below a very hot broiler until darkly roasted, even blackened in spots, about 5 minutes. Flip them over and roast on the other side-4 to 5 minutes more will give you splotchy-black and blistered tomatillos and chiles that are soft and cooked through. Cool, then transfer everything to a food processor or blender, being careful to scrape up all the delicious juice that has run out onto the baking sheet. Process until smoothly pureed.
Set a heavy medium (4quart) saucepan over medium heat and measure in 1 tbsp of olive oil. When hot, add the
sppon over the warm sauce (thin it with a little water if it has thickened) onto a deep warm platter and arrange the crusty fish fillets slightly overlapping down the center. sprinkle the whole affair with the corn (reheat if necessary) and the remaining 1/3 cup cilantro. Garnish with the cilantro sprigs and you're ready to make your triumphant entrance to the dining room.
3 Finishing the Dish. In a medium skillet, heat remaining 1 tbsp olive oil over medium. When hot, add the corn and stir frequently until nicely browned, 5 to 10 minutes. sweet corn will be a little chewy, field corn will be quite chewy meaning you might want to dribble a little water in the pan to steam the kernels to a bit more tenderness. Set aside in the pan.
Turn on the oven to the lowest setting. Heat 1/4 inch of vegetable oil i a large heavy skillet over medium to medium-high. When the oil is hot enough to make and edge of a "breaded" fillet really sizzle, fry the fillets in two batches. (they shouldn't be crowded in the pan, or they won't crust and brown nicely.) They'll need to cook about 2 minutes per side to brown and be done enough to flake under pressure- it takes a little practice to check this without breaking the crust very much. Carefully transfer the first batch of cooked fillets to a paper-towel lined baking sheet and keep warm in the oven while your're frying the second batch.
SERVING. Spoon the warm sauce (thin it with water if it has thickened) evenly onto 6 warm plates and place the fillets on top. Sprinkle the whole affair with the corn (reheat it if it has cooled off) and the remaining 1/3 cup of cilantro.
ADVANCE PREPARATION. Make the sauce and the corn a day ahead (store them separately, covered, in the refrigerator), then rewarm both just before serving. Bread the pollock up to 6 hours ahead, then fry it just before youre ready to serve.
**whispering—I did not use corn flakes I used my special K cereal and it was wonderful, I bet you could use panko and it would be lovely also, I'm whispering I don't Rick to hear me…he seems sensitive today…**