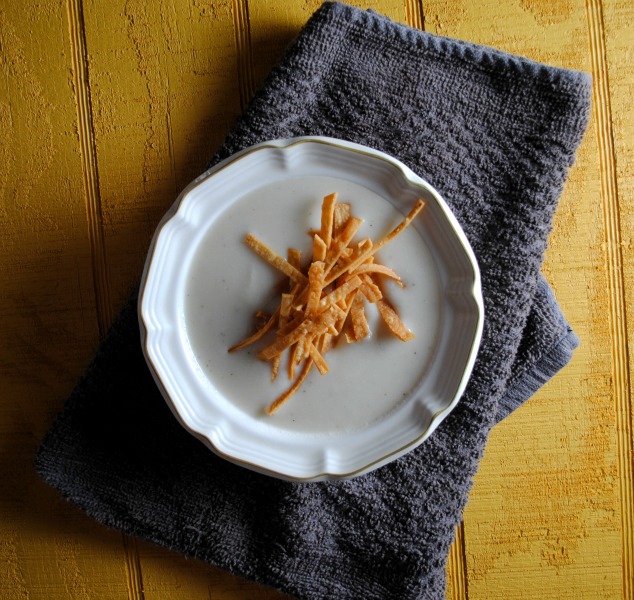 Crema De Maíz Pozolero ~ Cream of Hominy Soup
Growing up mami always knew if she was going to make menudo she had better add an extra can of hominy.  We kids would plunge the soup ladle to the very,very  bottom of the pot to scoop up as much hominy as we could get our greedy little paws on.  My younger sister hated the look of tripe (can you blame her?) menudo does take a bit of getting used to; she would request only caldo y maiz.
Mami would head to the store and pick up two of value size cans of hominy.  At the checkout counter the saleslady would ask her if she was feeding a crowd, "no, my kids love extra hominy with their menudo." 
Love her.
The overnight simmer of tripe, garlic and spices gave the hominy such a depth of flavor, a boldness that made your pancita (tummy) feel warm all day long.
Hmmm, if only I could only bottle that feeling.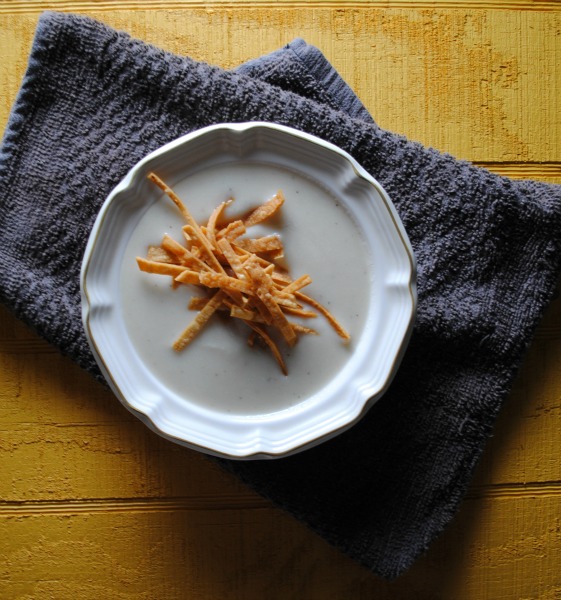 These days we kids, with kiddos of our own find they also enjoy a hefty dose of hominy with their Menudo. These kids have great taste.  My kiddos are hominy freaks; they can't get enough of it.  Quick sides dishes, in quesadillas and even with beans they enjoy hominy almost as much as I do.  With Lenten season in our midst, a meatless table ahead of us and a lack of Menudo making until Easter why not find another way to enjoy hominy.
My first thought was to make a salad, but with our lovely South Texas weather a creamy soup was the way to go.  Blended until smooth with a dose of cream and finished of with a handful of crispy tortillas this soup was exactly what I hoped it would be.  Warmth to the pancita.
Drizzle with your favorite salsa or add grilled shrimp to the mix.  I used vegetable broth for a meatless version, but feel free to use chicken broth.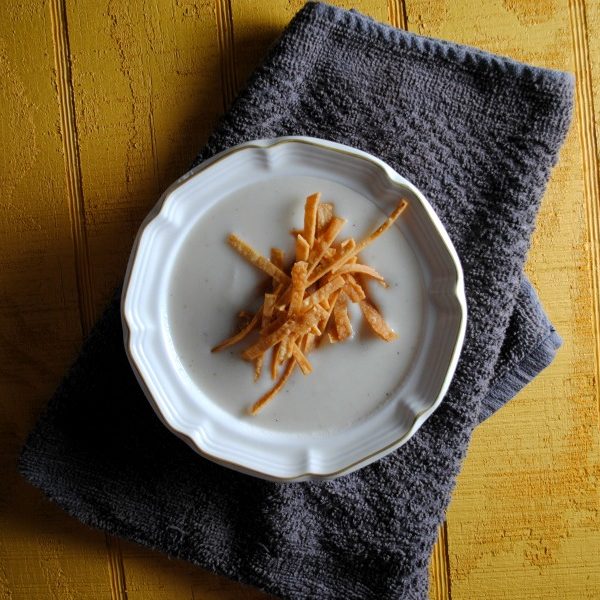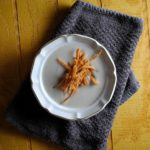 Cream of Hominy Soup
Ingredients
1

tablespoon

olive oil

½

Onion

roughly chopped

1

clove

of garlic

1

14.5 ounce can of hominy, drained and rinsed

2

cups

of vegetable broth

or chicken

1

cup

cream

Salt and pepper to taste

fried tortilla strips
Instructions
Heat oil in a large saucepan over medium heat.

Add onions and garlic; cook until just soft, 4 to 5 minutes.

Add hominy and vegetable broth, season with salt and pepper.

Simmer for 8-10 minutes.

Working in batches, blend soup until smooth, return to saucepan.

(For safety, remove cap from hole in lid, and cover with a dish towel to prevent spattering.)

Over low heat whisk in cream, season to taste. Thin soup if needed with additional broth or water.

Taste for seasoning, serve warm with lightly fried tortillas strips.
Join in our  Lenten Celebration: Recipes galore! Enjoy~