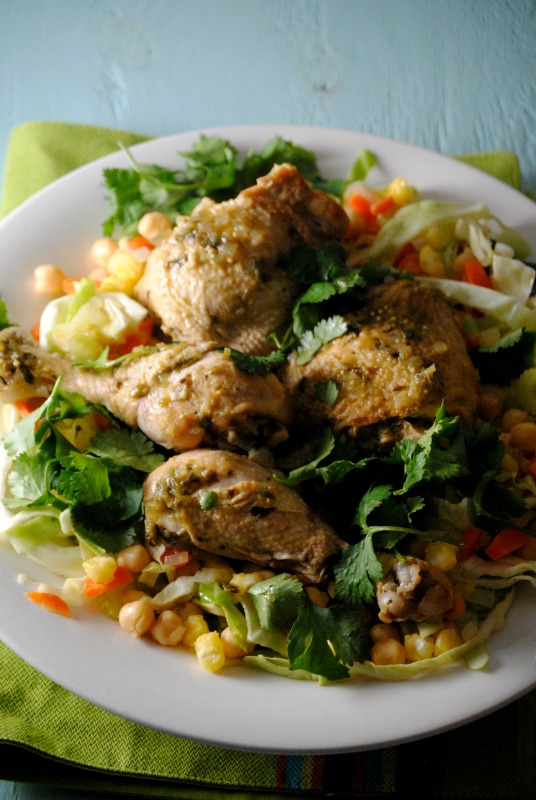 Crock Pot Chicken Verde-  Chicken Verde en el Crock Pot
I spent the entire day Saturday gutting-sorting-cleaning my kitchen pantry from top to bottom. My pantry was a nightmare, an overload of ingredients in desperate need of organization. I pulled everything out-baking supplies, spices, canned goods, pasta, and bags of rice, beans and lentils.  Every inch of my new kitchen table was covered.
I was pretty embarrassed when mi carnio walked in and saw the table.
"So… I guess I should go pick up something for dinner," he said. "Looks like you will be tied up the entire day."
Dinner was the least of my worries. I had quickly prepped the salsa verde the day before and Saturday afternoon pulled out my trusty old crock pot, set it to low and began my pantry venture.
I served the pollo verde over sautéed cabbage with hominy, carrots and garbanzo beans family style in the living room, since I had yet finished the pantry.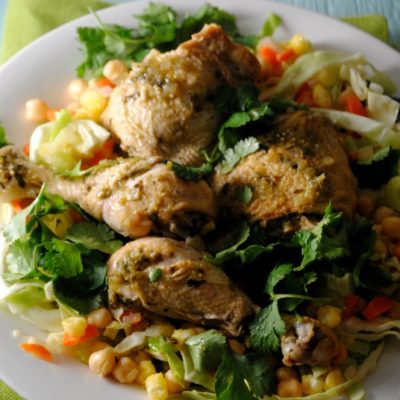 Crock Pot Chicken Verde
Ingredients
1

tablespoon

canola oil

2

pounds

tomatillos

husks removed

2

poblano chiles

stemmed and seeded

1

medium onion

quartered

1/2

cup

chopped fresh cilantro

2

tablespoons

chopped fresh oregano

1

tablespoon

cornstarch

1

teaspoon

salt

3/4

teaspoon

freshly ground black pepper

1/2

cup

unsalted chicken stock

such as Swanson

Cooking spray

8

chicken leg quarters

skinned

8

lime wedges

Oregano leaves

optional
Instructions
Preheat broiler.

Combine first 5 ingredients, tossing to coat. Arrange mixture on a jelly-roll pan. Broil 10 minutes or until vegetables are blackened in spots. Place mixture in a blender; add cilantro, chopped oregano, cornstarch, salt, pepper, and stock. Remove center piece of blender lid (to allow steam to escape); secure blender lid on blender. Place a clean towel over opening in blender lid (to avoid splatters). Blend until smooth.

Heat a large heavy skillet over medium-high heat. Coat pan with cooking spray. Add 4 chicken leg quarters; cook 5 minutes or until well browned. Repeat procedure with cooking spray and remaining chicken. Arrange chicken in a 6-quart electric slow cooker; top with tomatillo mixture. Cover and cook on LOW 4 hours or until done. Separate thighs and drumsticks, if desired. Serve with lime wedges; garnish with oregano leaves, if desired
Recipe Notes
recipe from Cooking Light
Crock Pot Chicken Verde-  Chicken Verde en el Crock Pot
Me pasé todo el día Sábado en la limpieza de mi despensa de la cocina -de arriba a abajo. Mi despensa era una pesadilla, una sobrecarga de los ingredientes en la necesidad desesperada de un poco de organización. Saqué todo, suministros para hornear, especias, productos enlatados, pasta y sacos de arroz, frijoles y lentejas. Cada centímetro de mi nueva mesa de la cocina estaba cubierta.
Estaba muy avergonzado cuando mi Carnio entró y vio la mesa.
"Así que … Supongo que debería ir a recoger algo para la cena", el dijo. "Parece que vas usted estará ocupado el día entero."
La cena era la menor de mis preocupaciones. Yo había preparado rápidamente la salsa verde el día anterior y el sábado por la tarde saqué mi fiel viejo olla de barro, lo puese en bajo y comenze mi despensa.
Serví el verde pollo sobre la col salteada con sémola de maíz, zanahorias y garbanzos al estilo familia en la sala de estar, ya que yo aún no había terminado la despensa.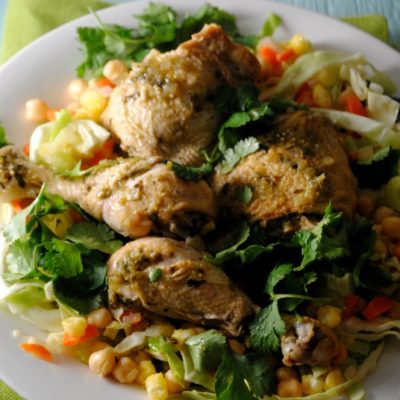 Crock Pot Chicken Verde
Ingredients
1

tablespoon

canola oil

2

pounds

tomatillos

husks removed

2

poblano chiles

stemmed and seeded

1

medium onion

quartered

1/2

cup

chopped fresh cilantro

2

tablespoons

chopped fresh oregano

1

tablespoon

cornstarch

1

teaspoon

salt

3/4

teaspoon

freshly ground black pepper

1/2

cup

unsalted chicken stock

such as Swanson

Cooking spray

8

chicken leg quarters

skinned

8

lime wedges

Oregano leaves

optional
Instructions
Preheat broiler.

Combine first 5 ingredients, tossing to coat. Arrange mixture on a jelly-roll pan. Broil 10 minutes or until vegetables are blackened in spots. Place mixture in a blender; add cilantro, chopped oregano, cornstarch, salt, pepper, and stock. Remove center piece of blender lid (to allow steam to escape); secure blender lid on blender. Place a clean towel over opening in blender lid (to avoid splatters). Blend until smooth.

Heat a large heavy skillet over medium-high heat. Coat pan with cooking spray. Add 4 chicken leg quarters; cook 5 minutes or until well browned. Repeat procedure with cooking spray and remaining chicken. Arrange chicken in a 6-quart electric slow cooker; top with tomatillo mixture. Cover and cook on LOW 4 hours or until done. Separate thighs and drumsticks, if desired. Serve with lime wedges; garnish with oregano leaves, if desired
Recipe Notes
recipe from Cooking Light