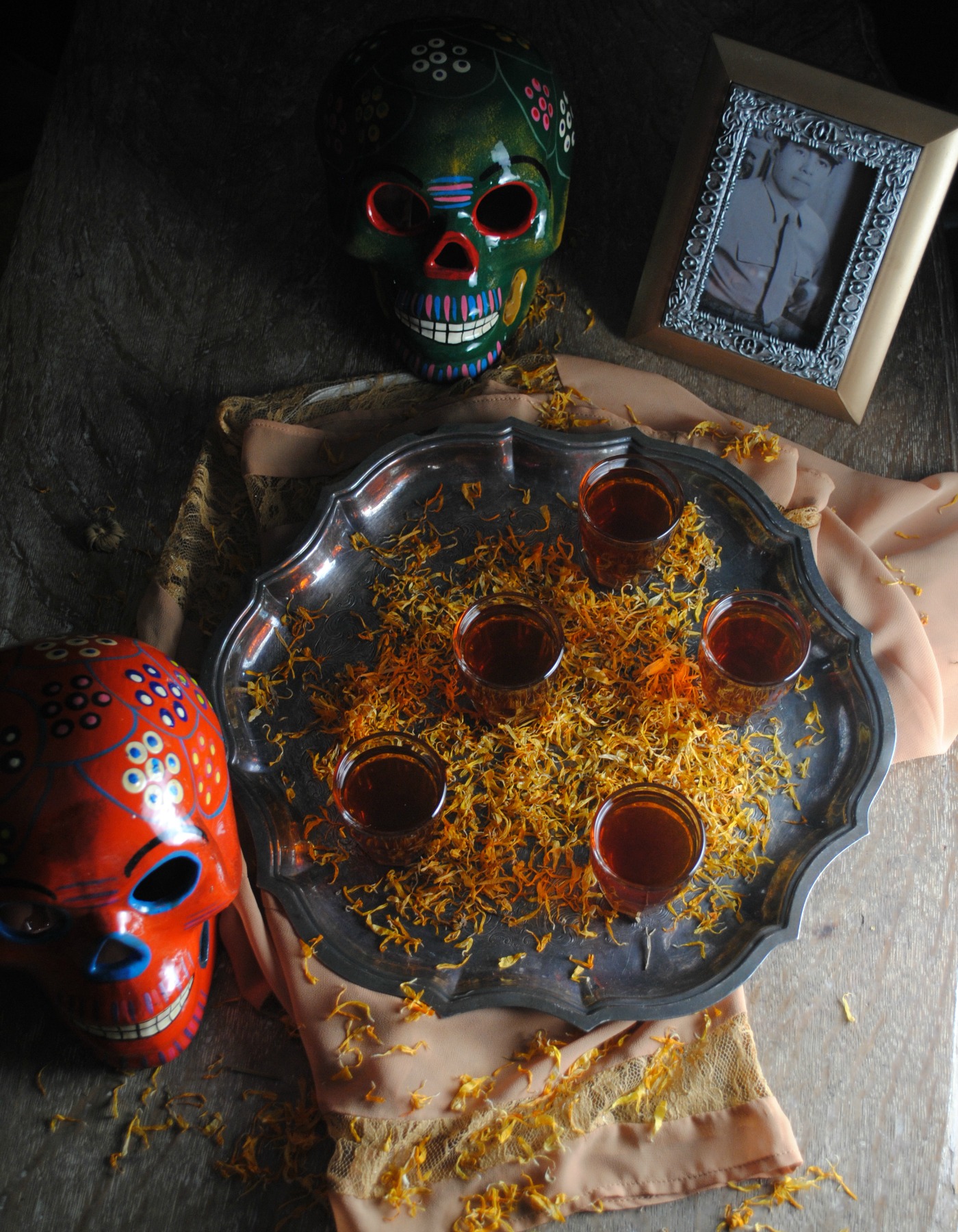 Dia de Los Muertos – Infused Marigold Tequila
I like to think that if my abuelito still lived today we would make quite the pair.  A quiet, reserved man with a cheerful sparkle in his eyes enjoyed a good stiff drink after a long day at work.  Papi, my dad adored him. It was sweet to see him become excited as we drove up for a visit, my abuelito would open the gate and papi would drive in and jump out of the car to greet him.  A giant hug, a few laughs both with a cheerful sparkle in their eyes. I'm grateful that Papi inherited that same sparkle in his eyes, which is a pleasant reminder of abuelito.
I can clearly remember them both sitting at the table catching up while they sipped on small glasses of tequila or brandy. With the bottle at the middle of the table, they would laugh, tell jokes and enjoy their time together.  My older sister and I sat in the hallway trying to listen in on the conversation, hear him share his stories from work and sometimes if we were lucky hear his gently scold papi.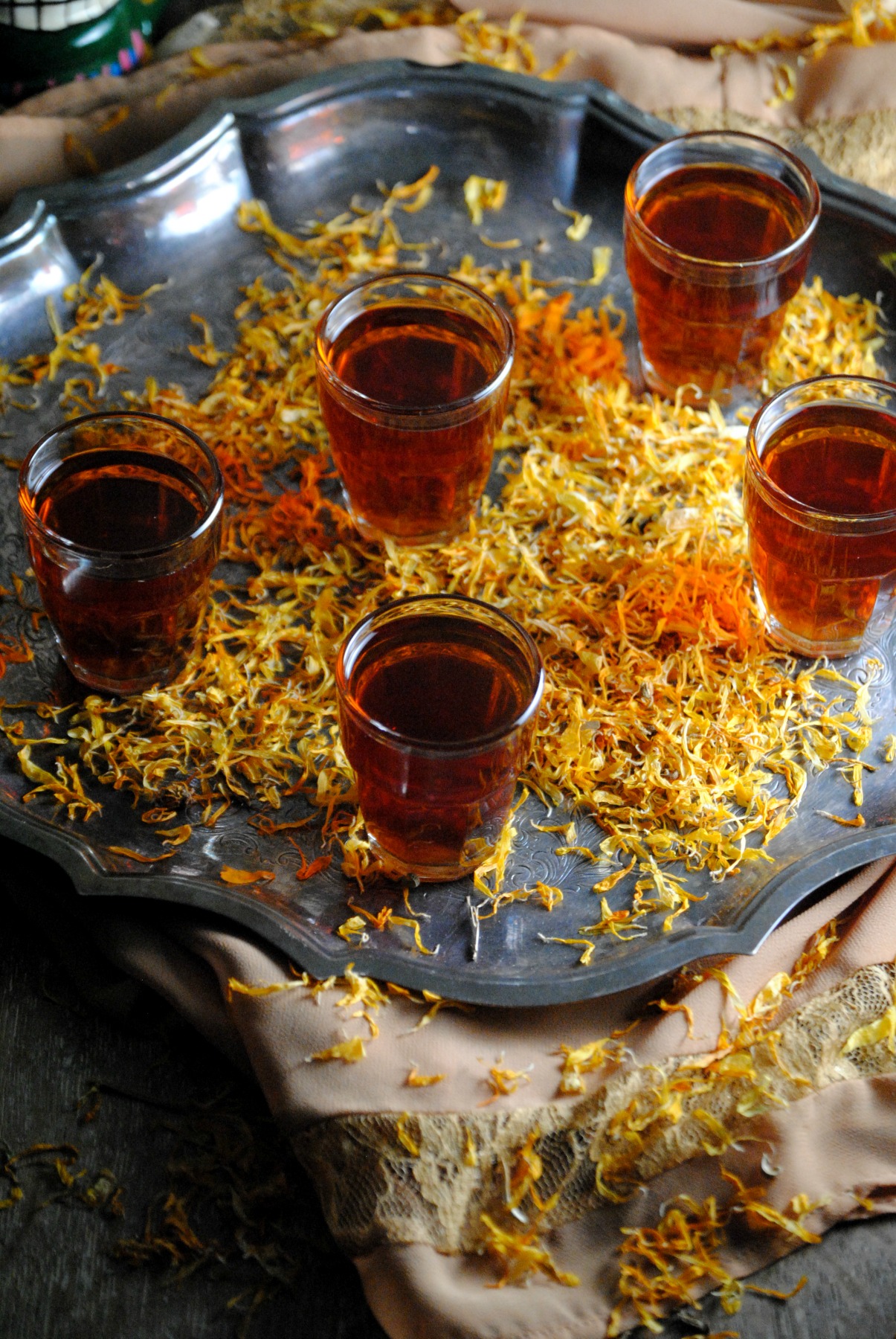 These days after a long, hectic day I find myself sitting at the table enjoying a stiff drink like my abuelito.   I often think back at those days when abuelito and papi sat at the table discussing life, how amazing it would have been to be invited to sit with them, enjoy a drink and listen to my abuelito share his stories.
Today I honor my abuelito for Dia de Los Muertos, Day of the Dead with a marigold infused tequila I know he would have enjoyed after a long day. Dia de los Muertos is a cheerful, joyful celebration where we take time to remember our dead, honor them and celebrate their lives.
Infused with dried marigolds, cempasuchil is the traditional flower used to celebrate Dia de Los Muertos. An important Day of the Dead symbol these flowers symbolize death, referred to as the flower of the dead they are placed on the altar, the grave and their petals are sprinkled on the floor to lead the dead to their grave. It is believed that marigolds guide the spirit of the dead to their altars using their vibrant color and fragrance.
This infusion takes seven days, but after the second day the tequila takes on a beautifully golden color. I added a cinnamon sticks to the infusion to add a depth of warmth and sweetness. You can purchase organic dried marigolds online or local nursery.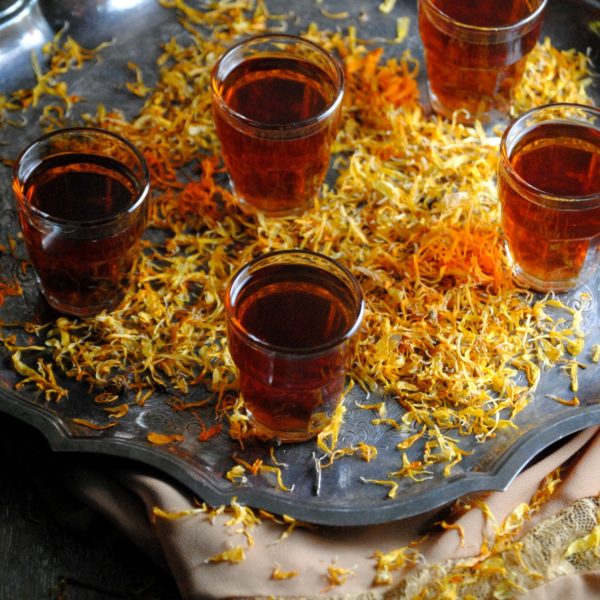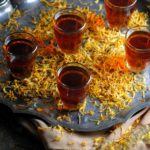 Dia de Los Muertos – Marigold Infused Tequila
Ingredients
1

cup

organic marigold petals

2

cinnamon sticks

4

cups

tequila
Instructions
Combine ingredients and allow to infuse about 4-7 days. Strain when ready to serve.