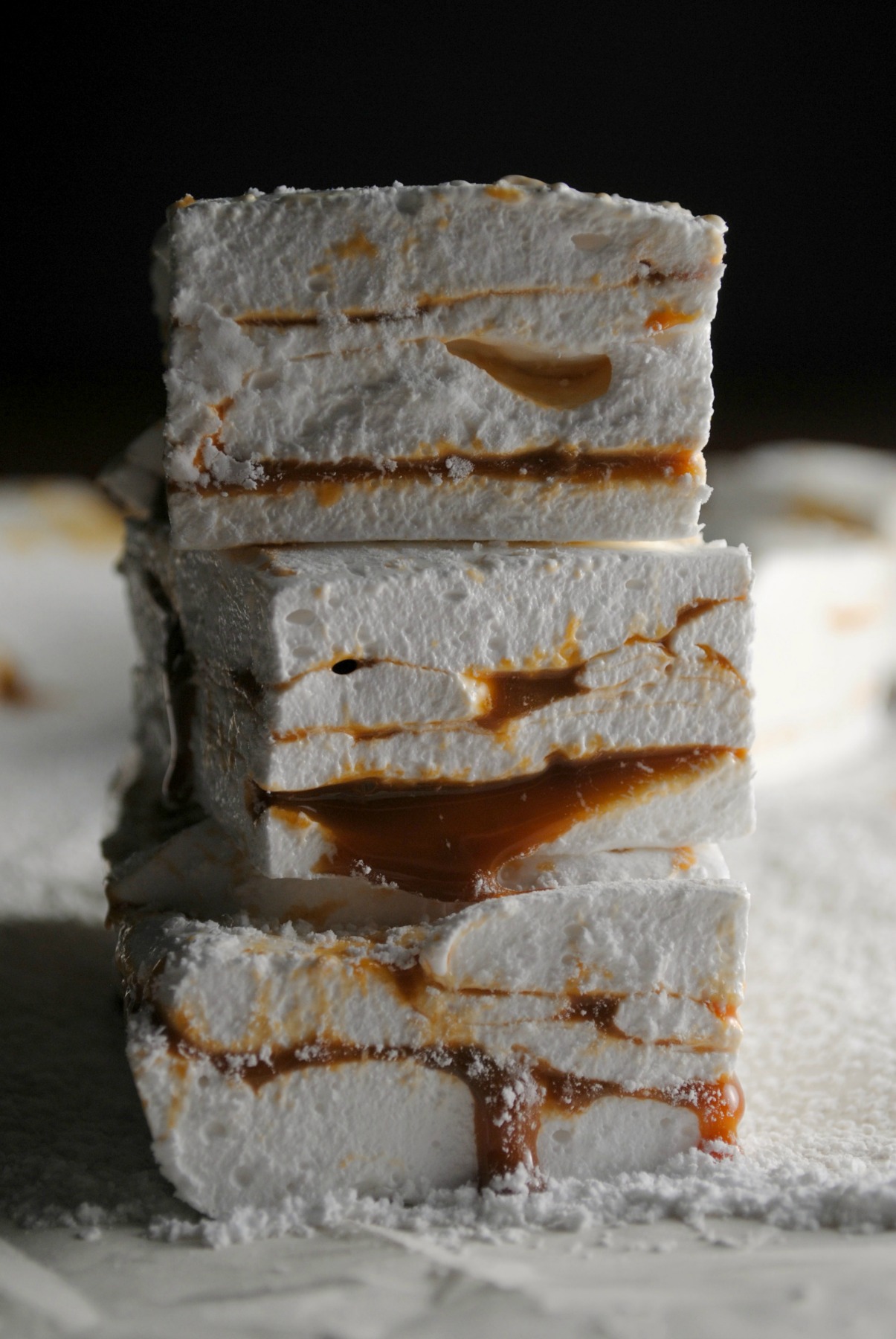 Dulce de Leche Marshmallows
We're planning a Christmas hayride for the kids this year.  Mi carino is loading hay bales onto his trailer, attaching twinkling lights, while my daughter prepares a holiday playlist to listen as we ride to view the Christmas lights. My sister is baking treats to enjoy on our ride and I am whipping up the hot cocoa and making homemade marshmallows.
I have been making homemade marshmallows for the holiday season for over 12 years.  Have your tried making them at home? They are surprisingly easy to make only requiring a few ingredients and are gooey, sweet and so much tastier than store-bought. I usually make peppermint or original, but this year I wanted to add a few swirls of dulce de leche to the mix.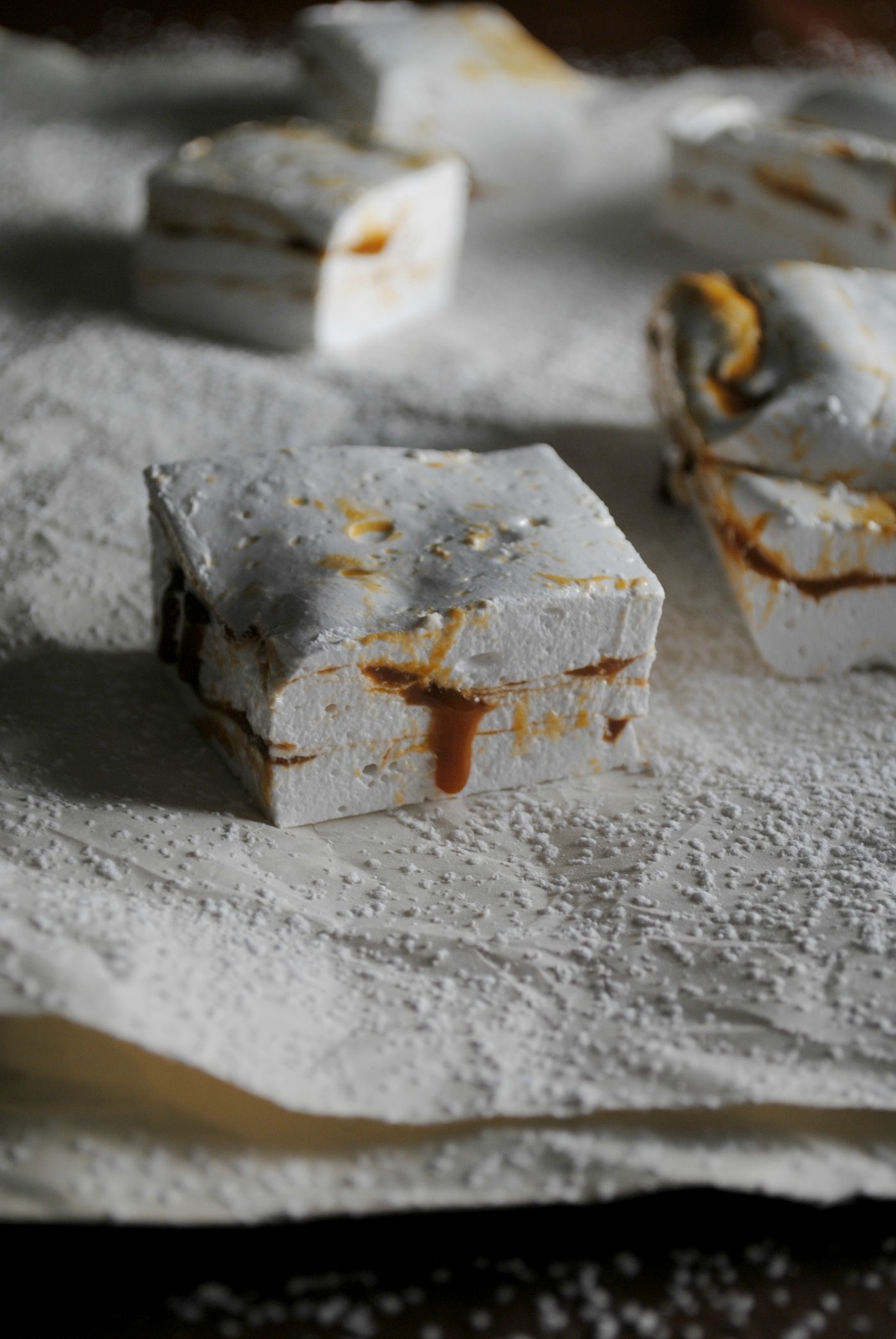 I am extremely happy with the results. Light, fluffy with a creamy touch from the dulce de leche. When you slice them you can see the golden swirls of goodness. I sliced a few thick to make s'mores, a few in small cubes for hot cocoa and made sure to stash a few to enjoy in my coffee.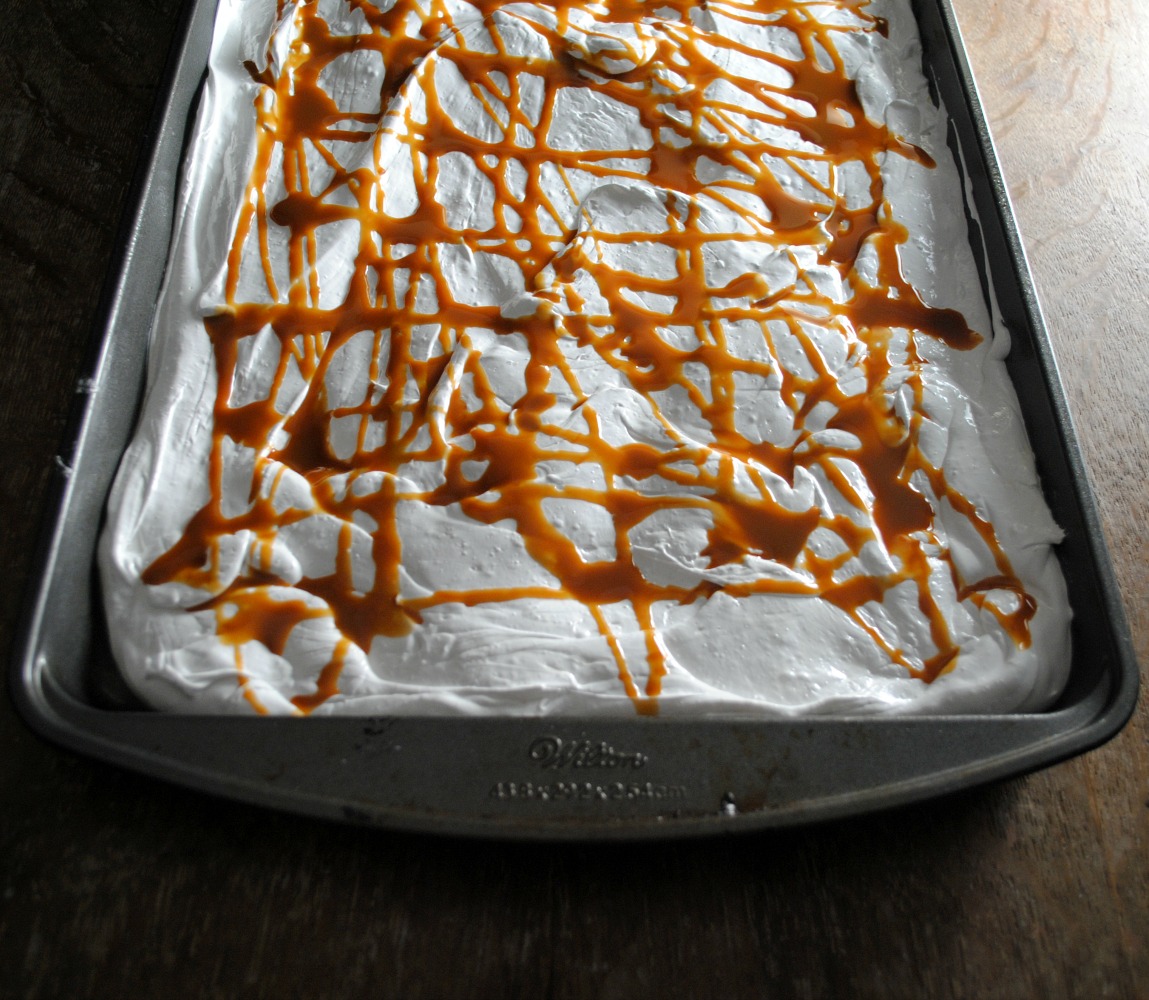 The original recipe calls for a 9×13 inch baking pan, but I used a baking sheet because you will spread half the mixture on bottom and swirl your dulce de leche over the first layer, then top with remaining marshmallow batter.  I coated my baking sheet with Wilton's Bake easy nonstick spray which I adore. This stuff is amazing and works so much better than the traditional spray. You can find canned dulce de leche in the Latin section of your store. May I suggest looking for Nestlé's La Lechera dulce de leche sold in a squeezable bottle.  Trust me it makes for easier swirling and no reheating, cooling the dulce de leche. I love it!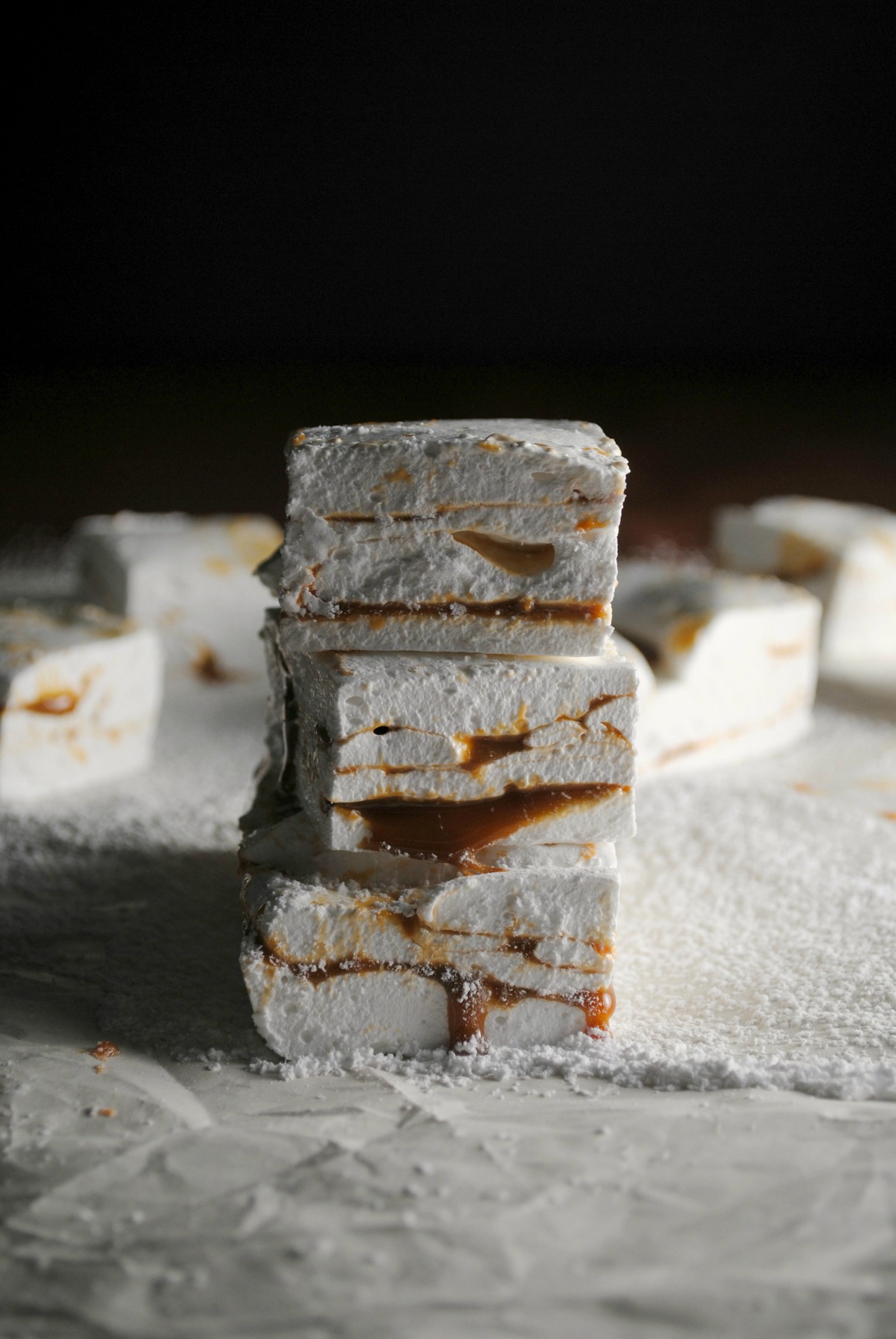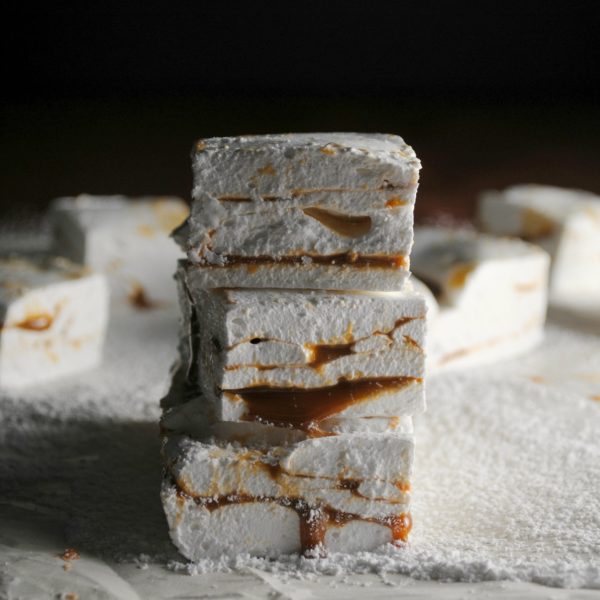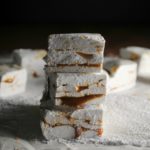 Dulce de Leche Marshmallows
Ingredients
Nonstick cooking spray

for baking sheet

4

envelopes unflavored gelatin

3 tablespoons plus 1 1/2 teaspoons

3

cups

granulated sugar

1 1/4

cups

light corn syrup

1/4

teaspoon

salt

2

teaspoons

pure vanilla extract

1 ½

cup

dulce de leche

I used Nestle's La Lechera dulce de leche

1 1/2

cups

confectioners' sugar
Instructions
Liberally spray a baking sheet with non stick cooking spray.

Put granulated sugar, corn syrup, salt, and 3/4 cup water into a medium saucepan. Bring to a boil over high heat, stirring to dissolve sugar. Cook, without stirring, until mixture registers 238 degrees on a candy thermometer, about 9 minutes.

Meanwhile, put 3/4 cup cold water into the bowl of an electric mixer; sprinkle with gelatin. Let soften 5 minutes.

Attach bowl with gelatin to mixer fitted with the whisk attachment. With mixer on low speed, beat hot syrup into gelatin mixture. Gradually raise speed to high; beat until mixture is very stiff, about 12 minutes. Beat in vanilla. Quickly pour half into prepared baking sheet, swirl with dulce de leche and top with remaining. Smooth top with an offset spatula. Set aside, uncovered, until firm, about 3 hours.

Sift 1 cup confectioners' sugar onto a work surface. Unmold marshmallow onto confectioners' sugar. Lightly brush a sharp knife with oil, then cut marshmallow into 2-inch squares. Sift remaining 1/2 cup confectioners' sugar into a small bowl, and roll each marshmallow in the sugar to coat. Marshmallows can be stored in an airtight container up to 3 days.
Recipe Notes
adapted from Martha Stewart
Sweet Life Disclosure: This is a sponsored post with Wilton. Thank you for supporting the companies Sweet Life collaborates with which allows me to create fun and unique recipes.