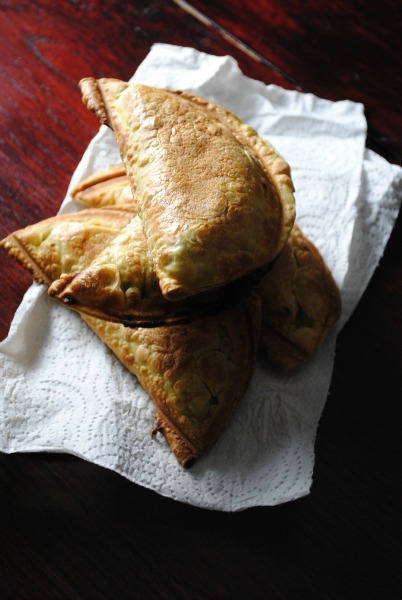 Empanadas de Dulce de Leche y Queso
We are ending the year on a sweet note with a wonderful Giveaway from IMUSA.
Wishing you a HAPPY, PROSPEROUS and TASTY New Year!!!
I was recently sent the new IMUSA empanada maker to test out.  I have to admit at first I was skeptical.  Four empanadas baked and ready to go in under 15 minutes, really?  I am so accustomed to making, rolling, stuffing and baking pan after pan of empanadas.  In my house if you're going to make empanadas, you're going to make enough for your hermana, tu Tia, la vecina and a dozen alone just for papi.
I had just wrapped up my tamalada fiesta where my daughter and I had made almost 10 dozen empanadas.  But then I remembered my recent trip to LA where we baked empanadas using pre-made frozen disks (which also  left me a bit stunned).  I began to think of the possibilities and quickly set out to find these pre-made disks. Using pre-made frozen disk I could quickly whip up 4 breakfast empanadas during the week or why not stuff my disk with papa y chorizo for a savory dinner.  Maybe mommy is in the mood for a sweet bite, but doesn't feel like cranking up the old oven.  Dulce the leche empanadas oozing melted cheese in less than 15 minutes, now I was excited.
I turned on the empanada maker, filled my pre-made disks, (no crimping required) and placed them in.  I walked away, cleared my dinner table and as Emeril would say ~BAM, they were baked.  Not since my Christmas gift of heated rollers has a machine had me so excited.  The possibilities, the options, the fillings! And wow I am thrilled to have the chance to share my joy with you in this Giveaway.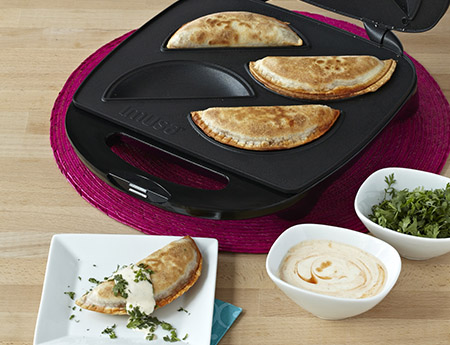 From IMUSA:
Welcome to the delicious world of empanadas! An empanada is any sort of dough or bread that has been stuffed with savory or sweet fillings. The IMUSA Empanada Maker allows you to make delicious pastries in minutes and bakes them so they are healthier than the traditional fried version. Fill your dough with shredded meats and cheeses or explore sweet varieties with fruits & pie filling!
Non-Stick Cooking Surface
On & Heat-Ready Indicator Lights
Bakes = Healthier Option vs. Traditional Fried Empanadas
Bakes 4 Empanadas Under 15 minutes
Use Any Variety of Dough (Maseca, Pre-Made Frozen Disks, or Even Pie Dough)
How to Enter: Please comment after each action~ 8 possible entries
Like Sweet Life on Facebook
Follow Sweet Life on Twitter
Subscribe to Sweet Life either on Rss or email
Follow Sweet Life on Pinterest
Pin this recipe (button on top)
Like IMUSA on Facebook
Follow IMUSA on Twitter
Tweet this Giveaway (button on top)
Open only to US residents
Giveaway ends Jan. 8, 2013 winner will be chosen via random.org  and contacted via email
Prize will be shipped by IMUSA.
Good Luck!!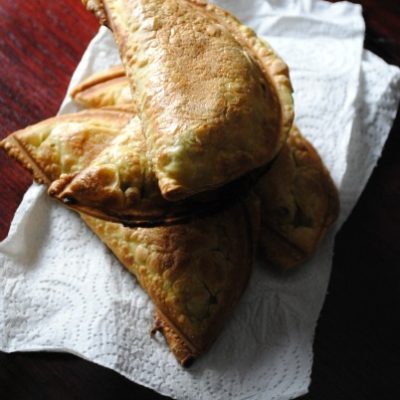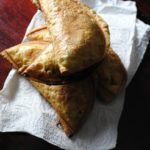 Empanadas de Dulce de Leche y Queso
Ingredients
4

spoonfuls of dulce de leche

4

ounces

Queso

cut into small cubes (Oaxaca, asadero or quesadilla)

4

from one 11.6-ounce package frozen store-bought empanada dough discs, defrosted

1

large egg

beaten (optional)
Instructions
Place a cube of cheese in middle of dough and top with dulce de leche

Fold over dough and place or heated empanada maker.

Brush with beaten egg (optional)

Close lid and bake for 12-15 minutes.

Empanadas de Dulce de Leche y Queso
Sweet Life disclourse: This is a sponsored post with IMUSA USA. My thoughts, love and passion remain my own.