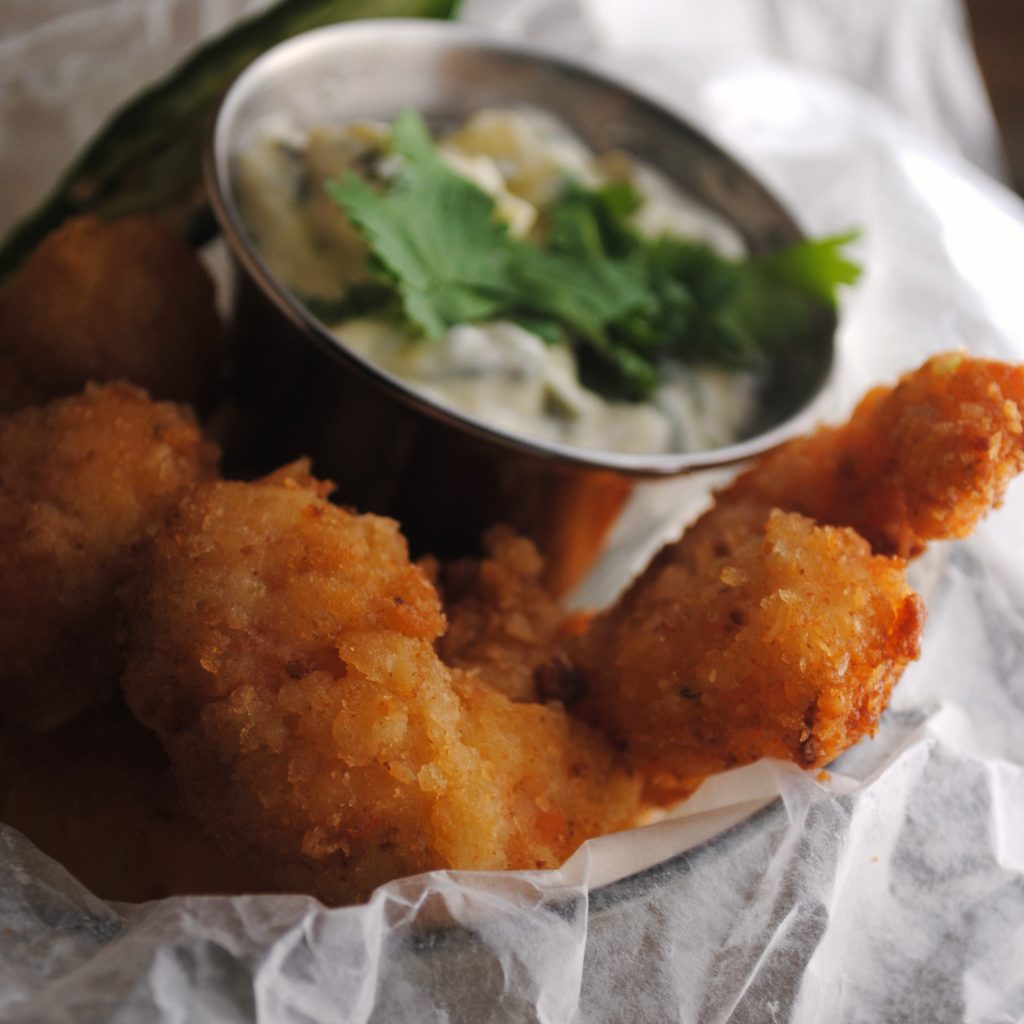 I was raised in Aransas Pass, Texas along the Gulf Coast.   Home of the Shrimporee.  Home to great fishing, a quick ferry ride to Port Aransas and shrimp.
My mother spent her summer vacation from the local school working at Gulf King Seafood Company.  Summer time meant shrimp.  Extra hours meant extra money, so many of the local women from town worked through the summer for extra money.
She would leave home about 3am to spend her day sorting, cleaning and deveining shrimp.  We rode our bikes up and down the street every day at the same time waiting for her to come home.
Two women cloaked in white, with white rubber boots.  She would walk home with our next door neighbor talking, laughing and discussing the day.
On occasion she would bring home butterflied battered shrimp in white boxes with the name Gulf King stamped in black.
After long days of standing over fresh shrimp I couldn't imagine she even craved shrimp for dinner.  Not once in those summer days did I ever see her eat a single shrimp.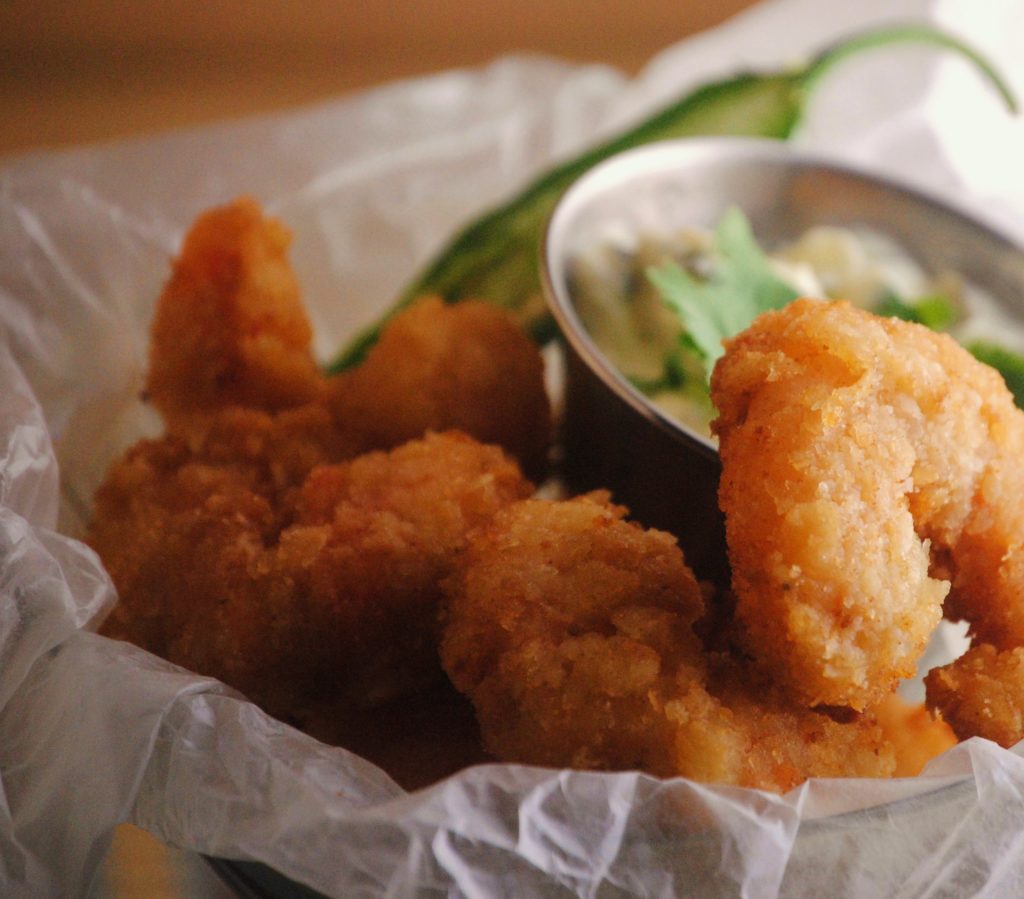 These days my dad drives my mom down to the pier to pick up fresh shrimp for their dinner.  Long gone are the buildings that were Gulf King Seafood Company.  The "Shrimp Capital of Texas," slogan for Aransas Pass has been changed to "Saltwater Heaven."   It's funny how times change, companies move, but we are quickly taken back to our childhood with one meal.  Shrimp has this effect on me, it reminds me of my mom.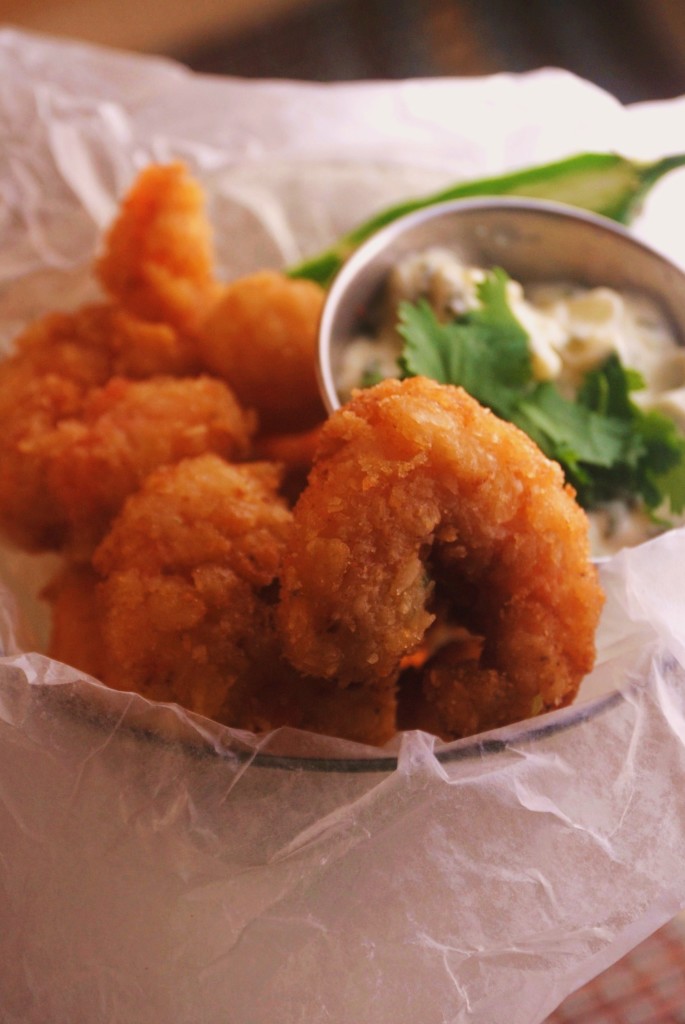 Lisa add her own special twist to these fried shrimp.  She adds sliced serrano to the flour dredge.  Enjoy!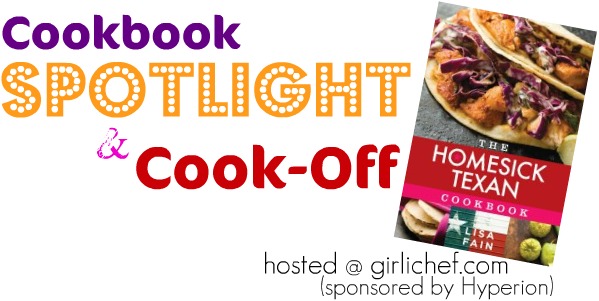 Fried Shrimp
from The Homesick Texan Cookbook
1/4 cup all-purpose flour
1 serrano chile, stems and seeds removed, finely diced
1/2 teaspoon kosher salt
1/2 teaspoon black pepper
1/4 teaspoon ground cumin
1 teaspoon lime juice
1 pound medium shrimp (31 to 35 per pound), peeled and deveined
2 large eggs
1/2 cup buttermilk
2 cups finely crusted saltines
1/4 teaspoon cayenne
vegetable oil for frying
In a bowl or large plastic food – storage bag, mix together the flour, serrano chile, salt, black pepper, cumin, and lime juice. Toss the shrimp until coated with the flour mixture.
Mix together the eggs with the buttermilk. Place the saltines crumbs on a plate and stir in the cayenne.
In batches, dip the flour-coated shrimp into the egg mixture and then lightly dredge in the saltine crumbs. Place cracker-coated shrimp on a large plate or sheet. Repeat until all the shrimp are coated.
In a large, heavy skillet heat 1/2 inch of oil on medium heat until it reaches 350 degrees. Cook the shrimp for 2 minutes, turning once. Depending on the size of your skillet, you will probably have to do several batches. Drain on paper towels.
*This post is part of The Homesick Texan Cookbook Spotlight and Cook-Off sponsored by Hyperion and hosted by girlichef*