Pozole Blanco, slowly simmered pork cooked until fork-tender with onions, garlic, bay leaves, Juanita's Mexican Style Hominy and served warm with plenty of garnishes. I'm excited to collaborate with Juanita's today to share my tasty Pozole Blanco recipe. This is a sponsored blog; while the views expressed here were genuinely mine, consideration was paid to me by Juanita's Foods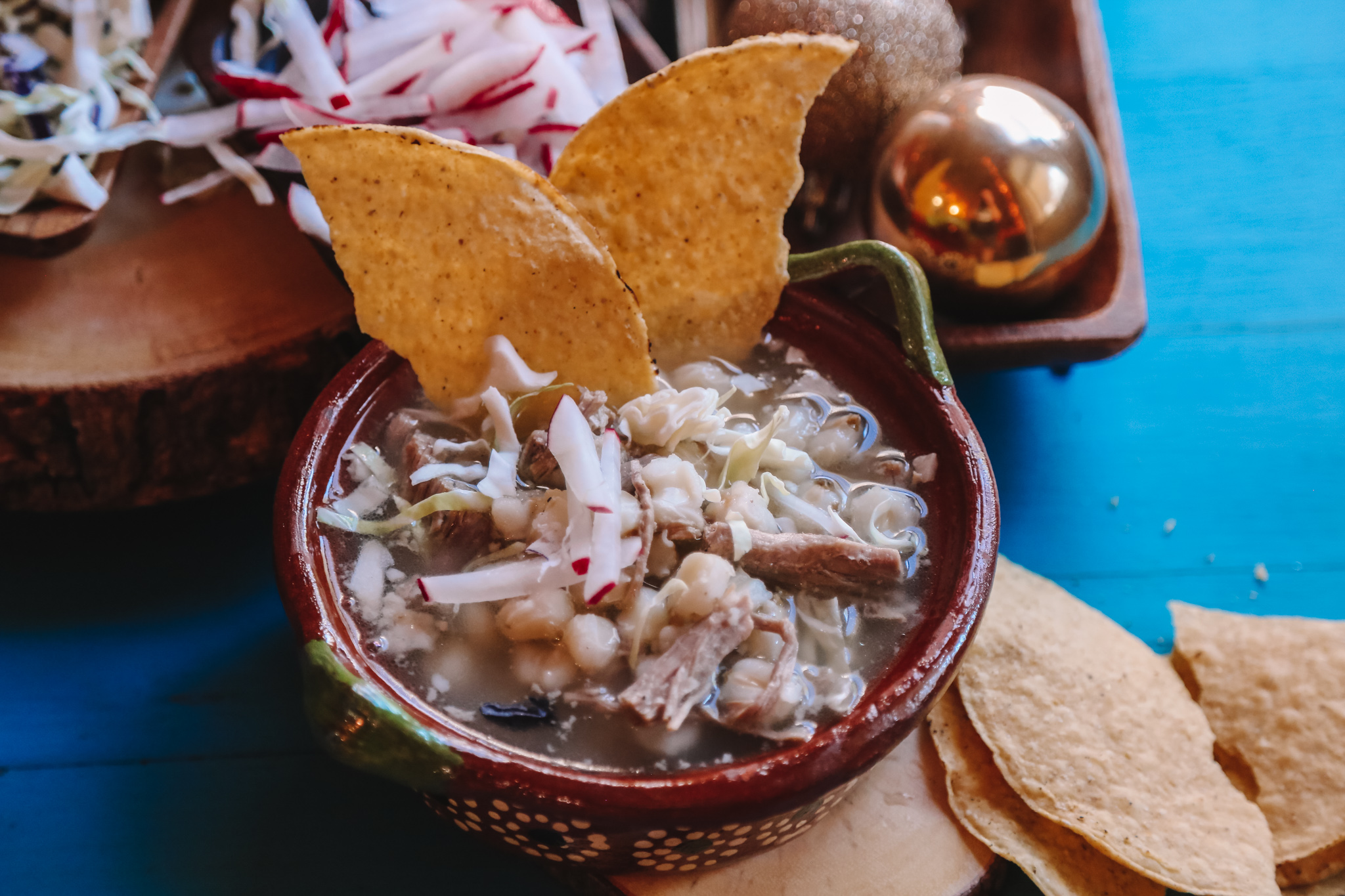 The holidays are upon us and I cannot think of anywhere I'd rather be than in the kitchen cooking for my familia. Cooking cherished family recipes during the holidays is a fun way to slow down, reconnect with my family while we enjoy an amazing bowl of pozole.
I have been cooking pozole with my mami for as long as I can remember, so passing this loving recipe on to my daughters is very important to me. Pork shoulder simmered with plenty of herbs and spices creates a flavorful broth. I add plenty of hominy to our pozole as it's my daughter's favorite part of pozole.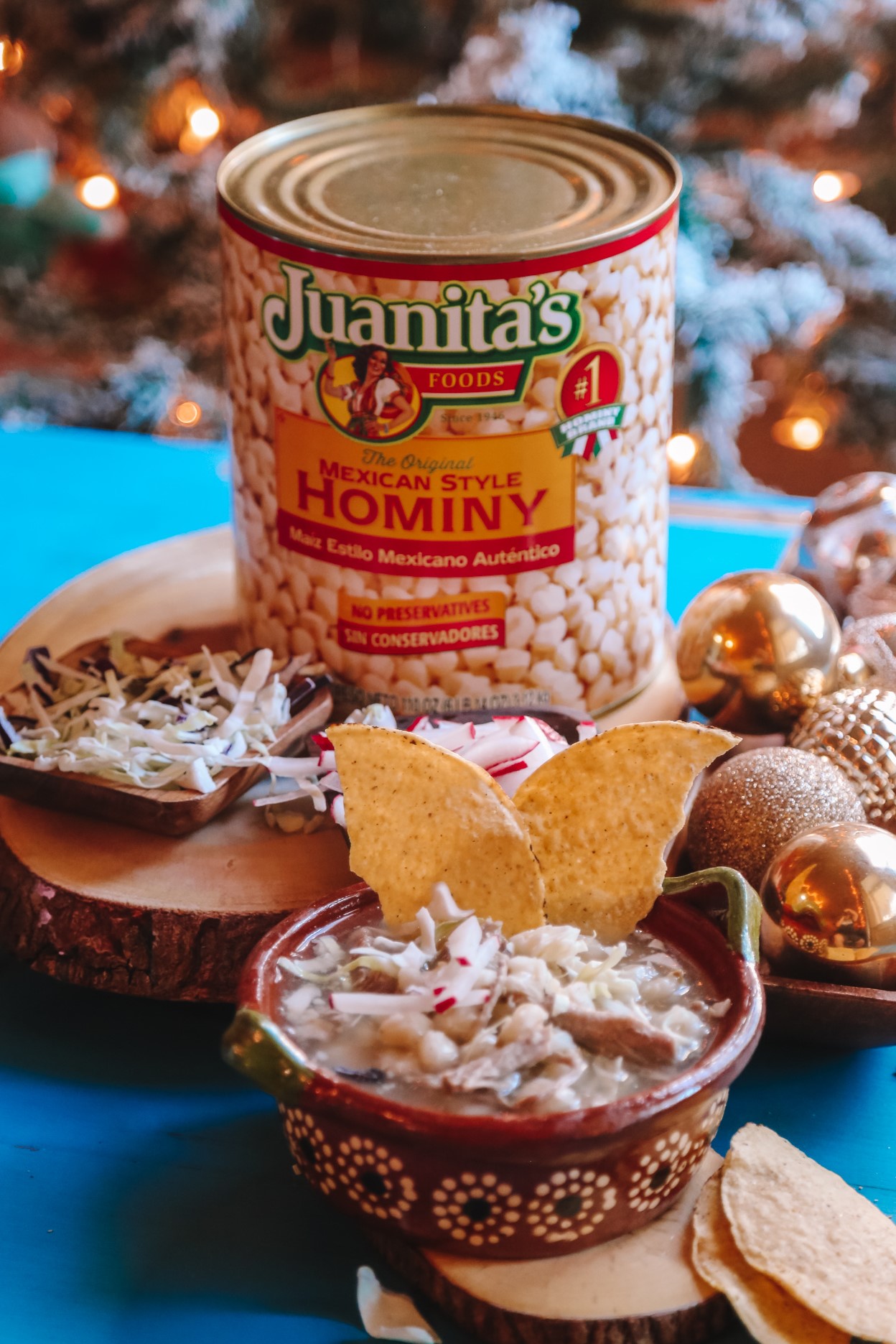 I keep my pantry stocked with Juanita's Mexican Style Hominy as my mami used to. I carry on this childhood tradition. Hominy is one of my go-to pantry staples as I can use it to make pozole, menudo, hominy sauté, sopa and even quesadillas (my hubby loves hominy quesadillas).
My Pozole Blanco can be made up to a day in advance, then re-heated when guests arrive. I love meals that can be prepped in advance and taste better the following day.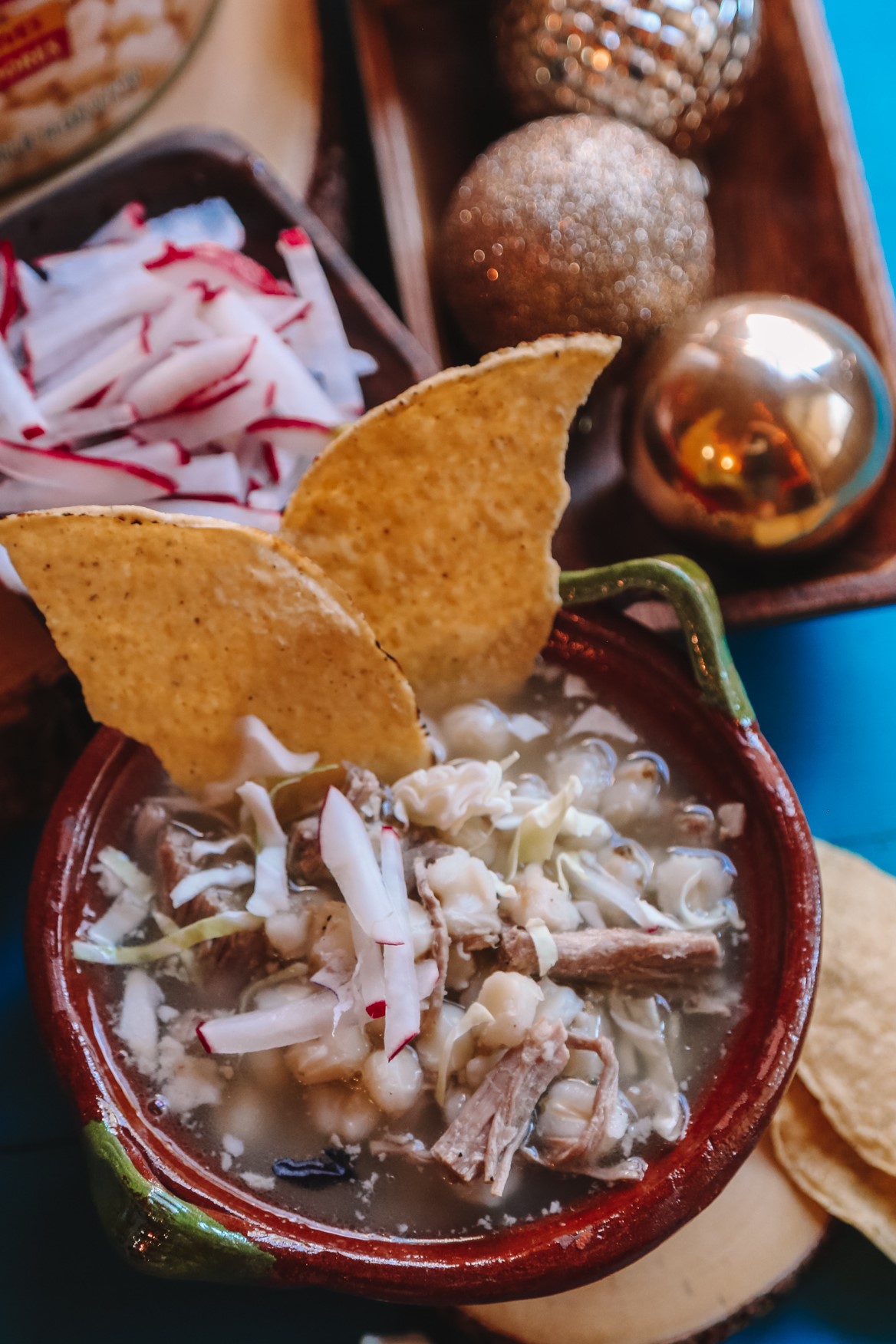 Juanita's is a third-generation family-owned and operated business based in Wilmington, California.
Founded in 1946 by George de la Torre Sr. and his nephew, the company carries on a strong family tradition and business legacy by producing authentic homestyle Mexican food. Juanita's products include flavorful soups, sauces and stews made with the best quality ingredients and delivered ready to eat so families can spend less time in the kitchen and more time enjoying their favorite foods with their loved ones.
For more information, visit www.juanitas.com
Juanita's has a variety of products which includes: Menudo, Pozole, Hominy, Pork Chile Verde, Albondigas and Nacho Cheese Sauce.
Pozole Blanco
Serves 6-8
2 LB bone-in pork shoulder
1 large onion, peeled and halved
3 cloves garlic, peeled
2 bay leaves
1½ tablespoon salt
2 teaspoon pepper
1 teaspoon cumin
1 (110 ounce) Juanita's Mexican Style Hominy, drained
Top serve: slices radishes, shredded cabbage, tostadas, salsa and lime wedges
Place the pork, onion, garlic, bay leaves, salt, pepper and cumin into a Dutch oven or large pot.
Add enough water to cover all ingredients. Cover and cook on low for 3 hours.
With tongs carefully remove pork, place eon cutting board and shred with two forks.
Return to pot, along with hominy , simmer an additional 20 minutes, taste and add additional salt if needed. Spoon into bowls, serve with garnishes.