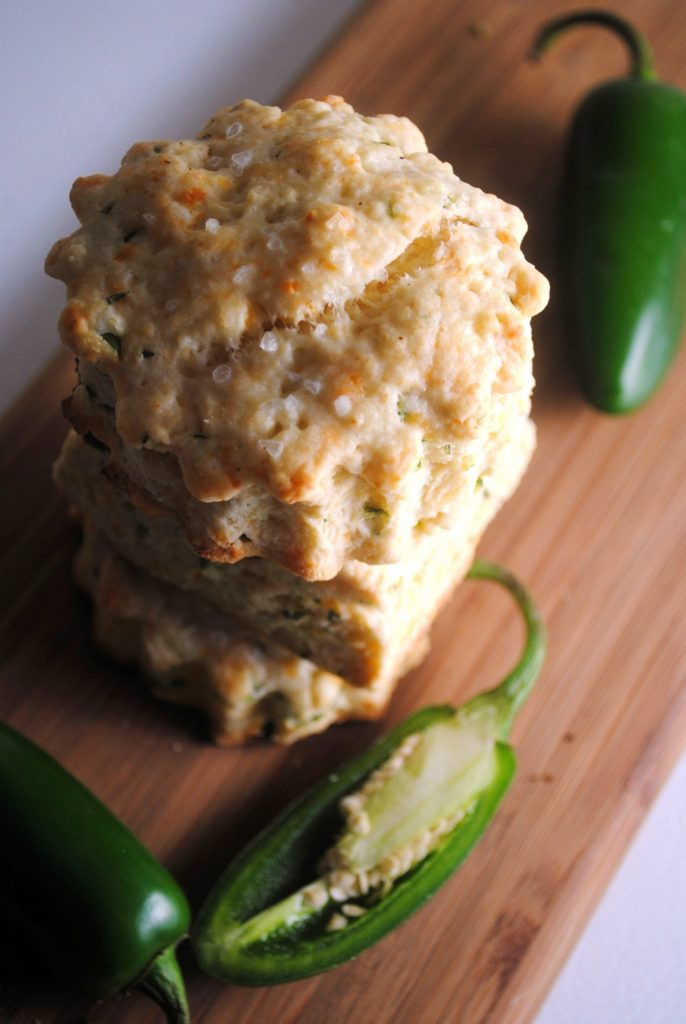 Cheddar Chive and Jalapeño Biscuits
Do you hear that?  That's me patting myself on the back.  I have conquered biscuits.
I know, I know my blog name does include bake. I began Sweet Life as a way to practice my baking skills, learn new techniques and practice..practice.  The thing is I might have subconsciously slid biscuits to the back end of my baking practice.
Have I made them before? Yes.
Did they resemble hockey pucks and taste like saw dust? Yes. Yes. and Yes.
I live in fear of my family requesting biscuits.  So lame.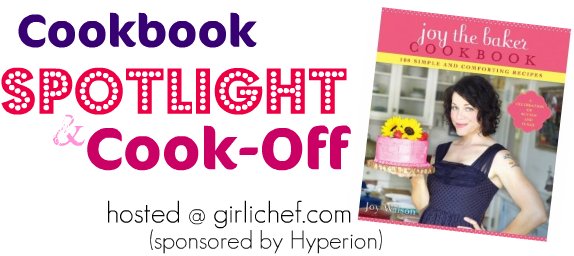 This weekend as I browsed Joy's new cookbook my eyes scanned over Jalapeno biscuits. Dang.
I flipped past the recipe 3 times and kept on coming back to them. Dang.
When I read her recipe I thought you know I can do this.  The steps were simple, the ingredients were right up my alley (jalapeno-swoon) and she states "the mixture will be shaggy," okay I can do shaggy.
So I did.  And guess what? They were light, fluffy, bursting with jalapeno flavor.  No hockey puck, no saw dust.
To say I was excited is putting it mildly.  Picture a happy dance, because it so happened.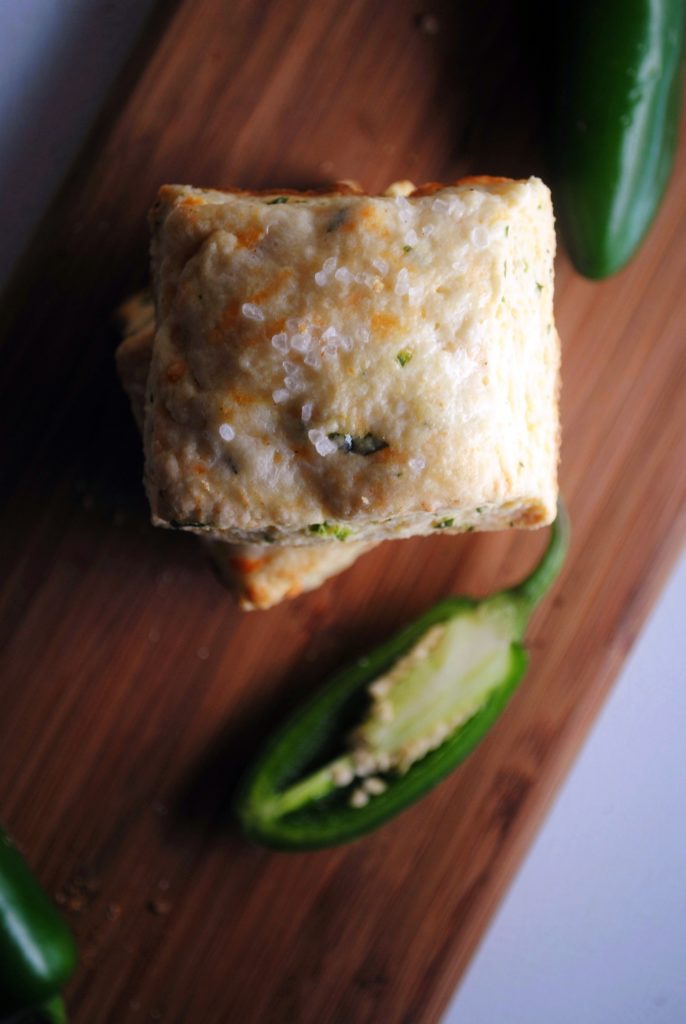 Hello biscuits lovers these babies are loaded with jalapeno studded, cheddar cheese and chives.
Brushed with buttermilk and dusted with salt.
Everything needed for a hearty breakfast. Serve alongside eggs a steamy cup of coffee and you set.
Enjoy!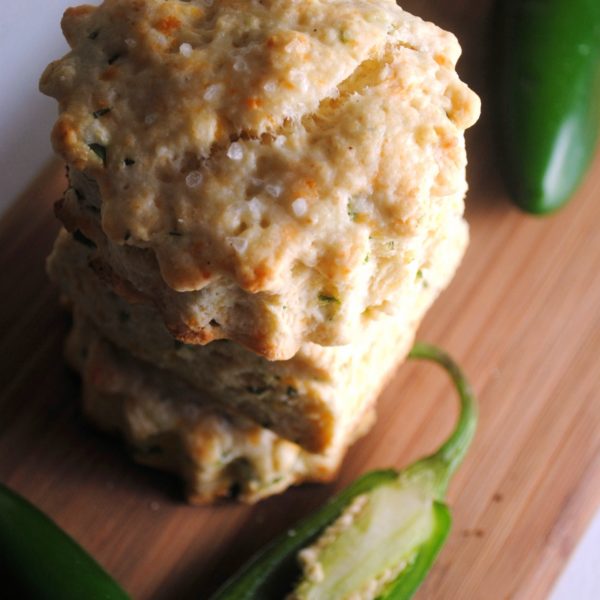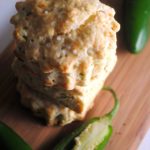 Joy the Baker's Cheddar Chive and Jalapeño Biscuits
Ingredients
3

C.

all-purpose flour

1

T.

granulated sugar

4 1/2

t.

baking powder

1/4

t.

cream of tarter

3/4

t.

salt

3/4

c.

cold buttermilk

plus more for topping

1

egg

3/4

c.

cheddar cheese

cut in small cubes

1

medium jalapeno

seeds partially removed, diced small

3

T.

diced chives

1/3

C.

unsalted butter

cut into small cubes

Coarse sea salt for topping
Instructions
Place a rack in the center and upper third of the oven and preheat oven to 425 degrees. Line 2 baking sheets with parchment paper and set aside.

In a small bowl, whisk together flour, sugar, baking powder, cream of tarter and salt.

In a small bowl, whisk together buttermilk and egg.

Add butter to the flour mixture. With your fingers or a pastry blender, work the butter into the flour, breaking the small cubes into smaller bits. Once the butter is well incorporated into the flour mixture, the flour will resemble coarse meal. Some chunks will be the size of small pebbles, others will be the size of oat flakes.

Toss the cheese mixture into the flour mixture. Create a small well in the center of the flour mixture and add the buttermilk mixture all at once. Toss together with a fork making sure that all of the flour bits are moistened by the buttermilk. Mixture will be shaggy. Dump the biscuit dough into a lightly floured counter and knead for 8 – 10 minutes, just to bring it together into a 1 1/2 inch-thick circle.

Cut biscuits into squares or use a 2 1/2 inch circle biscuit cutter to cut rounds. If you don't have a round biscuit cutter, you can use a knife to cut the dough into small squares. Gather dough scraps, knead lightly and cut out more biscuits until batter is gone. Place biscuits on prepared baking sheets, brush with buttermilk, sprinkle with sea salt and bake for 12 – 15 minutes.

Biscuits are best the day they're made, but can be wrapped, stored at room temperature and served the next day as well
*This post is part of the Joy the Baker Cookbook Spotlight and Cook-Off sponsored by Hyperion and hosted at girlichef*
Sweet Life Disclosure: I was invited to participate in the Cooking  Spotlight  and  received the cookbook from the publisher. My thought,  love and passion  remain my  own.