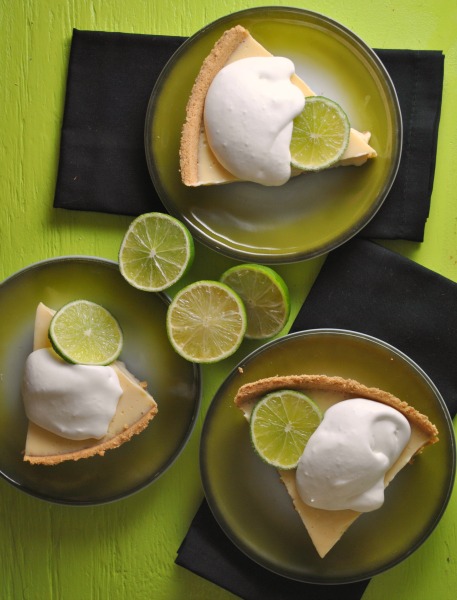 Key Lime Pie
Mami has a huge, bountiful lime tree in her backyard that we enjoy year after year.  She cares for that tree as if it was part of the family, an extension of her own children.  When I was younger, much younger I used to shrug my shoulders when she would ask for my help to gather limes.  She would carefully pull back the limbs, picking her limes one by one.  I on the other hand was in a rush to collect as many I could grasp so I was able to move on with my day.
Years passed with her lime tree blossoming more and more each year.  I recently married was beginning on a journey to immerse myself in the kitchen.  I had tinkered in my mom's kitchen while I was younger, by helping out to prepare family dinners or pulling together a quick meal on days she pulled a double at work.
This was different. I was all alone and had moved a few hours away from home.  As we headed outside to pick a few limes to make limonada, she suggested I take home a bucket of limes.
"Okay, what do you think I should make with them?"
"Start with something sweet,  y  práctica …   práctica … práctica.. ,"    (practice,practice,practice)
So I did.  I took those limes home and made my first key lime pie, it was a disaster.
So I made it every day that week, until it came out just right.
Práctica …   Práctica … Práctica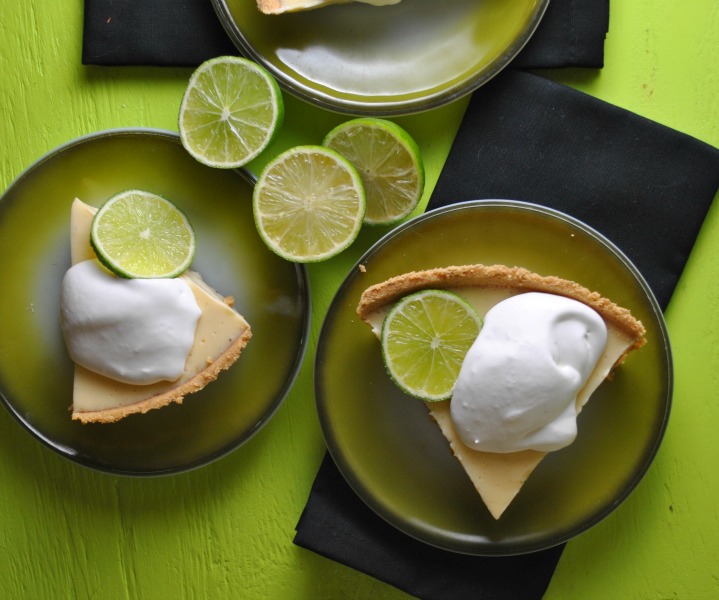 This key lime pie has had a makeover thanks to Cooking Light.  A bit of chocolate in the crusts helps to bind the crusts, while cutting back in butter use.  I'll pick chocolate any day!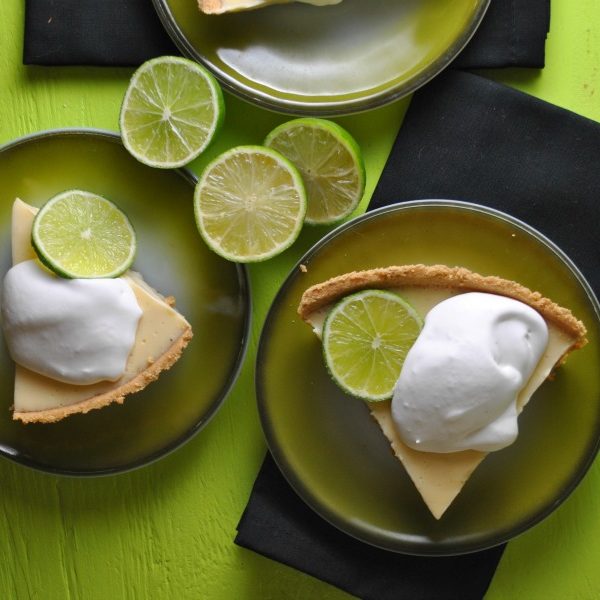 Key Lime Pie
Ingredients
Crust:

1

cup

graham cracker crumbs

1

tablespoon

brown sugar

1/8

teaspoon

salt

1

ounce

premium white chocolate

grated or finely chopped

2

tablespoons

butter

melted and cooled

1

tablespoon

canola oil

Cooking spray

Filling:

1/2

cup

plain 2% reduced-fat Greek yogurt

1/2

cup

fresh Key lime juice or fresh lime juice

1/2

teaspoon

grated lime rind

3

large egg yolks

1

14-ounce can fat-free sweetened condensed milk

3/4

cup

frozen fat-free whipped topping

thawed
Instructions
Preheat oven to 350°.

To prepare crust, combine crumbs, sugar, salt, and chocolate in a bowl, stirring well to combine. Add butter and oil; toss with a fork until moist. Press crumb mixture into bottom and up sides of a 9-inch pie plate coated with cooking spray. Bake at 350° for 8 to 10 minutes or until beginning to brown; cool completely on a wire rack.

To prepare filling, place yogurt and next 4 ingredients (through milk) in a bowl; beat with a mixer at medium speed for 2 minutes. Pour mixture into prepared crust. Bake at 350° for 14 minutes or until set. Cool pie completely on a wire rack. Cover loosely, and chill at least 2 hours. Serve with whipped topping.
Recipe Notes
recipe from Cooking Light